Public vs. Private School: The Pros and Cons
Public Schools
Public vs. private schools—are parents aware of the difference? Every state has a public school system that offers every child a free education. Public schools are controlled by the government and are subject to municipal, state, and federal law. When deciding whether to send their children to public schools, parents should be aware that a free education frequently comes with a number of legal concerns.
Public schools are tax-funded institutions managed by elected officials in the United States (politicians).
Is public school free?
Is public school free? For students who reside in their tax district, there is no tuition. They have the option of charging tuition for students (such as overseas students) who reside outside of their district boundaries or outright rejecting them.
Since it has been common practice to collect fees for incidental services such as lab use, lab transportation, sports and extracurricular activities, etc., tuition-free does not always mean entirely free. These are frequently known as "pay to play" charges.
There is frequently a requirement that students take part in fundraisers, where they sell goods or services to raise money for certain school events.
Is private school worth it?
Do you need to enroll your child in a private school? Is private school worth it? In the wake of the pandemic, many parents are asking themselves this question. So, what will it be? Public vs. private school? Three years ago, the K–12 educational system looked entirely different, and some families now feel ready to make the change.
They are unaware that the average expense of private education is a staggering $12,350 per year. You can pay considerably more because prices vary greatly based on a number of different factors.
Then again, is paying for private education worthwhile? Some could respond with a hearty "yes, of course," while others might say the opposite. The choice ultimately depends on your finances, your values, and what you think is best for your family and child. You can choose more wisely if you take into account what private schools have to offer and how they might differ from public schools. This time, let's uncover the differences between public and private schools.
Public vs. Private School
Public schools are those that receive financing from the federal and state governments. In today's America, 90% of students attend public schools. Parochial and non-parochial schools are both considered private schools.
The National Center for Education Statistics (NCES) released a special report in 2002 that stated that in the school year of 1999–2000, there were about 27,000 private schools, which made up 24 percent of all US schools and employed 12 percent of all full-time equivalent instructors. So in terms of public vs. private schools, it is obvious that there are a lot more public schools in America than there are private schools.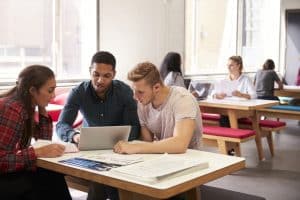 When deciding between private and public schools, most parents have at least one concern. AdmissionSight listed the following elements that are relevant whether considering public or private schools:
Academic standing and preparedness for college; school and class size; safety record; and special programs
Costs
Location, Ideology, and Instruction in Morals
When deciding between public vs. private schools, academic reputation is crucial. The academic standing of school systems varies widely. There are many excellent public schools, but there are also others that fall short of expectations. Children must attend the public school that is zoned for their residence, which is unfortunate for the majority of families.
Typically, a parent's worry and readiness to transfer their child to a private school are signaled by a perceived or statistically substantiated problem with a public school's academic performance.
Private schools are known for their more demanding academic standards. However, Charter Schools and Magnet Schools within the public school system further blur the distinction between public and private schools. The school's emphasis on college preparation is related to its status as an academic institution.
The proportion of students who attend college within the public school system varies based on the location of the institution. All the schools cannot be grouped together. However, you might consider the institution's overall goals and whether they emphasize college readiness or not (and whether that is your shared focus).
A school's capacity to carry out its academic objectives can be associated with its school size and class size. Basically, it can be difficult to manage a school when it is too large. Programs and students might squish between the seams. However, a small school might not have the resources to fund specialized activities.
Another aspect that parents may examine while deciding between private and public schools is class size. How many kids will the instructor be in charge of in the classroom? What is the overall ratio of students to teachers that can be associated with its school size and class size? Basically, it can be difficult to manage a school when it is too large. Programs and students might squish between the seams.
However, a small school might not have the resources to fund specialized activities. Another aspect that parents may examine while deciding between public vs. private schools is class size. How many kids will the instructor be in charge of in the classroom? What is the overall ratio of students to teachers? Generally speaking, each student will receive more attention in a smaller class.
Another aspect that parents consider when deciding whether to keep their kids in public school or send them to a private school is safety and the school's general atmosphere. Even though many public schools provide completely safe environments, in other school districts, private schools may be a better option for kids. This may have something to do with the fact that private schools may be more selective in who they admit, keeping the learning environment safer.
The impact of special programs on parents differed depending on whether their children attended public vs. private schools. Public schools frequently feature particular programs for children with special needs, whether they be academic or developmental in nature because public schools have a duty to teach all kids.
Private schools may offer specialized programs for gifted students, but they are less likely to offer programs for kids with special needs unless the private school has a focus on that area. Other varieties of specialized programs exist as well, like those that focus on the arts. Typically, only in a private setting can you find military, boarding, and single-sex programs.
The choice between public vs. private schools is also influenced by cost. Simply speaking, public schools are free, but private schools demand tuition. This is the aspect that many parents find most difficult to accept.
Whether or not parents desire religious or moral instruction to play a part in their children's academic environment has a significant impact on their decision to send their children to public or private school. Overall, public education does not include any religious or moral instruction.
When deciding whether to enroll your children in a Public vs. Private school, location is just as crucial as any other consideration.
For public schools, you are either located within the desired public school's zoning district or you are not. You don't need to worry about anything if you are. If not, you must decide whether moving your family is both desirable and practical in order to enroll your kids in the public school of your choice.
Several states, however, have implemented school choice programs that allow families to apply for admission for their child to attend a district even if they do not live there. Frequently, the sending district or even the kid's family pays tuition to the receiving district to defray the costs of teaching the child. Regardless, school choice programs give parents who want their child to attend a public school some flexibility.
You must think about whether the location of private schools is practical for your family. Transportation to and from public schools is offered. Private colleges might or might not exist.
Private School vs. Public School: Pros and Cons
For many families, their ideology on public vs. private school, classism, elitism, etc. has an impact on their decision-making process. Most of the time, parents are not unsure about this aspect. Theoretically, they either think attending a public school is preferable or a private school is acceptable. Now, let us dig further into private school vs. public school's pros and cons.
Benefits of Public Schools
Remember that your situation is particular to you as you read the list prepared by AdmissionSight below and that not every advantage might be applicable to your child.
The cost of attending a public school is nothing.
Since your child will go to school with kids from the area, it will be easier to foster friendships with students who live nearby. Additionally, you'll run into parents in your neighborhood.
Compared to many smaller private schools, public schools often have more classrooms, extracurricular activities, and different types of classes.
In contrast to some private schools that may be religiously focused, your child may learn about more cultures and countries.
Students who need accommodations and services like Augmentative and Alternative Communication (AAC), speech therapy, physical, occupational, and behavior therapy are more likely to receive them in public schools. Better resources including athletic fields, swimming pools, art and music departments, and even theaters can be found in some public schools.
The Individuals with Disabilities Education Improvement Act (IDEA) of 2004 says that public schools must offer options for learning that meet the needs of all students.
They might have more experience working with special needs kids, be able to provide a 504 plan or create an individualized education program (IEP).
A study by the National Center for Education Statistics revealed public school instructors typically have better expertise and qualifications to serve special needs students than those at private schools. Staffing for special needs schools is determined by IEP service hours. Teachers in public schools must be certified.
Specialized programs that speak to a child's interests are offered by several public schools.
Cons of Public Education
Overcrowding is a common issue as communities grow faster than schools, which were designed for fewer students. As a result of budget cuts, class sizes grow, and some students may be forced to study outside the main building in mobile classrooms. For certain kids with restricted movement, this might be problematic.
Less individualized attention results from larger class sizes. It's possible that your child won't receive the one-on-one care they require.
In some neighborhoods, there are more disciplinary problems at some public schools. The school's options may be constrained.
The quality of public schools varies greatly. Even between schools in the same city, the quality of education can vary greatly.
Access to high-quality educational resources may be constrained by school funds.
Teachers are under pressure to spend a lot of time "teaching to the exams," and students are expected to take standardized tests.
Even though the school is required by law to give your child a personalized education, you may need to take a more active role to make sure your child has access to the resources they need to do well in school.
If your child is absent due to illness, medical procedures, or therapy, the school must collaborate with you to prevent academic fallout. For your child to obtain the required assistance, you might need to step in.
The safety of public schools is frequently called into question in the wake of recent catastrophes.
Benefits of Private Education
Although it may be the best option for some families, not every child should attend a private school. The advantages of private schools are listed below.
Smaller class sizes could mean more individualized attention and be less daunting. The teacher can determine which teaching strategy suits your child the most.
Many private schools offer a more difficult curriculum, which may be good for students who do well in school.
The school's basic values will reflect these views. A private school could have more rituals and expectations.
Some private schools have a strong religious focus and include religious studies in their curricula.
Greater support for private schools may translate into better resources, supplies, and equipment.
Private schools often take discipline seriously because it is easy to kick out kids who don't behave.
Bullying is often not tolerated at private schools. In a private school, your child might feel more at home and include.
Teachers in private schools don't have to teach standardized tests as much and have more freedom over what they teach and how they teach it.
Children who miss school frequently due to illness or therapy can benefit from strong collaboration with smaller private schools. However, as this is not always the case, be sure to ask the school about worst-case scenarios when you first meet with them. Tell the truth about your child's circumstances.
Given that they are responsible for paying for their children's education, more parents tend to be involved in school activities.
To help more students afford an education, some private schools give sizeable scholarships.
Why do students who attend private high schools typically score better on standardized tests? Private schools typically offer a safer learning environment and superior security.

Drawbacks of Private Schools
There are different rules for teaching students with special needs in private schools, which are not required to follow them. Your child might not be able to receive the assistance they need at the school you've chosen.
The price may be expensive and place a strain on the family's finances.
Especially if you're considering a school with a strong religious component, the student body will frequently be less varied. There may be fewer students with special needs in a private school.
Attending the school requires that you apply and be chosen by the administration; admission is not certain.
Schools that put a lot of emphasis on religion often cut back on secular lessons to make room for religion.
The law does not require the school to work with a student who is absent due to illness. Before enrolling, go over this with the school in advance.
Since many students may come from wealthier families, kids from poorer families may sometimes feel "less good" than their classmates.
Private schools often do not offer services such as speech therapy, so curriculum alternatives may be limited, especially in high schools where public schools have a wide range of courses. It is thought that parents are responsible for any additional therapy.
Lesser-known private schools might not have as many chances for extracurricular activities and sports.
If the school doesn't want to get certified, the teachers don't have to have a degree in teaching.
Students with special needs are not required to be admitted to private schools. Your child might not be going to school with neighbors, which makes it harder for them to develop friends in the area.
An entrance test may need to be passed.
The next stage is to be admitted after learning about public vs. private schools in the US. At AdmissionSight, we have more than ten years of experience guiding students through the challenging admissions process to the top universities on the planet. Consult AdmissionSight to find out what we can do to help you be ready and knowledgeable enough to enroll in the institution of your choosing.