Featured in US News & World Report Best Colleges Publication
Founder and CEO of AdmissionSight Eric Eng was recently interviewed by editor Courtney Rubin on his process for the early action/decision entitled "The Early Edge" in the latest US News and World Report Best Colleges Publication. The early action is an excellent way to take advantage of the higher acceptance rates at these competitive universities.
Certainly, one might argue that the early action pool is also much more talented and competitive than the regular decision pool. But when you have a chance to signal to the university that they are your indeed first choice, we always advise our students to take that opportunity and put your best foot forward.
The Early Edge
In the article, we discussed that the early action round may also be an opportunity for an applicant to test the waters of their application. This usually only applies if you are a very strong candidate, and for some reason just happened to get rejected by one of the easier early action universities that we expected to get into (ie, Georgia Tech, University of Michigan).
Perhaps we wrote something risky in the personal statements that we expected to have a huge payoff, but didn't happened to work, for example. As a result, we may take a safer approach and recalibrate for other universities in the regular round.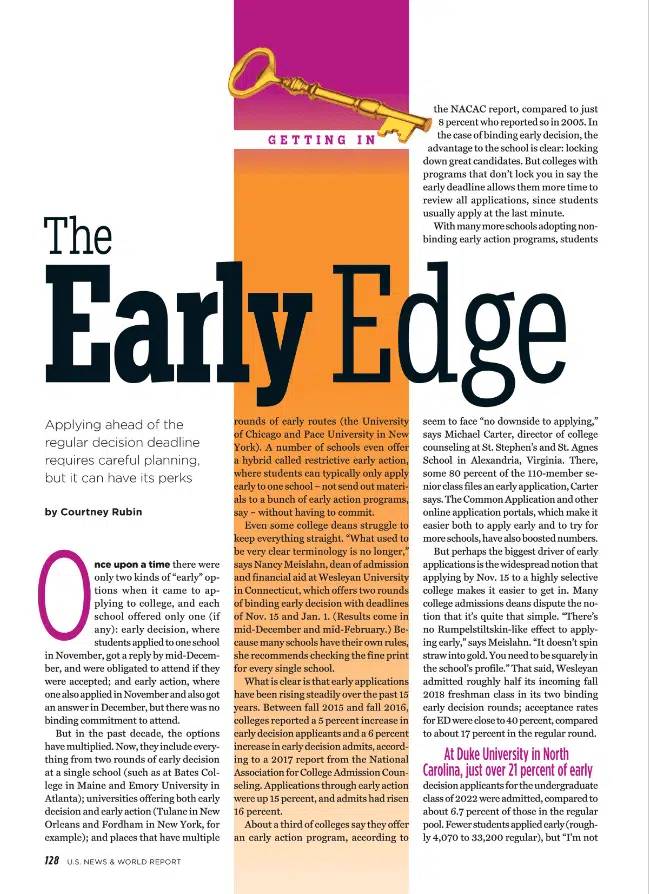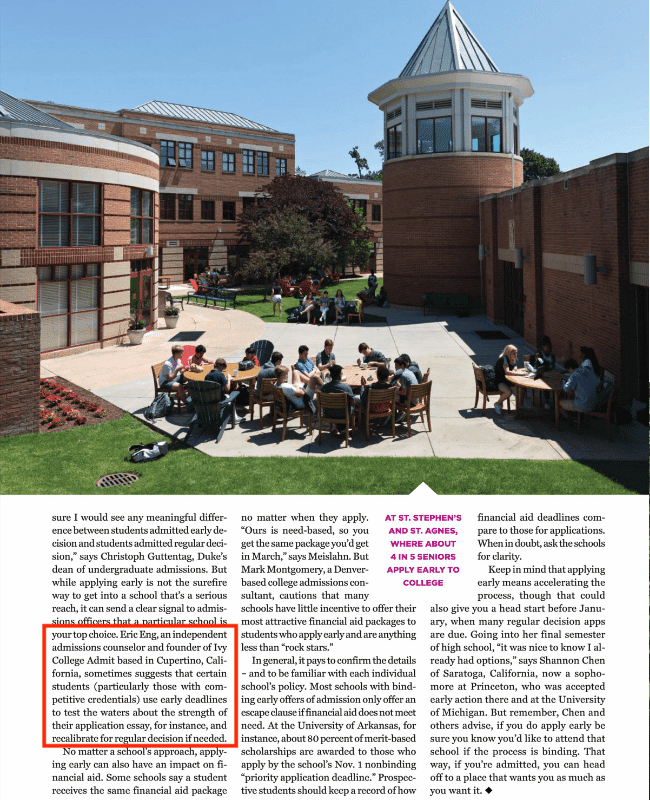 This is a more nuanced and strategic approach that we see very few college admissions consultants take. From our view, the personal statement is a matter of risk and reward, and sometimes we have to make these decisions whether to write something more controversial and risky to stand out, or take a safer, conservative route to land that acceptance letter. We won't mention what our students write about here, but these are some elements that our students work closely with us together to consider.
The early action process is statistically a great opportunity to take advantage of. Let's take a quick look at the numbers. Stanford boasts an acceptance rate of ~4%, but their early action acceptance rate is over 10%. Princeton and Harvard boast an acceptance rate of 5%, but their early action acceptance rate is 15%, nearly  triple the overall acceptance rate.
As seen in the US News and World Report Best Colleges Publication, Cornell's overall acceptance rate is around ~12%, but their early decision acceptance rate is nearly 25%! So yes, we absolutely recommend our students to take advantage of that early action/decision to leverage the high acceptance rates to increase their odds of getting in.
When the top universities in the world have such low acceptance rates hovering in the single digits, you have to play the probabilities to your advantage. Let us make a factual statement: If you don't apply, you have a zero chance at getting in. Yes, you heard us.
And we think we can all agree on that statement, objectively speaking. In fact, last year we worked with a student who was rejected from Rice, waitlisted from Dartmouth, but accepted to Yale. Most people would argue that Yale is a better university than Rice or Dartmouth, but when push comes to shove, we are playing with probabilities at the end of the day.
You can mitigate the low acceptance rates by applying everywhere (yes, you heard that right – all 8 Ivy Leagues/Stanford/UChicago/MIT/Caltech – type schools), as well as putting your best foot forward by crafting together a powerful application for each university.
Taking advantage of the high early acceptance rates at these schools definitely helps. But we'd also like to warn that getting deferred or rejected in the early round does not mean the end of the world.
We've had students who were deferred early to Stanford, but ended up getting into Harvard and Princeton, for example. We've also had students who were accepted early to Stanford but rejected from Duke, Columbia, among others. What does this mean?
It simply means that the college admissions process isn't perfect. There are real human beings (admissions officers, if you will) who are analyzing these applications behind closed doors. There isn't a single algorithm or formula that determines your fate, but there are factors that you can take advantage of to increase your probabilities of success.
As one of the top college admissions consulting companies in the country, we've seen all shades of the spectrum when it comes to navigating this complex college admissions process.
The Importance of the College Applications
All our students submit highly compelling applications that put their best foot forward to maximize their odds of success. In fact, we've had students tell me that they don't care what happens in the end because they know there's nothing else they could have done to present the best possible application to the admissions officers.
They're not only confident in our process, but they know themselves that we've finagled every crevice to put them front and center as compelling applicants. After we've spent tremendous time and energy poring into the personal statements and polishing that final application before submission, we leave it in the hands of the admissions gods to determine their fate.
But we can't emphasize how important it is to polish that application to make sure it's picture perfect. Because if you don't, even if you play the odds, you're not playing with a very strong hand that would give you an opportunity to get admitted.
And that's what exactly the AdmissionSight program accomplishes – perfecting an application that would maximize your odds of success.