How To Get Into Stanford
No conversation about the country's top universities is complete without mentioning Stanford University. Founded in 1885, Stanford was named after the California senator which sought to establish a school that would "promote the public welfare by exercising an influence on behalf of humanity and civilization." With over a century of rich history, Stanford has proven itself to be one of the best universities in the country. Just one look at the school's impressive list of alumni which includes the likes of Elon Musk and Sundar Pichai is enough to illustrate its prestige. This leads many students to wonder how to get into Stanford University.
What many students are surprised to realize is that – despite its reputation – Stanford is not an Ivy League school. Confused? Well, you're not alone! You see, the Ivy League isn't just a collection of world-class universities. Although all eight members of this highly esteemed group are renowned and top-tier schools, this wasn't what initially brought them together. The Ivy League was actually originally founded as an athletic group in the 1950s. However, the academic prestige of these schools ended up becoming associated with the term "Ivy League."
This explains why so many students automatically associate high-level schools like Stanford with this group of academically rigorous schools. Despite this common missassociation, you'll find that there are actually more similarities between Stanford and the Ivies than characteristics that set them apart. Stanford has a reputation as one of the most influential and respected institutions of higher learning in the country, it attracts some of the best and brightest minds worldwide, it offers rigorous academic opportunities, and it's highly selective.
That last part catches the attention of most applicants and causes many to wonder how they can go about increasing their chances of getting accepted. At AdmissionSight, we've helped countless students master the college admissions process to get into some of the toughest schools in the country, including Stanford. Here, we'll take a look at how hard it is to get into Stanford along with some steps you can take to greatly increase your chances of gaining admittance.
FAQs on Stanford University
To gain a deeper understanding of Stanford's competitive admissions process, it's helpful to answer some of the most common questions applicants have. The more familiar you are with what the admissions staff at Stanford expects from students, the better equipped you are to tailor your application accordingly.
How difficult is it to get into Stanford University?
It's not easy to get into Stanford University. There's no beating around the bush. It remains one of the most selective universities in the country. In fact, despite not being a member of the Ivy League, Stanford is often more difficult to get into than seven of the eight Ivies. Although these statistics fluctuate each year, the class of 2024 found that getting into Harvard was more difficult than Stanford, but that all other notoriously competitive Ivy League schools such as Princeton, Yale, and Brown were easier to get into than Stanford.
What is the Stanford University acceptance rate?
Stanford University – like many other colleges – keeps its acceptance rate under wraps until the admissions cycle is done for that year. For the Class of 2024, Stanford saw an impressive 45,227 students apply. Of these tens-of-thousands of applicants, only 2,349 were accepted. This boils down to a 5.19% acceptance rate. For comparison, Harvard – one of the toughest Ivy League schools to get into – had an acceptance rate of 5% for the same admissions cycle. Stanford's admission rate was actually up from the previous year which hit a record low at 4.34%.
6 Tips to Get Into Stanford University
Now that we've dug a little deeper into this school's competitive admissions process, it's time to look at how to get into Stanford University. It's important to keep in mind that the acceptance rate is just an average of the number of applicants accepted vs the total amount that applied. Your actual chances of getting accepted depend entirely on your application. If you turn in an awesome application that blows the admissions staff away, your chances of getting accepted could be much higher than the average acceptance rate. Here, we'll take a look at some specific tips you can use to drastically improve your chances of getting accepted.
1. Participate in academic competitions
Another excellent way to cement yourself as a member of the incoming Stanford class is to participate in regional or national competitions. There are a wide variety of events that pit some of the most talented students against each other in friendly, academic, exciting, and rigorous competitions. Although taking part in these events illustrates a willingness to put yourself out there and hone your skills in a particular area, actually placing as a semifinalist demonstrates your prowess in the area. Considering that much of the material covered in these competitions is of a collegiate level, admissions staff also get a glimpse of how you perform with university-level material.
There are a wide variety of high school competitions that take place across the country and in various fields such as physics, biology, chemistry, physics, and math. The Science Olympiad and the USA Math Olympiad are two of the most well-recognized and prestigious of these events. If you're pursuing a degree in the humanities, there are still some excellent competitions in which you can participate. Mock Trial, DECA, and national speech and debate competitions are just a few examples of possible events.
2. Excel in extracurricular activities
When students think about what admissions officers are looking for, their focus usually turns towards academic factors such as GPAs, standardized test scores, and the rigor of high school courses. While all of these are incredibly important in the overall decision, they're not the whole story. Stanford University also cares what you do outside of the classroom. As a result, participating in extracurricular activities is a great way to make your application stand out from the crowd. While you might be tempted to sign up for as many clubs, sports teams, and activities as possible, that's not the best idea.
We only recommend that students participate in a lot of activities at the beginning of high school if they're not sure which extracurriculars they'd like to pursue. However, once you know which activity you'd like to pursue, it's advisable to not spread your efforts too thin with a bunch of extracurriculars. This focus gives you time to develop your skills while also illustrating a willingness to dedicate yourself to a particular activity – something admissions officers love to see in students. While it's great if the extracurricular activity lines up with your academic goals, it doesn't have to.
3. Participate in prestigious summer programs
With so much to do during the school year, many students look forward to the summer months where there aren't any academic responsibilities. While it is important to take a break from time to time, you shouldn't lock down all of the time outside of the school year as there are some great summer programs you can attend. These extracurricular events vary in length and cover all different academic subjects, increasing the chances that you'll find something to pique your interest.
The UCSB Research Mentorship, Garcia Lab in Stony Brook, and Stanford Institutes of Medical Research (SIMR) are some excellent summer programs to consider. We advise students to attend these programs in their sophomore or junior year so you can put them on your application for college. Participating in these programs shows admissions staff that you're proactive in furthering your academic exploration even outside of the classroom.
4. Letters of Recommendation
Stanford requires applicants to submit two letters of recommendation written by teachers. Since your application doesn't offer much information about your and your essays are written from your perspective, these letters are the best ways for admissions officers to get to know what other people think about you. Teachers especially can provide an insider's perspective on your academic performance and how you behave in the classroom. When choosing two teachers to complete these letters, make sure you choose instructors who you genuinely enjoyed and know you well. Admissions officers are looking for heartfelt, personal, and detailed responses.
Unlike other schools, admissions staff also accept an additional letter from another person – other than a counselor or teacher – who knows you well. Adding this to your application can work wonders if pulled off correctly. You should try to find someone who can offer a unique perspective on you that wasn't already covered by your two teachers. This could be a coach, an extracurricular instructor, an employer, or even a peer in school. We advise students to not use their parents, siblings, or friends as this can come across as unprofessional. If you can't think of anyone worthwhile to write this extra admission letter, stick to the two from your teachers.
5. Interview Preparation
During your application process to Stanford, you have the option to have an interview with an alumnus of the university. It's 100% optional, but we highly recommend it. Not only does it give you a chance to ask specific questions about applying to and attending Stanford, but it also reflects positively on your application. Admissions staff keep tabs on which students attend the interview as it demonstrates an eagerness to learn more about the university. This proactive gesture shows that you're serious about attending the school – something admissions officers love to see.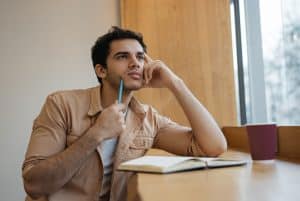 It's a two-way interview, so you should be prepared to answer questions about yourself. Keep in mind that the contents of the interview will be relayed by the alumnus back to the Stanford Admissions Office. It's imperative that you prepare for the interview ahead of time. You'll want to learn as much as you can about the university, what degree you want to pursue, what extracurricular activities you'd like to participate in, and much more. The more informed you are, the better you'll come across in the interview.
6. Supplemental Essays
Stanford University requires all applicants to complete a series of essay prompts along with their standard application. Although the specific questions are reproduced each year, the general themes don't change too much. The whole purpose behind these essays is to give applicants a chance to reveal more about themselves than other parts of the application allowed. In addition, the responses to these essays provide Stanford admissions staff with a more complete picture of each applicant. As a result, these essays are an excellent opportunity for students to greatly increase their chances of getting accepted.
Whether you've never felt strongly about your writing or you consider yourself a modern-day Shakespeare, these college essay prompts can be daunting. It's not enough to read the prompt once and provide even well-written responses with the first idea that pops into your head. Instead, you need to take time to truly understanding what the prompt is asking both explicitly and implicitly. You also have to determine what admissions staff want to know in general. It's highly recommendable to work with a college admissions specialist who can help you nail the Stanford essays.
How I got into Stanford
"When I entered I believe criteria were pretty much the same as they currently are. The biggest difference is that Stanford then not as well recognized nationally and Internationally, thus there were fewer applicants and somewhat higher acceptance rates. However, the number of students in the undergraduate school was about the same as now. A large number of my freshman class were from California, or from other US states. There were very few international or foreign students. The ratio of males to females was, and had to then be 3 to 1 but don't know if acceptance rates were any different because of that.
I had a good GPA, certainly not close to a 4.0, and wrote what I remember to be a good essay IMHO. My SAT score was somewhat better than average, but not one to brag about. One teacher of mine seemed to think highly of me, so I expect she provided a good letter of recommendation. Without her encouragement, I would not even have applied as most of my friends were planning to go to Cal (University of California) and I had already been accepted there.
I had held some summer jobs and was on the track team at a not-so-well-known High School in Stockton, which is fairly close to Palo Alto. No one in my family had ever gone to Stanford but had always encouraged me to attend College. We were far from wealthy, so if that were a factor, it wouldn't have helped me. Two of my high school friends were also accepted and I did not consider either to be any better qualified than I. In fact, one flunked out in less than a year.
I was in awe of most students in my first-year classes. For the most part, they seemed smarter, perhaps they were just more sophisticated than smarter. Many were from well-to-do or well-known families, This was not true in my case.
So I entered Stanford with no idea how fortunate I was to be accepted. Now I often wear my Stanford gear just so I can say "Yes" when asked, "so you went to Stanford?"
William Russell Ferguson, B. S. Civil Engineering, Stanford University
We can help you figure out how to get into Stanford University
If you've made the decision to apply to Stanford University, you might be feeling a little nervous given the competitiveness of this school's admissions process. Parents and students alike often feel out of their depths when applying to these highly selective schools. Luckily, you don't have to tackle this on your own! AdmissionSight is a leading college admissions expert with over a decade of experience successfully helping students overcome challenging acceptance rates to earn a spot in the university of their choice. We focus on helping applicants nail all aspects of their application to gain a competitive edge in the admissions process.
Whether you're looking for assistance editing your college essays, searching for an excellent summer program that's both interesting and beneficial to your studies, or you need some help choosing fitting extracurricular activities, we can help! We even offer pre-high school consultation for parents or students who are eager to get a headstart in preparing for college. All of our services are completely personalized, meaning we take each student's personal goals, interests, and strengths into account. Feel free to contact us for a free consultation where we can discuss our offers in greater detail.