Fun Facts About Stanford
Stanford University at a glance
What does it mean to attend Stanford University? One of the fun facts about Stanford is its history. The university was established in 1885 by Leland Stanford and his wife in memory of their son, Leland Stanford Jr., who passed away at age 15 from typhoid fever. Leland Stanford served as governor and senator of California and was a leading railroad tycoon.
Within a few short weeks of his passing, Stanford decided that since he could no longer do anything for their child, they decided that "the children of California shall be our children." As a result, Stanford University was founded as an institution that welcomed students of both sexes, was non-sectarian, and provided education at no cost until the middle of the 1930s.
The sprawling campus of the university, which began operations in 1885 and welcomed its first students in 1891, covers an area of 8,100 acres. Its seven different schools offer degrees in the humanities, natural sciences, business, education, engineering, law, and medicine. It has a total enrollment of more than 18,623 students every year. The motto of Stanford University is "Die Luft der Freiheit weht." This quote by Ulrich von Hutten, originally written in German, translates to "The wind of freedom blows" when translated from the original language.
Stanford University stats
The Statistics from the University of Stanford back up what they have accomplished over the years. During 2020-2021, Stanford University conferred 14,15 post-doctoral degrees, 6,366 bachelor's degrees, 7,374 master's degrees, and 14,366 undergraduate degrees.
The fields of engineering, computer and information science, and interdisciplinary studies are consistently ranked among Stanford's most popular undergraduate programs. The acceptance rate for the class of 2020 was 3.6%, the lowest in the history of Stanford. The university received 36,175 applications.
In 2020, approximately 70% of current Stanford students will receive some form of financial assistance from the university, and 47% will receive need-based assistance, which pays an average of $13,600. In 2010, the university provided financial assistance worth $117 million to 3,530 students, with an average aid package of $40,593. The total financial assistance provided to undergraduate students by external and internal sources (including jobs and optional loans) was $172.3 million.
There are five students for every teacher at this school, and nearly seventy percent of the institution's classes have fewer than twenty pupils. On-campus university housing is home to 97% of all first-year undergraduate students. Undergraduate students in their first year are required to live on campus, and campus housing is guaranteed to every student throughout their entire four years of undergraduate study. Roughly half of the graduate student body calls the campus their permanent home at any time.
Stanford University Facts
Fountain hopping
Fountain hopping is one of the many fun facts about Stanford that students love. This tradition also has a long and storied history at Stanford. Attempting to create whirlpools requires getting your feet wet, which can be uncomfortable. The New Student Orientation and Admit Weekend is the time of year when almost all first-year students participate in this activity.
A proud history in the world of sports
There are a lot of successful sports teams at Stanford. From the several fun facts about Stanford, this is the one that made a lot of alumni proud to represent their school. Students from Stanford University have been victorious at every Olympic Games since 1908, bringing home a total of 244 medals, including 129 gold medals. At the 2008 Olympic Games in Beijing, Stanford students brought home more awards than students from any other university in the United States.
Astounding achievements
The fact about Stanford that a lot of people still talk about is its legacy. One of the universities that focuses on research the most is Stanford, located in the United States. Since 1952, more than 54 Stanford faculty, staff, and alums have been awarded the Nobel Prize. Additionally, Stanford has the most Turing Award winners of any institution worldwide. The current body of academics at Stanford includes 19 recipients of the Nobel Prize, in addition to 4 winners of the Pulitzer Prize. In addition, Stanford is the alma mater of 30 billionaires still in existence and 17 astronauts in active service.
The Stanford mascot
The Stanford mascot is a beautiful illustration of the lighthearted moments that people can discover in this great college town. The unofficial name for the mascot is "the Stanford Tree." What makes this one of the fun facts about Stanford that almost all students know is that the opportunity to take on the role of the Tree is highly sought after, and the selection process to determine which student will take on the part is quite complicated. The costume of the mascot, a tree, is remade every year with a few small tweaks, resulting in the theme of the mascot changing every year.
Google founders are alumni of Stanford
Larry Page and Sergey Brin are famous Stanford alumni who have revolutionized various aspects of our day-to-day lives. There are a lot of famous Stanford alumni who have done this. Because Larry Page and Sergey Brin were instrumental in developing how we navigate the internet, we can now find digital versions of information that were previously only available in physical books and libraries.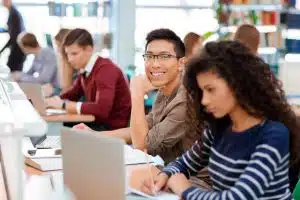 Google has evolved into an indispensable component of our contemporary lives, and as a result, we now have access to an infinite amount of information. This access can be gained through a smartphone, a computer, or a digital device. In recognition of their extraordinary achievements in the field of online communication, Larry Page and Sergey Brin were awarded the Marconi Prize. Alumni of Stanford University are living proof of the excellent education provided to students.
The hidden tunnel system
One of the fun facts about Stanford for daredevils is the hidden tunnel system within the university. Because Stanford is so old, the possibility of artifacts dating back to the latter half of the 19th century should not be a shock. Among them is the network of underground tunnels, which was constructed in 1881.
The underground system was designed to pump the saturated steam to over 200 campuses and medical center buildings across the country. This indicates that the tunnels are now connected to all of the campuses. Today, it has become a dare among the student body.
Although it is not advised that students go down into these underground tunnels, some students still decide that the potential danger is worth taking and brave the eerie underground system.
Now that you have a vision of Stanford University, you should also begin preparing for your college admission. You can get help with AdmissionSight with the help of our world-class guidance. You can enter the best university that suits you best with the guidance of AdmissionSight. You can talk to our experts today to get started.