Stanford Traditions
What are the Stanford traditions?
What are the Stanford traditions? The prestigious university has been around for more than a hundred years and has created and nurtured traditions that are well-practiced and well-loved. If you are curious, AdmissionSight lists them below.
The Stanford Axe
The rivalry between Stanford University and the University of California, Berkeley is physically represented through the Stanford Axe. The Axe, which was first used by Stanford shout leaders in 1899, is now the trophy given each year to the Big Game champion.
Big Game Bonfire
Since 1898, Stanford has had a tradition of organizing a Rally during Big Game Week to bring the university together. For the first time, students built a massive bonfire to celebrate the imminent humiliation of the Weenies that year. The Bonfire, which was lit in the dry lakebed of Lagunita, immediately became a focal point of Stanford's rivalry week as students and locals flocked there every year to support the blaze.
University administrators were ultimately compelled to cancel the bonfire in the middle of the 1970s due to safety concerns regarding the construction of the bonfire's structure after decades of successful demonstrations (despite evil schemes from across the bay to interrupt them). However, the Axe Committee returned the bonfire to Lagunita in 1985 with astonishing zeal after a ten-year hiatus.
The new bonfire had dimensions of 60 feet broad by 40 feet deep, and its flames reached a height of 40 feet. To build a fire that huge, as many as 5,000 wooden shipping pallets were utilized! The Axe Committee made the unfortunate decision to postpone the Bonfire Rally until further evidence could be gathered after studies performed in 1993 revealed that the lakebed served as a breeding site for the critically endangered Tiger Salamander.
Smaller Big Game Rallies have been conducted annually in different places on campus since the Lagunita Bonfire Rally was canceled. The Axe Committee hopes to revitalize this beloved Stanford custom in 2012 with a stunning Rally that combines pyrotechnic special effects, a massive fireworks display, and a blazing homage to previous Big Game Bonfires.
Beat Cal Photos
One of the Stanford traditions, for years, Stanford supporters who travel the globe have staged smart and enthusiastic Beat Cal photographs against famous overseas locations. This custom, which serves to remind Stanford's opponents across the bay that the word "Beat Cal" spans borders and requires no translation, has become particularly well-liked among Stanford students who choose to study abroad.
Big Game
The annual football matchup with the University of California-Berkeley Golden Bears is known as The Big Game or the Battle of the Bay.
The Stanford Cardinal football team and the California Golden Bears football team of the University of California, Berkeley compete in this American college football rivalry game. The San Francisco Bay Area is where both colleges are situated.
It is one of the oldest college rivalries in the United States and was first played in 1892. The game normally takes place in late November or early December, and each year the two colleges trade off hosting duties. The game is played in Berkeley in even-numbered years and at Stanford in odd-numbered years.
What is Fountain Hopping at Stanford?
What is Fountain Hopping at Stanford? Fountain hopping, one of the popular Stanford traditions, involves groups of undergraduate students swimming, hanging out, and "hopping" between the several fountains on campus.
This custom usually involves doing it with your roommates during NSO, or New Student Orientation, at the start of your freshman year (however, many students continue to fountain hop in their favorite fountains throughout their time at Stanford). Fountain hopping can involve swimming in the fountain, resting on the edge with one or both feet dangling into the water, or bringing a floating inflatable toy.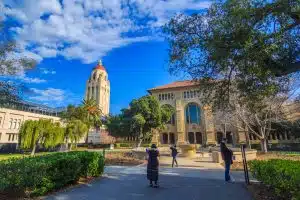 Although there are numerous large and small fountains at Stanford, students typically visit the five that are best suited to this ritual. These fountains include the Sunken Pool Fountain, also known as the Terman Fountain, outside of Thornton; the Memorial Auditorium Fountain, across from Hoover Tower; the 100 Years Fountain, on the outside of Green Library; the Red Hoop Fountain, on the other side of Green Library; and the Claw Fountain, in the White Plaza by Tressider.
Beyond just jumping in fountains to beat the heat, fountain hopping has become a Stanford tradition. Although not every Stanford student has engaged in this custom, Fountain Hopping is a practice that the vast majority of current Stanford students and incoming Stanford students are aware of.
In addition to serving as a symbol of Stanford's uniqueness and an initiation ceremony for incoming freshmen, this Stanford ritual and custom transcends the act itself.
Wacky Walk
Last in AdmissionSight's listed Stanford traditions: Wacky Walk. The first few minutes of the graduation ceremony were extremely irreverent, frequently ridiculous, typically entertaining, and occasionally moving. Without the "Wacky Walk," an unconventional ritual at Stanford when graduating graduates walk in homemade costumes ranging from the satirical to the sublime to occasionally stupid, no commencement would be complete.
Demographics at Stanford
The most recent class at Stanford University had 45,227 initial applicants. 2,349 of those applicants received admission, and 1,607 of them enrolled in the school.
Stanford's most recent class's first-year student profile showed how diverse the group is. There are 56 other home countries represented in addition to all 50 U.S. states. 53 different nations are represented by the 9.9% of registered students who are from outside the United States. Additionally, first-generation college students make up 20.2% of all students.
The class has a gender balance of 52% female and 48% male. 23% of these pupils attended private colleges, while 65% of them attended public high schools. Less than 1% of the students in the class were homeschooled, while 12% of the enrolling students were international students.
One of the best universities in the country and one of the most competitive ones to get into is Stanford. High school students who plan to attend college are drawn to Stanford for a variety of reasons, including its top-notch academics, stunning campus (yes, Stanford traditions, too), and stellar athletic program—not to mention its illustrious alumni, which include tech entrepreneurs, Supreme Court Justices, well-known actors, notable authors, astronauts, and even a U.S. President.
Here are the things you need to know to increase your chances of getting accepted to Stanford if you're planning to do so.
What are the requirements at Stanford University?
You can improve your chances of being accepted by focusing on the areas that Stanford admissions professionals are looking for during the application process.
What are the requirements at Stanford University? Although your academic record is a crucial component of your application, you won't be admitted purely on the basis of your ACT, SAT, or GPA. Different information is conveyed to admissions officers in each section of the application.
Their understanding of your background and the events in your life that have molded you into who you are will be aided by your application. They learn about your accomplishments and contributions in terms of thought and academia from a different angle.
The admissions committee discovers information about your hobbies, worldview, and unique qualities from your writings. Stanford places high importance on diversity in the classroom and welcomes applicants from a wide range of backgrounds, experiences, talents, ideas, and worldviews.
Stanford can fully comprehend the potential these applicants offer by using a holistic approach to the admissions process; they can comprehend applicants as whole persons and how they might contribute to their university.
Academic achievement is a key requirement for admission to Stanford. Students with the potential to excel at their university are sought after by admissions staff. The admissions committee might make the assumption that applicants who excelled academically in high school will also excel in their undergraduate studies.
This is why Stanford's admissions committee considers an excellent high school transcript when reviewing applications, which in turn has become one of the Stanford traditions. Candidates must focus on their college applications and future plans while still in high school and must do their best in the classroom.
It is essential for high school students to take advantage of all the chances and resources available to them because doing so positions them for success when it comes time to start completing college applications.
Stanford also places high importance on students' commitment to and interest in broadening their horizons in both the academic and social spheres. Admissions staff use extracurriculars and extracurricular interests to assess how prospective students might contribute to the Stanford community.
This does not imply that students must participate in a large number of extracurricular activities; on the contrary, admissions officers will value your intense involvement in one or two activities more than their evaluation of your minimal involvement in a large number of clubs or organizations.
Being a part of a school club is not the only significant extracurricular activity; having a job or caring for one's family also counts. Stanford places high importance on considering the potential students' impacts in all contexts.
Stanford also provides a variety of opportunities for students to get active on campus. There may be options for students to maintain their involvement in extracurricular activities they were enthusiastic about during their high school years. The office of student involvement at Stanford assists students in joining a variety of on-campus student organizations. Do you think active involvement in Stanford traditions counts? Maybe if it's on the Big Game.
What is the acceptance rate at Stanford?
Sadly, Stanford won't be making any admissions information for the Class of 2026 public just yet. For several months, not even the overall number of applicants will be known. However, AdmissionSight believes that the admission percentage for the Class of 2026 will be between 3.5 and 4.5%.
Only 2,190 of the 55,471 applicants for a place in the Class of 2025 were approved by Stanford. The university's admittance percentage of 3.95% was a record low. What is the acceptance rate at Stanford? The last time the acceptance rate was in the double digits was in the Class of 2011; 31% is the acceptance rate in the Class of 1978.
SAT, GPA, and Class Rank at Stanford
The most important criterion for admission to Stanford is academic proficiency. The school places a high weight on applicants' college readiness and their potential for success as Stanford students.
There is no minimum GPA or test score required for admission because Stanford reviews applications holistically. Additionally, no particular number of AP or honors courses must be completed in order to be admitted to Stanford. This does not negate the significance of your academic performance, either. Stanford can analyze students' academic achievements and determine their preparation for college using their high school transcripts.
For the Class of 2025, the mid-50% SAT range was 1420-1570, whereas the mid-50% ACT range was 32-35. The math portion of the SAT had an astounding 83% of students scoring above a 700, and the reading portion had 77% of students scoring above a 700.
The average GPA was 3.96, and 96% of the graduating high school class had achieved a spot in the top 10%. Surprisingly, 96% of freshmen had a cumulative unweighted GPA of 3.75 or higher throughout their high school tenure.
Stanford will assess all subscores for the ACT and concentrate on the highest Composite across all sittings. They will superscore for the SAT, concentrating on the top individual Evidence-Based Reading, Writing, and Math scores across all test administrations.
You might have taken two sittings—one with and one without the essay. Your Math and Evidence-Based Reading and Writing scores from these two test versions will be combined at Stanford. This too has become Stanford traditions throughout the years.
It's vital to remember that Stanford's last two admissions cycles were test-optional because of COVID-19.
What is the yield rate at Stanford?
What is the yield rate at Stanford? The yield rate—the proportion of admitted students who choose to enroll—was 80% for the Class of 2025, making it the third-highest institution in the nation after Yale University (83%) and Harvard University (85%). The yield rates at Penn and Dartmouth are both between 70% and 77%. Elite universities with yields above 60% include Duke, Notre Dame, and Cornell.
Notes and Trends in Admissions (Class of 2025)
First-generation students make up 18% of the Class of 2025, down from 20% in the previous cycle.
Following their admission into the Class of 2024, 369 members of the Class of 2025 took a year off.
With 2,126 students, the Class of 2025 was the largest in school history (including gap year students).
International enrollment increased from 9.9% (Class of 2024) to 12%.
Between the admissions cycles for 2019–2020 and 2020–2021, the acceptance rate decreased from 5.19% to 3.95%.
Is an interview required at Stanford?
Is an interview required at Stanford? Some, but not all, Stanford applicants will receive an invitation to an interview. You get the chance to discover more about Stanford through the interviews, which are done by volunteer Stanford alumni. The admissions office can learn more about you thanks to the interviews as well.
The alum will get in touch with you by phone or email if you are selected for an interview. In order to schedule a time and place for your interview, reply to this email as soon as possible. You should speak with people who have interviewed for Stanford and read online blogs about the Stanford interviews to get ready.
This can assist you in gaining an understanding of the kinds of questions that may be posed to you so that you can be ready. Additionally, you should conduct mock interviews in the same setting as your actual interview with someone who can ask you some of the questions you anticipate being asked. When the big day comes, this can make you feel more at ease and less anxious.
When your interview date shows up, dress appropriately but without going overboard. Make sure to be early for the interview and look the interviewer in the eye. Pay attention to what they have to say and attentively respond to each inquiry.
If someone is interviewing you, don't interrupt them, and be ready to ask questions of your own. Your interview should last between 30 minutes and an hour or longer. The interviewer will write a brief report about you and the impression they have of your fit with Stanford after your interview.
What are the deadlines for applying to Stanford?
Regardless of the application process you select, you must be aware of the critical dates and submit your materials as soon as you can before they pass. The following deadlines are given by Stanford for the stringent early action application process:
Oct. 15: Deadline for applications with artwork
Nov. 1: The deadline for standard restrictive early action applications.
October: The last SAT test date
September: Last opportunity to take the ACT
The deadlines listed by the school for the regular decision application process are as follows:
Dec. 1: The deadline for applications that include a portfolio of art.
January 1: The deadline for applications for normal decisions.
December: The final date for SAT or ACT testing
You will be informed of Stanford's decision if you submit an application through the restrictive action process by December 6. You will learn the results of your application if you use the usual decision process by April 1st. If you are admitted, you will have until May 1 to decide whether or not to enroll.
Stanford traditions can surely give a lot of unforgettable memories for students. Your college life at this prestigious institution won't be complete without those traditions. If Stanford is your college of choice, we at AdmissionSight are here to provide our quality consulting service and help you achieve your goals. Contact us to learn more about our service from our trusted team.