The Ultimate Guide to Writing the Stanford Supplemental Essays
As one of the most sought-after universities in the United States, Stanford has gained a reputation for being a difficult school to get into. This leaves many eager applicants with apprehension when it comes time to fill out the application. While much of the process will focus on test grades, academic performance, extracurriculars, and other fairly straightforward information, the Stanford supplemental essays are also an area that can't be overlooked. After all, these essays offer a great opportunity for students to explore their interests and skills in more depth. However, one look at the openness of the questions and brevity demanded in the answers can leave many applicants with sweaty palms. Fortunately, AdmissionSight has an excellent track record for helping students make their way into Stanford with perfect applications. In this piece, we'll explore the Stanford supplemental essays in greater depth to help you knock your application out of the park.
It is possible to make it into Stanford…you just need the right plan.
As a leading Ivy League School in the United States and even the world, there's no secret why some of the brightest minds in the country are eager to make their way into Stanford University. With an incredibly selective admission rate of just under 5%, it's clear that the admissions board at Stanford will look with scrutiny upon all applications that make their way through the university. While that might seem like a roadblock, the experts at IvyCollegeConnect see it more like a hurdle that, with the right strategy, can reliably be overcome.
An application that highlights your strengths, shows your personality, and displays your eagerness to learn is a critical part of this strategy. After all, you don't have an opportunity to speak with these admission officers directly and explain your desire to attend the college or display your personality. Instead, you have to put all of this into an application. The Stanford supplemental essays perhaps give students the best opportunity to display what otherwise can't be said in person or in other parts of the application. As one of the primary deciding factors between refusal and acceptance, it's clear that the importance of these essays can't be overstated.
What are the Yale Supplemental Essays?
All applicants at Yale have a series of essay questions to answer as part of their application. Interestingly, the Yale supplemental essays have some very short prompts, giving students less than 100 words to answer in some cases. In response, you'll need to focus on being to the point and choosing your words carefully as any fluff will surely stick out. When filling out your application, pay particular attention to the prompts you're required to answer since some only correspond to certain applications. Below, we've broken down the prompts for the Yale supplemental essays to give you a better idea of what the college admission specialists are expecting and how you can increase your chances of standing out.
Briefly elaborate on one of your extracurricular activities or work experiences. (Length = 150 words)
Like any other institution of higher learning, Stanford admission officers are interested in getting to know you better both inside and outside the classroom. This first prompt is a rather straightforward question compared to what we see on supplemental essays for other Ivy League Colleges. It's a good idea to browse through each of the questions before starting on this one to make sure you don't cover any topic too in-depth that you'd like to save for later on. It's okay to hit on a few topics more than once, but too much can be repetitive.
Resist the urge to talk about a slew of extracurriculars or jobs you've held in the past as this question only requests an elaboration on one specific experience. Regardless of what you choose, it's important to ensure it was a meaningful experience that had an impact on you in terms of how you see the world, how you interact with others, what subject you want to study, etc. It's important to show how this experience impacted you and your life overall.
Maybe that part-time job you spent working at a restaurant while still in school taught you how to manage your time wisely, work with people more effectively, and interact with strangers productively. Or, perhaps the debate club you joined during the school year showed you how to have civil discussions, consider opposing viewpoints, develop strong reasoning skills, and see the world through other peoples' perspectives. The key is to hone in on one experience, describe how it positively impacted you, and expand on how that will make you a better student at Stanford.
What is the most significant challenge that society faces today? (Length = 50 words)
Trying to talk about the biggest challenge facing society today in just 50 words can seem pretty daunting. One look at the required lengths for the following prompts won't do much to quell that stress. The key to nailing the Stanford supplemental essays is narrowing your response to a central idea and letting that topic speak volumes. Start this prompt by thinking about what issue you're passionate about solving. Don't be worried about sticking to a broader problem with this word limit. You could even offer up a quick, general solution that you think would help minimize the problem. It's a great way to show admission officers that you can take action.
How did you spend your last two summers? (Length = 50 words)
At this point, you may be wondering why the Stanford supplemental essays are so short. Don't worry, these aren't trick questions. Admission officers really just want to get to know the applicants a little better than the standard application allows. In this prompt, you're asked to discuss how you spent the past two summers. Here, it's a good idea to include a unique experience or activity that you think would stick out from the crowd of other applicants. Maybe you took a memorable trip with your friends, volunteered at a non-profit, or dabbled in a new hobby. Regardless, this is a good space to show admission specialists how you spend your free time.
What historical moment or event do you wish you could have witnessed? (Length = 50 words)
Again, the subject you write about for this prompt is going to make up for the required brevity of the answer. You'll want to choose an important historical moment while still keeping in personally meaningful. In other words, don't just randomly select a momentous event because you think it'll look good on your application. Instead, choose something that you really connect with. Maybe you admire a certain historical figure for their efforts in making the world a better place. Or, perhaps you're obsessed with a particular event that's within your area of study. Try your best to tie this historical moment into your personal life, interests, or area of study to make it stand out.
What five words best describe you? (Length = 10 words)
This Stanford supplemental essay is going to feel more like a psychological puzzle than a standard writing exercise. Instead of trying to wrack your brain to see how you could answer this question, simply turn to family members, friends, and fellow students to see how they would describe. Not only does this give you more ideas, but it also paints an accurate picture of how others see you. Pro tip: try your best to use descriptive words that capture more than standard adjectives. For example, empathetic sounds a lot better than nice.
When the choice is yours, what do you read, listen to, or watch? (Length = 50 words)
With another limited essay length, it's important to focus on remaining concise in this answer. Even if you've spent the last year devouring countless books, this isn't the time to show off your rapid reading skills. There are a few ways you can approach this prompt while still keeping your answer brief. The first option is to focus on one piece of content (an article, movie, podcast, magazine, book, etc.) that you always return to when you have the choice. Whether that's a meaningful movie or a moving book, you can present this piece of work as a primary motivation for you and further explain how it has shaped the way you think or view the world. An alternative strategy would be focusing on one genre in which you read many books, watch many videos, etc. This gives you a chance to explain why and how the particular genre is so interesting to you.
Name one thing you are looking forward to experiencing at Stanford. (Length = 50 words)
This Stanford supplemental essay can be broken down into one important question, "Why Stanford?" In other words, admissions want to know why you're interested in attending this prestigious university. While a world-class education, excellent professors, and fantastic job prospects are all great reasons to attend Stanford, these answers aren't going to help you stand out. Try your best to keep your response personal in nature while still addressing something specific about the university. Perhaps you have a desire to start a charity on campus or want to work with a specific professor on some interesting research. The key is to remain personal.
Imagine you had an extra hour in the day — how would you spend that time? (Length = 50 words)
If you're applying to Stanford, it's understood that you're an ambitious person. While you've had time to describe extracurriculars, prove your grades, and explain how you spend your summers, admission officers want to know how you'd spend your time if you had more of it. It's something we all think about, and now you have the chance to turn those ideas into a short answer for the Stanford application process. Would you take that extra hour to learn more about a particular subject, spend more time with the ones you love, work on a new business, or simply relax. Whatever you choose to do with that extra hour, make sure you give a short explanation of why. This will be more important than the actual activity you choose.
The Stanford community is deeply curious and driven to learn in and out of the classroom. Reflect on an idea or experience that makes you genuinely excited about learning. (Length = 100-250 words)
This prompt is longer than some of the other responses in the Stanford supplemental essays. Here, the admission officers want to know how hungry you are to learn more. You can either mention a specific experience or idea that inspires you to continue accumulating more information. This could be a particularly passionate teacher you had in school, a mind-opening book you've read, or even a conversation you've had with an impactful person. Regardless, it's a good idea to keep your answer related to your area of study. Better yet, you can really show your interest in the subject matter by honing in on certain ideas and concepts related to it. Admission officers want to see that you're an eager learner who can participate in the classroom, perform well at the school, and learn even on your own terms when classes aren't in session.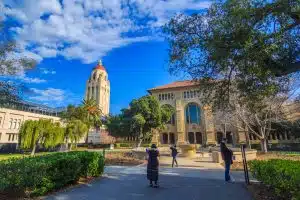 Virtually all of Stanford's undergraduates live on campus. Write a note to your future roommate that reveals something about you or that will help your roommate — and us — know you better. (Length = 100-250 words)  
While other prompts have been fairly straight-forward and clear cut, many students might feel stuck on this second-to-last essay. In reality, it's more of a creative writing piece than an open-ended question. You're asked to write a note to your potential future roommate to reveal something about you. Thus far, you've maintained a formal and professional tone in your writing. Your response could come off as forced and inauthentic if you continue in that style. Instead, write in the same voice you'd speak to your roommate, while still keeping it appropriate of course! Are you a passionate guitar player who loves writing new music during your free time? Maybe you're a shy person who could use the letter as a great way to break the ice before meeting in real life. Have fun with the prompt and try to keep as personal and genuine as possible. Don't be afraid to sprinkle some humor in there to really let your personality shine through. This portion of the Stanford supplemental essays is an easy way for admission officers to get a better idea of who you are and what you would be like at the university.
Tell us about something that is meaningful to you and why. (Length = 100-250 words)
In this prompt, you're asked a very open-ended question that's pretty much open to interpretation. Fortunately, you're given up to 250 words to do it. Stanford admissions officers want to know about something that is meaningful to you and require a short explanation of why. Since this topic is at the end of the application, it's much easier to narrow down your options – i.e. anything you haven't already discussed. Start by brainstorming some of the first things that come to mind when thinking of something meaningful. Some possible answers could be people, memories, experiences, heirlooms, ideas, emotions, and much, much more. Once you find something that you would like to write about, start thinking about the different ways in which it positively impacts your life. This is a good way of conceptualizing why that subject is so meaningful to you.
AdmissionSight is your one-stop-shop for all things college admissions-related. We've helped countless students write the best application possible in order to greatly increase their chances of impressing admissions officers and making their way into their dream college. Whether you need help writing your supplemental essays, choosing an appropriate summer program, or simply want to increase your chances of getting into the college of your dreams, we can help! Learn more about us here.