Everything You Need to Know About the AP Chemistry Exam
For students who are looking to both challenge themselves during their high school years and have a college application that will gain them acceptance to some of the most prestigious colleges and universities in the United States, enrolling in AP exams is considered a must-do. As far as AP exams go, the AP Chemistry Exam is one of the most common amongst them for students who are either enrolled in the course or self-study at home. In fact, last year, approximately 150,000 students took the AP Chemistry Exam.
If you are thinking about taking the AP Chemistry Exam, let us at AdmissionSight help break down everything that you will need to know about the exam. That includes the content you will cover in the course, the information you will be expected to master in order to score a top grade in the exam, and finally the best studying practices that you can take advantage of in order to improve your chances at success.
When it comes to your chances at success from a statistical standpoint, the AP Chemistry Exam is considered a pretty difficult one to master and score a perfect 5 out of 5 on. While many students last year ended up passing the exam, which is scoring at least a 3 out of 5, just over 10 percent scored a perfect 5.
If you are taking the AP Chemistry Exam specifically to try to earn credit at the university or college of your dreams, keep in mind that the amount of credit and advanced standing a student receives depends entirely on the college itself. While the 3 out of 5 scores are enough to pass, it is not necessarily enough to receive credit or placement. Still, a passing grade on an AP Exam will look great on a college application transcript.
With that being said, here is the breakdown of scores from last year's AP Chemistry Exam.
About the AP Chemistry Course
When it comes to students who are enrolling in the corresponding AP Chemistry course, they can expect to tackle nine total units throughout the course of the class that has been developed by the College Board.
When it comes to any prerequisites that students must accomplish prior to signing up for AP Chemistry, there are actually two. In order to sign up for the course, students must have passed and completed both Algebra II as well as a general high school chemistry course. If you have not taken these classes prior to enrolling in the course at school or starting your self-study for the AP Chemistry Exam, chances are good that you will quickly find that you do not have the information necessary to succeed. Of course, a general strength in both science and math subjects are encouraged.
On top of that, here is the breakdown of how these units will show up and be tested on the actual exam:
Throughout the course of the class, students will be taught and tested on all of these subjects with the goal of preparing them as best as possible for the coming exam.
If students are studying at home, they will want to purchase the coursebook and go through it on their own, or in a study group, as if they were receiving an in-school grade for it as well. If students do not prepare for the AP Chemistry Exam correctly, there is a large chance that they will not end up with the score they hoped for.
About the AP Chemistry Exam
Overall, the AP Chemistry Exam is focused on developing a student's advanced inquiry and reasoning skills. Because the base of scientific knowledge is rapidly evolving and changing, and the emphasis is not put on specific content and facts regarding chemistry. Instead, the emphasis is put on teaching students how to master the lasting conceptual understanding within the field of chemistry. This includes exciting skills such as developing plans for data collection, analysis of data, application of mathematical routines, as well as building connections between concepts across different fields and domains.
In the AP Chemistry Exam, students will undertake two main components. These are known as Scientific practices and Course content. Scientific practices are the skills necessary to think and behave like a real chemist, while course content covers the general and abstract concepts or themes that are the very foundation of the course.
Course content is further broken down from there into "Big Ideas."
Here are the six different scientific practices that are included in the AP Chemistry Exam:
And here are the four big ideas that are covered on the AP Chemistry Exam:
Exam format and content
As previously mentioned, the AP Chemistry course itself is broken down into nine separate units. All of the questions that students face on the exam itself derive from those units, and the weight that each unit receives regarding the final score of the exam is below:
All of these nine topics will be covered on the AP Chemistry Exam. The exam itself is one of the longer AP exams that high school students and clocks in at three hours and 15 minutes total. That time is broken up into two sections, the multiple-choice section, and free-response questions.
Let us at AdmissionSight break down the kind of questions that you can expect to face when you sit down for the exam on the day.
Multiple choice
The first section that students will tackle in the AP Chemistry Exam is a 60-question multiple-choice section. In this section, questions will both come as stand-alone and grouped questions. In order to score high marks in this section, students will have to be able to do the following:
Explain, analyze and understand models and representations of chemical properties and phenomena
Design and understand experiments and procedures in order to test a prediction or scientific theory
Use mathematical relationships in order to solve a problem
Take advantage of evidence and/or reasoning in order to make or justify a scientific claim and support that claim
Here are several examples of the kinds of multiple-choice questions that students can expect to see on the exam.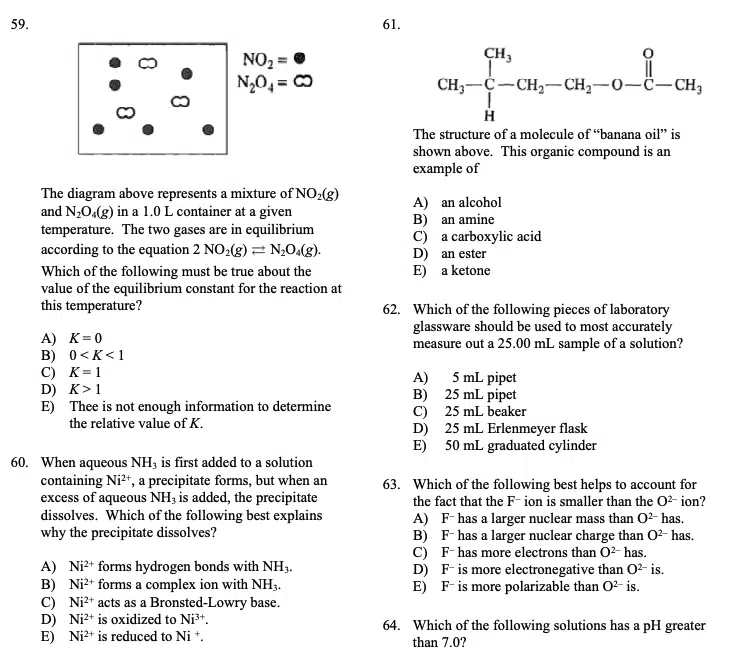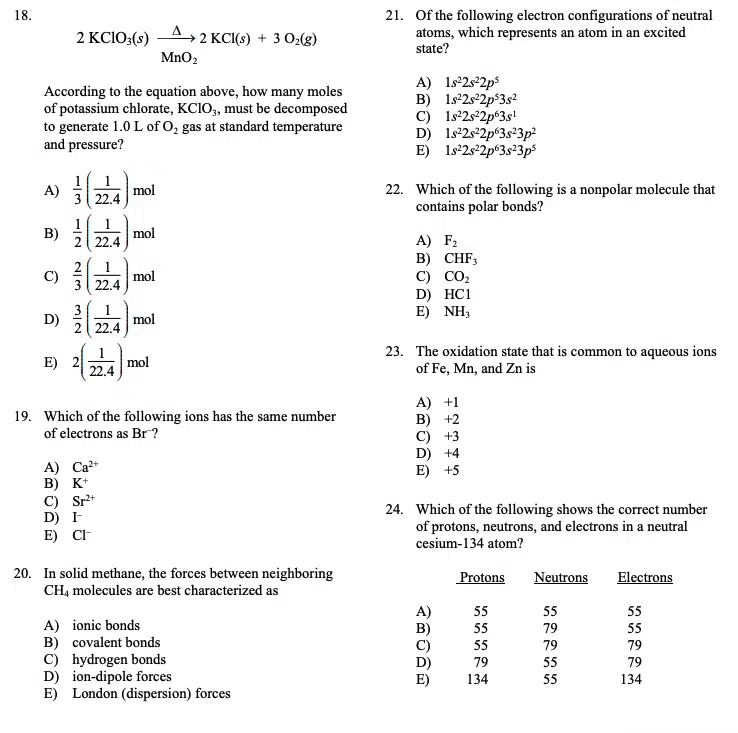 Free Response
After the multiple-choice section of the exam is divided into three long essays that are each worth 10 points each and four separate short-response answers that are each worth four points each.
In the free-response section of the exam, students will be given one hour and 45 minutes to complete. It is up to every student to effectively budget their time on this section, as the proctor in the room will remind you of the amount of time that is remaining, but they will not force you to move on to the next question at any time.
Some examples of the free-response questions that you may face include the following:
One thing to keep in mind that when you are preparing for the AP Chemistry Exam, and as you take the exam itself, that you will be allowed and encouraged to use a scientific calculator for the free-response section only. You will also be provided with an equation and formula list as well as a copy of the entire periodic table that you can use.
If you are interested in the official rules and guidelines regarding calculator use on the exam, here is a link to the College Board's calculator policy. Beyond that, here is a way to find which equations and formulas you will be provided on the day of the exam as well.
The best studying practices to ace the AP Chemistry Exam
Now that we at AdmissionSight have broken down what kind of subject matter you will be expected to master in order to ace the AP Chemistry exam, let's quickly go over the best way to prepare and practice for the exam itself.
The first step to preparing for the AP Chemistry Exam is to simply take a practice exam. While you should feel free to time yourself and give yourself the same amount of time that you will get on the day of the actual exam, it is also okay for you to go through the practice exam as slowly and methodically as you desire.
The main point here is to get a good idea of what are areas of strength for you that you will be tested on and what are still areas of weakness. The best way to do this is to take the practice exam and then cross-references the answers that you come to with the answers that are given on the practice exam key.
Once you have given yourself this learning tool and assessment, you will already understand the areas that you need to work on most in order to gain a comprehensive knowledge of the subject matter that you will face on the exam. From there, you may want to consider studying further with your teacher who led the course in school or forms some kind of study group with friends or peers that are also preparing for the AP Chemistry Exam.
Study the material
In order to best prepare for the AP Chemistry exam, you are going to want to make sure that you have a very strong grasp on the four Big Ideas that you were taught through the course.
Understand the examples and essential knowledge that supports each Big Idea. They encompass the core scientific principles, theories, and processes that will allow you to understand the broad concepts of chemistry.
On top of that, you will also need to gain mastery of the six scientific practice of the course. Make sure that you are familiar with the AP Chemistry Lab Manual. If you are self-studying for the exam, this should be considered a necessary purchase in order to give yourself a good chance of getting a great score on the exam.
On top of the lab manual, there are other fantastic free or for-purchase resources that you may also consider getting in order to expand your knowledge prior to the day of the exam.
Practice multiple-choice and free-response questions
Once you feel that you have mastered the theory that you will be expected to understand for the AP Chemistry Exam, it is now time for you to strengthen your comfortability with the format of the questions that you will be facing in the exam itself.
First, we at AdmissionSight advise that you dive deeply into the multiple-choice style of questions. There are numerous different resources that you can take advantage of both in the form of study guides that you can purchase and in the form of online resources and tips that are easy to find and easy to use.
On top of that, the College Board Course Description also includes many practice multiple-choice questions along with the explanations and answers as well. As you go through these many different resources of multiple-choice questions, make sure that you keeping track of the questions that you struggling to answer correctly. Above all, make sure that you are focusing on understanding what each question is specifically asking as well as going through concepts and ideas that you are not yet fully familiar with.
From there, you will want to pivot over to focusing on practicing free-response questions so that you can get familiar with many of the different types of free-response prompts that you may come across. One great tip that you should follow is to pay attention to the specific task verbs that you come across during these practice questions. The task verbs that are most commonly used in the free-response section of the AP Chemistry Exam include, justify, explain, predict or describe. Make sure that you are doing what these questions are asking you to do something. One horrible mistake would be to justify something when the prompt is asking you to predict something else. Make a habit of circling or underlining the task verb or verbs that exist in a single prompt and checking them off as you satisfy them in your answer.
As you continue to go through practice exams, a good thing to start doing is time yourself. See how long it takes you to naturally answer a set of questions. Then, as you start to get more familiar, you should start to restrict the time that you have to the time that you will actually have on the day of the exam.
Take another practice exam
Finally, as the day of the actual exam nears, you will want to shift your focus from practicing sets of questions to practicing the exam overall. The best way to do this is to start taking time exams and see how you fare. Make sure to continue checking your answers and identifying if there are any areas of the exam that you still need to work on.
Once the day of the exam is truly just days away, it is advised that you take a break from this arduous studying and let your mind and body get the rest it needs to perform at its best. Now, you must trust your preparation and get ready to earn that 5 out of 5 as you planned!
Good luck!