8 Things Parents Should Know Before Applying to Yale University
Yale University is often regarded as one of the most prominent institutions of higher learning in the United States. As a parent who wants the best for their child, it's no surprise why Yale might hold top priority when considering where to apply. Indeed, this college is typically mentioned in the same breath as other world-class institutions such as Stanford, Princeton, Harvard, along with other Ivy League institutions. If you're considering Yale University for your child but are having trouble making a decision, you're in the right place. Here, we've put together some key information about Yale University that all parents and students who are considering applying here should know.
In fact, Yale University was recently ranked number four in the US News national universities ranking category. Its alumni network is comprised of a variety of successful individuals including heads of state politicians artists, Nobel laureates, musicians, and other respectable and highly successful individuals.
With such an impressive reputation, which is well earned, it's no surprise that Yale University is a very popular option for eager students and motivated parents around the world. It's a competitive college that implements a rigorous admissions process that requires students to apply efforts in multiple categories while illustrating their academic prowess.
Even if your child meets all of Yale's requirements, that doesn't necessarily mean this university is the best fit. When applying to Yale University, it's important that parents get a better understanding of what this university offers in terms of education, extracurriculars, and long-term development. You and your child don't want to end up going through months of hard work only to realize that your university simply isn't a good fit.
Student Body and University Culture
As one of the most highly sought-after universities not only in the country but also in the entire world, Yale University attracts a diverse tapestry of students. Compared to the size of other Ivy League universities, Yale is relatively large with a total student body of well over 12,000 students. Undergraduates comprise Just under half of this total number.
As a parent, you shouldn't worry about undergraduates getting looked over for older and more senior students. Yale University has a long tradition of remaining committed to its undergraduate education. It's recognized by many reputable institutions for having high-quality undergraduate programs. Many of the courses that undergraduates will be taking are not near the buildings that graduate frequently. However, some of the upperclassmen will be working as teaching assistants.
As a leading Ivy League university, Yale is known for maintaining a culture of academic rigor and intellectual excellence. Students attending Yale are seeking to be challenged academically and personally in order to develop themselves for their professional goals. Whether you're in the classroom attending campus events or participating in extracurricular activities, you will have a chance to continue perfecting your academic abilities. Parents applying to Yale University will be happy to know that this robust academic dedication doesn't seep into every aspect of campus life. There are plenty of spaces and opportunities for students to relax, let go, and escape some of the common stressors of collegiate life.
When asking what is Yale University like, it's important to learn more about the school's campus itself. While educational offerings and other aspects of academic life are critical, students and parents should also take location into account. Since its founding, Yale University has been located in downtown New Haven Connecticut. This is a relatively small city that still offers the modernization and connectivity of major metropolitan areas. Yale University owns many properties that aren't directly connected to the primary campus. However, undergraduates attending Yale will most likely have most of the classes on the main campus, which is beautiful in its own right.
Another aspect of Yale University's location that students and parents love is its proximity to New York City. Whether you want to get away for a weekend or have a quick connection to anywhere in the country or outside the country, all you have to do is hop on any number of public transportation options to New York City. The cities of Boston and Washington DC are also just a short distance away. Of course, students who have vehicles will have no trouble getting around to all of these locations quickly and easily. But underclassmen without vehicles can also take trains, buses, or even flights.
Popular Programs and Majors
Yale University is closely associated with its political alumni, giving it a reputation for offering unrivaled political science and government majors. However, Yale's excellence doesn't stop there. It also offers popular majors in the fields of biology, psychology, history, and economics – among many others. Keep in mind that these are by no means the only areas in which Yale offers exceptional academic offerings. As an Ivy League institution of higher learning, Yale offers students of any interest unparalleled academic opportunities. Whether you want to study something more traditional like political science or economics or you're interested in something a little more niche, Yale University is still a great school to attend.
When applying to Yale University, parents and students should remember how important it is to illustrate the applicant's academic interests and personal strengths within a particular field. If the admissions officer thinks that the application betrays an interest that is too general, they might consider the applicant not suited for a university that takes such pride in academic rigor. In order to demonstrate a dedication to a particular field, students and parents will need to point to high-level courses in high school, extracurricular activities outside the classroom, and other time and energy spent towards developing the relevant skills in this particular area.
Housing
As is the case with many high-level universities such as Princeton and Harvard, the student housing at Yale is separated into residential colleges. This means that the vast majority of students live on the Yale campus within small residential communities divided amongst areas of study. These residential colleges offer students places to socialize, live, sleep, eat, and thrive within the community overall. Parents might also be interested to know that each residential college has dedicated advisers and faculty members that offer resources and support for students while helping to keep things organized and running smoothly.
Admissions Statistics
As one of the most popular universities in the world, Yale receives tens of thousands of applications from both inside and outside the country. With only a limited number of spots available, Yale admissions officers must sift through all applications to determine which students are qualified to attend the university. Needless to say, the admissions process is highly competitive and selective. Along with other highly selective Ivy League universities, many people say the low acceptance rate is one of the worst things about Yale University.
However, this is simply something that comes with the territory of attending a college that is so prestigious. While the number tends to change year by ear depending on the number of people excepted and the number of spots available, Yale University generally has an acceptance rate of 6%. This means that for every 100 people who apply only six are excepted. Given the low chances of acceptance, the vast majority of students who do gain admittance end up attending the university.
Student Life
Although there are plenty of opportunities to have fun, it's important when applying to Yale University to understand just how dedicated students are to their academic development. Even outside the classroom, they're continuously looking for ways to improve. Whether that's through extracurricular activities or other challenges, the Yale student body is known for its high intellect, driven personalities, and commitment to academic excellence.
With hundreds of student groups and new groups being formed seemingly every week, there's an opportunity for everyone to find something they enjoy. Even if you can't find the activity which you want, you're free to develop your own club and invite people to join. Whether that's basket weaving or competitive hop-scotch, Yale University supports the creation of new student groups and clubs.
When hearing about the academic rigor which the school is known for, many people begin to wonder if Yale University fun? While maintaining a focus on educational development, Yale still offers sufficient opportunities for students to have fun, let go, and enjoy themselves. If you're into sports, the university has several informal and competitive leagues, depending on your aptitude.
Even the famous "bladderball" sport, which has been repeatedly banned and then revived – finds its way onto campus every once in a while. Although the acapella group called the Whiffenpoofs are among the most well-known of the performing arts on campus, there are countless other opportunities. Furthermore, there are political organizations, cultural groups, and even the Yale Record – one of the country's oldest collegiate humor magazines.
Application Information
Just like other Ivy League schools, Yale University offers two timelines for applications: the Regular Decision and Early Action deadline. While most applicants choose to submit their application for Regular Decision – the standard timeline- others who are deadset on attending Yale might want to consider Early Action.
During the latter, applicants are to submit all of their documents and a completed application by the 1st of November. And a decision should be received by the middle of December. Bear in mind that Yale's Early Action is what's known as restrictive or single-choice. This simply means that applicants aren't allowed to apply to other universities during the Early Decision or Early Action round. However, you're still not obligated to accept the offer if you end up getting admitted to Yale.
As mentioned before, the majority of applicants apply during the Regular Decision timeline. This follows the standard dates for most colleges. Students are required to submit a completed application by January 2nd and decisions are generally received by the end of March. No matter which application timeline you decide to apply with, Yale University expects all applicants to submit a final decision on whether they want to attend or not by May 1st.
Tuition and Financial Aid
While Yale University ranking as one of the top-performing Ivy Leagues, it's no surprise to parents to hear that obtaining an education at this school is expensive. Tuition for the school year of 2020-2021 comes out to $57,700. With room and board were thrown into the mix, parents and students can be expected to pay $74,900 in total. There are some potential additional feels but these are optional. While this price tag might turn off many parents and students from applying to Yale University, it's important to keep in mind that financial aid is available for those who can't foot this school's expensive bill.
Tuition and Other Costs 2020–2021
| | |
| --- | --- |
| Expense | Cost |
| Tuition | $57,700 |
| Room | $9,750 |
| Board | $7,450 |
| Total | $74,900 |
Similar to other Ivy League universities, Yale only offers financial aid that's need-based. In other words, students won't be able to receive scholarships for academic or athletic performance. These merit-based scholarships that are offered at some other colleges aren't available to those applying to Yale University. Still, the need-based financial assistance for which students can qualify is still incredibly generous. In fact, many families of Yale students end up saving significantly on attendance rates.
While this is exciting news for those who want to attend Yale without the big price tag, it gets even better! The aid awards given out by Yale are grant-based. This means that students won't have to get expensive student loans. With school-related debt being a common struggle for attendees of high-level universities, these scholarships free of student loans are welcomed among Yale applicants. Be sure to check application deadlines for financial aid to ensure you and your child have the best chance of receiving the assistance that's needed.
Accepted Students
With a highly selective acceptance rate and a top-tier pool of applicants, Yale University only accepts the very best of students it attracts. In general, those who are successfully admitted to Yale are students who were able to demonstrate their intellectual and academic prowess, development, and commitment. Accepted students are typically at the top of their class in high school and have exceptional GPAs and standardized test scores. While these are great achievements and critical to the overall decision, accepted students aren't only chosen for their academic achievements.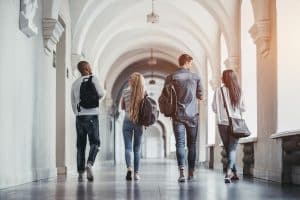 Yale University, like many other Ivy League schools, takes a holistic approach to its admissions process. While SAT and ACT scores, extracurricular participation, and GPAs are important, admissions officers also take many other factors into account. When filling out the Yale application, you'll notice the breadth of information they're looking to glean from the admissions process overall. In short, Yale isn't only interested in students who excel on tests and in classrooms. They're also invested in what students bring to their community outside of school. You'll notice that students accepted to Yale are also interested in impacting the larger world.
How Admission Sight Can Help
Yale University is a perfect choice for parents who want their children to receive a world-class education. With a variety of academic offerings, all students have an opportunity to be set up for professional success after attending this Ivy League school. However, the sheer competitiveness is enough to discourage many people from even applying to Yale University.
Fortunately, there are professionals who are dedicated to supporting students in their quest to gain admittance to some of the country's top-rated colleges. A college admissions counselor guides students and parents through the entire admission process and offers a customizable plan of action to greatly increase one's chances of getting admitted.
Admission Sight has helped countless students perfect their applications, better understand the admissions process, and clarify their academic goals in order to put themselves in the best position to get accepted to the university of their dreams. We've developed a host of personalized and effective services designed to optimize your child's application in the eyes of admissions officers.
If you need help perfecting an admissions essay, we offer professional editing services? Not sure which courses or extracurriculars to take in high school to catch the attention of Ivy League admissions committees? Let our academic guidance service lead the way. No matter what you need, the Admission Sight team is here to help. Feel free to contact us today to discover what we offer and how you can benefit.