Boston University Research in Science & Engineering (RISE)
The Boston University Research in Science and Engineering (RISE) program offers rising seniors the opportunity to take a deep dive into STEM while enjoying the summer of a lifetime in the storied college town of Boston. This highly selective program draws 100 students from across the US for six weeks of interactive science in Boston University's world-class labs.
Students accepted into RISE are presented with two options; the hands-on research and mentorship of the Internship track, or the more structured research environment of the Practicum track. Either way, the Boston University Research in Science and Engineering (RISE) program is the perfect summer program for scientifically minded students.
RISE Areas of Research
Astronomy
Biology
Biomedical Engineering
Chemistry
Electrical Engineering
Computer Engineering
Mechanical Engineering
Medical Laboratory Research
Neuroscience
Physics
Psychology
Public Health
Computational Neurobiology
The Internship
Of the two tracks offered by the Boston University Research in Science and Engineering (RISE) program, the Internship track is more hands-on and less structured. Students in this cohort are mentored by BU faculty, postdoctoral fellows, and graduate students.
They can expect to spend 40 hours each week working on a research project with their mentor. Additionally, internship and practicum students come together one day each week for workshops focused on developing academic and professional skills.
Boston University Research in Science & Engineering Practicum
In the RISE Practicum track, students go by a set syllabus, starting each day with a two-hour lecture in the morning followed by four hours of group research in the afternoon.
Experiments are specifically designed to introduce students to university laboratory protocols in computational neurobiology.
In addition to joining their Internship peers for skill-building workshops each week, Practicum students enjoy weekly interactions with local biotech or pharmaceutical companies.
Poster Symposium
For both the Internship and the Practicum tracks, the highlight of the summer is the Poster Symposium. The symposium offers students the opportunity to practice essential communication skills as they share their research findings to an audience comprised of both colleagues and the general public.
The RISE Experience
While commuting to campus is allowed, Boston University encourages RISE students to enjoy the full college experience – dorm life included. Students in both RISE and High School Honors programs live together as a single community in BU's Warren Towers residence hall. Centrally located Warren Towers is made up of three different towers, each consisting of dormitory rooms, study areas, and a TV lounge.
Men and women live in separate towers. In most cases, two students live together, with the exception of a few single and triple rooms. Dorm rooms aren't air-conditioned, so a fan is essential for surviving the humid Boston summer!
Students are only a short walk away from their dining hall, the Fresh Food Company at Marciano Commons. Restaurant-style meals, fresh desserts, and vegan and vegetarian offerings are all on the menu.
The dining staff is able to accommodate special dietary requirements.
RISE and High School Honors students participate in a wide variety of academic, social, and service activities.
Whether it's a group outing to Newbury Street, a dorm movie night, or ultimate frisbee on the Boston Common, activities are all designed to help students build community as they get to know one another and the city of Boston.
Sample Activities
College writing workshop
Social media branding workshop
Mindfulness and meditation workshop
Boston Harbor sunset cruise
Trip to Hampton Beach
Red Sox game
Boston Duck tour
Greater Boston Food Bank service project
Weekly RISE workshops
Study tips and notetaking workshop
Computational chemistry seminar
Center for Career Development workshop
College admissions presentation
Panel overview of majors
Panels with BU students who majored in science, business, or humanities
"Ice Night" – Icebreakers and ice cream
Visit Faneuil Hall
Visit the Museum of Fine Arts
Visit Harvard Square
Shear Madness Comedy Performance
Visit the Institute of Contemporary Art
Performance by Improv Boston
Farewell dance
Cradles to Crayons service project
Room to Grow service project
Checking in and checking out
Residential students must check in on the third floor of Warren Towers. It's essential to arrive by 4:00 pm on Sunday because a mandatory orientation session begins at 4:30 pm.
If flight restrictions prevent an on-time arrival, it's important to contact the Summer Terms High School Programs office at least one week in advance. Students receive their room assignments and room keys at check-in.
Commuter students check-in on Monday at 8:00 am to meet their program assistant and learn program policies. In addition to these orientations, Internship track students have a program orientation at 10:30 am on Monday.
RISE officially ends at 3:00 pm on Friday, after the Poster Symposium. If travel arrangements require a student to stay an extra night, they have until 10:00 am the following Saturday to fully vacate Warren Towers. No exceptions can be made to this policy.
Check out procedures
Return the residence key and ask for a receipt.
Remove all personal belongings and trash.
Close and lock the windows.
Leave the room as clean as you found it.
Turn off the lights.
Lock the door.
Admissions
The Boston University Research in Science & Engineering (RISE) program is open to rising high school seniors who are US citizens or permanent residents. Admission decisions are based on high school grades, the difficulty of courses taken, standardized test scores, essays, and two recommendations.
Tuition (2020 fees)
$50 – nonrefundable application fee
$4650 – tuition
$60 – service fees
$25 – Student Health Services (fee per visit)
$2734 – Room & Board (14 meals/week)
$2994 – Room & Board (19 meals/week)
Limited financial aid is available for the RISE program, based on financial need.
Why students should take part in STEM extracurriculars
Now that you know the basic information regarding RISE, you may be curious about some of the most important reasons why STEM extracurriculars such as RISE are so beneficial to high school students.
No matter what year in high school you – or the high school student in your life- is currently preparing for, it is never too soon to get started on pursuing the extracurriculars and out of school programs and projects that are most interesting to the student.
For students passionate about STEM-related programs, it is incredibly important that they do not simply rely on their school curriculum to give them the lessons they need to succeed at the next level.
That is why programs such as RISE is so great! Here are some of the primary reasons why STEM summer programs such as rise should be at the top of the list for any student who is interested in pursuing an education and career in a STEM.
Students get to enjoy an adventure out of the classroom
Whether it is studying on the campus of a prestigious university such as Boston University, or heading out in to the field to do research in many different corners of the world, STEM summer programs allow students to explore new places and idea with the eyes of a highly trained scientist. Even if the program takes place in a student's hometown, they are going to get the chance to learn in a new and exciting way.
Through STEM programs such as RISE, students get the opportunity to expand their world and also dramatically change and improve the way that they see the world around them!
Get hands-on learning opportunities
Far too often in high school are students relegated to learning about the incredible world of science, technology, engineering and math through reading textbooks. While learning the basic foundations of STEM and getting familiar with the most important aspects of those subjects is surely important, students also will want to quickly familiarize themselves with the fact that so much of STEM is done through hands-on research.
Whether a student is interested in learning to code on their own, wants to start working with stem cells, or dealing with the largest engineering challenges facing our time, the only way to really get started in those endeavors is to get in the lab and get to work.
As STEM summer programs all over the country and world, high school students get to see what it is really like to be working in a lab and getting the research done from start to finish. If a student is already excited about pursuing a degree and career in STEM just from their high school curriculum, there is lille doubt that they will be even more excited about that pursuit once they get home from a program like RISE and see what else there is out there in terms of learning and applying those lessons in the real world!
Highschool students learn from trained professionals
High school science and math teachers can be wonderful. In fact, many of them are responsible for why so many students decide to pursue careers in STEM related subjects long after they graduate from high school.
However, there is no doubt that high schoolers who are naturally gifted when it comes to STEM or simply work hard enough to be advanced will feel somewhat hindered by what they can learn in the high school classroom. Even Honors courses and AP courses and exams often pail in comparison to what students have the chance to learn once they get on the campus of a major university and start to build out their curriculum.
That is why STEM summer programs such as RISE can be so beneficial to those types of students. In fact, for many students, a program like RISE will serve as the very first opportunity for a student to see what it is like to work and learn in a college-level lab. Their eyes will be opened to the ways that teaching and learning changes from high school to college.
Beyond that, the teachers that they will be learning from will not simply be the average high school teacher who is reading from a textbook and covering -primarily – the surface level of most subjects. Instead, students will get the chance to learn from some of the most respected and accomplished professors in their field.
Students avoid the summer brain drain
One of the very real things that high school students want to look out for and avoid is something known as the summer brain drain. This is what happens when students – who work very hard over the school year – decide to take a long break from learning during the summer.
Studies have shown that students who do not work to build upon what they have learned in school over the summer will often forget large amounts of what they learned in the first place. Beyond that, they will have to rev back up their learning the retention skills when the next school year begins.
On the other hand, students benefit greatly from continuing their learning in the summer get the opportunity to build upon the lessons that they learned in their high school curriculum and apply them in often more challenging and more exciting ways.
In all, this helps students make sure that they are making the most out their summers by improving as students and further understanding what kinds of subjects they are most interested in.
Students get to explore different career options
If a student already has a good idea of what kind of career path may interest them, a summer program can serve as an ideal way for them to test out that goal and give it something of a test run.
There is absolutely no doubt that RISE is one of the most complete and compelling STEM programs offered to high school students in the United States, but that does not mean that it is the only one.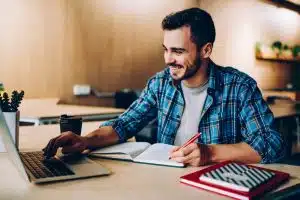 No matter what a high school student is most interested and passionate about when it comes to STEM, they will absolutely get the chance to find a summer program that gives them a chance to picture – a bit more clearly – what a career and life in that field would look like.
This is made additionally true because, through learning from and working with professors in that field, high school students will get the chance to start building out their own personal network thanks to the professors that they work with along the way.
These professors can quickly become mentors who help high school students make big decisions regarding what kinds of schools they apply to and can ever serve as important resources in terms of letters of recommendations for schools and jobs further down the road.
Students get a head start
Without a doubt, getting the chance to study at a top research university such as Boston University gives students a head start. This is true in more ways than one. First of all, when taking part in programs such as RISE, students are often thrust into a level of STEM that they have not previously learned and worked in.
Instead of heading to undergraduate school with nothing more than the experience they gained in their high school classes, they will be able to draw upon the experiences that they enjoyed and learned from while studying at a university lab during their summer vacation. This will allow them to approach the subject matter in their undergrad courses with ease and confidence that will help them quickly separate themselves from the pack.
Beyond that, students will also get to attend and often live on college campuses thanks to the STEM programs. This will help them emotionally prepare for the freedom and novelty of living away from their parents and home.
This will go a very long way in helping those students acclimate to college living once they actually do graduate from high school and move into their first college dorm. Students also have the opportunity – in some cases – to even earn college credit when they take part in summer programs that are offered by universities.
On top of that, attending specific programs such as RISE can help students begin to narrow down their choices when it comes to the schools that they actually want to apply to when the time finally comes.
About Boston University (BU)
Privately founded in 1839, Boston University (BU) has grown to a total undergraduate enrollment of 18,515 in 2020. It's one of the largest independent, nonprofit universities in the nation. The U.S. News and World Report listed it at #40 in its 2020 Best Colleges edition. Highly ranked graduate programs at BU include the School of Law, School of Management, School of Medicine, College of Engineering, and School of Education.
Final Thoughts
While the Boston University Research in Science & Engineering (RISE) program is costly and extremely competitive, it's also an exceptional program with the capacity to spark tremendous academic, emotional, and social growth. Attending RISE will help make a student's college application stand out, while also preparing her for the full university experience.
After completing the RISE program, participants will come away with deeper experiences to mine when it comes time to craft the perfect personal statement. At AdmissionSight, we can assist students with summer program applications, including RISE.