Boston University Acceptance Rate: 19%
Shortcut to sections offered for Boston University prospective students:
Successful Applicant Profile
Demographics
Majors
SAT/ACT scores
Entry Requirements
Tuition
Scholarships
Checklist of Application Requirements
Application Deadlines
What Should You Expect
Student life
Academics offered
Athletics offered
Notable Alumni
So, you've always dreamt of pursuing higher studies at Boston University. Like many other academically brilliant students from around the world, you too want to make it to this top-notch university. But with the college admission landscape becoming a steeper landscape every passing year you might find yourself questioning, "What are the odds?"
Declining Harvard and Boston University acceptance rates and that of other top public universities are definitely intimidating to read about.
Within the Boston community, we have other heavy-weight institutions such as Harvard, whose acceptance rate for the year 2021 was only 5.2%. The comparative picture for Boston is much brighter. For the year 2021, the Boston University acceptance rate stood at 19%. Out of a total of 35,552 applications received from around the world, about 9680 were accepted.
We can see you relax a bit there, with the numbers looking a bit reassuring, at least in comparison to Harvard. Now, even though that comparison may have eased a bit of tension, know that Boston is a very selective and competitive university, ranking at #40 in the 2020 edition of Best Colleges. And, Boston University gives a high weightage to academically bright students.
An above-average GPA and excellent ACT/SAT scores play a major role in your college application for Boston. That said, there are a number of other factors too that decide the fate of your college admission.
We at AdmissionSight are here to make sure that you are well-versed with all requirements when applying to top public institutions as well as the Ivy League.
Let's discuss, in detail, what your applicant profile must look like for you to walk away with that coveted acceptance letter.
1. Successful Applicant Profile
Boston University is a member of the Boston Consortium for Higher Education and the Association of American Universities. It is, indeed, one of the oldest private universities, founded in 1839. Today, the urban campus of Boston University spans a vast 169 acres and is home to a student body of over 16000.
Located in the heart of Boston, the university has many claims to fame. The university is a top global name in the list of those that provide outstanding medical and law programs. Most of the faculty members at Boston University have a Ph.D. or equivalent.
Academics are definitely laid rigorous emphasis on. But equal importance is given to preparing 'life smart' people who can excel in personal as well as professional life, beyond college.
If you are successful in hitting the cut-offs of Boston University acceptance rate, then get ready for the life-changing experience at Boston University. With the best put forward college application and good-enough scores, you too can make it to the dream-like Boston University.
Where are most Boston University applicants from?
Boston University boasts of a diverse community with people from all backgrounds, religions, and cultures. The university even has a high percentage of students not only from the U.S. but from around the world.
Academically brilliant students from across the globe, who have demonstrated their ability and passion towards a chosen field of study, try their level best to study here. This growing competition on a global scale is one of the factors why the Boston University Acceptance Rate is consistently falling.
That said, it is this diversity of students that Boston University encourages that truly make it a world-class, internationally acclaimed university. International students comprise about 23.7% of the student body.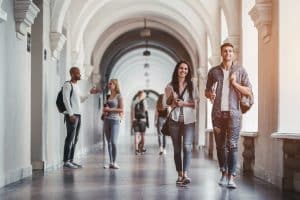 A minimum of 50 countries are represented on the Boston University campus, the largest contributing being China, India, and South Korea. Analyzing population by race/ethnicity, the university homes 29 American Indian/Native American, 13,478 White, 1,364 Black/African American, 3,876 Asian, 2,963 Hispanic, 34 Native Hawaiian or Other Pacific Islander, and 1,642 students with other races.
Getting that kind of exposure to people from all walks of life, from all parts of the world, is important from a social and professional perspective.
What are the most popular majors taken up at Boston University?
There are a whopping 300+ courses that you can major in from Boston University. The most popular of these courses include Business, Management, Marketing, and Related Support Services; Communication, Journalism, and Related Programs; Social Sciences; Biological and Biomedical Sciences; and Engineering.
If pursuing higher studies at this university, you have the option to take up two specializations – a major and a minor. Say, you could decide to major in psychology because you want to build your career as a child psychologist.
And, pursue a minor specialization in fine arts because the subject has always been close to your heart. If this seems interesting to you check out the Dual and Double Degree program options at Boston University.
But what in case you aren't sure about what subject you should be enrolling for? Maybe you want to get a glimpse of the programs offered at the university and be double sure before you finalize your subject/subjects of specialization.
At Boston University if you are undecided on a major you have the option to explore different academic courses before specifying your specialization. You don't need to declare a major until you've graduated to sophomore year.
What are the general SAT/ACT scores of students accepted to Boston University
For admitted students in 2019 who took ACT score:
25th percentile score: 30
75th percentile score: 33
For admitted students in 2019 who took SAT score:
25th percentile score: 1339
75th percentile score: 1500
You need to remember that GPA scores are a critical factor too if you wish to apply for a course of choice at Boston University.
The average GPA of students admitted to this university is around 3.7. If you find your grades and test scores falling in the mentioned ranges you have a solid chance of beating Boston, as these are the primary acceptance parameters for the university.
However, there are other parameters too, on which you should have exhibited extraordinary performance. These include your rank in high school, high school grade transcript, extracurriculars, participation in college prep programs, etc.
Given that 58% of Boston University freshmen were in the top ten per cent of their high school graduating class, you know competitive college admissions can get. Certain other factors, such as athletics, and recommendations are also considered when screening applicants' profiles for admission.
2. Entry Requirements
Now that we have gone through what Boston University is looking for in an applicant, let's see if its offerings, costs, and deadlines align with your current interests in a university.
How much will it cost to attend?
Millions of students who wish to take up a specialization of choice at the Boston University pause and rethink their aspirations when they look up how much it can cost them to attend this university.
While Boston University Acceptance Rate is fairly competitive what actually disappoints students seeking admission is the astronomical fee, which includes tuition, room charges, dining, books and supplies, personal expenses, etc. All this totals to nearly about $78,000.
Here's where we'd like to mention that if you are really keen on studying at Boston University, don't blindly drop your dreams just after taking a cursory look at those dollar figures. For first-year students who are US citizens or permanent residents, the university offers financial aid that meets your full need 100%.
Non-residents or those who aren't US citizens can look up other financial aid options. We'll be taking this up in the upcoming section. But, before that, let's look at the breakdown of annual cost at Boston University.
Here you go:
Tuition – $56,850
Room and Board – $10,990
Books and Supplies – $1000
Other Fees – $1218
Board (Dining plans) – $5650
Other miscellaneous expenses -$1900
As previously mentioned US citizens and permanent residents have a huge advantage in terms of tuition fees. It would be great case you can establish an in-state residency. However, in case that's not possible, you still have the option of applying either for financial aid or for a merit-based scholarship.
What are Boston University's financial aid opportunities?
Planning for expenses is a critical part of your college application process. And, if you are thinking about how are you going to meet the expenses, be assured that Boston University offers a number of financial aid options to deserving students. Listed are ways in which you can get some form of financial aid or the other if planning to study at Boston University.
Federal grants: These grants are calculated based on your need for financial assistance, as reflected by information provided on your FAFSA. You aren't required to repay federal grants.
State grants: Just like federal grants, state grants are need-based grants that the state government awards in case you are that particular state's residence.
For the complete list of states that provide state grants check this link on the Boston University website. To qualify for state grants you must meet all the criteria established by your state of legal residence.
Federal student loans: Students who are looking to finance a portion of their fee through loans should consider federal loans over private loans. Two of the best federal loan options for students include the Federal Direct Loan and the Massachusetts No Interest Loan.
The Federal Direct Loan has an extremely low rate of interest and some very student-friendly options like deferred repayment options. As far as Massachusetts No Interest Loan is concerned, it is available to Massachusetts residents with a high requirement of financial assistance.
Work-study financial aid/awards: Taking up a part-time job while studying at Boston University can help you pay some part of your tuition fee, and get a taste of self-dependence.
It is one of the best ways to a) avoid debt and minimize borrowing b) learn how to make a living and meet your needs. So, even if you have received some kind of financial aid you must still take up a part-time job to cover the remaining percentage of the fee. Or, just to be able to repay the loan you've taken.
Merit-based scholarships: If you are exceptionally brilliant at academics with perfect SAT/ACT scores, and a GPA of nearly 4.0, you can apply for a merit-based scholarship.
Boston University's merit-based programs cover full tuition. So, if you are eligible for it you need not apply for any other financial aid. Also, while most merit scholarships are for academic achievements, students who have demonstrated outstanding contributions in other fields like arts, athletics, etc., are also eligible.
All in all, it is in your best interest to avoid applying for private loans when you have so many other options to meet your financial requirements to study at Boston University.
Taking up a work-study program certainly would help, and so would studying hard for a merit-based scholarship that covers your entire tuition cost.
What are the application requirements for Boston University?
Applying as a first-year applicant? Here's a checklist of all that you need to submit along with either your completed Common Application or your Coalition Application:
High-school transcript
Senior year grades
Counsellor recommendation
School report forms
Teacher evaluation
Standardized tests (optional)
For students applying to the College of Fine Arts, there are some additional submission requirements, which you can go through in detail on the CFA requirement section.
Similarly, students who wish to take up an accelerated path to a career in medicines, need to fulfil certain additional requirements while filling in their application.
In case you are an international applicant, we've detailed the documents you must submit when applying at Boston University:
Secondary School Records
English Proficiency Testing Results
Documentation of Financial Support
Copy of Data Page of Passport
Standardized Tests (Optional)
You can commence your application or check further details on the Boston University website.
What are the timelines for the Boston University application?
First-year 'regular decision' applicants need to submit their application by January 1 of the year they are enrolling for. Alongside, on the same date, they need to submit their FAFSA and CSS profiles.
In case you are applying 'Early Decision' your deadline for submitting the completed application along with CSS and FAFSA profiles is November 1.
Deadlines for freshmen starting 2021
Regular decision
Application deadline – January 1, 2021
Submission of CSS and FAFSA – January 1, 2021
Enrollment Deposit Due – May 1, 2021
Early decision
Application deadline – November 1, 2020
Submission of CSS and FAFSA – November 1, 2020
Enrollment Deposit Due – January 10, 2021
Early decision 2
Application deadline – January 1, 2021
CSS Profile and FAFSA** – January 1, 2021
Enrollment Deposit Due –  Late February
Additional deadlines
Submissions for Accelerated Medical Program – November 15, 2020
CFA Prescreening Recordings submission – December 1, 2020
Submissions of documents for Trustee and Presidential Scholarships – December 1, 2020
Decision notification
Regular decision applicants – Late March 2021
Early decision applicants – December 15, 2020
Early decision 2 applicants – February 15, 2021
There are some other important dates and deadlines for scholarship applicants and for transfer students, which can be checked on Boston University's website.
3. What should you expect: Life at Boston University
The first and most notable thing about Boston is the diversity it offers. You'll meet people from all parts of the world, from big and small towns, belonging to varied cultural and religious backgrounds. It's like a mini-world living on the campus.
Academics at Boston University is rigorous. But most of the learning is research-based. Studies will prepare you well enough to be job-ready as soon as you complete college.
Academics aside, the university also encourages exceptional talent in fields like athletics, sports, and arts.
Amidst fast-paced and hectic study schedules, Boston University students never fail to spare time for fun. Be it joining the band or attending a hockey game or even catching up for coffee and conversation at the Howard Thurman Center for Common Ground – you have unlimited ways to unwind. Those who've had the chance of spending their student years look back at it as the best time of their life.
What do students think of life at Boston University?
There's never a dull moment for students at Boston University. The atmosphere is gripping. And, the moment you enter Boston University you become an imperishable part of it.
For no two students will the experience of living at Boston University will be the same. Yet, for everyone, it retains Boston University's core spirit – intellectual, dynamic, and stimulating.
Some students, like Jeffrey Lowe, find themselves balancing between studies and work-study programs. Others like Jessica Bajada, commit themselves to their passion for swimming and sports after class hours.
You get every chance to get closer and explore your passion at Boston University – whether that's research or sport. The cherry on the cake – you get to live your student years in a city unlike any other, on a campus that most only get to see on their TV screens.
What academics are offered?
Boston University offers 123 distinct undergraduate degrees, which can be divided into 72 majors within 22 broad fields of study.
All colleges under Boston University put tremendous emphasis on academics. Learning is driven by research and practice. And, as far as classroom studies are concerned, a small class size ensures each student gets the needed attention and involvement, just as if it were a private class.
Academic flexibility is another trump card that Boston University students can leverage. You can, for example, combine your BA/MA program. Or, you can opt for a dual degree with one major specialization and a minor, diversifying your scope of learning.
What if I want to pursue athletics?
Boston University's Club Sports cover a varied range from waterpolo to hockey to badminton. Whether you want to take up sports for recreation or are seriously preparing for a national level championship, you'll have the best of instructors and facilities at your disposal.
Those who shine at sports and athletics can shape up a bright career having opted to pursue their passion at Boston University.
The university committed to providing world-class facilities and training to those students who wish to excel at sports. You are prepared and groomed for league and national level championships.
For those of you who'd like to know a bit more about the Boston University sports team – their official athletics team is called 'The Terriers'.
The team is a part of NCAA Division 1. Their most noted sports team is ice hockey, in which they've to date won five NCAA championships. Boston University's Women's Field Hockey team is also extremely strong with three out of the last four Patriot League titles in its favour. There are many such accolades in sports and athletics that Boston University holds in its honour.
Notable alumni
From James Roosevelt to Martin Luther King Jr. to Sylvia Plath, Boston University has given the world many famous shining jewels. Boston University alumni have and continue to make history in their chosen fields of expertise. We've listed a few such notable names below, alongside the careers, they've excelled in.
Writers – Jhumpa Lehri, Mark Manson, Sylvia Plath, Neal Stephenson
Presidents and Prime Ministers – Oscar Arias Sanches, Vergilio Barco Vargas, Fan S. Noli
Actors – Russel Hornsby, Jessica Rothe, David Garrison, Tobin Bell, Michael Chiklis
Pulitzer Prize Winners – Ethan Forman, Stan Grossfeld, Kenneth Erby, Justin Lane, Jhumpa Lahiri
Many other notable names like David Edgerton, Founder of Burger King Corporation, Luca Maestri – CFO, Apple Inc., and more pursued education from Boston University. The list is long but definitely interesting to read through.
The Final Word
Looking to attend Boston University or any other to public university? At AdmissionSight we offer a variety of resources and services that help you navigate the college application process. Be it your college essay editing or one-on-one application assistance we guide you on what top universities look for in an applicant.
Simply having the right test scores to your advantage isn't enough. Your extracurricular profile makes an impact too. We at AdmissionSight do our very best to assist you to enroll in the right programs, attend the best summer courses, and make sure you have the best fighting chance against the tough Boston University acceptance rate.