Everything You Should Know About Harvard Before Applying
For a lot of students throughout the United States – and really throughout the world – the dream of attending Harvard University as an undergraduate student is something that simply has to be pursued. As you surely already know, Harvard is one of the oldest and most prestigious schools in the country, and every year tens of thousands of students from all over the world apply to the school in hopes that they will prove impressive enough to get in.
If you are amongst those students that plan to eventually apply to Harvard when the year of your application cycle finally comes around, then you are going to want to know what you need to know about Harvard.
The truth is that while Harvard is one of the very best schools in the world, it may not be for every student. Its combination of tradition, academic rigor and spirit of competition can be quite difficult and while Harvard has an incredibly high graduation rate, some students do end up transferring out of Harvard.
Beyond that, it is also incredibly important for any student – even if they are completely confident that Harvard is the school for them – should spend quite a lot of time researching the school, what the admissions process is like and the school and much more well before their application has to even get started.
Why is that, you may ask? The simple fact is that knowledge is an incredibly useful tool for any student that is trying to overcome the prohibitively low acceptance rates at Harvard and other schools in the Ivy League.
At AdmissionSight, we utilize and apply the years' worth of experience within the college admissions landscape to help all of the students that we work with get into the schools of their dreams. It may not come as much of a shock to you that for many of our students, the school of their dreams are one of the eight schools within the Ivy League, just like Harvard is. When it comes to helping out students get in, we have a proven track record of success. In fact, 75.0 percent of the students that we have worked with over the years have gotten into either an Ivy League school like Harvard, Princeton or Yale or a top 10 school that isn't in the Ivy League like UChicago, MIT or Stanford.
While we reserve our specific strategies for the students that we work with, we also believe that any student who is interested in getting into a top school should be able to gain access to some of the most important information that can help them on their way to success. That's what brings us here.
We know just how hard it is to get into Harvard, and that is exactly why we wanted to break down some of the key information about the school. The hope is that if you know more about the school, you will be able to prepare better for your eventual application to Harvard!
Whenever we meet with students who are interested in getting into Harvard, they often have some very similar questions across the board. Some of the most common initial questions that students have about Harvard include:
How hard is it to get into Harvard?
How should I prepare for Harvard?
What GPA is required for Harvard?
How can I improve my chances of getting into Harvard?
Of course, these are many more questions worth asking about Harvard and we are going to answer many more in the following pages. So, if you are interested in learning about Harvard, what kinds of students get into the school, and what kinds of students enjoy it most, then you have absolutely come to the right place! Let's get started on breaking all that information down and more together.
Harvard at a glance
Before we get into the nitty gritty of Harvard and what kind of school Harvard is, we thought that we would break down some of the most basic (and important) information regarding the school and the current state of things when it comes to undergraduate admissions. Take a look at Harvard at a glance, below:
Type: Private University
Location: Cambridge, MA
Founded: 1636
Enrollment: 7,153 undergraduates, 22,947 students in total
Tuition: $54,002 (2019-2020)
Total cost: $76,963
Average Financial Aid Award: $61,5225
Acceptance Rate: 3.13% (class of 2026)
Average GPA, SAT and SAT: 4.18 GPA, 1580 SAT, 35 ACT
What else about Harvard?
Now that you have some basic information, let's get started on breaking down the key aspects of living and learning at Harvard that every prospective student should be aware of. We're going to break down everything from student community and culture to financial aid, popular majors and more.
Student life and culture
With over 7,000 undergraduate students, and many more graduate students, Harvard is a rather large university. Students come to Harvard from all over the world and offer their personal point of views, cultures, and histories to create a truly unique and inclusive community.
Though no two students at Harvard are alike, there are often similarities from one student to the next. Harvard students are highly driven, intelligent and passionate individuals who not only enjoy, but also seek out challenging experiences. Many students come to Harvard right after finishing a traditional, four year high school education. However there are outliers that have included Olympic athletes, children of well known figures, famous actors and musicians, and many more. While that all can be very exciting, it is important to keep in mind that above all, Harvard is a learning institution we're young people explore and shape the future every single day.
Tuition and financial aid
Just like all colleges and universities in the United States, but particularly like other private and Ivy League schools, Harvard University has an incredibly high cost of attendance. Moreover, tuition tends to increase incrementally from one year to the next.
Currently, tuition at Harvard costs approximately $52,000, while the total price of enrolling and attending the school costs over approximately $76,000. It's a serious investment, and one that the vast majority of students and families need to keep in mind.
However, thanks to Harvard's large financial endowment, the school can ensure that students who are a good fit academically and otherwise will not have to turn down an offer to admissions due to financial factors.
Harvard is a need-blind school, which means that it does not look at a student's ability or inability to afford tuition before considering his or her application. Moreover, as you saw in the quick breakdown above, the average amount of financial aid can cover the vast majority of tuition and expenses for students. These days, over half of the students currently enrolled at Harvard receive financial aid.
Academics and popular majors
At Harvard, students get freedom to pursue a nearly countless list of courses and programs that will help them find new passions and fuel already existing ones. With that in mind, it is never a bad idea for students who are interested in attending Harvard to take a look at some of the most popular majors and academic programs. Learning about this can help students get a better idea of whether or not their specific interests are a priority in the eyes of the school that are well funded and looked after.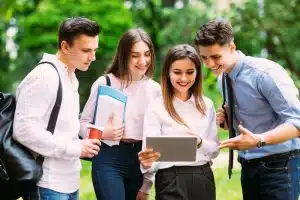 The most popular majors at Harvard include: Social Sciences, General; Biology/Biological Sciences, General; Mathematics, General; Computer and Information Sciences, General; History, General; Physical Sciences, General; Psychology, General; Engineering, General; and Foreign Languages and Literatures.
It is also worthwhile to note at Harvard University that a student to faculty ratio of 7 to 1 comes in with over 70% of the school's classes featuring fewer than 20 students.
Student life
While Harvard may be one of the most academically focused schools in the world, it is not as though students enrolled at Harvard do not know how to enjoy their time. After all, just like extracurricular activities and out of school experiences played a major role in any student's high school experience, the expectation is that it will be the same for students in college. The truth is that students can seek out and find groups, clubs and teams that have to do with nearly every interest and activity under the sun. Whether you are interested in politics, cultural studies, athletics, art and entertainment, are even the more rare and refined hobbies, you are likely to find like-minded students at Harvard.
Students can also take part in exciting internships and study abroad opportunities that will allow them to not only form relationships with like minded students at Harvard but also like minded professionals and individuals from all over the world.
Living in Cambridge, Massachusetts
Cambridge is a wonderful college town The Charles River from the bustling city of Boston. In fact, Cambridge and Boston are close enough to one another that they share a subway system and many of the city's amenities and public works. Beyond that, Harvard is actually planning to expand its school facilities into Boston itself. For the time being, however, the vast majority of undergraduate activity takes place in the Harvard Square neighborhood of Cambridge.
Both Cambridge and Boston are two of the more historical cities in the entire country. There are reminders of their colonial past around every corner, and this long history that the school is claimed to along with its legacy of intellectual excellence are a big reason for why the school is considered one of the most prestigious learning institutions in the world.
Harvard offers both the benefits of a small and intimate college town while also providing the kinds of opportunities that are only available within a major metropolitan area.
When it comes to housing specifically, a whopping 98% of enrolled students live on campus. Students live in dorms upon freshman year, and after their first year they are divided among twelve residential colleges that combine housing with dining halls as well as common spaces. When it comes to graduate students at Harvard, students have the opportunity to choose from either school housing or off campus housing.
Applying to Harvard
Before we wrap up, we wanted to spend the rest of this piece breaking down some of the important information regarding actually applying to Harvard University. As you may know, the application landscape can change from year to year, and it is important for students who are serious about applying to top schools. Do you know about the specific expectations that admissions officers have for applicants at those schools?
When it comes to Harvard specifically, the application pool at the school has increased by an incredible rate in recent years, and there are no real signs of it slowing down anytime soon. In the 2021-22 application cycle, a total of 61,220 students applied to the school. That number marked a 7.0 percent increase compared to just the previous year. As the applicant pool has gone up, the acceptance rate has, understandably, gone down.
Over the last two application cycles, Harvard has boasted two of its lowest acceptance rates in the school's history. However, just because the acceptance rate is at its all-time low does not mean that students who feel they are Harvard material should not apply. Admissions officers at the school are always looking for students who will contribute to the school's community in exciting and unique ways. With that in mind, there is a list of required materials that all students who apply 2 Harvard will have to submit.
Require application materials
Common Application or apply Coalition, Powered by Scoir
Harvard College Questions for the Common Application or Coalition Application Harvard supplement
$85 fee (or request a fee waiver)
SAT or ACT (with or without writing) – optional for 2022-2026 application cycles
Optional: AP or other examination results
School Report (which includes a counselor letter) and high school transcript
Teacher Report (2)
Midyear School Report (after your first semester grades)
Final School Report (for admitted students only)
Application timeline
When applying to Harvard, students can choose from applying either as regular decision or early action applicants. Early action students have to send in all of their application materials on an earlier timeline than regular decision students do. Early action students will have to submit their applications by November 1st and they will hear back from the school about the school decision by the middle of December. Regular decision applicants at Harvard will have two sent in their applications before January 1st and can expect to hear back about whether they've been accepted by late March.
It is important to keep in mind early action students are prohibited from applying to other colleges and universities. Typically, early action applicants at Harvard are among the students who know that Harvard is their number one choice amongst all the other schools that they plan on applying to.
What does Harvard look for in students?
This is a question that our admissions consultants at AdmissionSight get all the time. Students want to try to find out what a school is specifically looking for so that they can make sure to exemplify those characteristics within their application. The truth is that aside from fantastic academics, there is no necessary criteria for what students do get in and end up not getting into Harvard University.
Maintaining top grades should be a major priority throughout any student's high school years if they are interested in one day attending Harvard. Students should also make a point to do as much as they can to pursue their passions and interests both inside and outside of the classroom. Students who have found ways to engage and improve their school or greater community through community work or charity are also often seen in a positive light by the admissions officers at Harvard and many of the other top schools.
Finally, utilizing the application to show the admissions officers that you would be a major asset and addition to the school's community is another way to help improve your chances of getting into the school.
Learn more about Harvard from AdmissionSight
Harvard is one of the most sought after and exciting places for undergraduate students to attend. With that in mind, the school is not for everyone, and you should make sure that it is for you before you decide to spend your time applying and trying to get into this highly prestigious and selective school. Hopefully, this breakdown has helped you get started on your information gathering about Harvard. If you are interested in learning more, and want to know how AdmissionSight could help you improve your chances of getting into Harvard, contact us today to schedule a free consultation.