Harvard Academic Calendar
Does Harvard Use Semesters Or Quarters?
Does Harvard use semesters or quarters? The Harvard academic calendar is comprised of two semesters. The fall semester begins in late August and finishes in mid-December after final exams. First-year students arrive a week early for placement tests and acclimate to campus life. After final exams, the spring semester ends in mid-May and begins at the end of January. A brief "long weekend" for Thanksgiving at the end of November, the majority of January in between semesters, and a weeklong Spring Break in March are all examples of vacation times.
Fall Term in 2022–2023 Academic Year
| | |
| --- | --- |
| Enrollment in courses begins | August 17th |
| Course registration deadline | August 26th |
| First meeting of fall term classes | August 31th |
| Labor Day holiday | September 5th |
| Indigenous People's Day (City of Cambridge) holiday | October 10th |
| Veteran's Day (Classes are held) | November 11th |
| Thanksgiving break begins | November 23rd |
| Thanksgiving break ends | November 27th |
| Last day of fall term classes | December 1st |
| Start of fall reading period | December 2nd |
| End of fall reading period | December 7th |
| First day of fall term final exams | December 8th |
| Last day of fall term final exams | December 17th |
Spring Term in 2022–2023 Academic Year
| | |
| --- | --- |
| Enrollment in courses begins | January 11th |
| Martin Luther King, Jr. Day holiday | January 16th |
| Course Registration Deadline | January 19th |
| First meeting of spring term classes | January 23rd |
| President's Day holiday | February 20th |
| Spring break begins | March 11th |
| Spring break ends | March 19th |
| Last day of spring term classes | April 26th |
| Start of spring reading period | April 27th |
| End of spring reading period | May 3rd |
| First day of spring term final exams | May 4th |
| Last day of spring term final exams | May 13th |
| Harvard University Commencement | May 25th |
| Memorial Day holiday | May 29th |
| Juneteenth holiday | June 19th |
| Start of summer school | TBD |
| Independence Day holiday | July 4th |
| End of summer school | TBD |
How Many Classes Can You Take In A Semester At Harvard?
If you wonder "How many classes can you take in a semester at Harvard?" each student enrolls in four courses each semester (fall and spring), for a total of 32 courses over the course of four years. Harvard students attend classes for an average of 12 hours per week, and they have plenty of freedom to prioritize their studies and free time.
Each undergraduate student will complete the General Education Curriculum requirements as well as a field of focus during the duration of the four-year program (approximately half of the overall courses) (about one-quarter of the plan of study). The final quarter of a student's coursework (electives) is made up of courses that are available across the University at their discretion.
Expository Writing, a writing course taken in the first year and taught by professionals in the field, is the only course that is mandatory for all students. One foreign language proficiency is required; some students learn a language while enrolled at Harvard, while others who have studied a language in the past may be exempted by passing a test.
Typically, students take 16 credits per term (4 courses, 4 credits per course). Students who want to take more than 20 credits in a term must have their Resident Dean's permission. Without the Administrative Board's consent, students are not allowed to take more than 24 credits (six courses at a rate of four credits each) in a single term. For first-year students to fully engage with the curriculum in the Faculty of Arts and Sciences, they are not permitted to cross-register for courses at other Harvard schools during the first semester.
What Is the Application Deadline For Harvard?
You can apply to Harvard through either the Regular Decision or Restrictive Early Action programs, both of which let you examine admissions and financial aid offers from other colleges and universities before deliberating on a college until May 1.
Candidates for Restrictive Early Action must apply by November 1 in order to be notified by mid-December.
Regular Decision applicants must submit their applications by January 1 to be notified by the end of March.
You are free to apply to Harvard through either the Coalition Application, Powered by Scoir or the Common Application. Beginning on August 1, applicants can begin filling out the Common Application. The Coalition Application, which goes live on September 1 for the 2022–23 application cycle, is being created in collaboration with Scoir/Technolutions.
What is the application deadline for Harvard? Here is a more detailed timeline for Harvard undergraduate application.
Spring (prior to the year you apply)
Harvard is currently test-optional but you may consider taking SAT or ACT.
Fall (of the year you apply)
Please send the following as soon as early in the fall term of the Harvard academic calendar:
Your Coalition Application or Common Application, powered by Scoir, an online application to Harvard. This is required in order to access your admissions file, follow your paperwork, and maybe schedule an alumni interview.
The $85 application fee or a request for a fee exemption.
The application supplements may be sent later, ideally no later than two weeks following the application deadline.
31st of October
Applicants for restrictive early action: Send test results if you are submitting them by the end of October. You may still submit an application using the November series in Harvard academic calendar since they should reach the admissions office in time for review.
1st of November
Applicants for restrictive early action: All application materials must be submitted. Also submit your financial aid application so that if you are accepted, the financial aid details can be sent when admissions decisions are made in mid-December.
Early November
You should submit test results from the November series or earlier if you are applying Regular Decision, though you may also submit SAT results from December or February scores (ACT).
Mid-December
Restrictive Early Action decisions are released.
1st of January
The final submission date for all Regular Decision application documents.
1st of February
If you did not receive an email from the admissions office confirming your application, contact them at fileroom@fas.harvard.edu.
Complete financial aid application so Harvard can provide you the financial aid information by the end of March upon the release of decisions.
Mid-February
You should ask your school to send in your most current grades together with your Midyear School Report forms.
End of March
Release of first-year admissions decisions.
Early May
Deadline for responses for accepted students is on early May. No deposit is needed.
What Are the Big Social Events At Harvard?
Your education does not end when you leave the classroom. Student activities are an essential component of the Harvard experience, enhancing your academics and providing chances for friendship and personal growth. Now, what are the big social events at Harvard? Let's have a quick overview of some exciting Harvard customs.
Yardfest
The Tercentenary Theatre hosts a massive barbecue and music in the festival style every April for the whole Harvard College community.
Two winning student bands from the Battle for Yardfest competition, which takes place in February or March, are given the incredible chance to open for the captivating professional headlining act. Past performers have included Wale, Lil Yachty, Kiiara, and Bazzi.
The Harvard College Events Board (CEB), Harvard's top programming board, is the presenter of this yearly spring concert.
Student Organization Fair
Every September in the Harvard academic calendar, registered Student Organizations congregate at Tercentenary Theatre to assist new students in finding your community at Harvard. It can be helpful to start researching student organizations in advance because there are so many fantastic options in one location that it may initially feel overwhelming.
Crimson Jam
Take some time to eat, catch up with friends, and enjoy a performance at the first major social event of the year right after the Student Organization Fair. Your first opportunity to say hello to old pals, make new ones, and mark the beginning of a new year is at this block celebration.
The official all-campus Harvard's Welcome Back event is a great opportunity to meet the Harvard community. The Harvard College Events Board is hosting this fantastic block party for you.
Add a music festival atmosphere with four of Harvard College's top student bands and a special guest headliner making this event more fun.
The Game
In the 138th edition of The Game, which is being held at Harvard Stadium. The earliest rivalry in college athletics was the football game between Harvard and Yale, which was played on November 13, 1875, at Hamilton Field in New Haven (with a 4-0 Harvard victory). The third-most-played college football series is now referred to simply as "The Game" across the nation.
The Game 2022 will take place at Harvard Stadium on Saturday, November 19, 2022. One ticket will be given to each undergraduate student at Harvard who is currently enrolled.
Housing Day
Share in the excitement of Housing Day as upper-level students welcome home first-year students and assign them to their House.
The House has a wider scope than just its academic life. The Houses offer a wide range of cultural and social possibilities and are home to their own film, music, art, and drama resources, from intimate jam sessions to complete opera performances. By fielding a variety of competitive intramural sports teams, houses promote physical wellbeing.
Students can unwind and socialize with others from their House community at events like formal dances, coffee hours, and Faculty Dean open houses.
ARTS FIRST
The Harvard University yearly exhibition of creative talent is called ARTS FIRST. The festival is a free public event with a variety of free performances and activities for Harvard and community people of all ages and is produced by the Office for the Arts with assistance from the Board of Overseers of Harvard University.
What Is It Like Being At Harvard?
Now that we have learned about Harvard academic calendar and what dates and events we should look forward to, let's discuss what is it like being at Harvard. The 380-acre campus of Harvard University is in the city of Cambridge, Massachusetts, not far from Boston. Students at Harvard can participate in a wide variety of clubs, organizations, and extracurricular activities, including the band, chorus, theatrical groups, campus newspaper, radio station, and more.
Student Clubs and Activities
There are only a few fraternities or sororities at Harvard while not officially recognized since the school does not approve single gender groups. On the other hand, the Phillips Brooks House Association at Harvard is growing. In comparison to other campus activities, Phillips Brooks House Association attracts the most students to participate. Asian-American Association, International Relations Council, Harvard Crimson (newspaper), and Harvard/Radcliffe Chorus are a few other well-known student organizations at Harvard.
Academics
At Harvard University, the student-to-faculty ratio is 7:1, and 70.6% of the classes have fewer than 20 students. Academics are the root of all of Harvard's successes and honors. All of Harvard's programs are great but there are a few that stand out.
The Harvard School of Divinity is regarded as the top program in the world for studying theology, going back to the school's beginnings as a seminary.
Harvard Medical School is widely regarded as the greatest in the nation outside of the humanities. Harvard is ranked as the top medical school overall by U.S. News & World Report, and several of its programs, including internal medicine, pediatrics, and anesthesiology, also place second in their respective categories.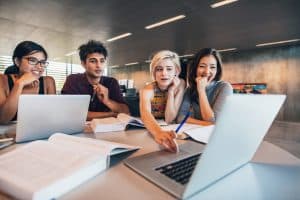 The school's dermatology department receives approximately $9 million in funding annually, which enables them to benefit from collaborations with nearby hospitals and run research clinics.
The dedication to ground-breaking research is shared by Harvard's psychology department. Steven Pinker is a member of the faculty at the psychology department. In addition to running Harvard's Cognition, Brain, and Behavior Group, Pinker is the author of numerous best-selling books like How the Mind Works.
These accomplishments are a result of the resources at their disposal as well as the excellent teachers and alumni of the school.
Athletics
Students interested in participating in sports programs at Harvard have access to a wide range of sporting opportunities. The most elite level of college sports is intercollegiate, and these events may be extremely competitive. Intercollegiate teams compete against teams from other institutions and are subject to NCAA regulation and institutional funding.
Students who are not interested in trying out for an intercollegiate team should consider club sports, which are not governed by the NCAA. Club sports are mostly managed by students; however they occasionally get university funding. The most casual and relaxed sports are intramural sports. They frequently cost nothing and take up very little of your time.
Housing
The Harvard College undergraduate experience is built upon the Houses. One of the twelve residential Houses is home to 98% of all undergraduate students. With its own dining room, common areas, and spaces for academic, recreational, and cultural events, each House can house 350–500 students. The Dudley Cooperative and non-residential students who live off-campus are also served by the Dudley Community.
Location
You can get to Boston from Harvard in about ten minutes on the T, but there are lots of things to do in Cambridge as well. There are several museums, stores, and restaurants in the city, mostly defined by Harvard and its neighbor, MIT. Each year, millions of people visit Harvard Square, a plaza that houses restaurants, music venues, theaters, and bookshops. Together, Boston and Cambridge are home to more than 50 colleges and universities, giving the region a feel of a college town.
Although getting an education at Harvard is difficult, graduates will know necessary to succeed in their future employment. Graduates of Harvard University have gone on to have some of the most prosperous jobs. Ralph Waldo Emerson, Tommy Lee Jones, Natalie Portman, John F. Kennedy, Al Gore, Barack Obama, and Bill Gates are just a few of the prominent Harvard alumni.
When deciding whether to admit a student, Harvard considers several things. This covers extracurricular activities, character, letters of reference, college interviews, and academic potential. Only a very small percentage of the tens of thousands of applicants who wish to attend Harvard each year are ultimately accepted.
Applying early action is the best thing a student can do to increase their chances of being admitted to Harvard, but only if their application is complete by the early action deadline. Keep in mind that the acceptance rate for Harvard's early decision is 7.9%. That means applicants who apply through Early Action have a three to four times higher acceptance rate than those who only apply through the regular decision.
Make sure to keep on track with the Harvard academic calendar to not miss the deadlines and important events. If you need assistance with your application, do not hesitate to reach AdmissionSight. We can assist you in preparing your materials early to avoid cramming and submit a high-quality application. Set up an initial consultation with AdmissionSight experts now.