Why Attend the Garcia Summer Scholars Program?
Summer programs such as the Garcia Summer Research Program can be just as prestigious and highly selective as the college that sponsors it, with a lengthy application process that includes several steps and essays.
A very common question on college applications is: "How did you spend your last two summers?" All schools, including Ivy League institutions, want to see that students spent their time constructively- engaging in a field they are passionate about or learning more about themselves or the world around them. What better way to do this than taking advantage of the various summer programs that are available?
AdmissionSight is here to help guide you through this process as well, with proven results in producing stellar applications and results. Our students have been admitted to and won awards in well-known programs around the nation, furthering their opportunities to be accepted to their top college or dream university. One such program is the Garcia Summer Research Program at Stony Brook University in New York.
What is the Garcia Summer Research Program?
The Garcia Center for Polymers at Engineered Interfaces was founded in 1996 and is named after the late Queens College professor Narciso Garcia, who was a pioneer in the integration of education and research.
The Center focuses on the integration of materials research with tissue engineering, biomaterials, drug delivery systems, sustainable energy, nanocomposites, and recently, additive manufacturing. The Center also supports innovation through entrepreneurship and has multiple collaborations with industry and national laboratories, both in the US and abroad.
The Research Scholar Program at the Garcia Center for Polymers at Engineered Interfaces offers the opportunity for high school teachers and students to perform research at the forefront of polymer science and technology together with Garcia faculty and staff. Students work as part of focused research teams and are taught to make original contributions of interest to the scientific community.
In addition to entering national competitions, the students are encouraged to publish in refereed scientific journals and to present their results at national conferences. The program's goal is to give students the opportunity to experience the excitement that research and discovery in science can bring. The program has no set time limits, as research is a continually growing, lifetime experience. Students can use the program as a resource long after its completion and even after graduation.
The Garcia Program provides a research experience at three different levels: for high school students, college undergraduates, and rising seniors, as well as four openings for high school teachers in the summer program.
High School Students
For high school students accepted, this is an intensive seven-week program for gifted high school students which combines formal instruction with independent research and allows students to design original research projects with guidance from Garcia Center faculty, students, and staff. Students can continue during the academic year in the Mentor Program, which allows them to plan a research schedule with a faculty mentor throughout the year.
Pre-arranged transportation and class schedules are coordinated with local school boards to enable students from a large geographical area to enroll in the program. Almost three hundred high school students have participated in the mentor program since its inception.
The students have consistently won recognition for their research through national competitions such as Long Island Science and Engineering Fair, New York State Science & Engineering Fair, and Regeneron International Science and Engineering Fair. Students have also gone on to be published in refereed journals, been awarded patents, inducted into the National Young Inventor's Hall of Fame, and been accepted to universities or professional programs of their choice.
With proven results, AdmissionSight focuses on tailoring your essays and building your resume with programs like to make you stand out to the college of your choice when it comes to admission decisions.
Undergraduates
The Garcia Program also hosts a research program for college undergraduate and rising seniors. The REU program is a seven-week summer program where undergraduate students work in teams with high school students, high school teachers, graduate students, and postdocs on specific research projects of their interest.
Many of the REU participants were former high school students who returned for multiple summers. Some students prefer to continue working on the same project with the goal of eventual publication, while others opt to sample different projects and gain experience in diverse fields.
High School Teachers
The Garcia Center for Polymers has four openings in the Research Experience for High School Teachers (RET) summer program. The summer program lasts 7 weeks, starting the last week of June and pays a stipend.
Candidates can work independently or join existing research groups doing research on polymer blends, composite materials, polymer/inorganic surfaces and interfaces, protein and DNA surface interactions, polymer recycling, polymer materials engineering, theoretical modeling, x-ray and neutron scattering at Brookhaven National Laboratory, electron, x-ray and scanning force microscopy, Infrared spectroscopy, and secondary ion mass spectrometry.
Candidates will publish in refereed research journals and attend professional conferences while having the opportunity to enrich the lives and minds of students and help them learn and achieve their dreams.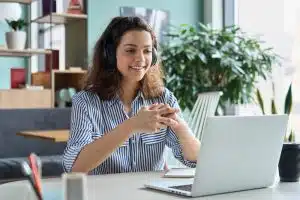 What is the Garcia Summer Research Program Like?
After the extensive application and selection process, students from all over the country (and even other parts of the world!) gather together at Stony Brook University in New York where they meet other students just like them who will become the colleagues they will work and collaborate with for the next few months. Dormitories are available for those who don't live in the area or can't commute. At the end of the program, many students stay on even after its official closing date to continue research projects with the friends and mentors they have met.
At the start of the program, students are given three days of instruction on laboratory safety, after which they must pass a written test to be allowed to work in the labs. They are then presented with a variety of daily lectures on current research topics given by those who are conducting the work. The students also participate in group experiments where they learn such techniques as spin-casting polymer thin films and measuring their thicknesses with tools like an ellipsometer.
Besides the academic immersion, there are scheduled barbecues, softball games, a canoe trip, a fishing excursion, and a museum trip. Students support each other in the lab and bond in the dorms, forming lasting friendships and are open to new networking opportunities. They celebrate each other's successes and comfort each other's disappointments.
As the initial day's pass, the students, armed with their new knowledge and experience, begin to develop a particular area of interest of their own, and they are grouped with mentors according to their chosen fields. Within the groups, they are further divided into specific research experiments, either working alone or with one or two partners, and the real research begins.
Students in the Garcia program receive valuable mentorship from high school teachers, graduate students conducting their own research projects, and professors who are experts in their field. Mentoring such a large group of high school students takes a sizable staff to ensure proper lab procedures are maintained. By the time August rolls around, fewer mistakes are made and the students can focus on collecting actual data and are able to analyze and draw conclusions through critical thinking.
A symposium of student research is held on the last day of the formal program. Each project is summarized on one PowerPoint slide that explains the experiment and results, which the student researchers present to an audience of students, parents, science teachers, high school principals, and Stony Brook faculty.
Students are able to show how much they've learned and grown. A variety of topics are showcased, such as "Electrode Catalyst Efficiency", "Power Conversion Efficiency", "Nanoscale Morphology of Photovoltaic Cells", and "Characterization of Injectable Enzymatically Cross-Linked Gelatin Based Hydrogels".
A yearbook is compiled and distributed that not only contains the photos of all the participants and informal group pictures of the trips they took together but abstracts of each project as well. But the mentoring does not end there. The students return home to compose 20-page research papers for the Siemens Competition; Intel (now Regeneron) Science Talent Search; and other science contests, and they are guided by the Garcia staff and their mentors in the process.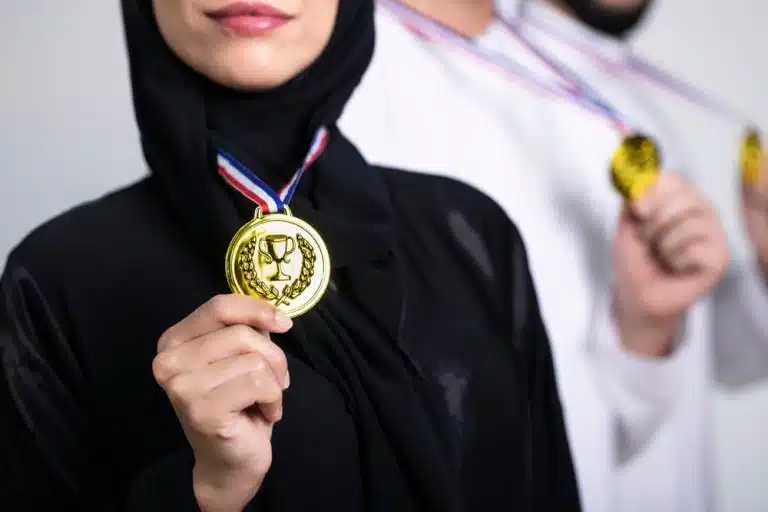 Stony Brook University has currently closed its campus due to COVID-19 concerns and social distancing concerns. The program has moved online and research and collaboration will be conducted through Zoom or other virtual tools and platforms. However, the program still encourages collaboration and fostering relationships between students and faculty.
Approximately 17-25 Garcia students become Siemens Semifinalists, Regional Finalists, or National Finalists each year, even traveling to Washington D.C. for the National Finals. Garcia participants also win major prizes in the Intel Science Talent Search; Intel International Science and Engineering Fair; Junior Science and Humanities Symposium, and many other competitions.
A few students have even achieved patents for their work. Some students write and submit papers to professional refereed publications and present their projects at the American Physical Society and the Materials Research Society Fall Symposium.
AdmissionSight has had the privilege of working with and guiding many of these students not only through applying and being accepted to prestigious summer programs but through their entire journey in being accepted to their dream school and winning multiple awards for their work.
What are the Requirements to be Accepted to the Garcia Summer Research Program?
All 2020 applicants must be at least 16 years old on or before July 4, 2020, with no exceptions. All participants in the Garcia Summer Research Program will be involved in real experiments and laboratory activities. University safety policies do not allow a person under 16 years of age to work in the labs.
Have an unweighted GPA of 95/100 (3.8/4.0)
Have standardized test scores (SAT/Regents) of at least 60% (or 60th percentile)
Have taken at least 3 of the following subjects (Honors or AP a plus):

English
Chemistry
Mathematics/Calculus
Physics
Biology

Students who show evidence of leadership, special talents or interests, and other personal qualities through extracurricular activities, volunteer work, and other non-academic pursuits will receive special consideration.
The program accepts international students, but the Garcia program cannot support visa applications. If you already possess documents to be legally present in the US for the period of the program, you are eligible to apply.
How Will Participating in the Garcia Summer Program Benefit Me?
Summer programs have always been an excellent way for students to showcase their passion for a field of interest or dedication to the community. A prestigious summer program or internship stands out to an admissions officer and can be the deciding factor between two candidates that have the same test scores or similar academics.
The Garcia Summer Scholars Program provides achievement pathways for aspiring high school student researchers, showing that success is not limited to those who come from well-endowed school districts or from specialty high schools that focus on mathematics and science.
The Garcia Program provides equal opportunities for focused, motivated, science-oriented students, regardless of their socio-economic backgrounds, enabling research experiences that their own schools with limited budgets may not be able to offer.
Bolstered by several studies on education methods, the learning environment developed by the Garcia Program over years of experience with science research education and apprenticeship has proved to be successful for its participants and has provided a lasting, positive experience for both students and mentors alike.
AdmissionSight is here to help you along every step of your college application journey, from perfecting your admissions essays, tailoring your extracurricular activities, or helping you score a spot in that amazing summer program that will really make your application stand out.
We have first-hand experience and expertise in knowing exactly what it takes to be admitted to the school of your dreams at a time when acceptance rates are at an all-time low. Roughly 75% of students we work with are accepted into Ivy League and Top 10 universities, and we'd love to help you accomplish your goals.