How Hard Is It to Get Into Cornell?
For students who have the goal of attending a top university in the United States for their undergraduate education, there is undoubtedly a certain amount of anxiety and doubt.
For that reason, you may be asking the question, "How hard is it to get into Cornell?" Cornell University is one of the most prestigious and competitive schools in the country and is one of the eight schools that make up the historic Ivy League.
Though every school is different, knowing what a student has to do to get into a school like Cornell, and the ways to get into Cornell University is a great way to set yourself up for success when it finally comes time for you to apply!
At AdmissionSight, we make sure that every single high school student we work with knows all of the most important aspects of a college application so that they can be as confident as possible heading into their application cycle.
While we work with some students throughout their high school years, we also often work with students just in the months leading up to the application deadline.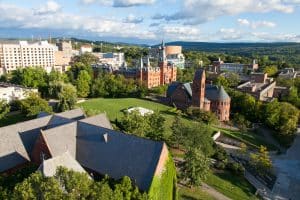 So, if you are looking to learn more about how to get into Cornell, what kinds of students get into the school, what your grade point average and standardized test scores need to be, then you have absolutely come to the right place!
Let's get started on breaking down some of the basic facts related to admissions at Cornell, so that you can start figuring out what you'll have to do to make sure that getting into Cornell is a very realistic goal.
Let's get started!
Cornell University admissions basics
When it comes to figuring out how hard it is to get into Cornell, or any college or university in the United States for that matter, learning about the school's admissions basics is a really good place to start.
This, of course, refers to the most basic and tangible numbers related to a student's application. Traditionally, these numbers are a student's grade point average and their standardized test scores.
Here are how students who get into Cornell University perform in both respects.
Cornell's GPA requirements
To start off, we want to make it clear that Cornell University does not have any kind of grade point average requirement. You do not have to earn a specific GPA in order to apply to Cornell and any student can apply if they want to.
What this "requirement" really refers to is the threshold that students traditionally have to hit in order to get in. So, it's less of a requirement and more of an expectation that the admissions officers at the school have for the students that apply.
Based on the records that the school provides, the average grade point average for students that get into the school answer turns out to be an incredibly impressive 4.07 Cornell average GPA.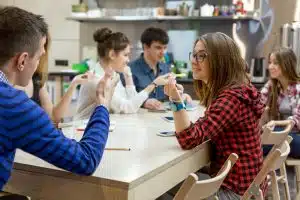 Though Cornell is thought to be one of the easier Ivy League schools to get into – especially when compared to schools like Harvard University, Yale University and Columbia University – you can see from this number alone that it still ranks amongst the most selective and competitive schools in the entire United States.
On top of that, students that want to make it clear that they take their academics seriously are going to want to have, at the very least, the following breakdown of core classes on their high school curriculum by the time they finish high school.
English: four years, with significant emphasis on writing and literature.
Mathematics: four years of any rigorous mathematics incorporating a solid grounding in fundamental skills (algebra, geometry, trigonometry). We also welcome preparation in skills related to statistics, data science and calculus.
History/Social Studies: three or more years, with courses that include the writing of essays.
Science: three or more years of laboratory science (including biology, chemistry and physics).
Foreign Language: three or more years of the same foreign language.
Students are also encouraged to invest their time and energy in courses that allow them to explore and pursue their passions!
The final thing to keep in mind when it comes to Cornell, and any top private or public school for that matter, is that members of the admissions committee are absolutely looking for more than just great grades when they examine a student's high school curriculum.
Admissions officers also basically expect students who want to get into Cornell to be taking advanced and highly difficult courses throughout high school. This refers specifically to AP – or Advanced Placement – courses.
The primary reason why students who want to get into top schools need to heavily focus on taking as many AP courses as possible is because they basically serve as a litmus test for how a student will perform once they get to Cornell. Just like all the top schools in the country, Cornell's curriculum is incredibly challenging and incredibly competitive.
AP classes are styled after introductory college courses, not just in the speed and style in which the material is taught, but also in the way that the actual classes and exams are formatted.
If a student has a strong grade point average with a course list that is full of AP courses in core classes, admissions officers at Cornell will feel really good about that student's ability to succeed once they get to Cornell.
Cornell SAT and ACT scores
Now that we have broken down the grade point average basics related to Cornell, it is time to quickly disclose the average SAT and ACT scores. Both the SAT and ACT have been incredibly important in past years and were required for many years for students to apply to schools like Cornell.
While they are not required at the moment (we will get into that in a moment), it is still important to know that many students are still taking either exam as a way to improve their chances to get into top schools.
In fact, it is estimated that approximately 950,000 students took the SAT in 2021 and just under 1.3 million students took the ACT in the same year. That's a pretty strong sign that even with many schools' standardized test optional policies, a lot of high schoolers are seeking to improve their chances of getting in by taking one exam or the other.
With that out of the way, let's quickly break down Cornell's average standardized test scores.
The average SAT score for students that are accepted to Cornell is a 1480 out of the perfect score of 1600. The 25th percentile score is a 1420 and the 75th percentile score is a 1540.
The average ACT score for students that are accepted to Cornell is a 34 out of the perfect score of 36. The 25th percentile score is a 32 and the 75th percentile score is a 35!
Now that you know the average grades at Cornell, it is also important that you know the current policy at Cornell. Here is what the school recently announced on its official admissions site:
"Since April 2020, Cornell has not required first-year applicants to submit SAT or ACT exam scores," the school announced. Three of Cornell's undergraduate colleges—Agriculture and Life Sciences; Architecture, Art, and Planning; and the Cornell SC Johnson College of Business—do not use test scores as part of their admission process. … In extending the existing policies to the high school graduating classes of 2023 and 2024, Cornell recognizes the continuing risks of COVID-19 transmission during in-person testing around the world.
At the same time, the university is entering a two-year period of deliberate experimental review in order to guide admission testing policy requirements beyond these two years.
We will engage both in self-study about the role of testing in promoting access and success at Cornell and systematically review admission assessments in partnership with other universities and higher education organizations."
It will be fascinating to see how the school reacts to the findings of this ongoing study. For students who will be applying after 2024.
For students applying before that time, it is clear that standardized tests will not be required. Though you may want to seriously consider taking the test of your choice if you can do so safely and are looking for ways to improve your chances of getting in.
How Cornell compares to the rest of the Ivies
The final important number to go over on this list is the Cornell acceptance rate. Last year, in the 2021 application, a total of 5,836 students were accepted to the school from a massive pool of 67,380. In fact, Cornell had the largest applicant pool across the entire Ivy League. Overall, the acceptance rate in 2021 was 8.7 percent.
With this acceptance rate, Cornell is actually one of the easier Ivy league schools to get into, even though a 8.7 percent acceptance rate is incredibly low when compared to the vast majority of colleges and universities in the United States.
Take a look at the acceptance rates at the other seven Ivy league schools to get a good idea of what your chances are if you want to apply to Cornell or any of the other Ivy league programs:
As you can see, Cornell offered students the best odds of getting into an Ivy League school in 2021. However, the pool of competition was also the highest when it comes to the sheer number of students that applied.
Now that you know what you are familiar with what you are up against when it comes to applying to Cornell, let's quickly break down some of the most important things that any applying student can do to improve their chances of getting in.
How to improve your chances of getting into Cornell
Now that you have a pretty decent understanding of the answer to the question. "How hard is it to get into Cornell," you may be interested in learning about ways to get into Cornell or tips that can help you make yourself a more attractive applicant when it comes time for you to apply.
Some of these tips have to do with what you can do while you are in high school in order to improve your chances, and other tips have to do with the application process itself.
Depending on where you are in your journey towards applying to college, you can use either some or all of these fantastic tips.
Let's get started!
Invest in extracurriculars and academic competitions
One of the most important things that students can do to improve their chances of getting into Cornell or other top schools is get invested in activities outside of the classroom.
These activities are referred to with the blanket term "extracurricular," but can really refer to anything from playing sports, to getting involved in your school's theater program, and anything in between!
The important thing for high school students to know here is that they should really be following their interests and passions when they are pursuing extracurricular activities.
The reason for this is because, by the time students are applying to high school, they should be able to prove that they earned roles of leadership in their groups and, hopefully, even gained some state, regional or national recognition along the way.
While students are encouraged to pursue their passions, one specific type of extracurricular that students may want to consider are academic competitions. Some of the most popular academic competitions include:
Academic Decathlon
American Invitational Mathematics Examination
BEST Robotics Competition
Chemistry Olympiad
DECA
Future Business Leaders of America
International BioGENEius Challenge
Model UN
National Mock Trial
National Science Bowl
Odyssey of the Mind
Physics Bowl
Quiz Bowl
USA Bio Olympiad
Focus on your personal essays
The entire application that you will send into Cornell is going to be important and will serve as something for the admissions officers to parse through and evaluate. However, admissions consultants across the industry agree that the most important single part of a student's application is the personal essay section.
In fact, the personal essay section has only gained more importance since the COVID-19 pandemic began and countless schools across the United States, including Cornell as you now know, have adopted a standardized test optional policy.
Now, the personal essay is widely considered to be the second most important aspect of any given student's application.
Their GPA is the most important, but that takes four years to compile! Cornell requires that students answer the essay prompts from the Common Application and also fill out the Cornell University Questions and Writing Supplement.
For students who consider Cornell to be their top choice, they should make sure that they are giving themselves ample time to fully understand the questions that they are expected to answer, come up with the best answers that are honest, personal and inspiring, and to review, edit and improve the essays before they send them in.
In fact, it is always wise for students to have enough time to have peers, teachers, or an admissions consultant read essay responses so that they can offer a fresh set of eyes and objective critique before the student finally sends those essays in as part of their application!
Apply to Cornell via early admissions
One of the most impactful ways for a student to boost their chances of getting into Cornell is to apply via the school's Early Decision application option.
It is important for students to know that Cornell's Early Decision application option is binding. This means that students who are applying this way need to be sure that Cornell is, truly, their top option amongst all of the other schools that they plan on applying to.
The reason for this is because if a student applies to Cornell Early Decision and gets in, they will have to withdraw their applications to other schools and accept their spot at Cornell.
If Cornell is your top choice, it is really important to know that in 2021, 21.4 percent of the students that applied to Cornell via Early Decision were ultimately accepted. That's a massive uptick compared to the 8.7 percent of students that got in overall.
If you want to apply via Early Decision, make sure that you are well aware of the earlier application deadlines, as well as any other material that you may have to send in compared to regular decision students.
We'll teach you how to get into Cornell
At AdmissionSight, we make it our number one priority to help the students that we work with get into the schools of their dreams.
If you are interested in how we can improve your chances of getting into Cornell and help you answer the question of, "How hard is it to get into Cornell?" contact us today for a free consultation!