How To Get Into Cornell
Cornell University is one of the most popular Ivy League schools despite being one of the youngest. Keep in mind that "young" is relative to how old some of the other Ivies are. Hint: think 100s of years old. So what makes Cornell special? Well, it's known for having one of the highest acceptance rates among Ivy League universities. In fact, the founder of the university was once quoted as saying, "I would found an institution where any person can find instruction in any study." This has since become the school's motto as it continues to inform the university's direction and progress.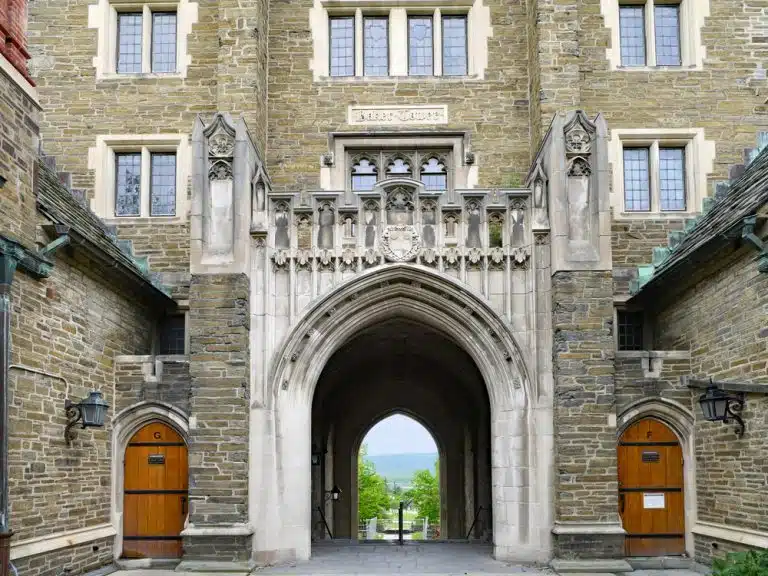 It's a promise that's been kept all while the quality of education remains one of the best in the world. With tens of thousands of students eagerly applying each year to get into this institute of higher learning, many students are wondering how to get into Cornell University. If you've set your sights on this college but aren't sure where to begin, you're in the right place. AdmissionSight lives and breathes college admissions, especially those of the elite Ivy League institutions. To help give you a leg up on the competition, we've put together this guide of 7 tips that can help you increase your chances of getting accepted into Cornell University.
1. Start preparing early.
Proper preparation prevents…well, you know the saying. Although it's definitely an overused saying, the point still rings true, especially when dealing with Ivy League schools like Cornell. In order to put yourself in the best position to catch the attention of admissions staff in the whirlwind of applications that hit their offices each year, you'll need to give yourself enough time to prepare. This means planning your high school courses and extracurricular activities early on to ensure they bolster your GPA and make you more qualified to attend Cornell. It also means getting started on the application early.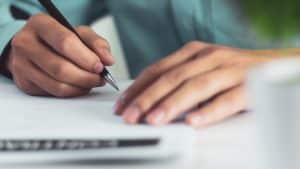 If you procrastinate on either of these, you run the risk of gravely impacting your chances of getting into Cornell. When you don't plan out your high school years, your performance isn't lined up with what the university is looking for in applicants. And when you keep pushing back the application, you might not have enough time to do your best. Keep in mind that if you decide to apply during early admissions, you should plan accordingly. This means getting started earlier to ensure you have everything needed well before the deadline.
2. Understand the application requirements.
Another top tip for how to get into Cornell University that goes hand-in-hand with early preparation is understanding the school's application requirements. Knowing this early on gives you enough time to gather all of the necessary documents so you're not rushing to get everything at the last minute. While filling out the Cornell application might go quickly, you'll have to spend time requesting high school transcripts, getting letters of recommendation, and gathering other awards or acknowledgments.
Making a check-list great way to make sure you keep track of everything that's required. Like most universities, Cornell has an outline referencing all of the required documents for first-year applicants on their official website. In fact, Cornell even went one step further and created a handy application check-list so you don't have to spend time making your own. Simply check off each item as you collect it. It's always a good idea to run through the list once, twice, and even three times to be sure you have everything. You'd hate to put in all of that effort only to realize you're missing a key piece of the application.
Pro Tip: If you're applying to one of Cornell's special schools, be sure to check and make sure you have a proper understanding of the required documents as they can vary between each program.
3. Apply during early admission.
Many students might be wondering how to get into Cornell's early decision. You'll be pleased to hear that it's not too difficult at all! It's really just a matter of applying earlier – as the name suggests – than you would normally. The application deadline is November 16th. It's important to note that Cornell has a binding early decision. In other words, once you're admitted, you need to take back all applications you've sent out to other universities. Your deposit for enrollment will also be expected by the beginning of January. If you don't get accepted during Cornell's early decision, your application might be pushed back for regular decision.
You might be wondering if there's any advantage to applying during an early decision. After all, it comes with some restrictions in terms of applying to other universities and requires more work. So what's the point? Well, the acceptance rate of early admission has generally around 20% the past few years, making it significantly higher than the standard admission rate. Generally, the Cornell University acceptance rate is closer to 10%. In other words, if you're willing to put in the extra work, you might have a better chance of getting admitted during early decision – as long as your application is up to snuff.
4. Reach out to graduates.
If you've ever seen the hit-show The Office, you know just how hilariously proud Andy Bernard was about having attended Cornell University. He would literally mention it at every opportunity he had. While this obsession with the school is clearly a joke, there is something to be said about the pride Ivy League alumni have in their alma mater. This shared experience leaves former students with a large network of fellow graduates who are known for looking out for each other. Whether you need help finding a job, want tips for entering into a new field, or references for grad school, Cornell alumni will most likely be willing to help.
Fortunately, you don't have to wait until you attend or graduate from Cornell in order to take advantage of this major perk. Alumni networks are even willing to help students who are considering making Cornell their home for the next four years. While you can always reach out to the university to see if they'd be willing to set you up with a graduate, you can always check within your own circle of friends and family first. You never who might know someone who knows someone who attended Cornell. Meeting with an alumni gives you an opportunity to ask all of your burning questions while even learning some things you wouldn't have thought about.
5. Find excellent letters of recommendation.
It's important to shift your perspective from seeing requirements as something you must do to understanding them as strategies you can implement to increase your chances of getting accepted into an Ivy League school For example, Cornell requires students to get both a counselor recommendation and teacher evaluations. These are known as letters of recommendation in the college admissions process. While you don't have a lot of control over your counselor's letter, you get to choose the two teachers who write your evaluations.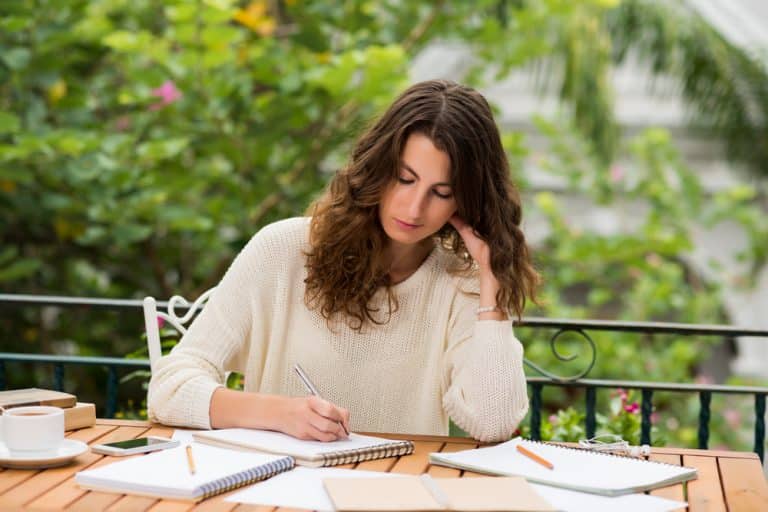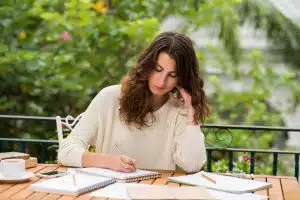 Instead of choosing two teachers at random, you should take this as an opportunity to present yourself in the best light to the admissions officers at Cornell. Think about all of the teachers you've had in the past (during your time in high school) and the ones you currently have. Do any stick out to you? We're you able to build a relationship with them? Did you perform well in their class? It's critical to choose a teacher you're confident will write a stellar recommendation letter. While you obviously can't control what they write, don't be afraid to mention the importance of the letter of recommendation.
6. Maintain a high GPA.
You're probably tired of hearing about grade-point average (GPA) when it comes to college admissions. It's all the rage, and schools really care about it, right? We get it. Telling students that high grades are essential to getting into an Ivy League school might seem a tad bit obvious. However, maybe you haven't seen it broken down into numbers. Seeing statistics on the matter not only tells you where you need to aim, but it also gives you a better idea of the level of competition you're going up against when you apply to Cornell University.
While the exact average GPA of accepted applicants fluctuates from year to year, it generally sits just above 4.0. This means you'll have to perform extremely well in your high school classes in order to meet this average. Ideally, you could even exceed it. For the class of 2023, of the accepted students who revealed their class rank, 99.4% were in the top half of their graduating high school class. If you think that's impressive, just wait. Of this same group, 83.4% were in the top ten of their graduating class!
In order to cement a position for yourself at Cornell University, it's vital to have an impressive GPA. You can accomplish this by choosing the right courses in high school while continuing to develop your academic prowess. While you might be tempted to shoot for the stars by loading up your schedule with the toughest classes, this strategy can backfire big time. Although upper-level classes are often weighted, these courses won't do your GPA any favors if you don't perform well. It's a good idea to speak with your high school counselor and find a good balance between challenging and doable.
7. Write fantastic supplemental essays.
It's a custom among Ivy League schools to provide a series of essay prompts for applicants to answer in addition to their general application. These supplemental essays play a key role in determining whether or not you get accepted into Cornell University. While the application tells admissions officers about your academic achievements, extracurricular activities, and other general information, these essay prompts are more revealing about who you are as a person, what your aspirations are, and other more in-depth information. It's with these essays that admissions staff hope to get to know more about you. That's why they should be fantastic!
Easier said than done, right? Well, with the right resources, you just might find these supplemental essays easier than you had previously thought. AdmissionSight specializes in the college admissions process and understands what Cornell University is looking for from its applicants. With our essay writing and editing services, you'll have the support you need to nail this portion of the application so you can feel confident about your chances of getting accepted. No matter your writing aptitude, our team of experts will guide you through the process.
How I Got Into Cornell University: A Success Story
"To be quite fair I'm not exactly sure why I got into Cornell; I don't think anyone really knows why they get accepted or rejected by a school, but I can tell you what my application looked like. I had a 4.0 GPA in high school. My SAT score was maybe around 2200. However, I think it was my extracurriculars that really carried my application. I was the captain of a sports team, heavily involved with local volunteering, and I studied abroad senior year. Many people argued that missing a year of high school would hurt me, but it was the best decision I've ever made.
Not only did I grow a lot as a person, but it gave me unique experiences that made me stand out from other applicants. I had never visited Cornell before starting, and I couldn't do an interview because I was abroad. I did have a quick phone interview but that was mostly me asking questions. I was sent an email by Cornell Engineering a month before admissions day telling me that I was "very likely" to be admitted.
Take advantage of all the opportunities you are presented within the high school. Find your passion and let it show in your essay. Don't force yourself to do things you don't want just for the sake of putting it in your application because you will be wasting your own time and it won't help you. And don't be afraid to take a gap year! School is exhausting and you'll never be too old to start!"
Benefits of attending Cornell University
If you're not quite sold on Cornell University yet, here are some of the major benefits of attending this school.
Low Ivy Acceptance Rate – Even though Cornell's acceptance rate might seem low when compared to standard state colleges, you have to think about it in comparison with the Ivy League. While schools like Yale and Harvard have acceptance rates hovering around 5% or lower, Cornell's is about double that while still offering a world-class education.
Dedicated Alumni Network – Graduates love Cornell! Whether you're thinking of applying, are currently enrolled, or just graduated recently, you have access to an entire network of talented, well-connected, and friendly alumni who are more than willing to help fellow Cornell enthusiasts. This is a perk of attending Cornell that will be with you for the rest of your life.
Opportunities – Cornell University does a great job of providing students with endless opportunities in both personal, academic, and professional fields. From top-tier courses and highly qualified teachers to helpful on-campus resources and fun study abroad programs, Cornell has it all. They're always looking for new ways to help keep students well-connected with great opportunities.
Increase your chances of getting into Cornell
Getting into Cornell University, or any Ivy League college for that matter might seem like rocket science to students and parents who haven't had much experience in the college admissions process. And even though Cornell has a higher acceptance rate than some other Ivies, it's still a challenging feat. Fortunately, working with a qualified and reputable college admissions counselor can help work wonders for your chances of getting accepted. AdmissionSight has spent years perfecting its services to guide students in the right direction towards gaining admittance into some of the top schools in the country.
We can help you with every step of the process from selecting your classes and extracurriculars in high school to writing your college supplemental essays. Our services are custom-tailored to make sure we're playing to your strengths and personal interests. AdmissionSight has a proven track record of supporting students just like you in their pursuit of the Ivy League. And you know what? We've been incredibly successful, and our team would love to add your name to our growing list of successful students. Feel free to contact AdmissionSight today to learn more about our services and how they can benefit you.