Notable Alumni at Berkeley
Introduction to UC Berkeley
Berkeley, California, is home to the public land-grant research university known as the University of California, Berkeley, commonly called UC Berkeley or Berkeley. It was the first land-grant institution in the state of California and the first campus to be established as part of the University of California system in 1868.
There are around 31,800 students enrolled in the institution's undergraduate programs, and there are 13,200 students enrolled in the institution's graduate programs. Berkeley is often regarded as one of the best universities in the world.
The University of California, Berkeley, was one of the first universities to join the Association of American Universities. It is also home to a number of excellent research institutes in science, engineering, and math.
The university was instrumental in the creation of three national laboratories—one each in Berkeley, Livermore, and Los Alamos—and continues to maintain close relationships with all of them. The university has also played a significant part in a wide range of scientific breakthroughs, ranging from the Manhattan Project and the discovery of 16 chemical elements to advances in computer science and genomics. Notable alumni led such breakthroughs at Berkeley.
Political activism and the Free Speech Movement of the 1960s are two other things that have made Berkeley famous.
Berkeley's sports teams, which are mostly called the California Golden Bears and play in the Pac-12 Conference, have won 107 national championships. Students and alumni of the university have won 223 Olympic medals, including 121 gold medals.
At AdmissionSight, we are committed to helping students get into their dream colleges. We can provide substantial guidelines and proper tools and resources to improve the chances of a student being admitted. Our team comprises professionals with extensive years of experience in their respective fields. You can depend on their expertise during the admission season.
If Berkeley is your dream college and you're already seeing yourself as an alumnus of this prestigious college one day. In that case, you should finish this entire article to get interesting facts about the notable alumni at Berkeley. Let us discuss them in the succeeding parts of this article.
Acceptance Rate for the Berkeley Class of 2026
What is the acceptance rate for the Berkeley Class of 2026? Berkeley had an acceptance rate of 11.4% for this particular incoming class. It is quite lower compared to the admission rate of the Class of 2025, which is 14%. The total number of applications received for the incoming class was 128,196, and nearly 15,000 students were accepted.
How hard is it to get into Berkeley?
How hard is it to get into Berkeley? With the huge number of applications mentioned above and the very low number of accepted students, it is quite challenging to enter UC Berkeley. Although the acceptance rate at UC Berkeley is incredibly low, your personal odds of being admitted could be higher or lower, depending on the strength of your profile.
You can better understand your prospects of getting into UC Berkeley by taking into account important factors such as your grades, test scores, participation in extracurricular activities, and letters of recommendation.
GPA
First, you need to have a higher GPA in order to be accepted. In recent years, the average GPA of admitted students at the institution has been 3.86; amazingly, more than 30% of them finish high school with a perfect 4.0.
SAT/ACT
Second, remember that the middle 50% of students at UC Berkeley have SAT scores of between 1300 and 1520. Their median ACT score is somewhere between 27 and 35. However, SAT and ACT scores were recently not taken into consideration by UC schools.
Class Rank
Third, keep in mind that the average high school class rank of the students in UC Berkeley is in the top 10% of their high school class, and 100% of them graduated in the top 25% of their high school class. The notable alumni at Berkeley are also known for their great academics, which made them great professionals after they graduated from the institution.
Attributes
What kind of student does Berkeley look for? To get into UC Berkeley, prospective students must show that they can meet a set of academic requirements that are the same for all universities in the UC System.
The majority of high school students who graduate from public schools will meet these requirements. However, applicants who attended private schools or who were homeschooled will need to keep a careful eye on the curriculum they are completing to ensure that the standards are met.
In addition, prospective students must fulfill a UC System-mandated minimum grade point average in order to be considered for enrollment at UC Berkeley. As mentioned earlier, students need to attain a GPA of more than 3.0.
Research Experience
At UC Berkeley, science, technology, engineering, and mathematics (STEM) skills are highly valued, and applicants to STEM programs must meet prerequisites. Students who are interested in science, technology, engineering, and math may want to apply to UC Berkeley because the school gives research experience more weight than other factors.
Essays
Essays are a big part of the admissions process at UC Berkeley, and they're one way that applicants can stand out from the crowd.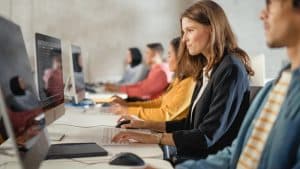 Captivating essays call attention to the candidate's possessing attributes that UC Berkeley values. The University of California, Berkeley is looking for people with initiative, motivation, leadership, persistence, service to others, high potential, and a lot of experience with different cultures.
Berkeley Alumni Interview
Is there a Berkeley alumni interview? With its overwhelming number of applications every year, Berkeley does not conduct admissions interviews. The institution relies on your submitted letters of recommendation to get to know you better as an individual.
Berkeley Graduation Rate
What is the Berkeley graduation rate? The six-year graduation rate at Berkeley is quite high at 90% for first-year students, particularly when contrasted to the average rate of Association of American Universities (AAU) public peer institutions, which is 77%. Graduation rates at UC Berkeley have increased throughout the course of time, going from 77% in 1985 to the current rate of 90% today. Also, the difference in graduation rates between different groups of people is getting smaller over time.
Graduating from UC Berkeley includes a lot of unforgettable experiences and memories, some of which can be:
Academic Experience
The educational experience that one can have at Berkeley can only be compared to the educational opportunities provided by five to ten other colleges across the entire world. Some of the most well-known experts in their fields taught the classes; because of them, students got an education that can't be beaten.
Most of the time, they were the authors of the books that alumni were using and continuing to rely on because they remained the most reliable available. Students can meet teachers that were once aides to members of Congress, clerks to Justices, or even the co-founder of the Congressional Budget Office (CBO). People are naturally sociable; therefore, engaging with them will almost always result in reciprocal behavior.
Although it's impractical to assume they'll come to you, taking the initiative to initiate contact could provide unexpected results. Furthermore, the same could be said of almost every other aspect of life at Berkeley.
You can also experience going to a seminar that features a few notable alumni at Berkeley that were Nobel Laureates, captivating a lot of students. You will surely gain a wealth of knowledge that you won't find anywhere else.
Student Body
The student body at Berkeley is comprised of different individuals from various cultures, traditions, and social backgrounds, so it can be challenging to form good connections with one another. But this challenge can be very worthwhile once you succeed in creating a nice network of different students within the campus.
In addition, you'll be immersed in a community of the nation's most brilliant minds, all of whom are accustomed to excelling academically, and you'll be able to learn from each other. In this respect, the general populace has come to expect nothing less than first place. Competitiveness permeates the environment, making it less than pleasant for most people.
Despite the claims that Berkeley has a more progressive student body than other universities, the reality is that this is not the case. The progressive nature of the area is due in large part to the surrounding town, yet many have trouble distinguishing between the two. The majority of Berkeley students come from well-off backgrounds, where conservatism is more common than liberalism. The pupils at other prestigious schools tend to behave in a similar fashion.
How many alumni does Berkeley have?
How many alumni does Berkeley have? It has produced more than 500,000 alumni from around the globe.
List of notable alumni at Berkeley
The list of notable alumni at Berkeley includes the following:
114 Nobel laureates
25 Turing Award winners (11 alumni)
14 Fields Medalists
30 Wolf Prize winners
108 MacArthur Fellows
30 Pulitzer Prize recipients
19 Academy Award winners
5 foreign heads of state, chief justices of the United States and California
22 cabinet members
10 state governors
Numerous members of Congress,
The University of California, Berkeley is widely recognized as the finest public institution of higher education in the United States, and with good reason. Despite being on the front edge of game-changing innovations like the wet suit and robotic legs, you might not know that the university has produced some very remarkable notable alumni at Berkeley.
Since its establishment in 1868, the University of California, Berkeley has been home to a large number of renowned academics, some of whom have gone on to achieve significant notoriety in their fields. Here is a list of well-known graduates who attended UC Berkeley.
Chris Pine
Chris Pine, who graduated in 2002 with a Bachelor of Arts in English, is regarded as one of the most stunning former students of Berkeley. Two years after graduating from high school, he appeared in The Princess Diaries 2: Royal Engagement, starring Anne Hathaway.
Steve Wozniak
If you're currently using your iPhone, are you familiar with it? This is the man who was responsible for making it. After quitting Apple, Wozniak returned to his alma mater, the University of California, to finish his degree. Under the name Rocky Raccoon Clark, he received his diploma in the year 1986. In the latter part of the year 2015, he was honored with the Alumnus of the Year Award by the UC Berkeley Alumni Association.
Marshawn Lynch
Lynch completed his undergraduate studies with a concentration in Social Welfare and was selected first overall by Buffalo in the 2007 NFL Draft. His aggressive playing style during his time at Berkeley earned him the nickname "Beast Mode," which is now the name of a clothing brand that is sold in the student boutiques at Berkeley. Later on, while playing with the Seahawks, Lynch was a part of the team that won Super Bowl XLVIII.
Laci Green
Green received her bachelor's degree in 2011 with a dual concentration in education and legal studies.
Brenda Song
Brenda Song is everyone's favorite heiress on television. After getting her high school diploma at the age of 16, Song continued her education at a local community college and then attended classes online at UC Berkeley, where she graduated with a degree in psychology and a business minor.
Adam Lamberg
Another one of our all-time favorite child actors is Gordo from the show Lizzie McGuire. In 2008, Lamberg received his degree in Geography from UC Berkeley. He has now settled down in New York City and is currently employed with the Irish Arts Center.
John Cho
Chris Pine counts Cho as a friend and co-star; Cho also attended the same high school as Pine and earned a degree in English in 1996 at Berkeley. After that, he moved to Los Angeles, where he worked as an actor while also teaching English.
Alex Morgan
The Olympic gold medalist and professional soccer player graduated from the University of California, Berkeley with a degree in Political Economy in 2010, a semester earlier than expected. She was one of the first female soccer players to appear on the cover of a FIFA video game. She was then respected as one of the notable alumni at Berkeley.
Paula Patton
He began his education at the University of California, Berkeley, before transferring to the University of Southern California's Film School.
Ki Hong Lee
The actor who played Thomas in The Maze Runner earned his degree in psychology in 2008. He was born in South Korea and spent his childhood in both New Zealand and Los Angeles before making his way around the world. He lives in Los Angeles and is known for his role with Dylan O'Brien in the TV show Unbreakable Kimmy Schmidt.
Hannah Hart
The year 2009 saw Hart's graduation from college, where he had majored in both English Literature and the Japanese Language. She is now successful in the fields of acting, authoring, and YouTube creation.
Jaylen Brown
In 2015, Brown made his commitment to play college basketball with the Cal Bears. In 2016, he was named to the first team of All-Pac 12 and was named the conference's Freshman of the Year. After that, the Boston Celtics selected him as the first overall pick in the first round of the NBA draft in 2016.
David Peoples
After completing his studies in the English department at Cal, Peoples went on to pen the screenplays for the movies Blade Runner and Unforgiven, both of which starred a young and incredibly attractive Harrison Ford. He was considered for awards at the Academy Awards, the Golden Globes, and the British Academy of Film and Television Arts.
Nancy Tellem
Tellem is a graduate of both the University of California, Berkeley, and the University of California, Hastings College of the Law. He is the President of Digital Media at Microsoft and used to be the President of CBS Television Studios.
Julia Morgan
In the year 1890, Julia Morgan became the first woman to enroll at the University of California. She went on to become the first woman to be accepted into L'École Nationale supérieure des Beaux-Arts in Paris. Additionally, she was the first woman to be granted a license to practice architecture in the state of California. She eventually designed 700 structures in the state of California, one of which was Hearst Castle. In this era and during this time period, this was a significant accomplishment for a woman.
Each of the notable alumni at Berkeley is an extraordinary individual who entrusted their college education to Berkeley, one of the most prestigious educational institutions in the United States.
If you're eager to enter this college, you should be dedicated to each step of its admission process. Your ideal life as a student at Berkeley can become a reality with our professional assistance at AdmissionSight. Contact us today and we will talk about strengthening your profile to increase your chances of admission.