Polyphony Lit: Why You Should Participate
As a future college student, you probably have tons of words and information thrown at you daily. "Get good grades. Your test scores must be within this range. Do volunteer work. Participate in multiple extracurricular activities. Keep your resume up to date. Make sure you apply for Internships or have a summer job."
It can be hard to sort out facts from fiction and make the right decisions for your future when you are presented with so much information all at once. This is why AdmissionSight is here to sort out just what exactly will help you gain admission to the school of your dreams, and what won't.
One thing we like to focus on is the importance of extracurricular activities or accomplishments that amplify your strengths and interests that you're passionate about. Apply for a summer program in biotechnology if it's something you've always been good at. Travel and do volunteer work overseas and develop a new perspective on other cultures. Or become a leader in your community and participate in a political campaign that will give you invaluable experiences you can write about in your college admissions essays.
Writing is a particular skill that most people tend to overlook. Normally most programs or recognized awards are geared toward STEM fields in mathematics or science. But if writing is a skill that you have, now is the time to flaunt it! Colleges and universities also look highly upon getting published in nationally recognized online magazines or compilations or winning awards for your work. Participating in an extra program outside of your normal school curriculum shows admirable passion and initiative.
One such important publication you may aspire to get your work published in would be the nationally acclaimed Polyphony Lit.
What is Polyphony Lit?
Polyphony is defined simply as "many voices" and the publication works to do exactly that and amplify the many voices of students across the world.
Polyphony Lit is a global online literary platform for high school students. High school students worldwide are invited to submit creative writing, join editorial staff, write blog posts, take workshops, and grow into leadership roles.  Developing young writers is central to their mission and editors provide feedback on every submission.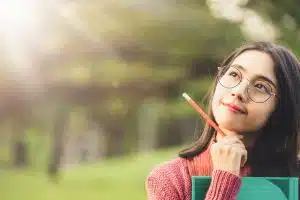 The publication also offers three awards for excellence in writing through the Claudia Ann Seaman Awards for Young Writers, one each in poetry, fiction, and creative nonfiction, and the student editors publish an online magazine featuring their favorite pieces from each genre.  The Claudia Ann Seaman Awards for Young Writers were created by the Seaman family in memory of their daughter and sister, a young poet.
The CAS Award acknowledges excellence in teen writing in poetry, fiction, and creative nonfiction. Nominees are selected each year by editorial staff from the works that have been accepted for publication. A distinguished panel of professionally published authors chooses one winner each in poetry, short fiction, and creative nonfiction, to receive a $200 cash award. Two honorable mentions are also selected in each genre category.
Since Polyphony's founding in 2004, they have received submissions from high school students in 71 countries and all 50 US states. Student editors have given feedback to every submission, over 15,000 and counting.
​Polyphony Lit's Mission
The publication's mission is to form a global online community of teens devoted to improving literary skills and nurturing creative voices in the areas of poetry, fiction, and creative nonfiction. They strive to build respectful, mutually beneficial, writer-editor relationships, and to enrich the literary lives of teens worldwide, especially those living in under-resourced communities. Literary achievement is honored by bringing attention to excellence through awards and publishing much of the extraordinary work that is received.
​Polyphony Lit's Beliefs
Polyphony Lit believes that when young writers put precise and powerful language to their lives it helps them better understand their value as human beings. The development of that creative voice depends upon close, careful, and compassionate attention. Helping young editors become proficient at providing thoughtful and informed attention to the work of their peers is essential to our mission.
This important exchange between young writers and editors provides each with a better understanding of craft, of the writing process, and of the value of putting words to their own lives while preparing them for participation in the broader literary community.
Polyphony Lit's History
Founded in 2004 by Paige Holtzman (Latin School of Chicago '06) and Billy Lombardo, Polyphony Lit has responded to more than 15,000 submissions from 71 countries and all 50 states. They have published 14 annual literary magazines to date, each an anthology of the favorite poetry, fiction, and creative nonfiction submissions as selected by student editors.
Originally called Polyphony H.S., the first years were funded with support from the Latin School of Chicago. The name was changed in 2018 to Polyphony Lit and is now a certified 501(c)3 non-profit organization.
​The Future of Polyphony Lit
Polyphony Lit expanded their mission this year as they have grown beyond publishing a literary magazine. They have become an extended online platform that lets students, use a great phrase from the American Library Association: "hang out, mess around, or geek out." Besides an existing blog and workshops, online content also encourages teens to engage in a variety of ways. So much of the work done is never seen in a magazine, as 96% of submissions are never published but do receive in-depth editorial feedback.
For the year 2020, the site plans to engage in a formal process to measure program impact. Initial qualitative research indicates a positive impact on editors who work with the organization: 98% of editors surveyed strongly agree or agree that Polyphony Lit has improved their literary skills and 93% strongly agree or agree that Polyphony Lit provides opportunities not available at their current school.  100% of editors strongly agree or agree that editing for Polyphony Lit is a valuable experience.
​In service to their mission, to enrich the lives of literary teens worldwide, especially those in under-resourced communities, the program evaluation will include analysis on skills of editors who are in under-served communities.
Polyphony Lit Workshops
Polyphony Lit has two different kinds of workshops: an online workshop that is on-demand, year-round, and the summer scholars program.
Online Workshop: "How to Be a Literary Editor" (HTBLE) workshop is a self-paced instructional course. HTBLE teaches high school and college students how to edit poetry, fiction, and creative nonfiction. Polyphony Lit's method, developed over 15 years of teaching their own staff the craft of editing, offers a standard approach for tackling each submission and gives an overview of the specific editing vocabulary useful for giving meaningful feedback.
Students who complete the course will be prepared to join the staff of their school literary magazine, ace an internship at a real-world lit magazine, and/or join Polyphony Lit.  The course also includes a guide for literary magazine interns published by the Community of Literary Magazines and Presses which will introduce students to the administrative and business aspects of producing a literary magazine.
The course takes 3-5 hours to complete and can be started at any time. Students receive personal feedback on their final assignment. The cost is $70.
Summer Scholars Program: The Summer Scholars Program is an 8-week online program for rising 9th – 12th-grade high school students. This program augments our online "How to Be a Literary Editor" workshop with live lectures and individual mentoring as they work as First and Second Readers for Polyphony Lit.  The Summer Scholars Program has a rigorous curricular foundation, but the fun of the program is getting experience as a literary editor.
Detailed written feedback on all editing assignments. Students are also given the optional opportunity to write a post(s) for Polyphony Lit's "Voices" blog. Writers can meet and learn from other scholars through collaborative assignments, the online community forum, and in all live online lectures. The cost is $350.
Scholars enrolled in the program are expected to commit at least 3-5 hours a week. It is expected that Scholars will have other work/study/vacation commitments, so all live lectures will be taped in the event of schedule conflicts.
International students are welcomed and accommodated to work around time zone issues.
Summer Scholars will usually continue working on staff with Polyphony Lit during the next academic year. Instructors will give personal feedback about your path to promotion, but enrollment as a Summer Scholar is not a guarantee of promotion. Historically, about 10% of First Readers and Second Readers earn promotion to Genre Editor and Executive Editor.
Specific learning outcomes for the program include:
Method to approach poetry, fiction, and creative nonfiction.
Understanding of elements of each genre.
Practice using literary devices to interpret and analyze submissions and give editorial feedback.
Consideration of how the overall effect of structure, devices, and themes contribute to the effect of the piece.
Embracing multiple standards of quality: diverse aesthetic, authentic voice, style, technique.
Awareness of contemporary challenges of creative works in a diverse world.
Honing judgment about quality.
Responsibilities and functions of the editorial pipeline.
Acceptance and rejection criteria and decision-making.
For more information and to register or apply for either program you can check out Polyphony Lit's website.
Join Polyphony Lit's Editorial Staff
Polyphony Lit invites high school students worldwide to join their Polyphony Lit Editorial Staff. All experience levels are welcomed—from beginner to expert.
​Editing might just be the best writing and reading education you will ever have: it will advance your literacy skills, give you a deep understanding about what a mutually beneficial writer-editor relationship is about, connect you to peers from all over the world, and prepare you for any endeavor where precise communication is valued.
Editing for Polyphony Lit instead of just writing will also be a great thing to put on your college applications. Schools love to see the energy and commitment that you can dedicate toward an extracurricular or passion project, especially in a leadership position.
How do I Join?
Apply to be a First Reader by filling out this form on the Polyphony Lit site. Before adding you to the staff, you will be given resources to become informed about the publication's philosophy and the basics of the editing process and methodology. You will complete a trial assignment and be given feedback on that assignment. Upon completion, you will be added to the staff and submissions will start coming your way!
Polyphony Lit's Editorial Philosophy
Editors are asked to adopt the Polyphony Lit philosophy, which aims to be both encouraging and constructive to emerging writers.
Editors are expected to:
​Believe each writer's words are valuable.
Be committed to one aim: helping the author write the best poem, story, or essay they can write.
Avoid a cookie-cutter approach to reading for acquisition (editing with an eye toward publication). Student editors hail from all over the world and represent a great variety of cultures and literary tastes which help us create a magazine that should be reflective of the world at large.
Give clear and precise feedback about how work succeeds and fails.
Strive to find successes buried in the work of the least experienced, least schooled, and least polished writers.
Constantly work to acquire more knowledge of literary devices, narrative elements, and poetry forms, which are tools to skillfully encourage richness and clarity.
Learn to recognize good writing.
Polyphony Lit's Editorial Roles
First Reader: The entry-level position at Polyphony Lit is First Reader, who is the first to read the poetry, fiction, and literary nonfiction submitted to us. After reading the piece, the First Reader writes specific and general comments about the piece recommend "accept" or "reject," and forwards the submission back to the Managing Editor. First Readers receive feedback on their commentary from other editors as the piece moves along the editorial pipeline.
Second Reader: Second Readers review both the submission and the First Reader Comments and then also make an accept/reject the recommendation.
A critical distinction between First and Second readers is that Second Readers are responsible for reading and editing the comments of the First Readers. They review First Reader comments for tone, content, grammar, and mechanics, provide feedback on that editorial commentary directly to the First Reader, and provide the Managing Editor with additional information about the effectiveness of the First Reader's commentary.
Genre Editors: Playing a prominent role in deciding whether submissions are finally accepted or rejected, Genre Editors shape the final message to the author, provide evaluative feedback directly to the First and Second Readers who have already acted on the submission, and provide feedback to the Managing Editor on the editorial comments of First and Second Readers.
Executive Editors: Final review happens with the Executive Editors. They read the submission, edit the comments of the First Reader, Second Reader, and Genre Editor, write a two to three sentence general commentary to the author, and make the final decision about acceptance or rejection. If the piece is accepted, they write an editorial comment to be published alongside the piece for our print volume. We believe the most important responsibility of the Executive Editor is to ensure all feedback to writers adheres to our editing philosophy, which strongly emphasizes tone and content that are encouraging and useful to young writers.
Editors-in-Chief: Due to a large number of submissions, we have at least two Editors-in-Chief (EIC). Responsibilities of the EIC are based on the expertise of the students serving as EIC. In general, the EIC has final approval of final actions and commentary that go back to the writers. The EIC work on editorial promotions, recommending to the Managing Editor which Readers/Editors demonstrate skills and commitment deserving of promotion.
​The EIC help shape editorial policy as well. Their daily attention to submissions allows them a close look at the day-to-day operations of the magazine. It is this close attention that puts them in a good position to shape editorial policy and to notice potential inconsistencies, insufficiencies, or other inadequacies in editorial feedback.
Their feedback to the managing editor often equips us to respond more effectively and efficiently to our authors. Finally, the EIC takes an active role in preparing our print volume for publication, including writing a foreword letter for the volume.
How do I submit my writing for Polyphony Lit?
Writer Qualifications
High school students from anywhere in the world are eligible to submit.
Works must be written in English.
Submit a maximum of three pieces across the three genres.
Simultaneous submissions are accepted as well as work that has been published elsewhere. When you submit the work on the Submissions Manager, you must note if the work was previously published. Pieces that have been published elsewhere are not eligible for the Claudia Ann Seaman Award for Young Writers.
​Length
Poetry with up to 80 lines is eligible.
Fiction and creative non-fiction must be 1,800 words or less, double-spaced.
Submissions that exceed limits will not be accepted.
​Formatting​
Do not put your name on the piece, as all work is blind juried.
Prose submissions (Creative Nonfiction and Fiction) longer than one page should have the page number inserted at the top (right or left side) of every page, as it helps readers and editors specify the location for their commentary.
Poetry should be formatted flush left unless another format, such as centering, is an integral part of the piece's meaning.
Submission in .doc, .docx or .rtf formats.
There is no fee to submit.
If writing is something that you love or has always been good at, maybe now is the time to take a further step and show your talent to the world! We at AdmissionSight believe that showcasing your best talents and passions is instrumental in getting into the college or university of your dreams, and we want to help you get there.
Whether it's writing a stellar admissions essay or curating a resume of extracurriculars that show who you are as a student, we want to be there with you every step of the way.