The Best Advertising Schools In The US
What are the best advertising schools?
Where can one find the most reputable advertising schools? Advertising is a form of marketing communication that is aimed at producing advertisements for using products, services, or ideas using an openly sponsored, non-personal message. The goal of advertising is to produce advertisements for a seller and/or product to communicate with their users about their characteristics through the medium of advertising, with the end goal of selling.
In the following, we will discuss some of the best advertising schools in the United States.
Quinnipiac University
Students who are interested in a truly experiential learning environment will find what they are looking for at Quinnipiac, which has the resources necessary to prepare students for any career in advertising. Students who enroll in the school's program in advertising and integrated communications receive training in the methodologies and applications necessary to learn the various roles that exist in the advertising industry.
Students will have the extraordinary opportunity to fully immerse themselves in a variety of positions, whether they choose the creative or managerial track to pursue their education.
The student-run advertising firm known as "The Agency" is a unique component of the curriculum offered at this particular educational institution. In this setting, students will gain real-world, hands-on experiences working with notable clients in a variety of roles, including publicists, graphic designers, data analysts, web designers, and many others.
Over the course of its school of communication, Quinnipiac University offers students over 19 different programs that get them ready to explore the various paths that can lead them into the field of advertising.
University of Florida
Students at the University of Florida's advertising program, which is widely regarded as among the best advertising schools in the United States, are prepared to enter a market that is culturally diverse and culturally rich. The objective of the program is to provide students with opportunities to gain real-world experience in the field of advertising.
Students in the advertising department have the option of pursuing one of two different concentrations: advertising agency or persuasive messaging. Students have the option of either customizing their courses to focus on persuasive messaging or opting for entry-level roles through the agency track. Both of these approaches emphasize experiential learning within the advertising field.
The Ad Society is the school's organization for professional students interested in advertising, and it is located at the University of Florida. This organization, which is an accredited chapter of the American Advertising Federation, serves as a resource for students who are interested in expanding their professional network, obtaining support, and gaining knowledge about the advertising industry.
There is also a student-run business at the University of Florida that goes by the name "the Agency," just like there was at the institution that came before it on this list.
Syracuse University Newhouse School
A comprehensive advertising program leading to either a bachelor's or master's degree is available through the Newhouse School of Communication. Students will have the opportunity to choose from a diverse range of classes offered by the institution, all of which will provide them with practical advertising experience.
The school places a significant emphasis on instruction regarding the most recent developments in the advertising industry, which is one of its defining characteristics. Throughout the entirety of the program, students will consistently have the opportunity to work with clients while delivering high-quality marketing solutions.
In addition, Newhouse is highly recognized as one of the best advertising schools in the country. Students at Newhouse will have access to a forum only open to other Newhouse students called the Eric Mower Advertising Forum. This forum, which was founded in 2009 by the advertising department, provides students and faculty with meaningful learning experiences using keynote speakers and workshops that have been carefully curated.
Students at TNH have the opportunity to launch their professional careers in advertising while they are still enrolled in the school. TNH is home to one of the largest student-led advertising agencies in the country. Students in this program are sure to acquire a wide range of work experiences relevant to the industry thanks to the program's impressive client roster.
The University of Texas at Austin Stan Richards School of Advertising and Public Relations
Stan Richards School of Advertising and Public Relations has been training students to become industry leaders for more than 40 years. The school specializes in advertising and public relations. This program aims to prepare students to compete successfully in the job market by placing a strong emphasis on the integration of academic study with relevant, real-world experiences. Thus, it is recognized as one of the best advertising schools in the US.
The curriculum of this program educates students in a variety of skill sets, ranging from advertising management to creative mediums, and provides them with hands-on experience. Students have the opportunity to construct their coursework so that it reflects the parts of the field in which they are most interested.
To fulfill a requirement of the program, each student will be expected to participate in an internship of their choosing. Students will have the opportunity to select from a variety of specialized internships, and they will be expected to apply what they have learned to real-world scenarios.
The provision of one-of-a-kind alternate sequences is a feature that is included in this program. Students will have the opportunity to select one of several elective courses from a selection that focuses on immersive technology, creative branding, or media analytics.
Temple University
Temple University, in response to the dynamic nature of the advertising industry, provides students with flexible academic programming as well as real-world experience in the advertising industry.
Immersive courses, internships, and potential career paths are all available to students who are located in the fourth-largest media market in the world. This allows students to work with clients from around the world.
This program offers more than six areas of concentration, allowing students to tailor their education to meet the specific needs of their future careers in advertising and public relations. Students in this program have the opportunity to learn how to build and manage relationships with clients through the account managing track, which is a feature that is exclusive to this program.
Students are required to either participate in a student-led agency at their school or seek out an internship to cultivate their professional experiences while they are enrolled in the program. At Temple University, highly regarded among the best advertising schools in the US, one of the most important goals they have is to get their students ready for successful careers after they graduate.
This program provides students with a wide variety of options to investigate, whether they are interested in gaining a general understanding of the advertising industry or developing specialized career skills.
Drake University
Studying advertising at Drake University, which is located at the intersection of art and business, combines the practical and imaginative aspects of the profession. To provide students with a comprehensive education and lay a foundation in advertising from both the agency and client perspectives, this program has been developed.
Students will have the opportunity to gain hands-on experience in both creative production and media planning through the coursework that they are required to complete. Students can get a sense of the kinds of careers that are in demand thanks to the varied subject matter that is covered.
When students reach their senior year, they will be held to the expectation that they have completed a multimedia campaign for a real client. This campaign will assist students in gaining professional experience that can be added to their portfolios, and they will be able to do so with the assistance and collaboration of their classmates.
The program also encourages students who are eager to improve their studies to consider choosing a double major to complement their degree. Some examples of possible double majors include psychology, graphic design, and business. Hence, Drake University is unquestionably among the best advertising schools in the US.
Michigan State University
For students who are interested in pursuing a Bachelor of Arts that is linked to an M.A. degree in advertising, Michigan State University is an excellent choice for the educational establishment. Students can build an advanced academic career that is rich in real-world experiences thanks to the availability of multiple programs within the advertising industry.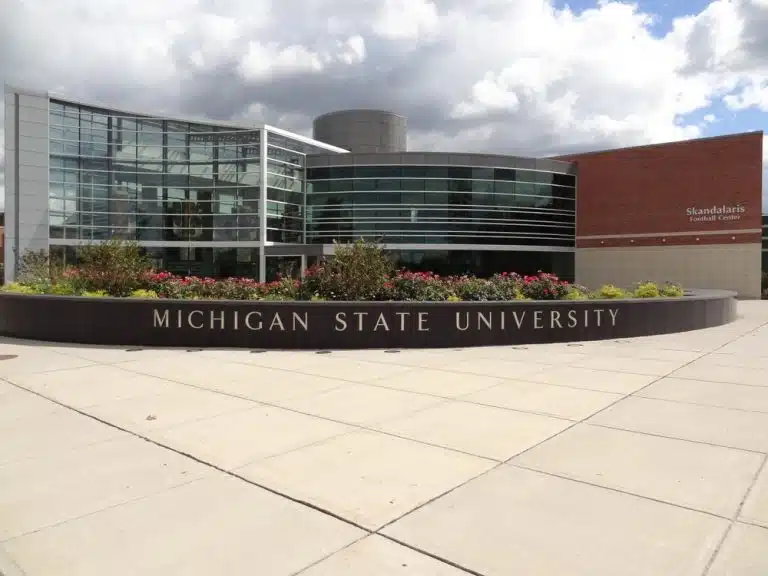 Undergraduate students who enroll in the program have the option of pursuing a degree in one of three different concentrations: creative advertising, management, or public relations. Both health and risk communication and advertising and public relations serve as the focal points of the program's graduate-level study options, both of which lead to the completion of a master's degree.
The mission of the MSU program is to provide students with a comprehensive foundation of learning in advertising, and the program's design reflects this goal. Students are not only taught the skills necessary to compete in the job market but they are also inspired to help shape the norms of their field.
The University of Illinois at Urbana-Champaign
The Sandage Department of Advertising takes great pride in the fact that it was the first advertising program in the country and continues to be an innovative and influential program in the industry. The department provides students with the opportunity to earn degrees and certificates through either in-person instruction or online learning.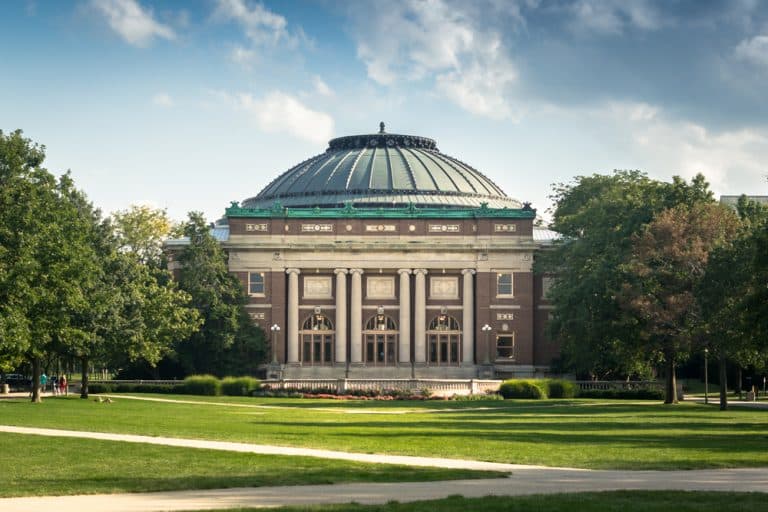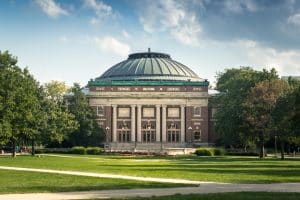 As one of the best advertising schools in the United States, students at the University of Illinois have the opportunity to delve more deeply into subjects like consumer insights that are related to the field of advertising as part of one of the program's pillars, which is research. Students are strongly encouraged to learn qualitative and quantitative research methods, the likes of which apply to every aspect of the industry, as part of the program.
The members of the advertising department's faculty are well-known and active experts in the field, and they continue to publish new research for organizations that are relevant to the field. The students will have the additional opportunity to view the process that their professors use and the findings that they produce.
Southern Methodist University
The Temerlin Advertising Institute for Education and Research was established in 2001 and is geared toward assisting students in discovering their niche within the field of advertising. Students in the undergraduate program have the opportunity to concentrate their studies on one of three areas: creative, strategic brand management, or digital media strategy.
Students are required to submit applications to both their major and their specialization at the same time for each area of concentration that they choose.
Students have access to one-of-a-kind opportunities that are designed to enrich their overall educational experience thanks to the institute's location in a major media market. The institute provides related classes in London, England, as well as through other partnered programs, as a way to extend the reach of the SMU campus.
The program is designed to train students for careers in the advertising industry and emphasizes hands-on learning through the use of classrooms with limited seating, extensive projects, and instructors who are active professionals in the field. Students will be expected to create real-world solutions for notable clients of the program as part of their capstone projects for their undergraduate studies. Thus, SMU is consistently among the best advertising schools in the US.
University of Georgia Grady Advertising Department
A highly competitive advertising and public relations program is provided by the Grady ADPR Department, which consistently earns high rankings for its program. Students at ADPR have access to a diverse range of concentrations thanks to the school's roster of faculty members who have won prestigious awards.
Students have the option of pursuing a bachelor's degree in public relations or advertising, which will enable them to develop their skill sets as analysts as well as creative planners. Even though the program's primary focus is on providing students with a strong grounding in advertising, ADPR strongly encourages students to further specialize their studies in the areas in which they have the most interest.
ADPR provides students with access to a variety of domestic and international study abroad opportunities, to enhance the breadth and depth of their educational experiences. Students can apply the principles and procedures they have learned in their classes to real-world settings through the use of these opportunities.
ADPR provides students with a compiled list of jobs and opportunities that they can use as a source of reference when they are developing their career paths to assist them with their post-graduate search. Hence, the University of Georgia is among the best advertising schools in the US.
Are advertising degrees worth it?
Are degrees in advertising worth the investment? Students who are interested in earning a degree and want to choose a field of study that is not overly challenging but will still prepare them for work in a field that is highly competitive should consider enrolling in an advertising program. People who are interested in working in a specialized area of marketing should consider majoring in advertising because it is a relevant field of study.
Is advertising a good career?
Is a career in advertising a good choice? To be successful in advertising, one must put in a lot of effort, be dedicated, and frequently develop a thick skin. Advertising encompasses a diverse range of career options, but it may be particularly appealing to individuals who are looking for a full-time job that allows for a significant amount of creative expression and innovative thought.
However, the advertising industry also needs people to fill other roles, such as account executives, traffic managers, media coordinators,  researchers, and a variety of other positions that do not require creative thinking. However, if you choose a career in advertising, you should be prepared for a high-pressure environment due to the fast-paced nature of the industry.
If you're set on getting into one of the best advertising schools but aren't sure how to make it happen, we can help! AdmissionSight is a leading college entrance expert with over a decade of experience helping students just like you get into the schools of their dreams.
At AdmissionSight, we focus on offering a wide range of services all aimed at helping students perfect their applications to catch the attention of admissions officers. Contact us today to schedule a free consultation to learn more about what we offer.