NYU Acceptance Rate: 12.8%
Shortcut to sections offered for NYU prospective students and NYU acceptance rate:
Successful Applicant Profile
Demographics
Majors
SAT/ACT scores
Entry Requirements
Tuition
Scholarships
Checklist of Application Requirements
Application Deadlines
What Should You Expect
Student life
Academics offered
Athletics offered
Notable Alumni
NYU or New York University is a private research university location in New York City, New York. It is often ranked as one of the most prestigious private universities in the country and has educated a huge number of influential men and women, primarily in the worlds of business and entertainment.
The New York University acceptance rate is typically quite low, and it has only gotten lower in recent years. For students graduating in 2021 who are part of the NYU graduating class of 2025, the acceptance rate was just 12.8%.
This makes NYU a highly selective school when it comes to its decision-making process of what kinds of students it lets in every application cycle and which students, unfortunately, are not offered admission. For this reason, students who have the goal of applying and getting into NYU will want to be sure that they have a grade point average that is well above average. Typically, students need to be near or at the very top of their high school graduating class in terms of GPA to have a good shot of getting into NYU.
AdmissionSight can help students improve their chances of getting into NYU even with the low NYU acceptance rate. Thanks to our admissions consultants' comprehensive understanding of the admissions process at schools across the United States, high school students that elect to work with us know all of the tools and tips to improve their chances of getting in.
While grade point average, impressive extracurricular involvement and impressive personal statements play a crucial role in any student's ability to get into NYU, those are far from the only factors that the admissions officers at the school consider.
For example, when it comes to a student's grade point average, that simple number is not the only thing that admissions officers look at. Indeed, they also take a close look at an applying student's actual high school course list to make sure that they were challenging themselves throughout high school.
It is incredibly important for students to enroll in AP, IB or Honors classes (depending on what is offered at their high school) and work hard in order to earn great grades in those classes. In fact, taking a large number of advanced courses such as AP, IB or Honors courses is seen as something of an unofficial prerequisite in the eyes of admissions officers at top schools like NYU.
It is especially important to take advanced courses in classes that deal with your primary academic interests. Admissions officers at NYU are going to want to see that you can succeed in those advanced courses. The reason for that is because students who succeed in these kinds of classes have a much better chance of succeeding in the highly competitive and rigorous academic spirit at NYU.
But what else goes into a successful applicant profile at NYU? Take a look below.
Successful Applicant Profile
In order to craft a successful application profile in the eyes of the admission committee at NYU, students must prove their incredible level of academic passion and curiosity. Of course, academic success is the best way to do that!
Admissions officers at NYU also look for students who will be a good cultural fit at the school, whether that means showing a pronounced interest in areas that NYU is strong in, or the ability to add a new and diverse perspective to the student body, there are a lot of ways to stand out and fit in.
When it comes to who gets into NYU, take a look at the diversity and demographics of recent applicants below. Keep in mind that over 100,000 students applied to NYU during the 2020-21 application cycle. The school accepted approximately 12,500 students.
States that sent most applicants to NYU:
Diversity
Take a look at the diversity breakdown of the typical NYU class below:
Asian American: 19%
Hispanic: 19%
African American: 9%
International: 24%
Caucasian: 20%
Other: 9%
Moreover, the gender split at NYU quite heavily favors women:
Finally, there is a strong presence of students who attend NYU who come from public high schools. There is also a relatively strong presence of students coming from outside the United States.
Public: 59%
Private: 18%
Outside of U.S.: 13%
Parochial: 9%
What are the most common programs?
When it comes to deciding which schools are the best for you, you should always consider what programs are the most popular at a given school. Of course, schools tend to offer lots of great programs, and they don't always have to be the most popular to be well worth it. However, taking a look at the most popular programs and majors tend to also reflect which programs get the most attention and resources from the school itself.
The most popular majors at New York University include: Visual and Performing Arts; Social Sciences; Business, Management, Marketing, and Related Support Services; Liberal Arts and Sciences, General Studies and Humanities; Health Professions and Related Programs; Computer and Information Sciences and Support Services; Communication, Journalism, and Related Programs; Psychology; Biological and Biomedical Sciences; and Engineering.
What is the average SAT and ACT scores of admitted students?
NYU acceptance rate makes this school an incredibly selective school, that means that students need to earn an impressive grade point average and an impressive standardized test score. The average ACT score for students who get into NYU is a 32 out of the perfect score of 36. The average SAT score for students who get into NYU is a 1440 out of the perfect score of 1600.
For admitted students who took the ACT score:
25th percentile score is 30
75th percentile score is 34
For admitted students who took the SAT score:
25th percentile score is 1370
75th percentile score is 1510
It is important to know that while NYU applicants certainly do take either the SAT or ACT, the school currently has a standardized test optional policy for undergraduate applicants considering the NYU acceptance rate. Here is what the school itself has to say about its current policy:
"Earlier this year we announced our test optional policy for the 2021-2022 application cycle. We're proud of the test flexible policy we offered students in the past, but we understand that policy may not be flexible enough with the challenges from COVID-19."
With that in mind, it is quite possible that the school elects to reinstate test requirements for application cycles in the future as the pandemic starts to exit its most acute phase. It is also really important to keep in mind that while NYU does not require students to submit either the SAT or ACT as part of an undergraduate application, the school will absolutely consider scores if a student does decide to send them in.
On top of that, it is important to consider that even though many schools have adopted a similar test optional policy in recent years, approximately 2 million students took either the SAT or ACT in 2021. The vast majority of these students very likely had plans to apply to top schools like NYU, Ivy League schools and other fantastic undergraduate programs.
What is the average GPA for admitted students?
The single most important factor for all students who are applying to NYU or other top undergraduate programs is their grade point average. For that reason, if you are serious about getting into NYU, you will want to at least earn the average GPA that students who get in in high school.
Ideally, you will be able to earn a GPA that is above average to further improve your chances. When it comes to the number to aim for, the average GPA for NYU admitted students is a 3.69. That is just under an A- grade average throughout four years of high school. That is especially impressive considering the need to take advanced courses, as previously discussed considering the NYU acceptance rate.
NYU entry requirements
Though New York University is a private school and has a very low acceptance rate compared to the national average, it still has a rather high number of students enrolled in the undergraduate program at the school.
As of fall 2021, the school had a total of 29,700 undergraduate students at the school. When graduate students are included, the number of enrolled students nearly doubles, at 53,576 total across undergraduate and graduate schools.
If you wish to be amongst those students that do attend NYU, it is very important to look over the entirety of your application many times over before you submit. However, before we take a look at the other requirements, let's take a look at the kind of money you and your family will have to spend to attend the school.
How much will it cost to attend?
NYU is actually known to be one of the more expensive undergraduate programs in the United States. That is especially true considering the fact that, because NYU is in Manhattan, students who attend have to deal with the astronomical costs of renting and living in New York City.
The general cost of attendance at NYU for the 2021-22 school year equates to approximately $80,878! That includes tuition, room and board, supplies, transportation and more.
The school also equates the cost for students who commute, which means that they continue to live at home and travel to campus for their classes.
Of course, this is only an option for students who already live in the New York area. Take a look at the table provided by the school about the breakdown of costs for attendance.
| | On/Off Campus Student | Commuter Student |
| --- | --- | --- |
| Tuition and Mandatory Fees | $56,500 | $56,500 |
| Room and Board | $19,682 | $2,580 |
| Estimated Total Direct Costs | $76,182 | $59,080 |
| | | |
| Books and Supplies | $718 | $718 |
| Transportation | $1,132 | $0 |
| Personal Expenses | $2,846 | $2,846 |
| Estimated Total Indirect Costs | $4,696 | $3,564 |
| | | |
| Total | $80,878 | $62,644 |
What financial aid opportunities are available?
NYU is very aware of the fact that the price of the school is restrictive to many students throughout the United States and world. For that reason, the school does provide ample financial aid based on need or merit.
Need-based aid is determined by your or your family's demonstrated ability to pay for college, as calculated by the Free Application for Federal Student Aid, known as the FAFSA. The average need-based scholarship or grant awarded to first-year students at New York University was $37,256. Additionally, 44% of first-year students received need-based financial aid in fall 2019.
Need-based self-help aid includes federal loans and work-study. The average need-based self-help aid awarded to first-year students was $4,369.
Merit-based aid, also called non-need-based aid, is awarded for a specific talent or academic achievement. The average non-need-based scholarship or grant awarded to first-year students at New York University – excluding any athletic scholarships, if applicable – was $6,180.
New York University met 62% of its students' financial aid needs.
What are the application requirements for NYU?
As is the case with all schools in the United States, students that are applying to NYU need to adhere closely to the school's application requirements to be considered for admission. The first step to doing this is completely the Common Application, which is a requirement for students applying to the school considering the NYU acceptance rate
To complete the NYU-specific page of the Common Application, students will need:
A personal email address that you check regularly. Please do not use a school email address as you may miss important information about your application and admissions decision.
Contact information for the counselor or other school representative who will complete your Common Application School Report, where they are able to submit your high school transcript and a letter of recommendation.
Contact information for one teacher (or two, maximum) who will complete the Teacher Evaluation form.
Nonrefundable $80.00 application fee. Students who are unable to pay the application fee can request a fee waiver.
Beyond that, students must gather and submit all of the following necessary documents to complete the application considering the NYU acceptance rate:
Standardized test scores (see NYU's standardized testing requirements). Standardized testing is optional for applicants applying to the fall 2022 semester.
A Self Reported Academic Record (SRAR). All applicants will be invited to complete this after submitting their application.
An audition or portfolio for specific artistic program applicants to the Steinhardt School of Culture, Education, and Human Development and Tisch School of the Arts. For applicants to these programs, testing is optional and a required audition or portfolio can be submitted in place of standardized testing:

Steinhardt requires an audition or portfolio for all applicants to the Music Department and a portfolio for those applying to Studio Art.
Tisch requires an audition or portfolio for applicants to all programs.
For programs that require an audition or portfolio we strongly recommend you submit your application one month in advance to ensure ample time to prepare your audition or portfolio.

English language testing if you have not completed at least 3 years of study where English is the sole language of instruction at the time of application submission and English is not your native language.
Records of all college work that you have received academic credit for.
The Common Application Mid Year Report with updated academic record if mid-year grades are available. This should show your first semester senior year grades.
What are the timelines for the NYU application?
There are actually three rounds of applications for students who wish to apply to New York University as undergraduates. Those three options are Early Decision I, Early Decision II and Regular Decision.
Take a look at the corresponding deadlines as well as the decision dates, below:
Notification Plan
Application
Deadline*
Decision
Early Decision I
November 1
December 15
Early Decision II
January 1
February 15
Regular Decision
January 5
April 1
Notification Plan
Application
Deadline*
Decision
Early Decision I
November 1
December 15
Early Decision II
January 1
February 15
Regular Decision
January 5
April 1
What to expect?
New York University is located in the heart of Manhattan, with all of its university buildings and classes located in the Washington Square Park in the famous Greenwich Village. Additionally, the MetroTech Center is in Downtown Brooklyn, which is outside of Manhattan. While students obviously need to prepare themselves for living in the city, it also – of course – comes with some incredible academic and cultural opportunities.
What do students think of life at NYU?
Academic and social life at NYU is incredibly diverse and offers students with many different interests and passions the opportunity to get involved and meet like-minded young people. Students can live both on and off campus, but students like to live nearby typically (especially lower classmen), so that they can stay involved in goings on around campus.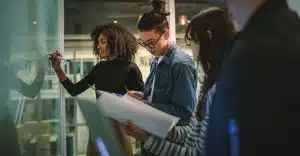 Here are what some NYU students have to say about the student life experience at the school:
"NYU is a great university with wonderful classes and great professors," one student wrote on NIche.com. "Living in the heart of NYC is amazing, and the environment is great. Some cons are that it can be hard at times to make connections because of the open campus and there are so many people you can feel lost in the crowd, but if you put yourself out there you'll be fine! It is also very expensive but for the resources and opportunities you get, it is worth it!"
"My classmates are incredibly varied: some are book-smart, some are street-smart; many are artistically talented and good with numbers; almost all are pretty opinionated, but all of us are extremely fascinated and curious about different people, cultures, languages, and the world around us," another student said on Unigo.com
What academic options are offered?
At NYU, the student-faculty ratio is a very solid 8:1 and over 63.4% of its classes have 20 students or fewer. Beyond that, students can pursue nearly every field of study under the sun, as the school has over 270 unique areas of study. The most popular fields of study include:
Liberal arts and sciences/liberal studies
Economics and quantitative economics
Digital communication and media/multimedia
Cinematography and film/video production
Computer and information sciences
Business/commerce
What athletic options are available?
While NYU is not known as a school that heavily focuses on athletics, student-athletes absolutely come to the school. The NYU Violets, as they are known, compete in the UAA conference and are in Division III of the NCAA. With that in mind, NYU fields a Division I fencing team. The fencing team boasts an impressive 30 national championships.
The school sponsors 23 varsity sports as well as many club teams and intramural sports.
Who are some famous NYU alumni?
NYU has famous alumni across many different interests, but thanks to the school's Tisch School of the Arts, some of the most famous filmmakers and actors in the world call NYU their alma mater.
Here are some of the most famous NYU alumni:
Angelina Jolie
Lady Gaga
Martin Scorsese
Sean Hannity
Anne Hathaway
Bai Ling
Ashley Olsen
Steven J. Bensinger
Alan Greenspan
Fred P. Hockberg
Paul Levy
John F. Kennedy, Jr.
As you can see, many of the most famous names are people that you know from the silver screen. However, NYU is far from a place that only fosters brilliant writers and actors. If you are interested in one day seeing your name on that list the very first step is, of course, getting into NYU.
AdmissionSight has helped many students earn a spot in an NYU graduating class and learn about the NYU acceptance rate If you are curious about learning about how we can help you get into NYU, contact us today to set up a free consultation.