UCLA Class of 2025 Statistics
How Many Applicants Did UCLA Get for the Class of 2025?
The University of California, Los Angeles (UCLA) has announced that it has received the highest number of applications in its history for the fall 2021 admission cycle. The university has seen significant increases in the number of freshman applications from African American students, Chicano/Latino students, and in-state applicants.
In spite of the widespread COVID-19 pandemic, the number of applications for freshman admission to UCLA increased by 28%, from nearly 109,000 the previous year to almost 139,500 this year. As a result, UCLA is once again the university that receives the most applications overall in the United States.
In detail, how many applicants did UCLA get for the Class of 2025? UCLA Class of 2025 statistics noted 139,490 applications from prospective first-year students for the fall of 2021. This translates to an overall acceptance rate of only 11%, with 15,028 admitted students.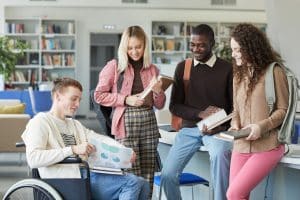 According to unweighted and weighted GPA and the number of honors, AP, IB, and University of California-required A-G courses successfully completed, the admitted fall 2021 freshman class has superior academic qualifications to any preceding cohort.
The socioeconomic variety of incoming freshmen from California also increased this year, with the admissions of first-generation students jumping from 28% to 32% and those from low-income homes climbing from 32% to 36%. To add, we will tackle more UCLA Class of 2025 statistics recorded demographics in a while.
How Many Students Are Enrolled At UCLA?
How many students are enrolled at UCLA? UCLA Class of 2025 statistics is comprised of 139,490 applications in the fall of 2021. The institution admitted 11% from the application pool however, student enrollment totaled 6,586 only.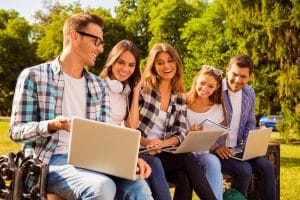 The yield rate at UCLA was 44%, which is the percentage of accepted students who decide to enroll as a proportion of the total number of students who are offered admission to the university. The University of Texas in Austin has a yield of 46%, the University of North Carolina at Chapel Hill boasts a yield that is comparable to 44%, and the University of Georgia comes in at 41%.
How Diverse Is UCLA?
This year saw significant growth in the racial, ethnic, socioeconomic, and geographic diversity of UCLA's applicant pool, marked by a notable surge in applicants from groups that have been historically underrepresented on campus. This growth was marked by a notable surge in applicants from groups that have historically been underrepresented on campus.
According to Youlonda Copeland-Morgan, the vice provost for enrollment management at UCLA, "these huge increases are partially the result of our intensive outreach initiatives and our collaborations with high schools and community-based groups, particularly in marginalized regions. However, we do acknowledge that the elimination of standardized testing as a prerequisite for admission contributed in some way to these significantly higher enrollment numbers."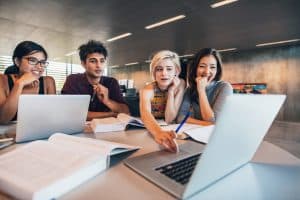 To start the discussion on "How diverse is UCLA?", the majority of students attending UCLA came from the Golden State and were eligible for in-state tuition rates. The following is a complete breakdown of UCLA Class of 2025 statistics in terms of geographic regions:
California residents' percentage– 75%
Number of residents from other states (non-residents) in the United States – 47
The number of non-resident countries (international and non-resident) – 84
The percentage of people hailing from Southern California – 46%
The percentage of students from the rest of California – 29%
In terms of the students' ethnic identities, the Class of 2025 was made up of the following individuals:
Asian American: 38%
Hispanic: 22%
African Americans: 7%
International: 10%
White: 28%
The gender ratio of the whole student body at Bruin reveals that there are much more women than men:
Students attending one or more of the following categories of high schools were represented in the UCLA Class of 2025 statistics:
Los Angeles County Public: 21%
Other California Public Schools: 40%
Private Schools in CA: 3%
Other Private Schools in CA: 6%
Public and Private Sectors Outside of California: 30%
What Stats Do You Need To Get Into UCLA?
What stats do you need to get into UCLA? When determining whether or not you will get admitted, your SAT scores, grade point average, and acceptance rate are the three most important numbers. When you take all of these factors into consideration, you can determine the minimum score requirements necessary to gain admission to the University of California, Los Angeles.
Analysis of the SAT Scores at UCLA (New 1600 SAT)
The 25th percentile of all values. The new SAT score is 1290, while 1510 is the score that corresponds to the 75th percentile on the SAT.
To put it another way, if you receive a score of 1290, this positions you below the average, and a score of 1510 takes you above the average. The minimum SAT score necessary to be considered for admission at UCLA is 1290, although the school does not require applicants to achieve a perfect score on the exam.
The following is a section-by-section breakdown of the updated SAT scores:
| | | | |
| --- | --- | --- | --- |
| SAT Section | Average | 25th Percentile | 75th Percentile |
| Math | 715 | 640 | 790 |
| Reading + Writing | 690 | 640 | 740 |
| Composite | 1405 | 1290 | 1510 |
UCLA Class of 2025 statistics mentioned that the mid-50% unweighted GPA range for the Class of 2025 was 3.92–4.0, and the weighted GPA range was 4.36-4.68.
In-state applicants typically have lower measurables than their out-of-state counterparts, despite having a greater acceptance rate. California residents had a mid-50% unweighted GPA of 4.30–4.60 in a recent cycle (when test scores were considered in the application process), SAT scores of 1250–1500, and ACT composites of 26–34. The GPA range for out-of-state applicants was 4.35–4.80, the SAT range was 1390–1530, and the ACT range was 31–34. In high school, admitted students typically took 17 to 25 honors or advanced courses.
For admission to UCLA, you must have a grade point average of 3.9 and be in the upper half of your class. To compete with other applicants, you will need to have practically perfect grades in all of your subjects. You should also have a substantial amount of experience with advanced academic programs, such as the International Baccalaureate or Advanced Placement.
If you are a junior or senior, it will be difficult for you to improve your grade point average in the future. If your grade point average is equal to or lower than the school's average of 3.9, you will need a higher SAT score to compensate for this and demonstrate that you are ready to tackle the intellectual rigors of college. You will have an easier time competing successfully with other applicants if you do this.
It is necessary to have a good SAT score as well as a high-grade point average in order to have any chance of being accepted into this school. If you do not meet their requirements for SAT scores and grade point average, you should expect to be rejected without much further review.
To be on the safe side, you should strive for the 75th percentile, which requires a SAT score of 1510 and a grade point average of 3.9 or above.
This is only the beginning of the difficulties you will face; following this, you will need to wow them with your accomplishments and extracurricular activities in addition to your academic scores. However, if you apply to this school with a SAT score of 1405 or lower, your chances of being accepted are unfortunately quite poor.
In the same way, as with the SAT, it is most likely that UCLA does not have a strict cutoff for the ACT; but, if your score is too low, your application will be rejected.
The typical student at UCLA earns a 31 on the ACT. Because of this score, UCLA is now in the Strongly Competitive category for ACT scores.
The score on the ACT that corresponds to the 25th percentile is 27, and the score that corresponds to the 75th percentile is 34.
Even though UCLA most likely states that they do not have a minimum score requirement for the ACT, if you apply to the university with a score of 27 or lower, you will have a very difficult time getting accepted, unless you have something else in your application that is highly exceptional. Because there are so many applicants with scores of 31 and higher, a score of 27 will appear to be academically lacking.
If you want to have a shot at getting into this institution, attaining a high score on the SAT or ACT and maintaining a good grade point average is necessary. If you do not meet the requirements that they have set for your GPA and SAT/ACT scores, they may reject you without giving you any consideration.
You should aim for the 75th percentile on the SAT or ACT, which corresponds to a score of 1510 or 34 respectively. This will give you the highest chance of being accepted. You need also to have a grade point average of at least 3.9. If your GPA is lower than this, you will need to make up for it by achieving a higher score on the SAT or ACT.
To get into a school as competitive as UCLA, you will also need to demonstrate that you are exceptional in other aspects of your application. The discussion of those particulars will follow.
However, if you apply with a score that is lower than 1510 on the SAT or 34 on the ACT, the odds are unfortunately stacked against you from the beginning, and you have a very slim chance of being accepted. There are simply an excessive number of students who have great applications and high SAT/ACT scores, and you will need to compete against these people.
What Is So Special About UCLA?
UCLA, also known as the California State Normal School's Southern Branch, was established in 1882 and has since become the flagship institution of the illustrious University of California system. In addition to being the second oldest of the schools that make up the system, UCLA is also a pioneer in the fields of education, innovation, and athletics.
Now, let's learn about "What is so special about UCLA?" The University of California, Los Angeles (UCLA), which is considered to be one of the rare "Public Ivies" (public schools with academic output and reputation equivalent to those of the illustrious Ivy League schools), has a long list of notable graduates and teachers.
UCLA has been affiliated with a number of individuals who have been bestowed the highest honors in the world. These individuals include 27 Nobel Prize winners and five Turing Award winners. Jackie Robinson, one of the most famous baseball players of all time, Carol Burnett and Steve Martin, two of the biggest names in comedy, and Senator Kristen Gillibrand are all UCLA alumni.
Despite being one of the University of California campuses with the smallest footprint, UCLA makes efficient use of the space it possesses. Roman architecture may be found on the campus's oldest buildings, while the campus's more recent structures have a cleaner, more contemporary appearance.
A diverse assortment of vegetation, such as ficus and sycamore trees, as well as a visually arresting region that is referred to as "the Sunken Gardens," is used to accentuate these structures.
Because of its proximity to Los Angeles, the University of California, Los Angeles (UCLA) has a robust network of ties within the entertainment business. This link not only includes the University being used as a film location for movies like "Erin Brockovich" and "Legally Blonde," but it also includes internships being provided at adjacent studios and firms.
Many of the most well-known programs at UCLA are in the fields of cinema, music, and television because of the university's long history of involvement in the entertainment industry.
The School of Theater, Film, and Television at the University of California, Los Angeles (UCLA) is consistently ranked among the highest in the country and the best in the world by publications such as U.S. News & World Report and The Hollywood Reporter.
One of the reasons for this appreciation is that the university provides its students with several resources, one of which is the Geffen Playhouse, which annually puts on productions that receive prestigious awards.
Students have the option of going to the UCLA Film & Television Archive, which contains over 220,000 film and television titles in addition to 27 million feet of newsreel footage.
The Ziffren Institute at the University of California, Los Angeles School of Law is home to one of the top entertainment law programs in the country. This program can be found at UCLA, which is located on the legal side of things.
Students engage in activities such as visiting with large corporations like Microsoft and Warner Brothers and working on topics like intellectual property and copyright law. In addition to this, Ziffren provides students with an opportunity to complete internships with local production companies and talent agencies.
The David Geffen School of Medicine is located away from the entertainment district yet is just as significant. Geffen University School of Medicine, widely regarded as one of the finest medical schools in the United States, offers clinical education at several affiliated teaching hospitals. One of these is the UCLA Medical Center, which provides level-I trauma care to children and is consistently ranked among the top five hospitals in the country.
Students at UCLA have access to a wide variety of organizations, in addition to the many traditions that are observed on campus. These clubs are designed to make students feel more connected to one another and invested in their college experience. These clubs cover the full spectrum, from those geared toward leisure activities to those focused on personal development.
Any student at the school is welcome to join the Dancesport Club, which is a competitive ballroom dance group. In addition to providing lessons in ballroom dance, it places a strong focus on the spirit of camaraderie among its participants. While the organization does participate in various tournaments, its primary purpose is to socialize and have a good time with one another.
The Bruin Leaders Project is considered to be one of the more significant clubs at UCLA. Members of the BLP are expected to improve as "students, leaders, and citizens" as a result of their participation in the program. It accomplishes this objective by establishing relationships in the regional political and commercial communities as well as by participating in a variety of community service programs.
Last but not least, if you're still a kid at heart, you should check out the Disney Club at UCLA. This is a group for those who adore anything and everything associated with the Mouse House. Members spend time together doing things like watching Disney movies, planning vacations to Disney Land, and simply enjoying each other's company.
The UC Schools are some of the best in the nation and are extremely well-liked by students. The amount of applications to UCLA and UC Berkeley are among the highest in the country, and this is reflected in their application evaluation process. They are seeking for students who go above and above the bare minimum, those who thrive and will keep excelling.
Applications to colleges can be challenging, especially for those who receive a large number of them, as seen in UCLA Class of 2025 statistics. Schedule a free appointment with AdmissionSight if you need assistance with your UC application preparation. AdmissionSight has guided college aspirants for more than 10 years, making it one of the leading college admissions experts in the country.