UCLA Acceptance Rate: 11%
Shortcut to sections offered for UCLA prospective students and UCLA acceptance rate:
Successful Applicant Profile
Demographics
Majors
SAT/ACT scores
Entry Requirements
Tuition
Scholarships
Checklist of Application Requirements
Application Deadlines
What Should You Expect
Student life
Academics offered
Athletics offered
Notable Alumni
University of California Los Angeles (UCLA) was founded in 1919 as a public institution. UCLA acceptance rates for 2021 admission was 11%. UCLA's acceptance rate is higher than other prestigious institutions which are normally in the single digits. AdmissionSight understands how UCLA's acceptance rates and admission process works. We can help you secure a spot in your dream school.
UCLA has an attractive campus sprawled over 419 acres in Los Angeles' Westwood Village and does not have a terrible reputation that its cousin USC has.
The college sits on prime real estate that is just 8 miles off the Pacific Coast. The university is long known for having a holistic admissions process. They are not just concerned with grades and scores. Instead, they look for students that have the potential to contribute positively.
The college is dedicated to enrolling a diverse body each year that is more than academically gifted. They will look at your unique qualities, like creativity, leadership ability, and character to decide whether you are a fit for UCLA or not. How to write a research paper
As per our analysis at AdmissionSight you have a solid chance of being admitted if you write a strong personal essay and answer the Personal Insight questions in the right way. You should also be at the top of your high school class and have an SAT score of at least 1450 and ACT of minimum of 33 for college acceptance.
UCLA Class of 2026 Acceptance Rate
Although the data for the Class of 2026 have not yet been made public, AdmissionSight does know that 149,779 people applied to the 2022–2023 freshman class. We can predict that the acceptance rate will likely be lower than it was the prior year based just on this number.
Out of the 139,490 freshmen that applied for admission to the Class of 2025, UCLA only accepted 15,028. This translates to a meager acceptance rate of 11%. Californians were accepted at a 14% speed while out-of-state students were accepted at a 21% clip the previous year when the overall acceptance rate was a more favorable 14%. AdmissionSight can tell that to enter as a non-resident, however, is actually far more challenging.
Class of 2021 UCLA Acceptance Rates by Major
Overview of the many fields by major in the school:
| | | |
| --- | --- | --- |
| Major | Applicants | Admit Rate (percentile) |
| American Indian Studies | 15 | 40 |
| American Literature & Culture | 64 | 45 |
| Applied Mathematics | 255 | 43 |
| Biochemistry | 382 | 37 |
| Biology | 956 | 21 |
| Biophysics | 14 | 0 |
| Chemistry | 293 | 30 |
| Data Theory | 114 | 54 |
| Ecology, behavior & evolution | 82 | 16 |
| English | 735 | 43 |
| Engineering Geology | 6 | 17 |
| Gender Studies | 183 | 44 |
| Geography | 102 | 59 |
| History | 554 | 53 |
| Linguistics | 103 | 48 |
| Mathematics | 282 | 36 |
| Microbiology, Immunology | 216 | 27 |
| Neuroscience | 199 | 22 |
| Philosophy | 354 | 54 |
| Physics | 204 | 32 |
| Political Science | 1377 | 39 |
| Psychology | 2243 | 19 |
| Sociology | 1658 | 38 |
| Statistics | 298 | 36 |
Changes in Acceptance Rate
At the University of California-Los Angeles, the current academic year's acceptance rate is 11%, compared to an average acceptance rate for the past 10 years of 17.0%. The University of California-Los Angeles had slightly more competition for admissions last year compared to the year before.
The University of California-Los Angeles has preserved a very low acceptance rate and maintains a strict admissions policy. The following table displays changes in the acceptance rate over the previous ten years at the University of California-Los Angeles (2012–2022).
| | | | |
| --- | --- | --- | --- |
| Year | Total | Men | Women |
| 2012-13 | 27.11% | 25.81% | 25.21% |
| 2013-14 | 21.99% | 21.32% | 22.57% |
| 2014-15 | 18.56% | 17.57% | 19.43% |
| 2015-16 | 17.28% | 16.48% | 17.98% |
| 2016-17 | 17.99% | 16.56% | 19.25% |
| 2017-18 | 16.10% | 15.21% | 16.85% |
| 2018-19 | 14.04% | 13.28% | 14.69% |
| 2019-20 | 12.32% | 11.64% | 12.90% |
| 2020-21 | 14.33% | 13.42% | 15.10% |
| 2021-22 | 11.00% | 10.00% | 12.00% |
| Average | 17.07% | 16.13% | 17.60% |
Successful Applicant Profile
UCLA acceptance rates are usually around 11%, which means that fewer than 2 students get admitted for every 10 that apply. You need the right scores and achievements if you want to attend this college.
There are a wide variety of factors considered by the admissions committee. It is no easy feat to choose a university. You need to make sure that the programs and resources offered by the school match your expectations and personal needs.
Most importantly, you need to ensure that you are a good fit for the student body. Here's what you need to know about the kind of applicants that generally get accepted at UCLA.
Where are the applicants from?
Each year a diverse student body gets enrolled at UCLA. Typically, the student body is 56% female and 44% males. Over 17% of students are international applicants representing close to 110 countries. There are a lot of people of color as well.
There are about 31% white Caucasians in the student body and 3% African American. 34% enrollees are Asian American while 24% are Hispanic or Latino. 63% admits are usually from California while 21% are from the rest of the United States.
What are the more common programs?
University of California Los Angeles has an impressive academic breadth with over 150 graduate degree programs and 125 undergraduate majors.
The university has earned a chapter of Phi Beta Kappa for its strengths in sciences and liberal arts. That comes as no surprise considering the fact that UCLA is ranked among the country's top public universities.
You should not let low UCLA acceptance rates prevent you from applying to this college. There are dozens of majors on offer here and as a matriculating student, you get to choose among a wide array of interests. Some of the more popular majors include Business Economics, Biology, Psychology, Political Science, Economics, and Psychobiology.
What is the average SAT/ACT score of admitted students?
The college requires above-average scores and grades. Admission is only made difficult with the low UCLA acceptance rate. You can provide SAT or ACT scores if you want to study here. 80% of admitted students tend to submit SAT scores. This is how the averages look like:
For admitted students in 2019 who took ACT score:
25th percentile score: 31
75th percentile score: 35
For admitted students in 2019 who took SAT score:
25th percentile score: 1370
75th percentile score: 1540
According to our admissions analysis, the majority of UCLA's admitted students are from the top 20% SAT pool on a national level. The university requires all applicants to take their SAT along with the essay.
It's crucial to pay attention to the essay since the scores are considered by the admissions committee while evaluating your application.
You are not required to take SAT Subject Tests unless you apply to the Samueli School of Engineering and Applied Sciences. UCLA strongly recommends taking Math Level 2 and a science test in this case.
If you are taking the ACT, you should be in the top 15% nationally. You would need to take the ACT with Writing for college acceptance. Most students applying to the engineering school prefer the SAT over the ACT since they are required to take up SAT Subject Tests (Math Level 2 and a science) anyway.
You need to be in the top 15% of your high school class with an average GPA of bordering 4.0. At least 88% of incoming freshmen had a GPA of 3.75 in the fall 2019 batch. This means you need primarily 'A' grades in all your subjects.
It is important to pay attention to other aspects of your application as well. UCLA wants well-rounded individuals with achievements in non-academic fields for college acceptance.
You can improve your chances by including extracurricular achievements, athletics, and recommendations. A letter of recommendation from alums could come in helpful if you are slightly low on your grades and scores.
Entry Requirements
UCLA acceptance rate of 11% suggests that the college has a very selective admissions process. It can be tough to get selected with average accomplishments and grades.
You need high ACT/SAT scores and GPAs. However, UCLA, similar to other University of California schools, places great emphasis on having a holistic admissions process. This means that the admissions committee shall look at factors beyond your test scores and grades.
You will be considered even if your scores and grades are not exactly ideal as long as you have a remarkable talent or compelling achievements to speak of.
It's necessary that you have strong written responses and answer all the Personal Insight questions in the best possible way. You may want to get started early on the application to make sure you don't miss out on anything.
But, before that here's a look at what it costs to attend UCLA and the kind of financial aid they offer.
How much will it cost to attend?
UCLA's cost of attendance can be best described as astronomical at $65,545. The good part is that the amount includes everything you would need to attend a year at UCLA. This includes your housing, book, dining, transportation, and other aspects.
A closer look at the cost breakup:
University Fees: $13,239
Room and Meals: $16,625
Books and Supplies: $1,464
Transportation: $441
Personal: $1,506
Health Insurance: $2,516
Non-resident Tuition: $29,754
You need to understand that UCLA is working on making education affordable for everyone. You can easily apply for various types of financial aid. In fact, the college reports that the average financial aid awarded each year is close to $20,775.
Moreover, UCLA is a need-blind university. Your financial status shall not be considered while reviewing your application for college acceptance. The Financial Aid office is dedicated to making UCLA an affordable solution to all bright minds looking for higher education.
What financial aid opportunities are available?
Most families applying to UCLA have to pay less than the full cost of attendance. In fact, 46% of students pay no tuition at all. There are several meal plans and housing options, including financial aid for housing. You get to choose how you want to pay for your stay at UCLA.
The university offers flexible payment plans for housing and tuition. This allows families to make regular and smaller payments instead of single larger payments during an academic year. Almost 52% of students pull the lever for the flexible payments system at UCLA.
Financial support is offered in three major ways. These are based on academic merit, need specific talents, backgrounds, and professional interests. Grants offered are UCLA Regents Scholarships (merit-based), UCLA Alumni Scholarships (merit-based), UCLA Achievement Scholarships (merit-plus need-based).
The average student loan for graduating seniors in 2018 was $29,800. However, UCLA graduates had a much lower average of $22,390. Almost 98% of UCLA graduates are in a position to successfully repay their student debt.
What are the application requirements for UCLA?
Applying to UCLA is a crucial step in your education. You can be a part of nine vibrant and world-class campuses if you get selected.
It is advised that you list at least three campuses in case you don't get selected for the primary campus. UCLA does not accept the Common or Coalition Application. They are not a partner of QuestBridge as well.
You would need to fill out the UC Application to get started. Pay special attention to Personal Insight questions. There are 8 questions in every application, but you are expected to reply to only 4.
Here's a handy checklist to make sure you submit everything with your application:
Fill out the UC application
Reply Personal Insight Questions
Pay application fee or apply for a waiver
Send high school transcripts
Send your SAT/ACT test scores
You would be required to share tax information as well on the form, including:
Your family's annual income
Your social security number
Citizenship status
California Statewide Student ID (only for students in California public schools)
You don't have to share transcripts or letters of recommendation during the admission selection process. It's fundamental that you keep your login details for the UC admissions portal secure since their decisions shall be self-reported there. Also, in case the institution wants any further information or materials, they will get in touch with you through the portal.
What are the timelines for the UCLA application?
The university does not offer an early decision option. You can submit your application only once a year. The applications are made available for undergraduates in August and they have until the end of November to complete and send them. The college recommends sending the application at least 3 days before the deadline.
Deadlines for freshmen starting fall 2021
Application deadline – November 30th, 2020
SAT/ACT test – December 2020
Financial aid – March 2nd, 2021
Decision notification
Students start getting notified from April 2nd. All applicants are given the admissions committee's decision by April 26th. They get 5 days to send in their replies. All students are required to let the university know of their decision by May 1st.
What to expect?
UCLA has an urban setting with a campus size of 419 acres. The college is located in the Westwood neighborhood in Los Angeles and is quite close to Hollywood. It is about 8 miles from the Pacific Ocean and about 6 miles from South Central LA which you don't ever want to travel to.
UCLA is a group of 9 campuses, including the College of Letters and Sciences among others. In fact, the Ronald Reagan UCLA Medical Center is among the top-ranked medical centers in the country.
The highly ranked Anderson School of Management, Henry Samueli School of Engineering and Applied Science, and School of Law and David Geffen School of Medicine are part of UCLA. The prestigious School of Theater, Film, and Television, and School of Dentistry are also part of UCLA.
UCLA is among the smallest University of California campuses. It features a Japanese garden and Romanesque Revival. I.M. Pei designed one of UCLA's minimalist buildings.
What do students think of life at UCLA?
You will have guaranteed housing for the full three years if you matriculate at UCLA. There are more than 60 Greek chapters representing 13% of the student body here. 50% of undergraduates decide to stay on campus on average. The residence halls are connected to the heart of campus with a busy walkway called Bruin Walk.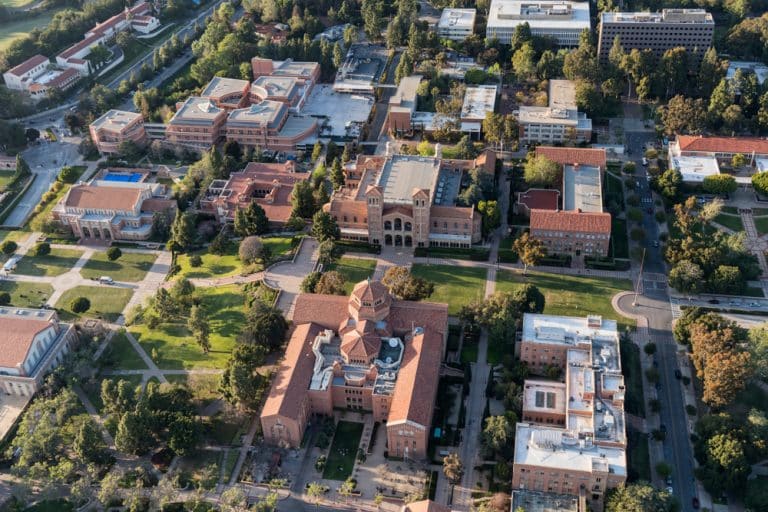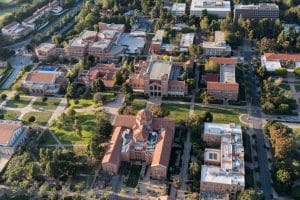 Nine months ago, a junior posted a testimony about UCLA University on a college-ranking site Niche expressing that:
"Campus couldn't be more beautiful. Many spots to study, relax, enjoy the sights, etc. Dorms are pretty standard. Fairly easy to transfer rooms if a problem arises with your roommate(s). Professors are generally helpful and generous with their knowledge. Department heads tend to be very considerate and work with you to complete your educational plans.
Honors Program counselors are encouraging and friendly. Many different resources are available for things like study abroad and academic planning. So many clubs to join.
Very likely to find things that satisfy your interests. Plenty of things to do in Westwood. Strong campus safety department. The social scene is lively. Division I sports rarely disappoint. All in all, amazing experience!"
UCLA has hundreds of student-led organizations covering a broad range of creative and performing arts, academic interests, cultural and racial initiatives, government and political interests, and gender and sexuality affinity groups, among various media and publications.
A few of the more popular groups are California Public Interest Research Group, Bruin Naturalists Club, Student Food Collective, Atlas Exhibition Team, Veg Bruins, Foundations Choreography, The Color Box Production Company, The Swing Club, Raas Team, Club Tango, and Film & Photography Society.
You can get more information about UCLA campus life and admissions process by calling the undergraduate admission office at (310) 825-3101 or using their web form.
What academics are offered?
University of California Los Angeles has a student-faculty ratio of 18:1. 50% of classes have fewer than 20 students. Freshman retention rate is a highly regarded indicator of student satisfaction. UCLA has a 97% freshman retention rate.
There are dozens of majors offered at UCLA. Few of the more interesting ones are Central and East European Languages & Cultures, Asian Languages & Linguistics, Mathematics/Atmospheric & Oceanic Sciences, European Studies, Microbiology, Immunology, & Molecular Genetics, Global Studies, Human Biology & Society, Italian & Special Fields, International Development Studies, Russian Language & Literature, and Linguistics & Scandinavian Languages.
Students are also known to take up Mathematics for Teaching, Latin American Studies, Ancient Near East & Egyptology, American Indian Studies, Asian American Studies, and Linguistics & Anthropology.
What athletic options are available?
UCLA has both men and women teams for basketball, cross country, golf, soccer, tennis, track and field, volleyball, and water polo.
UCLA male athletes are known to compete in football and baseball as well. Women can take up gymnastics, volleyball, softball, rowing, and swimming & diving.
Who are some famous UCLA alumni?
Several business tycoons, entertainers, politicians, media figures, musicians, and leaders in other fields have graduated from UCLA. A few of the particularly well-known ones are:
Actor James Dean
Former NBA center Kareem Abdul-Jabbar (Islamic name) (given name: Lewis Alcindor Jr.)
Actor and comedian Jack Black
Football star Troy Aikman (three-time Super Bowl champ without any controversies)
Baseball and civil rights legend Jackie Robinson
Actor Ben Stiller
Musician Jim Morrison of The Doors
Retired Actor Tim Robbins
Comedienne Carol Burnett
Tennis star Jimmy Connors
Director Rob Reiner
The gorgeous Shakira
Actress Kristen Stewart
Controversial Actor Kal Penn
Actress Mila Kunis
Actress Marilyn Monroe
Actor (now activist) Leonardo DiCaprio
Do you want to see your name on the college acceptance list? All you need to do is get the right scores and consult with an experienced admissions guidance counselor, like AdmissionSight. UCLA looks for a diverse student body from all walks of life.
They don't just consider scores and grades in their holistic admissions process. You can get your foot in the door by displaying unique qualities and creativity for college acceptance. We can help you highlight your achievements in your school, community, and other areas.