Undergraduate Students at Johns Hopkins
For many years, Johns Hopkins has provided one of the most rewarding educational opportunities for its students. JHU, which bears the distinction of being the first research institution in the United States, has only grown in reputation since its founding more than 140 years ago. Students at Johns Hopkins University today hail from many areas of life, and they share a common objective: to academically widen their views, discover new opportunities, and, ultimately, make the world a better place. In addition to the famous professors and world-class facilities, JHU is also home to a group of very smart and talented students.
The exceptional quality of the work produced by students, professors, and alumni of Johns Hopkins University speaks for itself. The university is working to make an impact on a global scale, especially in the field of health care, where it is trying to solve problems like malaria, polio, and HIV/AIDS.
Does Johns Hopkins have undergraduates?
Does Johns Hopkins have undergraduates? Johns Hopkins is structured into ten distinct divisions, which also include its schools dedicated to its undergraduate students on the Homewood campus. They are the Zanvyl Krieger School of Arts and Sciences and the Whiting School of Engineering, both located in the Charles Village district of Baltimore.
Students at Johns Hopkins can choose from more than sixty majors and minors and more than forty graduate programs at the Zanvyl Krieger School of Arts and Sciences, resulting in a larger number of undergraduate students at Johns Hopkins because of thousands of students taking such majors.
The G.W.C. Whiting School of Engineering has a total of 14 engineering programs for its undergraduate students, 12 graduate engineering degrees, and 12 additional areas of study.
The Homewood House, designed by Carroll, is widely regarded as one of the most outstanding federal residential architectures. After that, the estate was acquired by the Wyman family, who, around the turn of the 20th century, was instrumental in transforming the property into the park-like main campus that houses the schools of arts and sciences as well as engineering. The majority of its architecture was designed in a federal style that was based on Homewood House. The Homewood House has been restored and now functions as a museum. There's also a large percentage of the total number of undergraduate students at Johns Hopkins living on the campus.
This campus is home to the majority of Johns Hopkins undergraduate students.
Students at both the undergraduate and graduate levels can get different degrees from Johns Hopkins University. These include the Bachelor of Arts (BA), Bachelor of Science (BS), Master of Arts (MA), and Doctor of Philosophy (Ph.D.).
As a result of the fact that Hopkins provides both undergraduate and graduate areas of study, many fields of study have a variety of degrees to choose from. The biomedical engineering program at Hopkins awards bachelor's, master's, and doctoral degrees.
Total number of undergraduate students at Johns Hopkins
What is the total number of undergraduate students at Johns Hopkins? It is 6,256 based on their enrollment statistics last year, 2021.
It was not until the late 1960s that the choice to include women in the number of undergraduate students was considered, and it was not until October 1969 that the decision was ultimately made. In the academic year 2009–2010, there were 47% female students and 53% male students, made up the total number of undergraduate students. In 2020, the proportion of females enrolled as first-year students at Hopkins was 53%.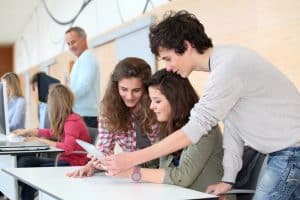 As an undergraduate at Johns Hopkins, you are under a full-time, four-year commitment and it is considered "highly selective." There is a low transfer-in rate and a high graduate co-existence. Approximately $77,400 is required each year to cover the cost of attendance at Johns Hopkins. Despite this, the total percentage of the number of undergraduate students at Johns Hopkins receiving financial aid is 51%.
What undergraduate major is Johns Hopkins known for?
What undergraduate major is Johns Hopkins known for? majors in the field of public health. The three most popular majors for undergraduates at Johns Hopkins University are public health, neurology, and biomedical engineering. In fact, one out of every three students at the university chooses to focus their studies on one of these fields.
Johns Hopkins Bloomberg School of Public Health is the largest institution in the entire world of its kind. The faculty and graduates of the Bloomberg School have been at the forefront of efforts to eradicate illnesses such as smallpox, stop the spread of HIV, improve water sanitation, and discover the dangers of smoking tobacco. These efforts have been successful in many areas.
Undergraduates at the Bloomberg School at Johns Hopkins have regular chances to sign up for higher-level courses and can also take part in the Public Health Studies Program's classes, which are taught by experts from different fields.
Many of the Johns Hopkins undergraduate students are dedicated to addressing the five critical issues of the 21st century that pose a threat to the health of people living in the United States. These issues are addiction and overdose, adolescent health, environmental challenges, obesity and the food system, and violence. These issues were outlined by the Bloomberg American Health Initiative.
Another popular degree program is neuroscience. Students have the option of focusing on cognitive, computational, systems, or cellular/molecular neuroscience in this program. For example, students who want to specialize in cognitive neuroscience will use a wide range of skills and methods to study both healthy and sick brains.
Another intriguing program that Johns Hopkins University offers is biomedical engineering. Students can complete both their Bachelor's and Master's degrees in just four years by following the BME 2.0 curriculum.
During the first year of school, students focus on acquiring their foundational knowledge in science, mathematics, and specialized experimental and design ideas. Next, students participate in an "engineering boot camp" in which they apply a variety of analytic methodologies to the process of developing cellular and organ systems. The residence is in the third year, and in the fourth and final years, students use what they've learned and done in a variety of projects and research.
How to choose an undergraduate major at Johns Hopkins?
We will provide helpful guidelines below on how to choose an undergraduate major at Johns Hopkins.
There can be people and ideas coming at you from all directions, urging you to choose a major as soon as possible, and it might put huge pressure and confusion on you. Indeed, when choosing a major, it can feel like you are making a decision that will affect the rest of your life. But you need to calm your mind and carefully think of several factors before deciding which major to choose at Johns Hopkins.
See the bigger picture. In this life, you have a specific mission or vocation. There is a reason for your current existence in this location. Some people don't discover their life's purpose until they are in college, whilst others have known it from at least the second grade. Some individuals do not begin to realize their role in the world until late in life. Keep in mind that nothing you can do can detach you from the purpose for which you were formed. Understanding the bigger picture after college will help you determine in which field you will serve your purpose.
Determine your passion. Make an effort to reflect on your life with objectivity. Spend some time in solitude and reflect on what you've accomplished and what you've enjoyed doing so far. You may find that jotting your thoughts down is beneficial. Your abilities and your passions may not necessarily coincide.
Reflect on the things you are good at and the ones you enjoy doing. Reflect on the key moments of your life, and the instances in which you likely felt the most accomplished. Likely, the seemingly insignificant goals you've had in the past are indicators of a far greater life purpose.
Identify your desired lifestyle. When selecting a major, you should keep in mind the kind of life you want to lead after graduation. Even while selecting a major is not the same as selecting a career path, the job opportunities that are open to you after graduation might be directly impacted by your major of choice.
If you want to be a part of the Johns Hopkins undergraduate student body and pursue a degree in public health, bear in mind that in the field of medicine, it is common to work long hours, and there is even the possibility of doing midnight shifts. If this seems like something you'd rather avoid, you might have trouble succeeding in this field.
Investigate thoroughly and objectively the way of life associated with any occupation that catches your attention. If you find yourself replying "definitely not" to particular jobs, put the associated majors at the bottom of your list for consideration. Eliminating what you already know you won't love as soon as possible is an important part of making the appropriate choice.
Seek professional advice. The choice of a degree program should not be taken lightly. Nobody should be forced to make a decision on their own. If you feel like you're at a standstill, look for resources that can teach you about the different programs available.
Professionals at Johns Hopkins are committed to assisting you in getting back on the correct path. College advisors can help you figure out what you want to get out of college and how to get there.
It doesn't matter if you're trying to decide which degree to pursue or how you'll put that education to use in the "real world," there is an abundance of material and human support available.
We at AdmissionSight can assist you with the process of selecting a major as part of our objective to provide students with the utmost guidance possible throughout the enrollment process.
What is the Johns Hopkins acceptance rate?
What is the Johns Hopkins acceptance rate? In 2021, the office of admissions accepted about 4.9% of the 33,236 applications that were sent in through the Regular Decision process and about 6.4% of the 38,725 applications that were sent in overall.
In the year 2020, 99 percent of students who were granted admission had graduated in the top 10 percent of their high school class.
Students who wish to indicate that Johns Hopkins University is their first choice have the opportunity to participate in the Early Decision program at the university. If they are accepted, these students are obligated to enroll in the program.
The submission deadline for this application is November 2nd. The vast majority of students, on the other hand, submit their applications through Regular Decision, which is an old-fashioned, non-binding round. The submission deadline for these applications is January 1, and students are notified at the end of March. Johns Hopkins University stopped giving a legacy advantage in admissions in the year 2014. The admissions process at Johns Hopkins is need-blind, and the university meets the entire financial obligations of all students who are accepted.
The acceptance rate for Hopkins undergraduates into medical school is 80%, and the acceptance rate for Hopkins undergraduates into law school is 97%, both of which are among the highest rates in the United States.
How to get into Johns Hopkins as an undergraduate?
As we mentioned before, the acceptance rate at Johns Hopkins University is shockingly low compared to other universities. However, your odds of acceptance rely on your profile. So, how to get into Johns Hopkins as an undergraduate?
Every application to Hopkins is subjected to a comprehensive examination that takes into account the accomplishments, objectives, and potential impact on their community. In particular, the admissions committee looks at the following criteria:
Academic personality
Influence and initiative
Contributions made
Not only does Hopkins look at your grades and test results, but they also look at the recommendations that former teachers and professors have written about you as part of their undergraduate requirements. They want to know what your academic passions are and how you demonstrate them.
In addition, the admissions committee will evaluate the descriptions of your extracurricular activities to see how you make a genuine difference via service, leadership, and creativity. This also pertains to compatibility and personality. How do you participate in your intellectual, personal, and social communities? The school looks for students who want to be a part of the school community and are eager to learn more about their interests at the college level.
Because there is no requirement for mandatory coursework at Hopkins, students are free to follow their academic interests of choice so long as they achieve the distribution requirements in a variety of subjects. This is because the college takes great pride in having students that are curious and eager to learn new information. Because it is the nation's first research university, it welcomes students who are interested in exploring their existing passions in more depth and maybe discovering new ones.
At Hopkins, the diversity of ideas and perspectives is greatly valued. Keep in mind, too, that although Hopkins is widely regarded as one of the nation's most distinguished institutions for pre-med students, the university has much more to offer its students. For instance, programs in foreign studies and creative writing are also extremely well-known; if you have credentials in these and other fields, you will have a stronger chance of standing out.
The university seeks to enroll a diverse set of students, including those who are the first in their family to attend college and those who have served in the military. A complete portrait of who you are as a student and candidate includes information about your race, gender orientation, gender identity, handicap, age, and religion.
Johns Hopkins University is, in fact, a school that has the resources and the will to give students from all walks of life excellent educational opportunities.
As a result, Johns Hopkins appears to have an abundance of resources, networking opportunities, and mentoring opportunities; as a result, no other university may be better equipped for testing out new ideas with the fewest constraints or roadblocks. It is wonderful to attend school in an environment where both students and professors appreciate the small discoveries that lead to greater solutions for the public. Those students interested in disciplines such as public health, biomedical engineering, and neuroscience will, of course, have multiple opportunities to do research.
Students that care about others and want to make a difference in their community will find a home in one of the numerous student organizations devoted to achieving this goal. Entrepreneurs have access to everything they need to make and test prototypes of their products, even if they have more ideas than they know what to do with.
Consider applying to Johns Hopkins if you are imaginative, dedicated to your job, and have ambitious ambitions. If you fit this description in any way, you should initiate the application process as soon as feasible.
If you make the effort to demonstrate your capabilities, intelligence, talents, and determination during the application process, it may not be as difficult as you believe to attend the school of your dreams. At AdmissionSight, we can provide you with tools, resources, and services that will help you improve your admissions profile. If you want to build a reputation for yourself as an undergraduate at Johns Hopkins, you will need to exert significant effort throughout the admissions process. We are available to guide you to success at every stage of the process. Schedule an appointment with our team of admissions specialists and witness our unparalleled guidance.