What Is Direct Admit In Nursing And Why Should You Consider It?
Direct admit is a procedure where institutions make admission offers to individuals without first asking them to go through a drawn-out admissions process. These offers frequently include financial help.
It's commonly described as an inverted system, similar to getting notified that your mortgage has been pre-approved. Here are the fundamentals. The first step for a student is to establish and publish a profile that includes details about their academic record, test results, location, interests, and other college-related data.
The participating universities will then assess each student's unique profile and make admission offers without needing the applicants to go through the hassle of requesting letters of recommendation, composing an essay, and completing application forms.
How much will the landscape of college applications be altered by direct admissions? Does it represent a paradigm shift or a passing fad? Will it increase enrollment? Do college students who are accepted through direct admit perform equally well as those who are accepted through the standard application process?
All of those queries have not yet received a conclusive response. While no one anticipates Harvard, Stanford, or Yale to start offering direct admissions, the tactic is undeniably on the rise and might provide a growing number of universities with a practical solution to their enrollment issues.
What is direct admit in nursing?
What is direct admit in Nursing though? Well, let me ask you this; do you want to pursue a career in nursing but are unsure of where to begin? Or perhaps you're thinking about a career in healthcare, and one of your alternatives is practical nursing.
A direct admission practical nursing school might be a great fit for you no matter what your circumstances are! Nursing is a wonderful career choice for anyone looking to enter the healthcare industry because employers are constantly employing new nurses. The need for nurses is anticipated to grow as more individuals have access to healthcare services and as the baby boomer generation ages.
Where do you start on this path if there are so many alternatives to becoming a nurse? The advantages and benefits of a direct admission practical nursing program are numerous.
Many schools provide direct admission to highly qualified prospective freshmen, but the bulk of colleges and institutions require undergraduates to enroll in two years of lower division coursework before applying to a nursing major (during their senior year of high school).
If admitted, these students are assured a place in the nursing major at the university and, assuming they fulfill the course requirements, the prospect of graduating with a nursing degree.
Direct admit nursing
Why is direct admit in nursing so important? Well, we all know that there has been quite a demand for nurses since the COVID-19 pandemic. Direct admit offers an opportunity for competent aspirants to serve in hospitals. There is no doubt that nursing is one of the most important career paths in our society.
Being a nurse is a very noble job. There have been a lot of schools offering direct admission to nursing. These will be elaborated later on in this article.
What colleges have direct admit nursing programs?
The important question; what colleges have direct admit nursing programs, and why is this the best option for me? Well, there are actually several different ways to become a registered nurse if you're thinking about pursuing a career in nursing.
Example, at community colleges in Oregon, there are two-year options as well as four-year courses leading to a Bachelor of Science in Nursing.
The BSN is the widely recognized minimum requirement for nurses and provides excellent flexibility for employment and nursing career progression. Some colleges and universities require students to complete two years of undergraduate core coursework before applying to the nursing program for their last two years of study, resulting in a four-year BSN.
Some colleges and institutions provide direct entry into the nursing program, allowing entering freshmen to start their journey toward a Bachelor of Science in Nursing right away and finish their degree in four years, putting them in a position to sit for licensing examinations. Here are some colleges that accept freshmen right away into their nursing programs.
Azuza Pacific University
Azuza, CA
Overseas exchanges allow nursing students to participate in international health care settings through short-term missions or a semester abroad.
Nursing training integrates values, beliefs, and ethics in patient care.
In terms of numbers 82% of applicants were accepted; mid-range SAT scores were CR 490-590 M 490-600 and mid-range ACT scores were 21-27. Depending on the route taken to a BSN, nursing students' acceptance rates change.
Case Western Reserve University
Cleveland, OH
Nursing school students participate in a partnership with the World Health Organization by completing courses of study or clinical and service learning projects abroad.
Students at all levels can take part in research projects with nursing faculty in the areas of symptom science, family/community care, aging, self-management, and neuroscience. Using numbers: Overall acceptance rate of 42%; mid-range SAT scores of CR 600–720 and M 670–760; and mid-range ACT scores of 29–33.
Carroll College
Helena, MT
The Holistic Health Lab and Learning Center offers courses in holistic healing modalities for self-care and wellness.
Direct admit option's clinical training in Helena's hospitals, public health facilities, assisted living communities, long-term care facilities, psychiatric facilities, and educational institutions starts with 200-level courses.
Statistics: the overall acceptance percentage was 53%; the SAT mid-ranges were CR 490-620 and M 510-610; the ACT mid-ranges were 22-27. There may be a decreased acceptance rate for nursing students.
Chaminade University
Honolulu, HI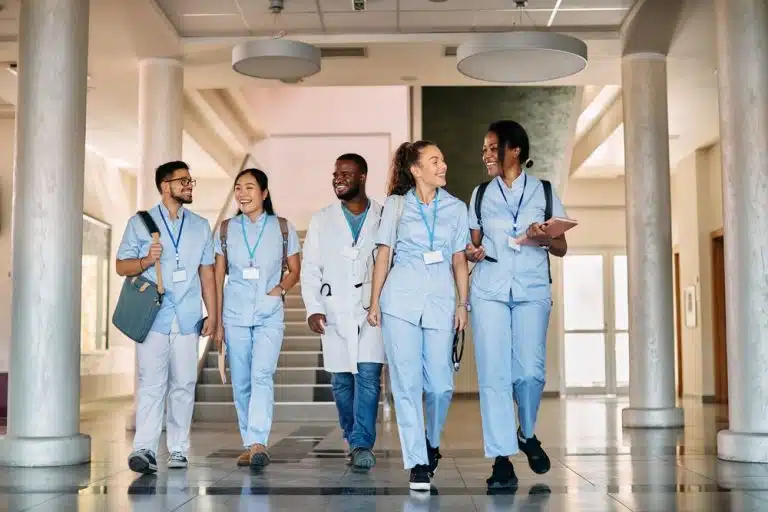 Multiple simulations can be run simultaneously in the simulation suite, and video recordings are used for instant evaluation and feedback sessions with nursing students.
For prospective first-year nursing students, automatic merit scholarships based on high school GPA are offered.
Statistics: ACT mid-range: 19-23; overall acceptance rate of 84%; mid-range SAT scores: CR 30-520, M 440-540.
Xavier University
Cincinnati, OH
The Hispanic Focus is a four-year nursing school elective course of study that aims to advance nursing knowledge and practice in the Hispanic population.
The Clinical Nurse Leader Honors Program enables participants to complete a Master of Science in Nursing in one additional year and one additional practicum experience.
By the numbers: 70% overall acceptance rate. SAT mid-range scores: CR 500-600, M 510-610; ACT mid-range 23-27. Acceptance rate for nursing students may be lower.
More colleges now offer direct admit to the nursing program. To view further choices and, hopefully, choose the perfect school for you, click this link.
Why nursing direct admit should be an option
Take the exact courses you need.
A direct admit in nursing program can save you from having to take the two years of general education courses that are often required for nursing programs that are not direct admission. This implies that you only need to take the lessons you need and do not need to study courses unrelated to nursing. You can save money and time by eliminating classes you don't need to take.
You'll start nursing school right away and receive instruction in crucial skills including conducting physical examinations, treating wounds, keeping an eye on vital signs, and running standard lab tests.
Graduate faster.
You can finish your nursing courses more quickly and graduate earlier by getting started as soon as possible and enrolling in only the classes you need to succeed as a nurse.
To complete a nursing degree and graduate from a regular nursing school, it may take four years or longer. A direct admission practical nursing program might be a great choice for you if you don't want to spend that much time or money on education.
Traditional nursing programs take longer because there is no assurance that you will be admitted to one of them. Even after studying general education courses and prerequisites for years, you might not be admitted to the program.
Start working sooner.
Your nursing career might begin considerably sooner if you select a the direct admit option that accepts you straight away and enables you to start your nursing training right away.
Your career, both now and in the future, may benefit from this. You can earn money and get experience more quickly by getting started in your nursing career earlier. You will be years ahead of people who register in conventional nursing programs if you pick this route.
Although you won't need to go through the regular college admission process, not everyone can have the opportunity of a direct admit. Don't fret. The professionals at AdmissionSight are here to guide you. Contact us to begin your epic journey towards your future.