How to Get Into USC: A Step-by-Step Guide
If you dream of attending the University of Southern California (USC), you're not alone. USC is a prestigious institution that attracts thousands of applicants each year. But don't worry; with proper preparation and a clear understanding of the application process, you can increase your chances of getting accepted. In this step-by-step guide, we'll break down everything you need to know to get into USC successfully.
University of Southern California: An Overview
Founded in 1880, the University of Southern California, commonly known as USC, is a prestigious private research university located in the heart of Los Angeles, California. Recognized for its rigorous academic programs, USC holds a strong reputation on both national and international platforms.
The university offers a diverse range of undergraduate, graduate, and professional programs that span a variety of disciplines. This rich academic tapestry is woven through its many schools and colleges, including the likes of the Dornsife College of Letters, Arts, and Sciences; the Marshall School of Business; and the renowned School of Cinematic Arts, to name a few.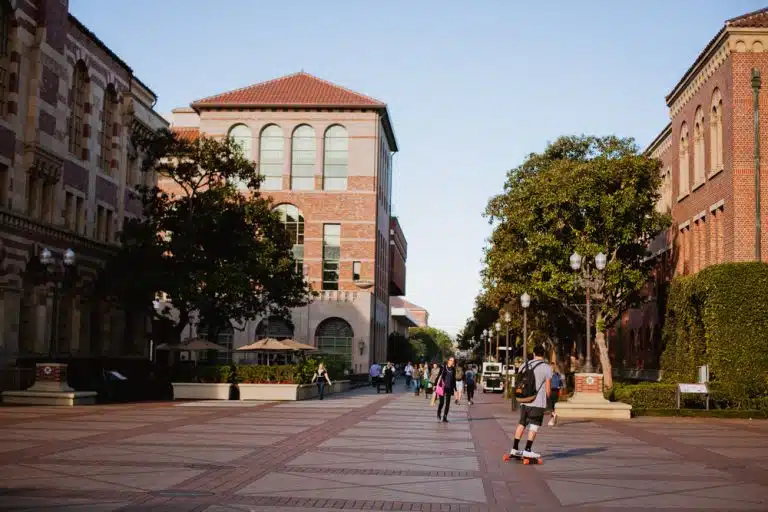 Beyond academics, athletics play a significant role in USC's identity, with the USC Trojans, especially the football team, being a cornerstone of collegiate athletics in the United States. Competing at the NCAA Division I level as members of the Pac-12 Conference, the Trojans have garnered national attention and acclaim over the years.
USC's influence is not limited to just academics and sports; its alumni have made notable marks across various sectors. USC's legacy is visible in many spheres of influence.
The university's vibrant campus, characterized by a mix of historic and modern architecture, lies in an urban setting that offers students access to a plethora of cultural, professional, and recreational opportunities in Los Angeles. Lastly, as an "R1: Doctoral Universities – Very High Research Activity" institution, USC continually pushes the boundaries of knowledge, fostering innovation and interdisciplinary collaboration among its community.
Understanding USC's Admission Requirements
Before you begin your application journey, it's crucial to familiarize yourself with USC's admission requirements. This will help ensure that you meet the necessary criteria and can tailor your application to showcase your strongest attributes.
When it comes to academic expectations, USC places significant emphasis on academic excellence.The University of Southern California has a competitive admissions process, accepting only 12% of applicants. It's not just about getting good grades but also about challenging yourself with a rigorous course load. Aim for a mix of advanced placement (AP) or international baccalaureate (IB) classes and other rigorous academic offerings. These courses will demonstrate your ability to handle challenging material and prepare you for the academic rigor you will encounter at USC.
In addition to your coursework, USC also considers your standardized test scores (SAT or ACT). Typically, students admitted to USC score between 1410-1540 on the SAT or achieve an ACT score ranging from 32 to 35. It's important to study diligently and aim for scores that align with or exceed USC's average accepted student scores. This will help you stand out among other applicants and show you have the academic aptitude to thrive at USC.
But USC's admission requirements go beyond just academics. They also value students who demonstrate a commitment to extracurricular activities. This can include participation in clubs, sports teams, community service, or leadership positions both in and outside school. USC is looking for well-rounded individuals who can contribute to their vibrant campus community, so be sure to highlight your involvement and achievements in these areas.
Furthermore, USC has unique criteria that set them apart from other institutions. For example, they value students with a strong entrepreneurial spirit. If you have started your own ventures or have unique business ideas, USC encourages you to showcase your entrepreneurial drive. This could include highlighting any business-related clubs or organizations you have been involved in or any entrepreneurial projects you have undertaken.
Additionally, USC values diversity and actively seeks applicants from different cultural backgrounds, socioeconomic statuses, and geographic locations. If you have unique life experiences or perspectives, be sure to highlight them in your application. USC wants to create a diverse and inclusive campus community, so showcasing your unique background can greatly enhance your chances of admission.
As you navigate USC's admission requirements, remember that they are looking for students who not only meet the necessary criteria but also bring something special to the university. Take the time to understand what makes USC unique and tailor your application to showcase your strengths and how you can contribute to the USC community. Good luck!
Preparing Your USC Application
Now that you clearly understand USC's admission requirements, it's time to start preparing your application materials. Here are some essential steps you'll need to take.
Applying to college can be an exciting and nerve-wracking process. But don't worry; with careful planning and preparation, you can present yourself in the best possible light to the admissions committee at the University of Southern California (USC).
One of the most crucial components of your USC application is your personal statement. This is your chance to showcase your uniqueness and share your story with the admissions committee. USC provides several prompts to choose from, so select one that resonates with you and allows you to highlight your strengths and experiences effectively.
When crafting your personal statement, it's important to be authentic and genuine. The admissions committee wants to get to know the real you, so use specific examples to illustrate your points and demonstrate qualities that will make you a valuable addition to USC's campus community.
Gathering letters of recommendation is another critical step in the application process. These letters provide valuable insight into your character and academic abilities. Choosing recommenders who know you well and can speak to your strengths and potential is important. This can include teachers, counselors, or mentors who have worked closely with you throughout high school.
Reach out to your recommenders early in the process and provide them with all the necessary information, such as deadlines and instructions. It's also good to provide them with a copy of your resume or a list of your achievements to help them craft a strong and personalized recommendation. Remember, the more personalized and detailed the recommendation, the more impactful it will be.
In addition to your personal statement and recommendation letters, USC's application allows you to showcase your achievements in various ways. Take full advantage of this opportunity by providing a comprehensive list of your extracurricular activities, accolades, and honors. Don't be shy about highlighting your accomplishments and involvement; standing out from the competition is essential.
When listing your achievements, it's not enough to mention them. Take the time to explain each one briefly. Describe what you learned or gained from the experience and how it shaped your personal growth. This will give the admissions committee a deeper understanding of your accomplishments and demonstrate your ability to reflect and grow from your experiences.
Remember, the USC application is your chance to present yourself as a well-rounded and accomplished individual. Take the time to carefully prepare your personal statement, gather strong letters of recommendation, and highlight your achievements effectively. By putting in the effort and showcasing your true self, you'll increase your chances of being admitted to USC and embarking on an exciting educational journey.
Navigating the USC Application Process
Now that you have all your materials ready, it's time to navigate the USC application process. Here are some key steps to keep in mind.
Applying to college can be an exciting but also overwhelming experience. The University of Southern California (USC) is a prestigious institution that attracts thousands of applicants each year. To ensure that your application stands out among the competition, it's important to understand and carefully navigate the USC application process.
Understanding the Common Application
USC uses the Common Application, a centralized platform many colleges and universities use. This platform streamlines the application process by allowing students to complete one application that can be sent to multiple schools. Familiarize yourself with this platform and ensure you understand how to navigate it and submit your application successfully.
The Common Application consists of several sections, including personal information, academic history, extracurricular activities, and essays. Set aside ample time to complete the Common Application, paying close attention to each section and double-checking all your information for accuracy. Enlist the help of a trusted adult, such as a parent or teacher, to review your application before submitting it. Having a fresh pair of eyes can help catch any errors or inconsistencies you may have missed.
Additionally, the Common Application allows you to request letters of recommendation from your teachers or counselors. Take advantage of this feature and reach out to individuals who can speak to your academic abilities, character, and potential for success at USC. Be sure to give them enough time to write a thoughtful and personalized recommendation.
USC Supplemental Essays
In addition to the Common Application, USC requires several supplemental essays. These essays provide an opportunity to showcase your writing skills and demonstrate your fit with USC. The prompts vary from year to year, so it's important to carefully read and understand each before crafting your response.
When writing your supplemental essays, take your time to respond thoughtfully to each prompt, being mindful of the word count and providing specific examples whenever possible. Use this opportunity to showcase your unique experiences, passions, and aspirations. Show the admissions committee why you are a perfect fit for USC and how you can contribute to the university's vibrant community.
Application Deadlines and Fees
Be sure to mark USC's application deadlines on your calendar and submit your materials well in advance. Applicants who opt for Early Action apply in advance and often receive their USC admission decisions by January. Most students seeking merit scholarships are typically required to choose this route. It's especially appealing for those with outstanding academic records who view USC as a top preference. On the other hand, Regular Decision applicants adhere to a conventional schedule, with extended deadlines and an admission outcome provided by April 1. Importantly, under both pathways, there is no obligation for accepted students to commit to attending USC.
Keep track of the application fees as well, as they can vary depending on whether you're applying as a domestic or international student. Set aside the necessary funds to cover these fees and any additional expenses, such as test score reports or mailing fees. It's important to budget accordingly to avoid any last-minute financial stress.
Remember, the application process is just beginning your journey toward attending USC. Respond promptly and professionally if you are selected for an interview or asked for additional information. Take advantage of any opportunities to showcase your strengths and demonstrate your enthusiasm for becoming a member of the USC community.
What to Do After You've Applied
After submitting your application, you may wonder what comes next. Here's what you should do:
Once you've hit that submit button, it's natural to feel a mix of excitement and anxiety. You've put in the hard work to complete your application, and now it's time to wait for the next steps. But what exactly should you be doing during this waiting period? Don't worry; we've got you covered.
Checking Your Application Status
Utilize USC's online application portal to track your application status. Regularly check for updates and ensure that all required materials have been received. This portal will be your lifeline throughout the admissions process, so make sure you have your login information handy.
Remember that patience is key as you anxiously log in to check your application status. Admissions officers carefully review each application, which takes time to make a thorough decision. While waiting, try to focus on other aspects of your life, such as your academics and extracurricular commitments. Keeping busy will distract you from the waiting game and demonstrate your ability to manage multiple responsibilities.
If any documents are missing, promptly submit them to avoid delays in the review process. Double-check that all your materials have been received, from your transcripts to your recommendation letters. It's always a good idea to keep copies of everything you send, just in case.
Understanding USC's Decision Process
USC's admissions decisions are typically released in early April for regular admissions while in January for early admissions. Waiting can feel like an eternity, but remember that good things come to those who wait. Acceptance rates can vary significantly from year to year, and competition for spots is fierce. While waiting for your decision, keeping an open mind about other potential college options is essential.
During this waiting period, it's natural to have doubts and worries. You may wonder if you did enough to stand out among the thousands of other applicants. But remember, you are more than just your application. You are a unique individual with a wealth of experiences and talents. So, instead of constantly refreshing your email inbox, focus on what you can control: your own growth and development.
Take this time to explore other colleges and universities that interest you. Research their programs, visit their websites, and reach out to current students or alumni to learn more about their experiences. You might discover another institution that aligns perfectly with your goals and aspirations.
Next Steps After Acceptance
If you receive an acceptance letter from USC, take the time to celebrate your achievement. You've worked hard to get to this point, and it's important to acknowledge your success. Share the good news with your family and friends, and let them join in on the celebration.
Once the initial excitement settles, it's time to get to business. Follow USC's instructions to accept their offer and make any necessary deposits by the deadline. Missing this deadline could result in forfeiting your spot, so be sure to mark it on your calendar and set reminders.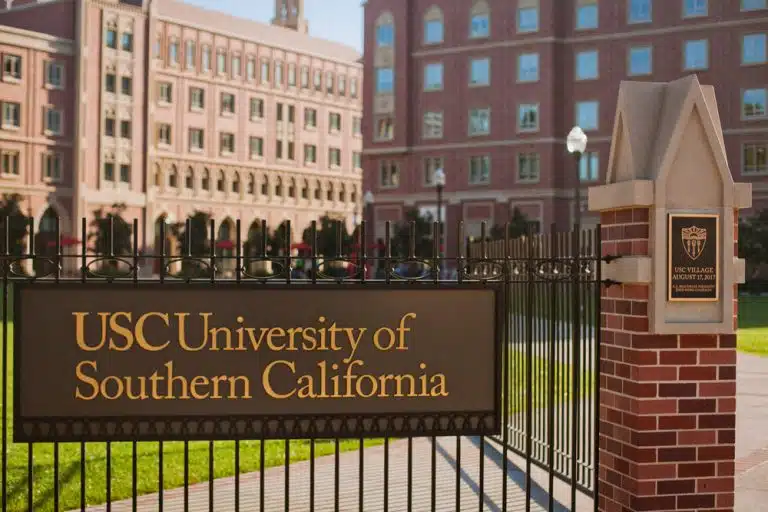 Review USC's accepted student resources to familiarize yourself with the next steps. From housing applications to orientation programs, there will be plenty of information to absorb. Take your time to review each resource, noting important dates and requirements.
As you prepare to embark on your USC journey, consider reaching out to current USC students or alumni. They can provide valuable insights into campus life, share their experiences, and answer any questions you may have. Building connections with the USC community early on will help you feel more comfortable and prepared when you finally step on campus.
Getting into USC requires careful preparation, determination, and a clear understanding of the admissions process. By following this step-by-step guide, you'll be well on your way to crafting a strong application that showcases your unique qualities and increases your chances of being accepted into this renowned university. Good luck!
Interested in further understanding the roadmap to USC? With more than a decade of experience, AdmissionSight has been a reliable guide for students amid the competitive admissions landscape.
Turn to AdmissionSight this fall to enhance your college application. Contact us today to explore more about our service offerings.