Extracurricular activities at USC
The University of Southern California is a leading private research university that is located in Los Angeles, which is a global center for the arts, technology, and international business. The University of Southern California is home to the College of Letters, Arts, and Sciences as well as 22 academic schools and units. We will delve deeper into the extracurricular activities at USC that are available to its students.
What is USC known for?
What is USC known for? The University of Southern California (USC) is the oldest private research university in the state of California and is widely known for its illustrious creative programs, most notably in the field of film.
The central campus of the University of Southern California also referred to as the University Park campus is situated in the Downtown Arts and Education Corridor of Los Angeles. The university was established in the year 1880. In addition to its locations all over Southern California, the University of Southern California also has campuses in Sacramento, California, and in Washington, District of Columbia.
USC is consistently ranked in the top 30 national universities, and the admissions process reflects that fact. The total number of undergraduate students enrolled at USC will be 19,606 in the fall of 2020. Due to the intense competition for entry, it was discovered in the "Operation Varsity Blues" scandal that some prominent families had lied about their athletes' credentials in order to gain admission.
Since that time, the institution has been able to witness the development of DNA computing, antivirus software, and image compression on its own campus, making it a central hub of technological and engineering innovation.
The University of Southern California (USC) is home to a number of additional creative and performing arts schools. These schools include the Thornton School of Music, the School of Dramatic Arts, and the Glorya Kaufman School of Dance, which are among the most prestigious performing arts schools in the United States.
However, the University of Southern California is not only famous for its programs in the creative and performing arts. For example, the Dana and David Dornsife College of Letters, Arts and Sciences provide undergraduate students with 140 different degree options to choose from, ranging from creative writing to physics to archaeology. These programs cover a wide range of traditional and specialized topics.
The following are some examples of other undergraduate schools:
Sol Price School of Public Policy, which offers a Bachelor of Science in Public Policy, Bachelor of Science in Real Estate Development, and Bachelor of Science in Urban Studies and Planning
Viterbi School of Engineering, a top-ranking engineering school in the nation
Annenberg School for Communication and Journalism, where students hone their skills in communication, journalism, public relations, and public diplomacy
Marshall School of Business, which prepares business leaders and entrepreneurs for thriving careers at a premier business school
The faculty members have recognized authorities in their respective fields; among their accolades are Academy Award winners, Rhodes Scholars, MacArthur Fellows, and Nobel Laureates. Alumni are also leaders and often hold honors that are just as prestigious as those held by current students.
There are a variety of opportunities available to students at USC to study in other countries, including the Global Scholars Program, the USC Africa Fund, the Queens College Cambridge-USC Exchange Program, the Schaeffer Government Service Fellows Program, and the Global Fellows Internship Program. Many USC students decide to take advantage of these opportunities.
What's it like to attend USC?
What's it like to attend USC as a student? The University of Southern California (USC) is an incredible school to attend because of its extensive history, excellent academics, and incredible athletics. When compared to other campuses at large universities, this one has a very distinctive look and feel. Although USC may appear to be a very large university, the class sizes are manageable during the first year and can be quite intimate for major classes.
When it comes to the process of designing their degrees, the versatile options that USC gives its students are a perk that is appreciated by a lot of them. Students have the opportunity to combine aspects of a wide variety of interests thanks to the school's extensive selection of interdisciplinary degree programs.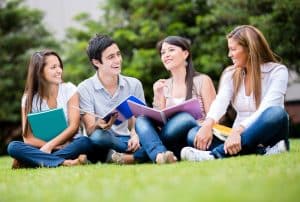 At USC, there is an extremely broad range of differences, not only in terms of the students' personal histories but also in their academic pursuits. One of the most significant advantages that USC possesses is the expansive learning environment that it fosters. Additionally, living on campus is not required of students attending USC; however, there are over 40 different residence halls and apartment complexes available to students who wish to do so.
The University of Southern California (USC) is home to some of the most prestigious academic institutions in the country, such as the School of Architecture (which was the first of its kind in Southern California) and the School of Cinematic Arts (the oldest in the nation).
New buildings are being constructed at a rapid rate, including the new George Lucas building at the film school and the new student commons center, which will have a sizable cafeteria area in addition to new student study areas and campus organization rooms. Both of these buildings are already in the process of being constructed.
Students in the Visual and Performing Arts Department have access to the Warner Brothers Archives, which is the largest collection held by a single studio anywhere in the world. This is just one of the many benefits of the school's location so close to Hollywood.
Additionally, the majority of professors have a wide network of contacts and can be of great assistance in finding internships, jobs, and letters of recommendation. The fact that USC possesses a network that is unmatched by any other school is without a doubt the most beneficial aspect of my time spent there.
What do USC students do for fun?
What do USC students do for fun? As part of the extracurricular activities at USC, there are over 850 student organizations at USC, and they are the ones that are responsible for the majority of the programs and events that take place on campus. These programs and events include concerts, lectures, special events, spirit rallies, cultural and social events, and conferences.
Arts and Culture
The University of Southern California is unlike any other university in its field because it combines the qualities of a research university with a distinguished collection of art schools. The recitals, performances, exhibitions, screenings, and lectures that are put on by USC's six different schools of the arts, as well as the USC Fisher Museum and the USC Pacific Asia Museum, are spread out throughout the academic calendar.
Fisher Museum of Art at USC
The USC Fisher Museum of Art was the first museum to be established in the city of Los Angeles. It was opened as an art museum, and to this day, it is the only museum in its original location that is solely dedicated to the exhibition and collection of fine art.
USC Libraries
The USC Libraries are committed to fostering the discovery, creation, and maintenance of knowledge in their community. We develop collections and services that support and encourage the academic endeavors of the faculty, students, and staff; we build a community of critical consumers of information, and we assist in the development of engaged global citizens.
The University of Southern California is home to 23 libraries and information centers in addition to the USC Digital Library.
USC Pacific Asia Museum
USC Pacific Asia Museum, which is a part of the University of Southern California, fosters meaningful encounters with the art, history, and culture of Pacific Asia to advance cross-cultural comprehension in the interest of enhancing our common sense of humanity. The museum's mission is to create these meaningful encounters by showcasing Pacific Asian art, history, and culture.
Sports and Recreation 
Many students participate in a wide variety of athletic conferences and organizations as part of their extracurricular activities at USC. Although it is best known for its success in football, the university is also very successful in a variety of other sports.
The Trojans are ranked third in the nation with a total of 107 team NCAA team championships and 412 individual NCAA team championships to their name. More than 300 Olympic medals have been won by students and alumni of the university, and over 525 football players have been drafted into the National Football League.
The men's athletic teams are known as the Trojans, while the women's teams are either called the Trojans or Women of Troy depending on which name is preferred (the university officially approves both terms).
The University of Southern California Trojans is widely regarded as possessing one of the most successful athletic programs in the history of college athletics. In addition, USC is a sponsor of teams competing in ten of the NCAA's sanctioned sports for men and thirteen of those sports for women.
Men's sports
Baseball
Basketball
Football
Golf
Swimming and diving
Tennis
Track and field
Volleyball
Water polo
Women's sports
Basketball
Beach volleyball
Cross country
Golf
Lacrosse
Rowing
Soccer
Swimming and diving
Tennis
Track and field
Volleyball
Water polo
Competitive Sports 
The USC community has the opportunity to take part in a variety of recreational activities and organized sports thanks to USC's competitive sports. Participants in Intramural Sports will compete against other USC students, faculty, and staff members in a wide variety of sports leagues and tournaments.
These leagues and tournaments are designed to be accessible to athletes of all experience levels. Participants in club sports have the opportunity to compete against athletes from other colleges and universities, and they will have scheduled practice times on a consistent basis.
Club Sports
As part of the extracurricular activities at USC, Club sports are student-run organizations that compete in intercollegiate competitions in a variety of sports and activities. These competitions take place on college campuses. The Recreational Club Council (RCC) is in charge of providing oversight for all club sports. Its membership includes more than fifty different club sports.
The Undergraduate Student Government (USG) and the Graduate Student Government (GSG), as well as donations and dues paid by club members, are the sources of funding for student organizations, which are run independently. The majority of club competitions take place on the weekends, and clubs typically hold practices multiple times per week. The following is a selection of the sporting activities that students can take part in.
Archery
Badminton
Ballroom & Latin Dance
Barbell
Basketball (M)
Basketball (W)
Beach Volleyball
Boxing
Brazilian Jiu Jitsu
Cycling
Dragonboat
Intramural Sports
Students, faculty, and staff at USC have the opportunity to compete in a variety of sports through the Intramural Sports program, which offers a range of different levels of competition. Competition can range from one-day tournaments to six-week leagues, making participation in these sports a more relaxed affair than in club sports. The purpose of intramural sports is to encourage students to lead active lifestyles, get involved in the community, and play in a risk-free setting.
Best Clubs at USC 
The fact that some people find it difficult to balance their academic and extracurricular responsibilities while attending USC masks the fact that this is the ideal time to take advantage of the cooperative environment that a university provides. As part of the extracurricular activities at USC, the following is a list of some of the best clubs at USC
Active Minds at USC
Students in higher education have a great deal of zeal and enthusiasm, but the more zealous they are, the more susceptible they are to developing mental illnesses. It is possible to have anything from mild anxiety to major depressive disorder. Active Mind is a social club with the goal of bringing awareness to such issues and combating stigmas by collaborating on therapies, group activities, and exercises, and providing support to peers.
Ascend USC
At the University of Southern California, the Ascend USC Chapter is recognized as the preeminent Pan-Asian business organization. They are dedicated to providing the best resources and opportunities for their members, affiliates, and corporate partners in order to facilitate the development of long-term relationships that are mutually beneficial to all parties involved.
Asian Pacific Islander Caucus (APIC)
The Asian Pacific Islander Caucus (APIC) at the Price School of Public Policy works to promote discussion around Asian and Pacific Islander issues as they relate to policy, preparation, and public administration, as well as reflect on the positionality of Asian and Pacific Islanders within these fields. They plan a variety of events, including panels, discussions, and social gatherings.
Associated Students of Planning & Development
Students in the Master of Planning program at the Price School are encouraged to join ASPD, which serves as their official student society. To aid in the enhancement of student life and educational opportunities, ASPD organizes and hosts a wide range of events that focus on culture, professional development, networking, and the general public.
Best buddies at USC
The non-profit organization known as Best Buddies is dedicated to fostering one-to-one friendships between students at the University of Southern California and high school students in the surrounding area who have intellectual or developmental disabilities.
Every other week, they go to the center that is acting as their host and put on events such as holiday parties, arts and crafts sessions, gardening classes, and dance classes. In addition to that, they also organize two to three unique events each and every semester! It's possible that this will be a fundraiser on campus or an event hosted by one of the USC athletic teams.
Chalk the Block USC
The purpose of the one-day event known as "Chalk the Block" is to bridge the gap that exists between the University of Southern California and the community around it. It is hoped that by inviting local children and teenagers to campus for a day so that they can chalk their dreams, not only will they be able to achieve their ambitions, but they will also discover a source of motivation right here at USC.
Challenge for Charity
This organization's mission is to cultivate future business leaders who will have a deep and abiding commitment to social responsibility and community service throughout their entire lives. In this, the 32nd year of the MBA Challenge for Charity, the best MBA programs on the West Coast will compete against one another in a variety of fundraising, social, volunteer, and athletic events in an effort to win the coveted "Golden Briefcase."
Code The Change
Free digital goods are offered by Code the Change to non-profit organizations and social enterprises in order to assist these groups in expanding their sphere of influence through the use of technology. The process of participating in Code the Change affords student programmers the chance to apply their skills toward the improvement of society.
Dragon Boat at USC
Paddling on a long boat that resembles a canoe is required for the sport of dragon boating, which is a competitive team sport. Everyone is welcome to try out for the team, and they are always looking for new paddlers to join so that they can increase their chances of winning gold in each of their competitions.
Eco-op
The Eco-op at USC is a close-knit community of students who live together in a cooperative housing arrangement and are focused on environmentally sustainable practices. They want to create a forum in which members can share their perspectives and collaborate in order to bring about a change for the better in the surrounding environment.
Members of the Eco-op take part in debates and research projects with the goal of enhancing the educational experience of USC students and moving the university closer to an environmentally conscious future.
Events at USC
Two-Day Fall Career Fair
Students who are actively seeking employment or internships should take advantage of this wonderful opportunity to expand their professional networks. Employers representing a wide variety of fields will be on campus for both days of this event, giving students the opportunity to connect with professionals in a variety of fields.
Sustainability Professionals Speaker Series
Ms. Cortez-Davis provides assistance with the management of the regulatory, legislative, policy, and public engagement aspects of the water resources of the City of Los Angeles. Her experience spans more than 22 years and includes fields such as water recycling, environmental compliance, water rights administration, water conservation, and pipeline design and construction.
She has also worked in groundwater management and water rights administration. During this event, Ms. Cortez-Davis will engage in a question-and-answer session with students who are interested in careers related to sustainability. She will discuss her professional activities and experiences, as well as the current state of water in the area.
Slack Campus Recruiting Online Information Session
Slack is a cloud-based set of proprietary team collaboration tools and services that was founded in 2013. Slack is hosting this live question and answer session for free. Students of Computer Science will be given the opportunity to engage in conversation with members of the Slack team and broaden their understanding of the topic through this endeavor.
Keep Up with Social Media: Your Online Presence
Your presence on social media is absolutely necessary for your job search. Students will learn how to make the most of their presence on LinkedIn during this informational session. It paves the way for many opportunities to network with other people and demonstrates your presence in the job market.
USC Global Fellows Internship Program Information Session
USC students have the opportunity to participate in the USC Global Fellow Internship Program, which provides funding for them to complete an internship in Asia lasting at least eight weeks. Students are chosen through a process that includes filling out an application and having an interview.
There is a good chance of finding an internship opportunity in a city that serves as a commercial, political, or cultural center, such as Hong Kong or Taipei.
The chance to gain valuable experience working in a global setting in Asia through participation in this highly competitive program is an excellent one. As a result of the fact that students will learn about the program as well as the application process during this session, it is considered to be one of the best events that will open a wide variety of doors for undergraduates.
USC Traditions
Traditions abound at USC, the majority of which are centered on the sport of football. For instance, the song "Conquest" is played by the Spirit of Troy whenever the Trojans score. Even during games, the school's white horse, Traveler, can be seen parading around campus.
People tend to get up early on game days in order to take advantage of tailgates and other events, which is largely due to the fact that football is such an important part of student life. Students will sometimes give themselves a lucky boost by kicking one of the flag poles on their way to the Los Angeles Memorial Coliseum.
Why Are Extracurriculars Important?
Why Are Extracurriculars Important to USC students? The University of Southern California is of the opinion that a student's education does not finish when they leave the classroom. As a result, the University of Southern California takes great pride in its support of a wide variety of programs that offer students meaningful learning and teaching experiences. At the University of Southern California, there are over a thousand different student organizations that students can join.
There is a collaborative community of students for every conceivable interest, ranging from community service organizations and a cappella ensembles to consulting organizations and virtual escape room clubs. These groups will provide a space for students to practice the principles they have learned in class, such as active listening, negotiation, advocacy, and service. They will also enable students to explore new avenues of thinking and work together in a more laid-back setting.
If you need help putting the finishing touches on your early applications, or want some advice on whether or not applying Early Decision or an Early Action is a good option for you, at AdmissionSight, we have over 10 years of experience guiding students through the competitive admissions process, including our athletic recruitment program.
AdmissionSight can help you put your best foot forward when applying to college this fall. Contact us today for more information on our services.