USC Acceptance Rate: 16%
Shortcut to sections offered for USC prospective students and USC Acceptance Rate:
Successful Applicant Profile
Demographics
Majors
SAT/ACT scores
Entry Requirements
Tuition
Scholarships
Checklist of Application Requirements
Application Deadlines
What Should you expect
Student life
Academics offered
Athletics offered
Notable Alumni
The University of Southern California, better known as USC, is a private research university founded in 1880. The USC acceptance rate is among the lowest in the country at 16%.
The university is located in Los Angeles and draws thousands of applications in a year despite being in the news this century for many of the wrong reasons – from men's NCAA football violations all the way to sexual harassment cases. Moreover, this is only one of the reasons for the low USC acceptance rate.
The other reason for the selective USC acceptance rate is that the school is highly competitive. They require high SAT/ACT scores and great grades.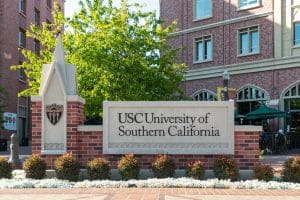 And, that's not it. You should be a well-rounded individual with high moral standards and exemplary achievements to be considered by the admissions committee. USC is not just a party school – education is taken seriously here by many.
AdmissionSight understands the admissions process and can help you secure a spot here. Like other prestigious institutes, USC follows a holistic admissions process. They look at factors beyond average grades and test scores. Glowing letters of recommendation, strong application essays, and extraordinary achievements can strengthen your application.
You should also have had participated in meaningful extracurricular activities and taken up a rigorous course schedule. But, before you get into the statistics and figures, you should know what a successful applicant profile looks like.
Successful Applicant Profile
USC acceptance rate is typically around 16%. This means that for every 100 applicants, there are only 11 that get admitted to this premier university.
This doesn't just make USC's admissions process tough, but also highly selective and competitive. The University of Southern California has a central mission to develop society and human beings through the intricate cultivation of the talented mind and spirit.
Selected candidates are not just good on the academic front. They are also gifted or talented in various other fields. To secure a spot at USC, you should have written a strong personal statement.
Where are the applicants from?
The school looks for the best of the best when it comes to new enrollment. USC acceptance rate is not among the lowest in the country for nothing. They are highly selective in their admissions process, which means you get to learn with the most gifted and talented individuals.
You can count on joining a diverse class of students from all over the world and the United States if you decide to matriculate at the USC. You also get to choose from among a dozen fields to study. Each class has about 51% of female students and 49%, male. 43% of students are from California and 51% attended a public high school.
USC tends to accept 15% international applications each year which means you can expect to study among a diverse and culturally rich class. There are a lot of colored people that self-identify as belonging to minority cultures. 5% of candidates are African American with 22% being Asian American.
Typically, 16% of the freshman class is comprised of Hispanic/Latino and 36% are white Caucasians. Less than a percent make up for Native Americans.
What are the more common programs?
You can choose from over 150 undergraduate majors. Some of the more popular programs are in the Dornsife College of Letters, Arts and Sciences, and Marshall School of Business. These tend to draw the greatest number of candidates.
The University of Southern California has strong research programs. It is also a member of the Association of American Universities, which is known for excellence in the liberal arts and sciences. USC is also part of the prestigious Phi Beta Kappa Honor Society.
The top programs on offer at USC are business management, Marketing, Social Sciences, Visual & Performing Arts, and Engineering.
What is the average SAT/ACT score of admitted students?
The University of Southern California requires all its applicants to submit ACT or SAT scores. 61% of students submitted their SAT scores in the 2019 admissions cycle.
USC's acceptance rate makes the college highly selective. You need to be in the top 10% of your class and in the top 75 percentile in standardized test scores.
Based on our analysis you would have a pretty good shot at getting a seat at USC with an ACT score higher than 33 or an SAT score of 1540.
For admitted students in 2019 who took ACT score:
25th percentile score: 31
75th percentile score: 35
For admitted students in 2019 who took SAT score:
25th percentile score: 1400
75th percentile score: 1530
Our admissions analysis tells us that most selected students fall within the top 7% nationally on SAT test scores. Applicants that have a composite SAT score of 1550 or higher have a particularly good chance of securing a position at USC.
The college does not require SAT Subject Tests or the optional SAT essay section. It participates in the score choice programs and you get to have your highest score considered by the admissions office for each individual section across all the SAT tests.
Students that rank in the top 3% on the ACT have a great chance of being selected. You don't have to give the optional ACT writing section. USC does not superscore results, which means your highest composite score would be considered.
In 2019, 25% of the University of Southern California's class had a GPA above 3.99 with the middle 50% scoring between 3.72 and 3.99. The remaining 25% had a GPA below 3.72 with only a few exceptional cases touching a GPA of 3.6. This analysis suggests that most students that get selected at USC have straight A's.
You should also have a strong and challenging course load to get selected. The ideal course load shall have a fair share of IB, AP, and honors classes. It should let the admissions committee know that you are ready to take on college academics.
Entry Requirements
The University of Southern California is a highly rated private institution located in Los Angeles, California. This large institution has a total undergraduate enrollment of 19,194 students. However, even with a large number of admits each year, the USC acceptance rate make the college highly competitive.
You need to pay special attention to your application and personal essay. It should highlight your academic and extracurricular achievements. But, before you get started on your application, it is important that you take a moment to determine the cost of attendance at USC and the kinds of financial aid awards on offer.
How much will it cost to attend?
USC's cost of attendance is astronomical at $77,459. It is almost at par with several Ivy League universities. However, you don't need to panic because the cost of attendance covers everything an average student typically requires to complete one year at USC. It includes everything from your books, tuition, and fees to your room and boarding.
Here's a closer look at the cost of attendance at USC for freshmen:
Tuition: $57,256
Fees: $939
Housing: $9,616
Dining/meals: $6,300
Books and supplies: $1,200
Personal and miscellaneous: $1,564
Transportation: $584
There are generous financial aid packages available by this institution if you believe the tuition is beyond your family's financial capabilities.
What financial aid opportunities are available?
The University of Southern California has one of the largest financial aid programs in the United States. The college believes that nobody should be held back from getting a college education because of their family's financial circumstances.
However, the college does expect the family to play a major role in financing education. USC is determined to meet the demonstrated need of all undergraduates satisfying the eligibility requirements. It is vital that you pay special attention to their deadlines and file the financial aid application well in time.
Almost two-thirds of all undergraduates at USC receive some form of financial aid. It is usually in the form of merit scholarships, Federal Work-Study and loans, and need-based grants. The college also helps families apply for student loans to cover their end of the cost of attendance.
Over $611 million has been offered to students by way of need-based financial aid from all sources in the year 2017-18. 20% of students from the fall 2018 admittance received merit scholarships. Scholarships and grants comprise 75% of financial aid awarded. These refer to aids that are offered as gifts. These do not need to be paid back to the institution.
USC students tend to graduate with an average student debt of $36,787. Most of them manage to pay back their debt in the first five years. You can expect an average financial aid package of $31,496.
What are the application requirements for USC?
USC accepts applications through the Common Application. You are required to submit a Common App essay and two shorter essays that form part of the USC Writing Supplement.
These essays should not be longer than 250 words. The admissions committee recommends making the essays half the length of what you would write like a typical college admissions essay.
Here's a handy checklist of all major admissions requirement for USC:
Common Application with essay
USC Writing Supplement
Official standardized test scores
Transcripts for high school coursework
Letter(s) of recommendation – this depends on the program/school you choose
Writing sample, portfolio, or resume among other additional materials
Fall grades – you can use the Common App or the Mid-Year Report Form to submit these
The department and degree you choose determine the length of time taken for the application to be reviewed. An official decision letter shall be sent to you whenever a decision is made.
What are the timelines for the USC application?
The University of Southern California does not offer early decision or early action plans to freshmen unlike several other prestigious and private universities. You need to make sure you submit your completed application by the deadline.
While you cannot apply under an early decision program to USC, the admissions committee strongly suggests mentioning if the college is indeed your first-choice school. They can make a note of it on your application and use it as a consideration factor.
Deadlines for freshmen starting fall 2021
Application deadline – December 1st, 2020
(Merit scholarship consideration)
Application deadline – January 15th, 2021
(Regular freshman)
SAT/ACT test – December 2020
Financial aid – April 1st, 2021
Decision notification
All applicants are made aware of the admissions committee's decision by April. You need to send in your replies by May 1st.
What To Expect?
USC is located in downtown Los Angeles in the University Park neighborhood. The private institution was founded in 1880 and has a total undergraduate enrollment of 19,194.
The campus is sprawled over 226 acres and has an urban setting. The Shrine Auditorium, the Los Angeles Memorial Sports Arena, and the elderly Los Angeles Coliseum are all within walking distance of the university.
Most building on the USC campus is in the Modernist style, but there are still quite a few that are built on Romanesque Revival style. Campus' historic portion got added to the National Register of Historic Places in 2015.
What do students think of life at USC?
USC's central campus is called the University Park campus and is located in Los Angeles's Downtown Arts and Education Corridor. There are other campuses linked to this school in Sacramento, California, and Washington, DC. As a USC freshman, you can participate in over 1,000 on-campus organizations, ranging from club sports to religious groups.
USC undergraduates are not required to live on campus. However, you can find room and boarding in any of the 40 or so apartment buildings and residence halls.
There is a thriving Greek life on campus which comprises over 50 chapters that help this university support the image of it being a party school, unfortunately. Nearly 20% of undergraduate students are part of the Greek social scene.
A month ago, a junior student posted a testimony about USC University on a college-ranking site Niche expressing that USC is an:
"Being a student at the University of Southern California is like no other. The campus is beautiful and the academics are stellar. The whole school feels like one big family.
The athletic programs are top-notch and really bring all the students together. I love being able to attend countless games while seeing cheering fans who truly love where they go to school. The best part about the University of Southern California is the Trojan alumni.
With over 425,000 Trojan alumni in the world, you are always connected to a Trojan. The wonderful Trojan alumni are there for you beyond your four years.
They give opportunities to advance in your desired career field, as well as be there in a new environment. No other university is this connection between current students and alumni. I am proud to attend USC, where academics, athletics, and alumni blend together making the ultimate college experience!"
You can become a part of any student-led organization on campus. They cover a wide array of interests including creative and performing arts, academic interests, cultural and racial initiatives, government and political interests, and gender and sexuality affinity groups.
Few of the more popular groups include Cognitive Science Club, Anatomical Drawing Society, Economics Association, Inter-Health Council, Glimpse from the Globe, Keck Student Ambassadors, Organization for the Appreciation of Classic Cinema, Men in Social Work, Plastic Surgery Interest Group, SC Racing, SC Rappers, and Sociology Club.
You can get more information about USC campus life and admissions process by calling the undergraduate admission office at (213) 740-1111 or using their web form.
What academics are offered?
USC has a great student-faculty ratio of 9:1. Nearly 58.8% of classes have fewer than 20 students. The average freshmen retention rate, which is a highly regarded indicator of student satisfaction, is 96% for USC. There are over 150 majors and other programs in the curriculum at this university.
Some of the more popular ones include Visual & Performing Arts Studies, Writing for Screen & Television, Urban Studies & Planning, Real Estate Development, Theatre, Public Relations, Philosophy, Politics & Law, Physics/Computer Science, Non-Governmental Organizations & Social Change, Neuroscience, Music Industry, Media Arts & Practice, and Linguistics & East Asian Languages & Culture.
Linguistics & Cognitive Science, Mechanical Engineering, Law, History & Culture, Jazz Studies, International Relations & the Global Economy, Jewish Studies, Interdisciplinary Archeology, Human Development & Aging, Industrial & Systems Engineering, Health Promotion & Disease Prevention Studies, Gender Studies, and Health & the Human Sciences see quite a few takers too.
What athletic options are available?
The USC Trojans are known for their legendary football program. They participate in the Pac 12 Conference. The intercollegiate teams at USC include Baseball, Basketball, Cross Country, Rowing, Football, Golf, Beach Volleyball, Water Polo, and Lacrosse.
Who are some famous USC alumni?
The University of Southern California has produced some notable business tycoons, musicians, politicians, and media figures among leaders in several other fields.
Few of the more prominent alum include:
Actor John Wayne
Astronaut Neil Armstrong
Director Ron Howard
Infamous criminal defendant and former football star OJ Simpson
Actor John Ritter
Do you wish to see your name become a part of this list? You would need a strong set of "personal qualities" in addition to strong scores and grades. USC perceives these qualities through your non-academic and academic accomplishments. AdmissionSight has experienced admissions counselors that can help you improve your chances of selection.