Best Colleges for Students with Learning Disabilities
One in every five students in the United States has a learning disability, such as ADHD or dyslexia, which makes typical classroom learning challenging. A typical classroom setting employs the same instructional styles that have been used for decades—PowerPoint lectures, notes, homework assignments, and examinations. However, a handful of institutions commit themselves to become the best colleges for students with learning disabilities.
Thankfully, we have mechanisms in place to assist and support students with learning disabilities.
We identified the 12 best colleges for students with learning disabilities. They have created programs for learners with the goal of maximizing students' potential and providing students with the resources and assistance they need to flourish in a college academic context.
What are the Best Colleges for Students with Learning Disabilities
Which colleges are the best for students with learning disabilities? The learning disability programs listed below are available at medium to large institutions. These may be wonderful alternatives for you if you desire a more traditional college experience but still want the extra support and attention that comes with a specialized program.
Remember that you will most likely need to apply to both the college and the learning disability program.
Hofstra University
Students at Hofstra University participate in something called PALS, which stands for the Program for Academic Learning Skills. This program gives students access to staff members, academic advisers, graduate assistants, students, learning disability specialists, remediation and learning specialists, skill tutors, and strategy tutors. Once a week, students engage in individualized instruction with a learning expert.
The learning expert assists students in developing their learning techniques, as well as their abilities in managing their time and performing executive functions. Students enrolled in PALS are eligible for accommodations in the classroom through Student Access Services.
Adelphi University
The Learning Resource Program at Adelphi University matches students with educators and counselors to assess their needs. Students have access to academic advisers and tutors. There are also priority registration and support groups.
Bridges to Adelphi is a program that offers customized help to kids with autism. By providing complete academic, vocational, and social assistance, the program facilitates the transition to college.
Each participant in the program is partnered with a peer mentor. Peer mentors are other students who serve as friends and role models for program participants while they adjust to college life. Adelphi was also the first institution to provide a "sensory space" for neurodivergent students in 2018.
The Learning Resource Program is free, while the Bridges to Adelphi Program has a charge.
University of North Carolina at Chapel Hill
Students who have registered their needs with the Office of Accessibility Resources and Services at UNC Chapel Hill can take advantage of the classroom adjustments that are available through the Learning Center.
In addition, students have the opportunity to work through whatever requirements they may have by scheduling visits with an academic coach in this office. The Learning Center organizes study groups, coaching courses, and other types of events; it also provides films and handouts.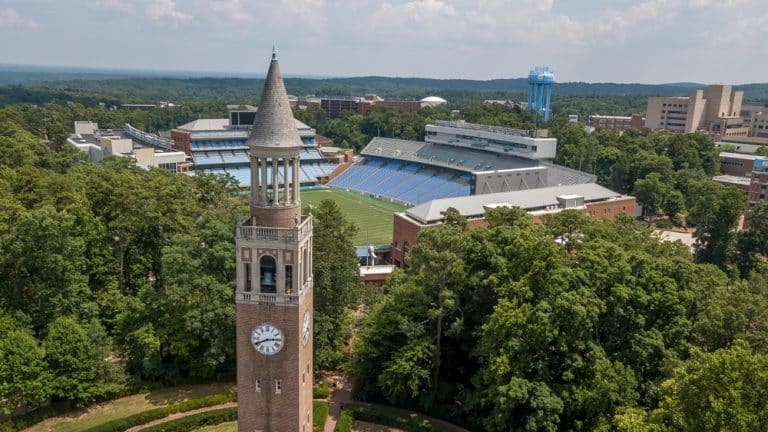 In addition, information is offered on many other campus facilities, such as accessibility resources, peer tutoring, a writing center, counseling and health services, academic advising, course substitutes, assistance centers, and study spaces.
Marshall University
Next on our list of best colleges for students with learning disabilities is Marshall University. Students in this university have access to academic advisers, coaches, diagnostic specialists, graduate assistants and students, learning disability specialists, professional tutors, remediation and learning specialists, skill tutors, and strategy tutors through the Higher Education for Learning Problems Center (HELP).
The center offers seven different sections to accommodate a wide range of students and their individualized requirements, including College H.E.L.P., Medical H.E.L.P., Community H.E.L.P., Skills Development, Summer Prep, and Diagnostic Services for students who have learning problems.
The University of Arizona
Students at the University of Arizona can take advantage of educational technology solutions, strategic learning specialists, tutoring sessions, workshops, psychiatric services, and more through the SALT program, which stands for the Strategic Alternative Learning Techniques program.
In addition to academic opportunities, the program provides students with opportunities to interact with one another and build meaningful relationships.
Participants in the SALT program have access to a wide variety of services, including those listed below, as well as weekly sessions with a strategic learning expert.
 Content-specific tutoring
Educational tech support
Life skills and academic strategies workshops
Psychological services
Life and ADHD coaching (this is separate from the SALT fee)
Participating in the SALT program does result in additional expenses being incurred every semester. The cost of this includes intensive tutoring for first-year and second-year students. The cost of the semester is less for juniors and seniors, however, additional tutoring can be purchased on an hourly basis if desired.
University of the Ozarks
Students with learning difficulties, such as Attention Deficit Hyperactivity Disorder (ADHD) and Autism Spectrum Disorder (ASD), are the core demographic for the Jones Learning Center at the University of the Ozarks.
Peer tutors and note-takers are accessible to students, academic assistance coordinators meet individually with students every day, skill experts help students with specific aspects of their education, and students have access to various forms of assistive technology.
West Virginia Wesleyan College
Following the University of the Ozarks in our list of the best colleges for students with learning disabilities is West Virginia Wesleyan College. Students with learning disabilities are provided with a comprehensive advisor through the West Virginia Wesleyan College Learning Center Disability Support program. This advisor works with the student to accommodate the student's needs and serves as a mentor throughout the student's time spent attending West Virginia Wesleyan College.
Students receive weekly one-on-one academic strategy guidance, an accommodation plan, preferential registration, extended time and separate test-taking locations as needed, tutoring, an alternative textbook format if it's required, and access to study groups.
In addition, students receive an accommodation plan. Students who are in need of additional structure in their supervision can also participate in the Mentor Advantage Program.
Daemen College
Students who fall somewhere on the autism spectrum are the core demographic for the College Autism Transition Support program, often known as CATS. Students will develop not only their academic talents but also their personal and professional skills through their participation in the program.
Students work with a life skills coach who focuses on teaching students life skills that are tailored to the individual requirements of each student. Students can get assistance from coaches in determining their interests and the opportunities available to them to pursue their interests, such as participation in organizations or sports.
Students are also provided with aid in the development of a career search strategy, including assistance with the creation of a résumé and cover letter, assistance in the search for jobs, and assistance in the preparation for interviews.
DePaul University
Another institution to consider on the list of the best colleges for students with learning disabilities is DePaul University. The Center for Students with Disabilities at DePaul University offers testing and classroom accommodations to students with disabilities.
These accommodations include braille, adaptive equipment, closed caption real-time translation, exam proctoring in a distraction-reduced environment, priority registration, assistive technology, and more.
Students have access to services provided by learning specialist clinicians as well. In these sessions, students engage with learning specialist clinicians to improve their "executive functioning abilities and self-advocacy methods."
Ursuline College
Students enrolled in the FOCUS program at Ursuline College have access to accommodations such as note-takers, alternate exam accommodations, and alternative textbook formats.
All students who fulfill the prerequisites for participation in this specialized program are granted priority registration, direct advising on course selection and major selection through regular meetings with a trained advisor, individual orientation, assistance in locating tutors, academic and social support on an as-needed basis, and monitoring of their progress.
Students decide which phase of FOCUS will be most beneficial for them based on the many levels of engagement that are available at each stage.
Are there schools dedicated to students with learning disabilities?
Are there special schools for students with learning disabilities? There are a few schools that accept only students with learning disabilities. These are primarily smaller colleges that provide adjustable degrees of assistance and structure.
Check out these 2 best colleges for students with learning disabilities if you're looking for institutions that only accept students with learning disabilities:
Beacon College
Students with learning difficulties and attention deficit disorders are the only kind of students accepted at Beacon College, which provides associate's and bachelor's degrees.
Its graduation percentage for students with learning disabilities is 70%, which is higher than the average graduation rate across the country. The institution offers support resources such as a math lab, a writing center, and a center dedicated to the success of its students. Trained learning experts and tutors staff the Center for Student Success.
Landmark College
Students who learn in a non-traditional manner, such as those who have learning disabilities, attention deficit disorders, or dyslexia, have the full support of Landmark College as they pursue their educational goals.
The following types of assistance are available here if you need them:
Academic advising and coaching
Centers for academic support
Counseling
Specialty summer programs, to ease the transition into college
Landmark College rounds up our list of the best colleges for students with learning disabilities.
What to do if you're interested in a program for students with learning disabilities?
How to proceed if you are interested in participating in a program tailored to students with learning disabilities? The advice that is provided here will assist you in effectively navigating the admissions process and beyond.
Find out further information
To gain a better sense of whether or not these programs are a good fit for you, just like any other prospective college student, you should gather as much information as you can about them. Visit the schools, chat to students who are currently enrolled there, and think about whether or not the programs they provide would provide you with the necessary degree of assistance.
Make note of additional applications
In addition to the standard college application, many of these educational institutions demand that prospective students also fill out an application for the learning disabilities program.
You could also be required to provide further paperwork, such as the results of diagnostic testing or psychiatric examinations, or letters from teachers. As a result of this, it is highly recommended that you give yourself more time to finish these applications.
Include unexpected expenses in your college budget
You can still apply for financial aid and scholarships, but keep in mind that enrolling in one of these programs for students with learning problems might add thousands of dollars to your overall college expenditures each year.
What are the factors to consider when choosing a higher institution for students with learning disabilities?
What aspects should be addressed while selecting a higher education institution for students with learning disabilities? The factors mentioned here will serve as your checklist in choosing among the best colleges for students with learning disabilities:
Mental health resources
Many college students, regardless of learning style, find the transition from high school to college to be daunting and perplexing, especially the change in academic work and expectations. This shift, however, might be particularly difficult for individuals with learning disabilities. As a result, it's critical to know that your school provides excellent mental health assistance.
As with academic advisers, ask the same questions of counseling resources. How approachable are the counselors? How soon can you see or communicate with one? Do they have previous experience assisting students like you? Knowing that a college takes mental health seriously is vital for everyone, but especially for students who struggle with studying.
Student-to-faculty ratio
Students with learning disabilities benefit from customized attention from their instructors, so locating a school with a low student-to-faculty ratio is critical. Being in an atmosphere where your professor knows you well and will notice if you're suffering academically might be critical to ensuring you stay on track.
At the same time, it's critical to determine how much contact students have with teachers. Several famous research institutions have a large number of faculty members who do not teach, resulting in an artificially low student-to-faculty ratio.
Class sizes
Small classrooms are typically beneficial to many individuals with learning problems. A smaller class size means more face time with your lecturer, more opportunities to ask questions, and less possibility of getting lost in the throng if you're having academic difficulties. So, while looking for a school, try to find out the typical class size, especially in the major you want to study.
At the same time, because of their learning styles, some students prefer big, structured lecture sessions over participation-heavy seminars. If this describes you, a larger university may be preferable, especially if instructors are available outside of class to give additional support and criticism.
Study spaces
Distraction affects everyone, but it is more detrimental to kids who have ADHD, executive functioning disorder, dyslexia, dysgraphia, anxiety, or other learning disabilities. Try to get a feel of where students study and whether there are certain areas that might assist you in focus depending on your individual requirements as you look at different institutions.
Many college libraries, for example, include private study carrels, silent reading spaces, and/or distraction-free classrooms. Some students believe that traveling off campus, to a public library or another location, reduces their chances of getting distracted by friends. Find spots on campuses where you know you'll be able to study well.
Special programs
Finally, many schools provide particular programs to assist kids with learning disabilities. When you identify colleges that interest you, investigate their unique resources.
Today, an increasing number of best colleges for students with learning disabilities provide children with learning disabilities with professional academic advisers, distinctive study areas, peer mentorship programs, a disability resource center, and other services.
Aside from the tangible assistance such programs provide, universities that set aside resources expressly for students with learning difficulties demonstrate a strong commitment to intellectual diversity.
Feeling sure that their school will help them is possibly the most crucial component in finding the appropriate match for children with learning disabilities.
AdmissionSight is willing to help
These are just a few of the numerous institutions that offer support services to students who require accommodations and additional assistance. The choices for colleges for students with learning disabilities are infinite, whether it's a school dedicated to children who study differently or a substantial disability services department within a well-established institution.
When you are ready to pursue your education at a higher level, AdmissionSight is here to help. Because of its more than a decade of expertise supporting students like you in achieving admission to their first and second choices of institutions.
AdmissionSight has established itself as the most reliable source of college admissions guidance. This is because AdmissionSight has established itself as the most reputable name in the industry of college admissions guidance.
We would appreciate it if you could contact us as soon as possible so that we can set up a free introductory consultation for you.