Am I Good Enough for Cornell?
When it comes to high school students accomplishing their loftiest goals, getting into an impressive undergraduate program, such as an Ivy League program, often is at the very top of the list. 
If you are determined to get into a school like Cornell University, one of the eight Ivy League schools, you are likely asking the question, "Am I good enough for Cornell?"
When it comes to getting into Cornell, or any of the Ivy League schools (Harvard, Princeton, Yale and Columbia are some examples), even the very best students sometimes get letters of rejection. In fact, it is likely that in terms of qualifications, each Ivy League school gets enough applications from students that deserve admissions to make multiple graduating classes each year! 
But decisions have to be made, and it is up to you as a student applying to Cornell to make sure that they end up on the right side of the admissions process when it becomes their time to apply. 
At AdmissionSight, we know that one of the most important tools that any student can utilize when it comes to their decision to apply to Cornell is knowledge. This refers to knowledge that some students have in terms of how the application process truly operates and what they can do to take advantage of that knowledge and improve their chances of getting into top schools. That is where we come in for the high school students that we work with. As comprehensive admissions consultants, we make it our top goal to give the students that we work with every tool to succeed.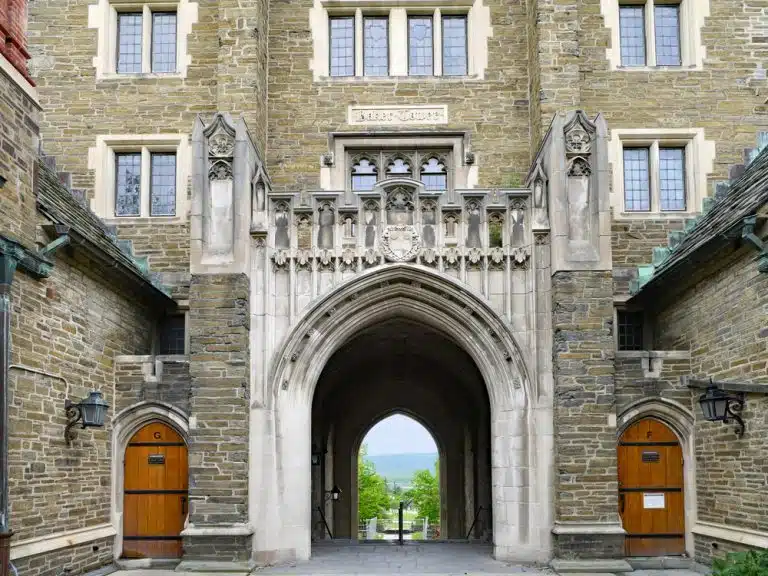 That is just one of the reasons why 75 percent of the students that we work with each year get into Ivy League schools or top-10 schools elsewhere in the United States.
So, if you are asking yourself, "Am I good enough for Cornell," want to know your chances of getting into Cornell, or simply want to gain some basic knowledge about the admissions process at Cornell, then you have come to the right place. 
Let's get started! 
Cornell admissions requirements
In terms of actual admissions requirements at Cornell, students should know that there is actually no specific list of courses that a high schooler must take in order to be considered. Even the very best schools in the United States – Cornell included – do not have a required course list that students need to fulfill in high school because admissions committees understand that students are typically at the mercy of the high school that they go into when it comes to the classes that are actually available to them. 
With that being said, there is a general list of types of core and elective courses that admissions officers at Cornell certainly look for when they are evaluating a student's application and high school course list. Those courses include the following:
Four years of English

Four years of mathematics

Four years of social science

Four years of laboratory science 

Four years of a foreign language 
On top of that, admissions officers love to see that students have taken part In some creative art related courses as well as electives. Above all, admissions officers want to see that any applying student took full advantage of their time in high school to pursue all of their academic and intellectual interests and passions. 
But taking these courses is not nearly enough to ensure your chances of getting into Cornell. On top of that, you are going to have to earn very impressive grades throughout your time in high school. In fact, the average grade point average for students that end up getting into Cornell is a highly impressive 4.07. 
From this information alone it is abundantly clear that any student that wants to get into Cornell is going to have to be at the very top of their graduating class in terms of performance. On top of that, any student that wants to prove that they can excel within the rigorous and competitive academic spirit at Cornell is going to want to take as many AP or IB classes that they can. 
Both AP and IB courses are weighted out of a GPA scale of 5.0 as opposed to a 4.0 scale. This gives students who take many AP or IB courses the added benefit of potentially improving their overall grade point average. In fact, the simple fact that the average GPA at Cornell is above a straight A 4.0 is a clear indication that the majority of students that get in are taking AP or IB classes in high school. 
However, that potential boost to your GPA is not the main reason to take AP or IB courses. The main reason is because these classes are styled after introductory college courses in both style and difficulty. So, if you are able to take many AP or IB courses and excel in them, admissions committees at top undergraduate programs (such as Cornell) will be confident that you will also succeed at their school! 
Another great way to gauge a school's admissions expectations is to look at the average scores of both the SAT and ACT. The SAT and ACT are the two standardized tests that American students have taken for many years. 
For students that take the SAT, the average score for students who get into Cornell is 1480. The 25th percentile score is a 1420 and the 75th percentile score for students who get into Cornell is a 1540 out of the perfect score of 1600. 
For students that take the ACT, the average score for students who get into Cornell is 34. The 25th percentile score is a 32 and the 75th percentile score for students who get into Cornell is a 35 out of the perfect score of 36. 
From these scores, it is abundantly clear just how strong of a test taker you have to be to get an above average score compared to students that get into Cornell. This information is, of course, very important. What is also important is to know that every school in the Ivy League recently adopted a standardized test optional policy. This policy, which makes taking the SAT or ACT and sending scores in as a part of a student's application an optional choice began due to the COVID-19 pandemic. 
Right now, it is not entirely clear what the future holds for standardized tests at the Ivy League. Here is what Cornell has to say about its current policy:
"The SARS-COV-2 pandemic emergency has led to many SAT and ACT administration cancellations," the school announced. "Due to this extraordinary circumstance, students seeking to enroll at Cornell University beginning in August 2022 can submit their applications without including the results from ACT or SAT exams. This will be true for both the Early Decision and Regular Decision rounds of review.
"For All Applicants to Current and Future Terms: Please do not feel you need to take exams unless you are able to take the exam locally near your home and you feel safe in doing so. As a reminder, we will evaluate your application without standardized testing. For your health and safety, please always adhere to your local, state, and national COVID-19 guidelines."
However, Cornell also takes time to make it clear that the test optional policy is far from something that should be considered a sure thing for future applicants. If you are applying to Cornell during the 2022-23 cycle, you are probably safe to assume that the exams will still be optional. If you are planning on applying after that, however, you will want to make sure to keep up with current details regarding the policy, and you may even want to plan to take either the SAT or ACT just to be safe! 
Here's what Cornell has to say about the future of the test optional policy at the school:
"Cornell overall has not planned to adopt a test-optional admission policy permanently," the school says. "As appears to be true at test-optional colleges and universities, we anticipate that many students who will have had reasonable and uninterrupted opportunities to take the ACT and/or SAT during 2020-2021 administrations will continue to submit results, and those results will continue to demonstrate preparation for college-level work.
"Students who have taken a test, or even more than one test, but would still prefer not to submit those results, can make that choice."
While the tests are currently optional, students who want to get into top schools should be aware that approximately 2 million high school students took either the SAT or ACT in 2021. That is a clear sign that despite the fact that the tests are optional at many schools across the United States, students still see the tests as a very helpful tool to get accepted to schools. In fact, it is quite likely that many of those students that took either the SAT or ACT last year had goals of getting accepted to Ivy League schools.
What is the acceptance rate at Cornell?
While Cornell is considered one of the hardest schools in the United States to get into, it is actually considered one of the less competitive Ivy League schools. Perhaps that is why the application pool at Cornell is typically higher than those of the other Ivy League schools. Last year, a grand total of 67,380 students applied to Cornell. 
From that massive pool, just 5,836 students ended up getting in. That equates to an acceptance rate of 8.7 percent for the graduating class of 2025. Keep in mind, just because Cornell is one of the easier Ivies to get into does not mean that it is easy to get into by any stretch of the imagination. In fact, it is still considered one of the very hardest schools to get into in not only the United States, but also the entire world! 
If you are interested in seeing how Cornell compared to the rest of the Ivy League in terms of acceptance rate, take a look at the helpful table below:
What we know about Cornell's "ideal" student
So, we've covered some of the most basic information that any student who is interested in applying to Cornell should know. Now that you have these answers, you may actually be able to answer the question. "Am I good enough for Cornell?" from a grades and standardized test perspective. But the admissions process at Cornell goes much further than that.
One way to improve your chances of getting into Cornell is to know precisely what the school looks for in its "ideal" student. So that is how we will wrap up this informational piece, by going over what the admissions committee at Cornell looks for in students that apply to the school.
Let's take a look.
Cornell looks for intellectual potential
One of the most important things that Cornell looks for in high school students that apply to the schools is students that show a great amount of intellectual potential. This generally refers to students who have proven that they can excel at the highest levels that they have so far reached.
Cornell wants to make sure that if you are accepted, you will take full advantage of the resources and faculty available to you. Showing that you went above and beyond to continue learning and expanding your passions and interests is a great way to improve your chances of getting into Cornell.
Cornell looks for students who know the importance of balance
Another important thing to know is that Cornell is not looking for students who simply lock themselves in their bedroom and study for all four years of high school. Of course, excellence in the classroom is important, but it is not the only thing that admissions officers at the school look for. Cornell is looking for students who have many passions inside and outside of the classroom, and wants to accept students who know how to utilize their free time.
Cornell is not a place ALL about hard work. In order to be truly successful here, students are expected to find ways to make use of their time out of the classroom other than just studying and preparing for their next exams. A great way to prove that you are that kind of student is by talking about your extracurriculars that you took part in during high school to show that you know how to work hard and play hard!
Cornell looks for students of high character and integrity
Without a doubt, one of the most important things that any ivy League school has is its reputation. After all, it is their reputations as some of the best learning institutions that allow them to attract such incredible faculty and students. It also is what allows them to continue to make money so that they can pay for improvements for the students who learn at the school.
One of the best ways for schools like Cornell to guarantee that they maintain a great reputation is by admitting students with high character and integrity. After all, the things that you accomplish at Cornell and after you graduate from Cornell will go on to reflect very positively upon the school itself.
So, how can you show that you are a person of high character and integrity? Get involved in your community during your high school years. Whether that means taking part in school government, volunteering with a local charity, or anything in between, showing that you put others before yourself will absolutely help you get into Cornell.
Another great way to prove your high character is through your personal essays in your application. These essays are a very important part of your application to Cornell and making sure that you answer the questions honestly will help the admissions committee at the school learn more about you as a person.
Cornell looks for students who aren't afraid to lead and get out of their comfort zone
There is a reason why so many men and women who once studied at Cornell end up becoming global leaders in their respective fields. The students that are accepted to Cornell often show clear signs that they are natural born leaders who love to take initiative and are not afraid to take risks if it means that they will be able to learn new things, accomplish goals and more.
Students can show that they are cut from this cloth through their actions in the classroom and extracurriculars in high school, but they can also discuss their desire to lead and take initiative in their personal essays as well!
Will you get into Cornell?
It is impossible to know whether or not you will get into Cornell until you complete your application. One thing that can be known, however, is that working with AdmissionSight will improve your chances! After all, 75 percent of the students that we work with end up getting into an Ivy League school or a top-10 program elsewhere in the United States.
If you are curious about learning about how AdmissionSight can improve your chances of getting into your dream school, contact us today for a free consultation.