Free Online Courses at UCLA
Does UCLA Offer Online Courses?
Does UCLA offer online courses? Free online courses at UCLA are available in UCLAxOpen, an open-access education made available to the public to remove obstacles to education and to improve the link between the community and UCLA. The purpose of these cost-free online courses and seminars, which bring UCLAx to audiences all around the world, is to offer chances for lifelong learning that are both topical and relevant.
Now, let's get to know UCLA a bit more. The University of California, Los Angeles (UCLA), which is in western Los Angeles close to the Westwood shopping district and Sunset Boulevard, is home to 31,600 undergraduate students and 14,3000 graduate students who pursue education in a variety of fields. Since its founding in 1919, the institution has steadily improved both its reputation and its standing in the academic community.
As one of the most important employers in Los Angeles County and the surrounding area, UCLA has a major and positive influence on the local economy. Students are encouraged to participate in charitable activities such as volunteering and fundraising events and to make a positive contribution to the community that surrounds their school.
The medical school's reputation for excellence not only attracts the best students but also raises the bar for healthcare throughout the county. The professional schools of health science run the Medical Center, which is regarded among the best in the country, as well as the hospital and primary care clinics located throughout Los Angeles.
Students travel from all over the world to attend UCLA because of the university's preeminent academic programs, research, and athletic programs. The UCLA Bruins participate in intercollegiate athletics at the Division I level of the NCAA and are members of the Pac-12 Conference. They have won dozens of national titles. Students receive instruction from eminent faculty members and are made aware of ground-breaking research being conducted on campus while in the classroom.
Research can be conducted in a variety of fields, including environmental concerns, data science, social sciences, and public health, in which students can collaborate with their respective teachers. The optimism that drives UCLA to reimagine what is possible is reflected in the university's numerous academic and research programs, which are recognized for their quality and breadth.
What Courses Can I Take Online For Free?
There are a wide variety of topics that can be covered in free online courses at UCLA. If you're interested in "What courses can I take online for free?" some cover topics including education, digital technology, languages, business and management, finance, environmental studies, and health care and counseling.
Aircraft Structural Integrity Fundamentals
This is a quick class that offers training online, and you should be able to finish it in fewer than 24 hours. Students will receive instruction from an industry professional on the fundamental design concepts that will assist them in preventing the failure of important aircraft structures. Students will go over the fundamentals of things like damage tolerance design, static strength, and safe-life approach.
What the students can learn:
Evaluate fatigue design philosophies.
Understand fatigue design failures and suggest prevention measures.
Build Your Resilience and Cultivate Happiness
Since UCLA is one of the top schools for Humanities and Social Sciences in the US, free online courses at UCLA often tackle these fields of study. During this trying time, stress and anxiety can have a significant impact on a person's mental and physical health, and this can happen to anyone. The goal of this session, which will last for one hour, is to assist students in the development of skills that will lessen the impact of stress, reduce burnout, and promote overall resilience and happiness. Once you have learned strategies to effectively manage stress, you will discover that the possibilities are limitless.
What the students can learn:
Gain a better understanding of the distinction between stress and burnout.
Identify at least three skills that you can include in your own life to boost your general happiness and resilience.
Learn how to re-wire negative thought processes.
Practice simple approaches for managing stress.
Career Success Series: Leveraging LinkedIn for Job Seekers
LinkedIn is now more significant than it has ever been as a tool that may assist you in networking with other people and is an excellent source for seeking employment opportunities.
This session will help you understand how you may effectively exhibit your professional brand on the world's #1 networking and recruitment site, LinkedIn. It doesn't matter if you just joined LinkedIn or if you need to update your profile; this session will assist you in doing so.
What the students can learn:
Familiarize yourself with the helpful tools and features that LinkedIn has to offer.
Learn how to maximize the visibility of your profile to potential employers.
Investigate several methods for growing your professional network and establishing your reputation in the industry.
Design a Brilliant Career and Find Your Professional Purpose
This workshop is led by professionals in the field of design education and has a career focus. It is intended for students who have recently enrolled in the Design Communication Arts or UX certificates; however, it may also be relevant for any designer who is interested in switching their design specialty or is getting close to graduating.
The course will focus on developing personal narratives, creating portfolios, and positioning oneself for professional progress.
What the students can learn:
Acquire an understanding of the current condition of the design business, both on a global scale and specifically in the Los Angeles area.
Recognize the role that the Design Communication Arts program can play in advancing your career within the design industry.
Receive individualized academic and professional counsel from the head of the Visual Arts department.
Network with other students who share your interests.
Writing With Confidence
Writing is a part of everyone's everyday lives, whether it be tweets or SMS, emails or letters, work memos, or other professional documents. Writing is a part of your daily existence.
Anyone who wants to become more self-assured in their writing and gain knowledge about the tools that are accessible to them in the Written Communication curriculum can use this introductory session that lasts for three hours as a springboard to get started.
Participants in the workshop take part in talks and writing activities centered on the topic of potential inhibitions and discomforts that may arise when writing, as well as goals for improving their writing and methods for accomplishing those goals.
When students leave the workshop, they will have a better awareness of how to enhance their writing skills through applicable courses in the Written Communication curriculum, as well as how to write with a greater level of confidence.
What the students can learn:
Engage in a discussion about the aspects of writing that cause you tension and anxiety in order to identify techniques that will boost your confidence.
Carry out activities that provide you with the opportunity to hone your abilities in an encouraging setting.
Apply what you've learned in other areas of your life to the craft of writing.
Acquire some fundamental pointers on how to create writing that is powerful and persuasive.
Are Online College Courses Worth It?
Free online courses at UCLA are offered for students who wish to supplement the education they get on campus as well as for those who are just interested in expanding their educational horizons. Students get access to a higher level of education using various academic programs and courses that are offered online. Students from other countries as well as transfer students are encouraged to apply. Now, let's discuss "Are online college courses worth it?"
Students enrolled in online classes offered by the University of California, Los Angeles (UCLA) have unrestricted access to all course materials, allowing them to study whenever and wherever they choose. Real-world application is emphasized in each one of the classes, which are all led by working experts in the relevant fields. These are ideal for people who have a lot going on in their lives or work full-time jobs but still want to pursue an education at one of the most prestigious universities in the United States.
The educational options provided by free online courses at UCLA are practical without bounds. Participants in an online course are offered the same educational opportunities, access to materials, and opportunities to demonstrate their knowledge as on-campus students.
The University of California, Los Angeles (UCLA) Extension is one of the nation's oldest, largest, and most comprehensive providers of continuing education. It combines top-tier academics with practical, real-world applications. You can enhance the abilities you already have, or you can investigate a completely new field of interest, using the flexibility and convenience offered by online learning through UCLA Extension.
How Do I Choose A Course At UCLA?
It can be difficult to decide which among the free online courses at UCLA to take because there are so many different academic subfields and programs that cover such a broad range of topics. To answer the query "How do I choose a course at UCLA?" the following are some pointers that will assist you.
Make a choice based on the criteria that are important to you.
The first thing you need to do is think about what you hope to gain from taking the class. Will the material in the course boost your performance on the job or help you develop your skills? Do you wish to investigate the possibility of changing careers in the future and find out what a new topic of study might offer you? You will be better equipped to choose the class that best suits your needs if you answer these questions.
Spend time exploring and browsing.
You can obtain a better understanding of which online course aligns with your learning objectives by consulting the General Catalog of the University of California, Los Angeles. You might discover some previously undiscovered classes that are a good fit for your interests. Have a look around to see if there is a summer session or free online course at UCLA that corresponds to the field of study that you are interested in.
Make sure you read the course outlines.
Examine each course's description, class syllabus, and learning objectives when multiple classes meet your criteria at the same time. Determine whether it is at the appropriate level for you. It is essential to enroll in a class that corresponds to your level of experience so that you can have the best possible experience learning in the accelerated format.
Become familiar with the instructor.
Some students' decisions regarding enrolling in a class are heavily influenced by the individuals who teach them. You can research your instructor online to find out more about their areas of specialization, projects, and methods of instruction.
Eliminate some of the available options.
After you have been familiar with the educational opportunities that correspond to your objectives for learning, the following step is to choose the educational opportunities that interest you the most. If there are two or three free online courses at UCLA that meet all your requirements, all you must do is pick one, to begin with, and keep in mind that you are free to pursue additional training at any time in the future.
Your access to no-cost personal enrichment and professional development seminars and courses through UCLA Extension is made possible by the online platform known as UCLAxOpen. AdmissionSight can assist you in navigating through these free online courses at UCLA and help you choose the best fit for your learning goals. Now, if getting into UCLA is your goal, AdmissionSight is the right place to consult.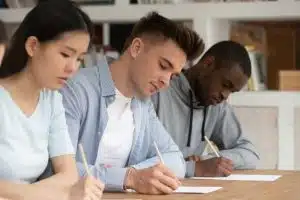 At AdmissionSight, we have over 10 years of experience guiding students through the competitive admissions process to get accepted to the top universities in the world. On average, 75% of our students are admitted to an Ivy League university, Stanford, MIT, UChicago, and Caltech, one of the highest track records in the industry. Feel free to set up an appointment today to book your initial consultation.