What Are The Easiest Masters Programs To Get Into?
What makes a university easy?
What makes a university easy? The ease of entry into a college or university depends on a few different things. Not all institutions are created equal; some are undoubtedly easier to enter and graduate from than others. Comparing a prestigious university like Harvard or Yale to others that are obviously not in the same category is difficult. However, what precisely makes a university simple? What are the easiest masters programs to get into?
Let's discuss a few variables to consider, as prepared by AdmissionSight:
Easiest masters degree programs to get into
What is the easiest masters degree to get into? A master's degree is necessary if you want to change careers. You can enroll in a program with your present undergraduate degree that teaches something completely different while sharing the essentials. You might just desire to change jobs because you're unhappy with your current workplace or for any number of other reasons.
Here are some of the easiest masters programs to get into:
Healthcare Administration
Median Salary: $84K/year
Average Tuition Costs: $30,000+
It's unlikely that any nursing or medical graduate students will tell you that school is simple if you ask them. However, a related field that is less time- and coursework-intensive is healthcare administration.
For healthcare professionals already employed in the sector, many graduate degrees in healthcare administration are available. As a result, it may be more easily modified to fit different timetables for people who work. Additionally, the field of healthcare management is expanding, particularly in light of the COVID-19 pandemic. With this degree, you'll have no trouble obtaining profitable work possibilities.
Organizational Leadership
Median Salary: $77K/year for MS, $89K/year for MBA
Average Tuition Costs: $13,000-$32,000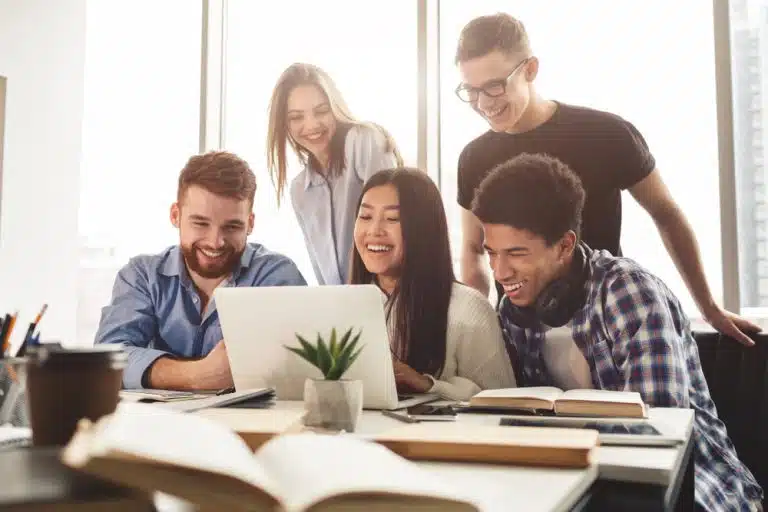 Corporate businesses are constantly searching for the newest ideas to improve productivity and expand. More people than ever are pursuing degrees in organizational leadership. You will gain knowledge of valuable business abilities, including change management, communication, and team management—aspects that many might take for granted, particularly if you have prior corporate experience.
The enormous amount of flexibility you can have while studying is what distinguishes this master's degree from other degrees. Because so many upper-level executives enroll in these programs, they are designed to fit a 9–5 work schedule; as a result, part-time, online, and hybrid studies are common. In terms of a simple degree versus a rich profession, it's also a field with a lot of market potential.
Sports Management
Median Salary: $57K/year for MS, $59K/year for MA, and $62K/year for MBA
Average Tuition Costs: $9,000-$30,000/year
With many colleges offering totally online programs, earning a master's degree in sports management online is simple. If you have some prior experience in the sports sector, a lot of the curriculum will be more practical and simpler for you.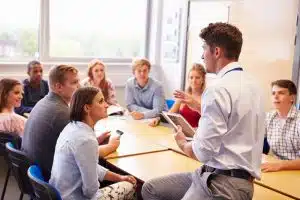 The majority of programs allow you to finish your degree on your own terms because they are flexible. Students say the material is less demanding than in other programs, allowing for a healthy balance between school and life. In fact, many master's degrees in sports management can be obtained in as little as one year.
Education
Median Salary: $63K/year with a Master of Education (MEd)
Average Tuition Costs: $52,000
A teacher's profession that is secure can be attained with a master's in education. In reality, the lack of teachers in many US areas makes this degree desirable. The requirements for education degrees vary by state; however, some institutions provide one-year programs (two years is more common).
Additionally, education gives you the chance to specialize in a variety of areas, from early childhood education to educational leadership—this makes things simpler because you have more freedom to choose a sub-field that you are proficient in and enjoy!
Communication
Median Salary: $68K/year with an MA in Communication
Average Tuition Costs: $10,000-$20,000/year
One of the most functional graduate degrees and one of the easiest masters programs to get into is a master's in communication. A communications degree can be used to advance your career in a wide range of fields, including academics, public relations, entertainment, and many more. Numerous universities offer flexible and online communications degrees, some of which can be finished in as little as one year!
Online masters programs with the easiest admissions
What are the online masters programs with the easiest admission? The shortest and most flexible online master's degree programs are also among the easiest master's degree programs. Many workers want to quickly advance their careers by earning an online Master's degree. More than that, though, some people are looking for the easiest masters programs to get into.
Business Communications
School: Marist College
School Location: Poughkeepsie, New York
Degrees: MA in Integrated Marketing Communication
Excellent communication skills are crucial in the business sector. You can gain an advantage over the competition by pursuing an easy online master's degree in corporate communications.
You might wish to look into an easy online Master's in Corporate Communications if you have excellent communication abilities and want to work in business. However, since these online master's programs will heavily emphasize writing and research, you must absolutely adore both. In PR, marketing, advertising, and communications, graduates can find employment.
Education and Teaching
School: City University of Seattle
School Location: Seattle, Washington
Degrees: Master in Teaching program
One of the most significant jobs in our society is played by teachers. Obtaining an easy online master's in teaching could be the answer if guiding today's youth into the future is your calling.
This one should go without saying. Want to increase your income in the field of education? Try getting your Master of Teaching. Courses cover pedagogy, instructional strategies, educational psychology, behavior management, curriculum, test tasking, and other topics. Additionally, virtually every state offers online programs for instructors, making it one of the easiest masters programs to get into.
With a teaching license and an online master's degree in education, many teachers can increase their present wages. A master's degree in education can also help some people improve their professions by allowing them to work in a different or more specialized capacity (MEd). A few examples include special education teachers, site principals, curriculum specialists, education administrators, and instructional leaders.
Criminal Justice
School: Wayland Baptist University
School Location: Plainview, Texas
Degrees: Master of Arts (MA) in Criminal Justice online program
Criminal justice is a simple second master's degree to earn online. This convenient online master's in criminal justice can be the best option if you want to further your career in law enforcement, criminology, or the legal system. On the topic of justice studies, there are a lot of online programs as well.
If you're interested in learning more about criminal behavior, laws, psychology, and corrections theory, you might want to consider earning an easy online Master's degree in criminal justice. Devoted graduates get jobs in municipal administration, police enforcement, homeland security, or other relevant institutions and industries.
Human Services
School: Wilmington University
School location: Wilmington, Delaware
Degrees: Master of Science (MS) in Human Services program with a specialization in Administration of Human Services or Human Services Practice.
A quick and simple online master's in human services can provide you with the skills you need to answer the call to serve your fellow human beings. In this area, there are a lot of online degree programs as well.
It is a wide-ranging field that gives students a variety of employment options, including those in social services, health care, mental health counseling, school counseling, and other fields. Project management and human resource management are two other possible careers for graduates. Check for an easy online graduate degree in human services if you enjoy helping others or want to witness social justice in action.
Educational Leadership
School: East Carolina University
School Location: Greenville, North Carolina
Degrees: Master of Arts in Education (MAEd) program or Educational Leadership (EdD) Higher Education Administration concentration program or Pre-K-12 concentration program
There will always be a need for professors, faculty, instructors, and teachers. Are you hoping to advance your position in the educational field? The best option might be to earn an easy online master's in educational administration.
An easy online master's program in educational leadership is worth looking into if you're already working in the field of education. For individuals who desire to lead schools, whether they are public or private, it is a perfect fit. or in higher district positions, won't often call for a thesis. Win!
Healthcare Administration
School: Weber State University
School Location: Ogden, Utah
Degrees: Executive Master of Health Administration (eMHA) online program
Healthcare administrators are more important than ever to society. Healthcare administration is one of the easiest masters programs to get into, can be obtained easily online, and can lead to a satisfying career. There will be some math and finance requirements for an MHA. So, take a close look if you're interested in that and want to work in the healthcare industry.
You'll study courses in healthcare planning, ethical decision-making, and finance, among other topics. Graduates with an online Master's in Healthcare Administration can work in hospitals and healthcare institutions at the highest levels of administration, frequently with a high salary to match the position's level! Health services managers and human resources managers are among the positions.
Sports Management
School: University of Miami
School Location: Miami, Florida
Degrees: Master of Science in Education in Sport Administration (M.Ed.)  program
Sports management is one of the simplest online master's degree specialties. An online master's in this field may be the best option if athletics is your greatest passion.
If you enjoy business, people, and sports, this is a no-brainer. Students can examine business concepts including statistics, finance, marketing, and public relations with this online program. They also look into the links with sports.
People who want to work as sports agents, managers, athletic directors, or in other fields related to sports may consider pursuing one of the easiest online master's degrees in sports management.
Public Administration
School: Valdosta State University
School Location: Valdosta, Georgia
Degrees: Master of Public Administration (MPA), Public Sector Management concentration online, or Public Policy concentration online.
A quick online master's in public administration can be just what you're looking for if you want to not just change the world but to lead the way.
For people looking for careers in the government or public sector, an online master's in public administration might be compared to an MBA. You'll study topics including policy analysis, strategic planning, financial decision-making, accounting technology, and more in this online graduate program. Jobs in local government, urban planning, and homeland security are available to graduates.
Library Science
School: Clarion University of Pennsylvania
School Location: Clarion, Pennsylvania
Degrees: MSLS in Information and Library Science program, concentration in Local and Archival Studies program, Reference and User Services Concentration program, or School Library Media program.
If you enjoy reading and researching, you might want to look into one of the easiest masters programs to get into in this field. Because a simple online Master's degree in Library Science can lead to more specialized jobs as librarians, archivists, and library directors, this subject is not as broad as Liberal Arts.
It should go without saying that students interested in this profession must enjoy reading and doing research. A master's degree in library science or information science may appear to be very simple at first glance. For those who are interested in digital librarianship, research techniques, and other topics, it is a high-quality education.
Liberal Arts
School: Faulkner University
School Location: Montgomery, Alabama
Degrees: online Master of Arts (MA) in Humanities program
Choosing to enroll in online degree programs in the liberal arts or liberal studies can lead to a variety of professional opportunities. A comprehensive, interdisciplinary graduate degree, a Master's in Liberal Arts is simple to earn online. The online master's degree programs focus on things like philosophy, teaching music, art, math, the social sciences, the natural sciences, and more.
This degree in interdisciplinary studies will appeal to graduate students who are creative and want to learn more about the liberal arts. Graduates can also succeed in a variety of occupations, including those in business, government, health care, family services, and other fields.
Consider applying to one of the easiest masters programs to get into. If you're still having trouble weighing your options, give AdmissionSight a call right away. Contact AdmissionSight college admission specialists for a free first session to discuss your college admissions strategies and how to start your application. Book your consultation today!