UCLA Music Program
A significant number of students pursue a bachelor's degree in music in order to broaden their knowledge and develop their abilities in preparation for careers as performing artists. It is not a choice to be made in a flippant manner if one is considering a career in music. It is incredibly competitive and needs a lot of practice and schooling over a long period of time. Therefore, enrolling in a program similar to the UCLA music program would be the wisest choice to make in this regard.
The Herb Alpert School of Music at the University of California, Los Angeles cultivates models for musical studies that integrate outstanding scholarship and practices, and engages through music with diverse communities on campus, throughout Los Angeles, and further afield. This is done with the understanding that all musical traditions are vital cultural expressions of our evolving global society. We will acquire further knowledge concerning the UCLA music program as well as the numerous performance ensembles that are housed there.
Does UCLA have a Music Program?
Does UCLA have a music program? Absolutely, yes! The Department of Music at UCLA offers undergraduate and graduate degrees in Western classical music, with concentrations in composition and performance, in addition to a specialized undergraduate program in music education for students interested in pursuing a career in the field of music teaching. In collaboration with the Herbie Hancock Institute of Jazz Performance at UCLA, jazz performance is also taught at the graduate level.
At the UCLA music program, the curriculum for the Bachelor of Arts degree in music lasts for four years and prepares students for professional success in an industry that is constantly evolving. This is accomplished by combining hands-on training and individual study with the cultivation of theoretical and historical context as well as artistic imagination.
The UCLA music program is centered on a core curriculum consisting of academic music courses, one-on-one work with artist-teaching faculty, and opportunities to engage with peers in large and small ensembles. The UCLA music program is aimed at students who want to combine fine musicianship with intellectual brilliance.
In addition to these fundamental music studies, the Music Education major provides students with professional training that can be completed in just four years and results in a Bachelor of Arts degree as well as a teaching credential. At the UCLA music program, students acquire the pedagogical abilities as well as the unique insights into theories and practices that are necessary to teach music to the varied student population of California and to provide leadership in the field of arts education.
At the graduate level, specialized studies can lead to the Master of Arts (M.A.) degree and the Doctor of Philosophy (Ph.D.) degree in composition; the Master of Music (M.M.) degree, and the Doctor of Musical Arts (D.M.A.) degree in all classical solo instruments, voice, and conducting; and the master of music degree in jazz performance.
Students who are interested in specializing in music history and literature should think about majoring in musicology. Students who are interested in specializing in global music should think about majoring in ethnomusicology. Both of these majors are available to students in the UCLA music program.
In the Herb Alpert School of Music at UCLA, the Department of Music, which is aligned with the Departments of Ethnomusicology and Musicology, encourages creative collaboration between performance and scholarship; a cross-cultural understanding and appreciation of musical expression in many forms; and a transformative engagement with other artists, audiences, and communities both local and global. In a nutshell, the UCLA music program does everything in its power to train students to create the music that the world needs today and in the years to come.
What is the UCLA Music Program like?
So, what is the UCLA music program like? The Herb Alpert School of Music at UCLA provides an approach to the study of music that is comprehensive and all-encompassing. The school strives to achieve the best level possible in musical performance, analysis, instruction, and creation within a diverse array of musical traditions. Classical music, jazz, popular music, traditional music from around the world, and developing forms in composition and new media are some of the types of music that fall under this category.
The UCLA music program's ground-breaking research encompasses a wide range of academic fields and all facets of musical life. This includes the study of musical history, culture, politics, ethnography, criticism, pedagogy, theory, performance, composition, and musical thought as both a discourse and cultural practice.
The Herb Alpert School of Music at the University of California, Los Angeles, pioneers new models for integrated musical studies by embracing an innovative degree program in Global Jazz Studies and a minor in the Music Industry. The Herb Alpert School of Music honors all musical traditions while maintaining a balanced emphasis on scholarship and practice.
The school especially the UCLA music program, places a high priority on civic outreach because it is located in a city that is well-known for having musical communities that are exceptionally vibrant and diverse. This allows the school to bring the life-changing power of music to the general public while also fostering a sense of purposeful engagement among its faculty and students.
What are the various UCLA Music Groups?
With the knowledge of the UCLA music program, it's natural to wonder what are the various UCLA music groups. At the Herb Alpert School of Music, there is a large amount of information to learn. Students have access to an abundance of opportunities to excel in a wide variety of musical traditions, including classical, contemporary, jazz, popular, and traditional music from throughout the world, thanks to the forty-five exceptional ensembles that are offered at the school.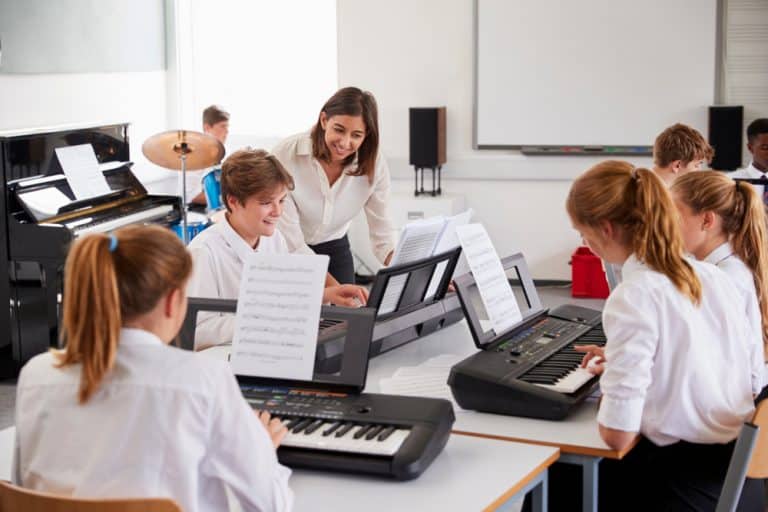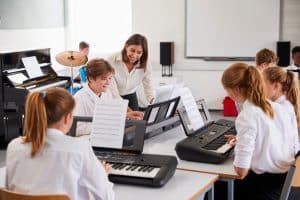 Students of the UCLA music program also provide world premieres of outstanding new pieces, including compositions by established composers, students, professors, and graduates, while being directed by performing instructors of the highest caliber in the world.
Because the UCLA music program is located in a city that is well-known for having exceptionally lively and diverse musical communities, the university is able to invite renowned guest artists to perform with students on stage, and the UCLA music program encourages the general public to attend its concerts and recitals so that they too can experience the life-changing power of music. The following are some of the music groups guided by the UCLA music program.
UCLA Symphony
The UCLA Symphony was established in 2002 and serves as the campus orchestra for the entire university. Its musicians come from all different parts of the academic community and it performs a wide variety of symphonic material. It has its meetings on Wednesday evenings from 7:15 to 9:45 PM, puts on one concert every quarter, and is available to all undergraduates, graduate and professional school students, instructors, employees, and associates of the University of California, Los Angeles (UCLA).
Concerts are held in Schoenberg Hall, and the Symphony is directed by advanced students studying conducting at both the MM and DMA levels, under the direction of the UCLA conducting department. There is a possibility of receiving credit for UCLA Symphony.
Opera UCLA
Opera UCLA is a program that is intended to provide students in the Voice and Opera Area with the skills that are necessary for them to achieve success in opera performance. Students are given the opportunity to take part in fully produced productions, and experimental performances, as well as Opera Workshop training in movement, dance, and scene work.
Its former students have performed at all of the world's most prestigious opera houses, including The Metropolitan Opera, La Scala Milan, Vienna State Opera, Paris Opera, Covent Garden, and the Los Angeles Opera.
Its students are able to continuously be exposed to new work thanks to the fact that it is located in Los Angeles, which is the creative epicenter for new opera production in our country. The curriculum is not only dedicated to teaching the skills necessary to understand the classic opera repertoire, but it also gives fascinating possibilities to engage with live composers and librettists, as well as the new works that they create.
The undergraduate and graduate student bodies are both quite small, which allows for more one-on-one engagement with our knowledgeable and committed faculty members. The faculty members teaching voice and opera work together to make certain that their students receive the most beneficial education and preparation possible.
UCLA Chorale
The UCLA Chorale is a mixed-voiced chorus of 110 voices that welcomes participation from any student at UCLA. Every year, the Chorale performs songs in a number of different languages and in a wide diversity of musical styles.
During the course of this ensemble's rehearsal process, general musicianship is developed, and training in choral singing is provided, all while working toward meeting high standards as a performing group. It is common practice for this ensemble to collaborate with the Chamber Singers in order to perform choral-orchestral pieces with the UCLA Philharmonia in the venerable Royce Hall.
Philharmonia
The UCLA Philharmonia is regarded as one of the most prestigious training orchestras in Southern California. It serves as the showcase ensemble for the Herb Alpert School of Music at UCLA. It puts on two or three distinct programs each quarter, each of which focuses on a particular aspect of the core symphonic and operatic repertoire, as well as the greatest in modern works that are rarely performed.
The UCLA Philharmonia is a performance ensemble that awards academic credit and is nearly completely comprised of music majors. However, suitable non-majors may also audition for violin and other positions when they become available. Auditions for the general public to participate in the UCLA Philharmonia are held at the start of each Fall Quarter.
Herbie Hancock Institute of Jazz Performance Ensemble
The Herbie Hancock Institute provides college-level training for some of the world's most talented young musicians by some of the most internationally acclaimed jazz masters in the world. Additionally, the Herbie Hancock Institute provides free music education programs for young people in public schools and communities all over the world.
Through the institute's signature programs—including Jazz in the Classroom, the Herbie Hancock Institute of Jazz Performance, International Competition, International Jazz Day, National Performing Arts High Schools Jazz Program, Peer-to-Peer Jazz Education Tours, and BeBop to Hip-Hop—millions of people have had the opportunity to experience jazz.
Since the Hancock Institute entered into a collaboration with UCLA in 2012, it has pushed jazz in new areas through the Hancock Institute of Jazz Performance at UCLA, which provides an intensive graduate degree that may be completed in just two years. Students are some of the most talented young musicians from all around the world and were chosen following a competitive audition process.
They are given the opportunity to study on full scholarships, as well as the resources to develop their own artistic voices under the instruction of well-known jazz artists and educators. In addition, students get opportunities to perform on a global scale and collaborate with other students and faculty members across musical genres.
UCLA Bruin Marching Band
The Solid Gold Sound of the UCLA Bruin Marching Band is a 250-piece ensemble that represents over 40 different academic majors on campus. This ensemble performs in its entirety at all home football games hosted by UCLA, as well as in smaller contingents at a wide variety of other collegiate sporting events, band festivals, motion pictures and television, conventions, and private events.
Music of Persia Ensemble
The Music of Persia Ensemble is dedicated to the performance of traditional forms of Persian classical music, such as the radif and the tasnifs (vocal repertoire). This is a group class in which the students sit in a circle and begin learning a gushe, which is a form of short melody, or a vocal composition of a defined dastgh, which is a sort of multi-sectional modal structure, phrase by phrase through the use of imitation and memorization.
Every quarter, we pick a different dastgah to focus on, and we work hard to learn major gushes and four vocal compositions that are based on that mode's structure.
Students have the option of studying setr and tr on an individual basis as well. Starting with the most fundamental concepts, students will steadily advance their performing techniques while simultaneously working on classical repertoire (also known as the radif) and various compositional styles.
The subject is presented in an oral-aural format, and efforts will be made to place an emphasis on the musical concepts, mnemonic techniques, and indigenous language that are utilized in traditional settings.
Music of Java Ensemble
The Music of Java Ensemble focuses primarily on the music of Central Javanese gamelan. Gamelan is a percussion-dominated musical ensemble that features tuned bronze gongs, bronze metallophones, and drums in addition to flutes, zither, voices, and a spiky fiddle. The ensemble is well-known for its intricate rhythmic patterns and one-of-a-kind vibe, in addition to its lush and powerful melodic range.
Old-Time String Band
The Old-Time String Band Ensemble, which was once known as the Anglo-American Ensemble, is dedicated to the performance of rural American folk music. Old-Time music is a kind of American roots music that draws its inspiration from much older traditional music cultures. It has a Scots-Irish background, but it also has a strong African-American influence.
The thrilling old-time subgenres of music such as Appalachian fiddle and banjo music, Mid-West fiddle melodies, North Carolina and Georgia string band music, Cajun/Creole fiddle, classic bluegrass, country blues, and jug band music will all be explored by this ensemble. This is the early country music that was popular in the United States, and it is presented here in all of its crooked, colorful, droney, funky, lonesome, soulful, danceable, and back porch grandeur.
Intercultural Improvisation Ensemble
The Intercultural Improvisation Ensemble engages in exploratory work with a variety of musical traditions and genres from throughout the world. Compositions of music, many of which are the work of students participating in the ensemble, combine a variety of musical instruments hailing from various parts of the world. Improvisational elements play an important part in the process of creating new pieces of music as well as preserving traditional ones.
Want to learn more about the UCLA music program? You've come to the right place. At AdmissionSight, we have over 10 years of experience guiding students through the competitive admissions process.
AdmissionSight can help you put your best foot forward when applying to college. Contact us today for more information on our services.