Boarding Schools in the U.S.
How Do American Boarding Schools Work?
Boarding schools are residential private schools distinguished by the fact that their students dwell on campus during the duration of the school year. Learn more about boarding schools as we go on.
How do American boarding schools work? They serve secondary school students yet are similar to colleges in that students live in dorms or residence halls. The major objective of a boarding school is to offer a learning environment where students may focus on their academics, develop, and realize their full potential.
The United States has more than 300 boarding schools.
The majority of boarding schools train their pupils for college-level work. The term "college prep" or "prep" can be found in many school titles as a result. Co-educational boarding institutions are the norm. However, there are a hundred or more single-sex institutions
Boarding schools come in several forms. Alternative and therapeutic schools cater to particular requirements including emotional and behavioral problems. Other schools provide programs for students with special needs and other learning disabilities. In addition, many young people and their parents seek military training, thus military schools mix academics and that training.
A few institutions are only residential.
In other schools, boarding and day students are mixed. The majority of students at a true boarding school live on campus. However, a school could have a sizable proportion of day pupils if it happens to be situated in a town or other substantial population center. Day students leave after the academic day. Even though they will return for sports and extracurricular activities, they spend weekends and evenings away from school.
Each school selects its own curriculum.
Every school must fulfill or surpass the basic curriculum content criteria set forth by the state in which it is located. Around 99% of boarding schools go above and beyond those minimum standards. In boarding institutions, academics come in a variety of flavors. Traditional and progressive are the two broad groups. Test-based programs, such as the well-known Advanced Placement program and the International Baccalaureate program, are common in traditional institutions.
Most schools have highly qualified teachers.
Look for the proportion of teachers with advanced degrees as you browse the profiles of the boarding schools on this website. Usually, there are large numbers because the high caliber of instruction received is required by schools. Teachers with postgraduate degrees typically possess a plethora of expertise in both their subject area and the art of instruction.
Boarding schools provide round-the-clock security.
Every boarding school's top priority is student safety. That's because a kid is in a class all the time. Schools are obligated by law to act in their capacity as the pupils' parents, or in loco parentis. Schools, therefore, make it their business to always be aware of where the child is. That doesn't even somewhat resemble a stuffy jail environment.
At a boarding school, kids are aware that inappropriate behavior has repercussions, nevertheless. All of that is covered by the agreement they make with the school. A code of conduct keeps a school community cohesive, enables it to run smoothly, and ensures that all community members benefit.
Boarding institutions combine extracurricular activities, academics, and athletics into one handy package.
The benefit of a residential school is clear to any parent who has had to transport a child about town to all the many sports and extracurricular activities she wants to participate in. Everything is centralized and self-contained.
International students are accepted at American boarding schools.
The level of education standard is high. Many families from abroad are attracted by the chance to study English as a second language and become fully immersed in American society. The fact that American boarding schools offer a strong intellectual foundation for college and university study is another reason why they are popular with international students.
The majority of American boarding schools offer a blend of academics, sports, and extracurriculars that parents and students from other countries find most suitable for their goals.
How Much Does Boarding School Cost In America?
How much does boarding school cost in America? According to the school district, the programs provided, and the number of instructors and staff required to support the student body, fees may change. The average annual cost of attending a boarding school is between $10,000 and $35,000, though students who qualify are frequently awarded scholarships and financial aid.
For students who meet the institution's income standards, some boarding schools even offer free tuition. Because some colleges do not include room, board, or other costs in their tuition, it is crucial to keep in mind that a cheaper tuition charge might not provide the greatest financial benefit. Make sure to investigate and evaluate every expense related to attending each boarding school.
Are There Free Boarding Schools In the U.S.?
You might wonder "Are there free boarding schools in the U.S.?" Less than 10% of schools are public, meaning that there aren't many public boarding schools. Those that are frequently very competitive. Many institutions don't charge tuition or just charge a minimal amount for boarding.
The list of some tuition-free boarding schools is provided below for your consideration.
Alabama
Alabama School of Fine Arts – Grades 7–12
A co-educational public school serving grades 7 through 12 is called the Alabama School of Fine Arts and is situated in Birmingham, Alabama.
Secondary School of Math and Science
For high school students who desire to take advanced math and science classes, there is the Alabama School of Math & Science.
Alaska
Mt. Edgecumbe High School – Grades 9-12
Hundreds of students in grades 9 through 12 are educated at the public boarding school Mt. Edgecumbe High School, which is situated in the city of Sitka.
Illinois
Illinois Math & Science Academy – Grades 10–12
Only 45 miles from Chicago, in Aurora, Illinois, is the prestigious public high school known as the Illinois Math & Science Academy. The institution is coed.
Minnesota
Minnesota State Academies – Grades PK–12
The Minnesota State Academies have two distinct institutions. There are schools for blind children among them.
Mississippi
Mississippi School for Math and Science – Grades 11–12
The MSMS, or Mississippi School for Math and Science, is a renowned school for bright 11th and 12th-grade students.
Mississippi School of the Arts – Grades 11-12
The Brookhaven-based Mississippi School of the Arts (MSA) offers grades 11 and 12. It is approximately 60 miles south of Jackson.
North Carolina
NC School of Science and Math – Grades 11–12
The Durham, North Carolina-based School of Science and Math was established in 1980. The institution is a public high school where students can pursue a unique curriculum.
North Carolina School of the Arts – Grades 9–12
In 1963, the UNC School of the Arts was established. More than 1,100 students in grades 9 through 12 are currently enrolled in this publicly sponsored school.
Oklahoma
School of Math and Science – Grades 11-12
The OSSM is a highly esteemed, publicly-funded co-ed high school that is situated in the center of Oklahoma City's downtown and is a short distance from the capital building.
Oregon
Chemawa Indian School – Grades 9-12
The oldest residential school in the country that is still in existence is Chemawa Indian School. It is situated close to Salem, Oregon.
Huntington School – Grades K–12
The K–12 Huntington School in Huntington, Oregon has a dorm for international exchange students.
Mitchell School – Grades K–12
A small school located in Oregon. In this boarding school, there are typically 60 pupils residing on-site at any given time.
Paisley School – Grades K–12
In Paisley, Oregon, a tiny charter school called The Paisley School educates K–12 students. The school was built in the early 1900s as a dorm.
Spray School – Grades K–12
Grades K–12 are taught at the Spray School in Spray, Oregon. Currently, 44 students are enrolled at Spray School right now.
South Carolina
Governor's School for Science & Math – Grades 11–12
South Carolina's Governors School for Science and Mathematics is a brand-new, cutting-edge high school for students who are academically interested in studying science and technology.
Governor's School for the Arts – Grades 11–12
The philosophy of Governor's School for the Arts and Humanities is to encourage an apprenticeship-style of art training.
Tennessee
Tennessee School for the Deaf –  Grades PK-12
In Knoxville, Tennessee, there is a boarding institution called Tennessee School for the Deaf. It was founded in 1844 and is proud of its low student-to-teacher ratio.
Texas
Academy of Math & Science – Grades 11–12
In the Texas suburb of Denton, there is a residential early college program called the Texas Academy of Math and Science.
Washington DC
The SEED School – Grades 6-12
One of the country's earliest public boarding schools was The SEED School of Washington, DC. It is a charter school that doesn't charge students any tuition.
What Are the Advantages And Disadvantages of Boarding School?
What are the advantages and disadvantages of boarding school? Core qualities like cooperation, honesty, respect, and diligence can be effectively instilled in students by enrolling them in a boarding school.
On the other hand, it could make your child homesick and make it hard for them to fit in and adapt to their new surroundings. However, these uncomfortable emotions are frequently merely a phase of transition, and in the end, resident students end up studying, living, and having fun together while creating a strong network of life-long friends.
Advantages
Special education and chance. In comparison to other educational settings, a boarding school offers a wholly distinctive educational experience with several benefits.
Conventional benchmarks. Many boarding schools honor and uphold the traditions they stand for, maybe especially those with older histories in Canada.
A close-knit group of academics. Students enroll in a learning environment that values education and has the potential to change them.
Global and international perspectives. For boarding schools, intensive international programs are a top priority.
Self-discipline-invoking daily routine. Boys and girls attending boarding schools develop self-reliance through a rigid schedule and separation from their parents.
Academic growth is unlike any other. A supportive "we're all in this together" environment at boarding school gives students the chance to practice teamwork.
Individual social and personal growth. The boarding school setting provides chances for social and personal development that are not available through other channels.
Mentorship. In a boarding school setting, teachers and older students are particularly supportive of younger students.
A setting for education outside of the classroom. The total immersion in school life that boarding provides for a comprehensive approach to learning that goes well beyond the confines of the classroom.
Culture of accountability and cooperation. All students are encouraged to learn more about how to get along with others in the boarding school setting.
Cross-curricular. Better integration of courses and programming is possible because of the additional time that boarding school provides.
Innovation in academia. When it comes to developing or implementing cutting-edge educational practices and advancements, many prestigious boarding schools are frequently in the lead.
Disadvantages
Parents and kids thinking about boarding schools need to be informed of certain potential drawbacks or issues because no school is flawless.
Pricier than alternative private school options. Undoubtedly, boarding schools are more expensive than other types of schools (although room and board are included in the cost).
The existence of bullying and the problems associated with it. Although boarding schools are not immune to bullying issues (as occasionally reported in the media), they are also well-positioned to address bullying through creative initiatives that promote student integration.
Moving away from home can be quite challenging. For many students, this is the most difficult aspect of boarding school, but it also encourages independence and personal development.
"Boarding school syndrome" can result from early boarding. This is a known issue, therefore parents should be cautious about enrolling children in school when they are too young or not yet developed enough.
How Do You Survive Boarding School?
The world of boarding school is an exciting one. Naturally occurring difficulties like homesickness and nervousness frequently come along with these wonderful developments. These life tips to answer the query "How do you survive boarding school?"
Pack a lot of clothes, supplies, and mementos from home.
This essential packing list and a few special personal items should be included. The more furnishings you bring, the more at home you'll feel right away in your new place. Your favorite winter coat, the diary you use every day, or some framed family photos—having these mementos will help you feel at home in your new place.
Have an open mind.
When you start boarding school, you'll learn a lot of new things; this is an enjoyable aspect of the experience! However, change also has a way of making us crave the comfort of the known. The sooner you open your mind to new ideas, various teaching methods, and the wide variety of people around you, the faster you'll learn to enjoy your new school.
Retain a clean environment.
Create a positive habit from the beginning. Although you might be accustomed to having your parents do particular household chores, attending boarding school requires new levels of independence and self-reliance. Your moment to shine has come!
Maintain contact with your roommates.
Few other activities can create the kind of bonds that living together can. Try to develop a relationship with your roommate. Make an effort to eat meals together, engage in enjoyable activities, and exchange advice on how to make it through boarding school. You'll probably discover that you share a lot in common.
Make use of your time.
The extracurricular activities available at boarding schools range from clubs and events to sports teams and theatrical shows. Make informed choices about how to balance your homework, social obligations, and leisure time, and decide which ones you can afford to devote time to. This will prevent you from making early overcommitments.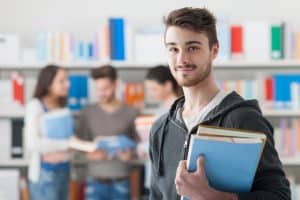 Pay attention to dorm teachers and parents.
The most important thing to remember is that dorm parents and teachers want to help. They have years of boarding school experience to offer. The most important boarding house advice we can give is to respect their experience and treat them as the wise, compassionate individuals that they are.
Develop time management skills.
You'll learn very soon in boarding school that procrastination is not your friend. With a strategy in place to master time management, enter your new school. Set clear goals for the day, create checklists of everything you need to get done, and prioritize your time. This is an important life skill, not simply a boarding school trick.
Look into off-campus possibilities.
There will be a ton of possibilities to keep you occupied on campus, but you should also do your research and explore off-campus opportunities. Off-campus initiatives, which range from school clubs to regional arts and cultural events, can broaden your horizons and make you feel more at home in your new environment.
Discover how to handle homesickness.
The process of adjusting to your new life at boarding school sometimes includes experiencing homesickness. The good news is that you'll have lots of people to connect with because many other people will be going through the same thing. Use methods like remaining active, interacting with new classmates and staying in touch with your family to overcome homesickness.
Enjoy yourself!
Most importantly, don't forget to have fun! Boarding school is a fantastic time for self-discovery and improved education despite all of the transitions. You can also have a lot of fun while investing in your future by making new friends, experiencing dorm life, and participating in a variety of extracurricular activities.
If you would like to know more about boarding schools and how they could benefit you, discuss with AdmissionSight. These are part of college preparations and could help your personal development before applying for college. Speak with AdmissionSight experts first through an initial consultation.