Dartmouth Traditions
The American Ivy League Dartmouth College, located in Hanover, New Hampshire, is well recognized around the country for its traditions, which are ingrained in the institution's student life. The administration continues to encourage some of these Dartmouth traditions while publicly discouraging others.
What are the Dartmouth traditions?
What are the Dartmouth traditions? If you are curious to know, continue reading; they may interest you.
Presidential Debates at Dartmouth
There is a lengthy history of having presidential candidate gatherings at Dartmouth College. Dartmouth has firsthand experience with the political process, whether it is through sponsoring town meeting-style forums, the first presidential "talk show" debate, or enrolling students to vote.
Students have the opportunity to experience the first-in-the-nation presidential primary in New Hampshire at Dartmouth, which is a common stop on the campaign route. The College has conducted debates with prominent presidential contenders for more than 25 years. Many Dartmouth alumni have chosen to pursue distinguished careers in journalism and administration as a result of their up-close-and-personal exposure to the electoral process.
Dartmouth Night and Homecoming
One of the Dartmouth traditions on our list is Dartmouth Night and Homecoming. Alumni reunite to join students in a historical celebration of the splendors of autumn at Dartmouth Night and Homecoming. Together, they participate in the vibrant annual procession and revel beneath the light of an impressive bonfire on the Green—a custom that has persisted since 1888.
A Dartmouth Night History
Dartmouth Night is held every Friday and is a tradition-rich event, even by the high standards of Dartmouth College. Homecoming weekend officially begins with a parade, an evening of speeches, and, of course, the iconic bonfire. Dartmouth students, alumni, and administrators have enjoyed the companionship, cheer, and College spirit for more than a century. For instance, during his first year of college, Douglas Vanderhoof wrote home to his parents, " This is one of the best nights for years… and of course, great enthusiasm was aroused." Even though a lot has changed since then, the iconic fire's timeless spirit endures.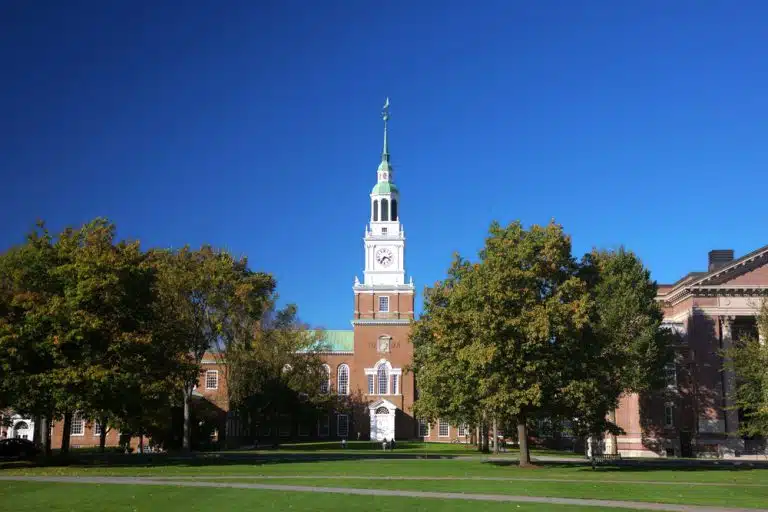 The custom has frequently been ruined or interrupted by violence, bad behavior, or divine intervention. The bonfire was postponed in 1954 because of an approaching hurricane and in 1963 because of a drought that generated fears of a large fire. The political atmosphere on campus prevented an official Dartmouth Night celebration from 1969 until 1972.
When it was still being built in 1976, radical student groups lighted the bonfire early in support of their political demands. The "Wimmin's International Terrorist Conspiracy from Hell" and " Womyn to Overthrow Dartmyth" dissident groups disguised as witches in 1987 hurled eggs at the platform during the speeches. And the freshmen sweep turned into full-scale riots in 1992 and again in 1997, wreaking havoc on downtown Hanover.
Despite the changes, Dartmouth Night and the Homecoming weekend games continue to offer the best opportunities for all members of the College community to demonstrate their commitment to Dartmouth, lest the long-standing customs fall by the wayside.
Winter Carnival at Dartmouth
Also, one of the Dartmouth traditions is the Winter Carnival. More than a century ago, the annual Winter Carnival was started as a way to highlight Dartmouth's renowned winter athletes. Most Ivy League athletes (147) with ties to Dartmouth have participated in the winter Olympics since 1924. The College won a tenth silver medal at the 2018 Winter Olympics to go along with its 13 gold and six bronze medals. In terms of total medals won, Dartmouth would rank 21st overall, just below Great Britain, if it were a nation.
Theme for this Year
In the fall of 2022, the Winter Carnival Council will decide on and make public the topic for Winter Carnival 2023.
How is the theme chosen?
Each year, the Winter Carnival Council's students choose the theme. The council also picks the best t-shirt and poster designs, organizes all Winter Carnival activities, such as the Opening Celebration, Polar Bear Swim, 99-Cent Ski Day, Human Dog Sled Races, and Ice Sculpture Contest, and takes part in them.
Contest for Ice Sculptures
During Winter Carnival, an ice sculpture competition is sponsored by the Winter Carnival Council and the Collis Center for Student Involvement.
First-Year Trips at Dartmouth
The First-Year Trips program has been welcoming new students since it was established in 1935. The "Trips" program works in conjunction with Outdoor Programs and New Student Orientation to offer peer-led, small-group connections in the areas on and around the Dartmouth campus. More than 350 upperclassmen and countless more college employees put in countless hours to acclimate newcomers to Dartmouth life while showcasing the variety of Dartmouth experiences.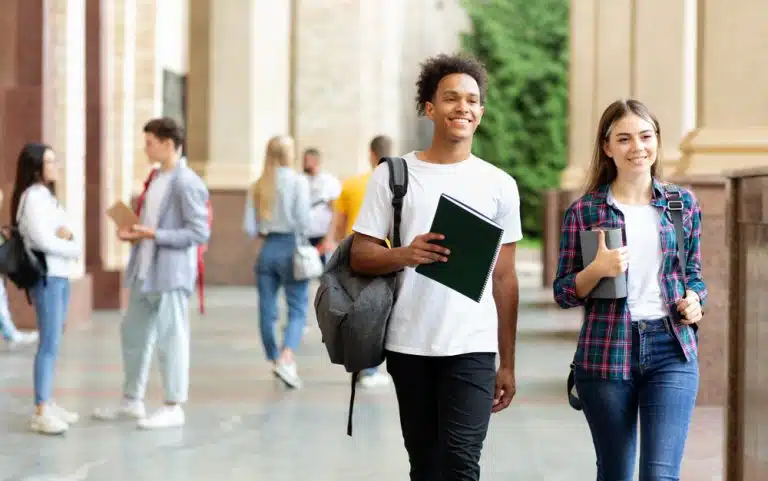 Returning students plan and direct Dartmouth's outdoor orientation program for new students. First-years discover Dartmouth, forge lifelong connections, and start coming together as a class while experiencing the wonderfully stunning natural surroundings of the area.
The Appalachian Trail runs through Hanover's downtown, so students can choose to stay close by or travel as far as Dartmouth's Second College Grant, a 27,000-acre wilderness area 140 miles northeast of Hanover with a wealth of recreational and research options.
One of the best outdoor infrastructures in the country, including the recently refurbished Moosilauke Lodge with its student crew, the Dartmouth Skiway, and the Ledyard Canoe Club, supports this abundance of opportunities.
Accessibility of the Program
Even with no skill level or previous outdoor experience, all incoming students are welcome and encouraged to join the first-year trips! Even if you're enrolled in another pre-orientation program, a transfer student, or an exchange student, Dartmouth will work with you to find a Trip that fits your comfort level, talents, and interests.
They genuinely think that there are several appropriate ways to engage with nature and that there are no improper methods. Dartmouth wants to give you the tools you need to socialize with your peers in a way that feels right to you.
The Trip kinds were created with a range of needs in mind. Additionally, they collaborate closely with numerous other departments and initiatives at Dartmouth, including Financial Aid, Student Accessibility Services, and the Office of Visa and Immigration Services (OVIS). Please get in touch with their New Student Orientation if you have any concerns about your capacity to engage. They will work with you and your campus partners to remove any obstacles to your participation.
First-Year Trips are expensive, financially speaking. To ensure that this price is automatically adjusted to reflect the financial aid you receive from Dartmouth, they collaborate closely with the office of financial aid.
Powwow at Dartmouth
Last on AdmissionSight's list of Dartmouth traditions is the annual Dartmouth Powwow, which has been held at Dartmouth by the Native community for more than 40 years. The competition attracts hundreds of contestants and participants from all over the nation who congregate on the Green to greet the spring and celebrate Native cultures and history, in keeping with Dartmouth's long-standing aim of teaching Native students.
History
In 1769, Connecticut-born Congregational pastor Reverend Eleazar Wheelock established Dartmouth College. Moor's Charity School was first founded by him in Lebanon, Connecticut.
Wheelock moved his educational operation to Hanover in the Royal Province of New Hampshire in an effort to turn his school into a college. The relocation from Connecticut came after a protracted and occasionally stressful search for resources and a charter.
One of Wheelock's first pupils, a Mohegan Indian named Samson Occom was crucial in helping to raise a sizable amount of money for the school. The property on which Dartmouth would be developed was donated by the Royal Governor of New Hampshire, John Wentworth, who also transferred the King George III-issued charter on December 13, 1769. In accordance with this charter, a college was established "for the education and instruction of Youth of the Indian Tribes in this Land … and also of English Youth and any others."
Dartmouth, however, fell far short of its educational objective throughout the first 200 years of its existence, with only 19 Native Americans earning degrees from the College. When John G. Kemeny was appointed the 13th president of Dartmouth College in 1970, the situation underwent a significant transformation. He promised to address the historical underrepresentation of Native Americans in higher education in his inaugural speech. John Kemeny established a Native American Program at the College and gave the Admissions Office the order for the first time to actively pursue Indian students in order to restore Dartmouth to its original objective.
How to get admitted to Dartmouth?
How to get admitted to Dartmouth? After listing the Dartmouth traditions above, in this section, let AdmissionSight discuss the requirements and deadlines at Dartmouth.
Dartmouth College is situated in a rural area in Hanover, New Hampshire. The ninth-oldest college or university in the country was formed in 1769. With 4,459 undergraduate students enrolled, Dartmouth is the Ivy League school with the smallest student body. It is a member of the Ivy League and one of the most exclusive colleges in the country. Students should prepare all through high school if they wish to be admitted to Dartmouth. You must attain a top GPA, top exam scores, and excel in and out of high school in order to be admitted. Your application must persuade the admissions committee that you will fit in with the college's community and that you will go on to significantly impact society at large in the future.
Statistics on Diversity at Dartmouth
The equitable representation of students from various backgrounds in the student body is a sign of a college's ethnic diversity. The majority of Dartmouth students are White, with a tiny Asian component. The diversity of races at the school is very high. People of color (BIPOC) or minorities make up 51% of students. The following table provides specifics on the ethnic breakdown.
| | |
| --- | --- |
| Race | Percent of Students |
| White | 49% |
| Black | 7% |
| Hispanic | 8% |
| Asian | 15% |
| American Indian / Alaskan | 2% |
| Hawaiian / Pacific Islander | 0% |
| Two or more races | 5% |
| International | 8% |
| Race Unknown | 5% |
How difficult is it to enroll at Dartmouth?
How difficult is it to enroll at Dartmouth? Many would say it's difficult. The number of admission offers for the class of 2025 was the lowest in 40 years and the lowest acceptance rate in Dartmouth's history.
Only 1,749 of the 28,357 candidates for the class of 2025 were accepted by Dartmouth, yielding an acceptance percentage of 6.17%. A record-high 2,664 students submitted early decision applications; 591 received offers of early admission, for an acceptance rate of 22%.
Although Dartmouth College has a historically low acceptance rate, your individual prospects of admission may be higher or lower based on the merit of your application.
What is the GPA requirement at Dartmouth?
What is the GPA requirement at Dartmouth? There is no minimum GPA requirement at Dartmouth. The university, however, emphasizes that the aspect that matters most in its admissions process is academic quality. In the 2020–2021 admissions cycle, more than 94% of applicants were accepted to Dartmouth and graduated in the top 10% of their class.
Class Rank and ACT and SAT Scores at Dartmouth
Ninety-four percent of the Class of 2025 has achieved a position in the top 10%, according to the most current figures available (Class of 2024), with the median SAT score for enrolled freshmen being 1520 and the average ACT score being 33. More than 500 of the admitted students in a normal year were either their high school class salutatorian or valedictorian.
There is no minimum ACT and SAT Scores at Dartmouth, similar to the GPA requirement. However, in terms of SAT scores, the middle 50% of accepted students achieved scores in the range of 710 to 770 on the Math part and 730 to 790 on the Evidence-Based Reading and Writing section. The middle 50% of accepted students received ACT scores between 32 and 35. The best thing students can do to ace the SAT or ACT is to start studying months before the test date and take numerous practice exams.
NOTE: For the class of 2027, Dartmouth is continuing its test-optional policy. Dartmouth College has extended its test-optional admission policy through the 2022–2023 application period as the high school class of 2023 starts looking for colleges amid the current COVID-19 pandemic. Dartmouth's extended policy pause complies with College Board and ACT recommendations to maintain "flexibility" in standardized test requirements during the pandemic.
What is the Dartmouth Class of 2026 Early Decision acceptance rate?
In the 2021–2022 admissions cycle, Dartmouth accepted 560 applicants into the Class of 2025 out of the 2,600+ early decision applications that were received. What is the Dartmouth Class of 2026 Early Decision acceptance rate? It is 21%, which is the same as the prior year.
Dartmouth Class of 2026 Acceptance Rate
Although not part of the Dartmouth traditions, for a spot in the 2022–2023 freshmen class, fewer applications—28,336—were submitted than the previous year. For comparison, Dartmouth received over 16,500 applications to fill the Class of 2012 seats. 6.2% of applications were accepted for the Class of 2026, which is the lowest percentage in school history. The admittance rate dropped into the single digits for the sixth time in the history of the school.
Notes and Trends in Admissions (Class of 2026)
The Class of 2026 admitted students from 73 nations and every state in the United States.
Of all American citizens, 53% identify as people of color.
About 17% of students will be attending college for the first time.
Invitees to the Class of 2026 receive Pell Grants at a rate of 19%.
About 15% of the Class of 2026's acceptances are from remote areas.
Of those admitted to ED, 22% were expected to graduate valedictorian or salutatorian.
 What are the application deadlines for Dartmouth?
What are the application deadlines for Dartmouth? The application dates at Dartmouth change a little from year to year, although they always fall around the same time of the academic year. The main application deadlines for students applying during the 2022–2023 admissions cycle are as follows:
1 November: Early Decision application deadline
1 November: Application deadline for Early Decision Financial Aid
Mid-December: Decisions about admission and financial aid are made online for Early Decision applicants.
3 January: Application deadline for Regular Decision
 Late December: Early Decision deadline for responses
1 February: Application deadline for Regular Decision Financial Aid
Late March or Early April: Decisions on admission and financial aid are made online for Regular Decision applicants.
May 2: Response deadline for Regular Decision
It's crucial for students to remember that Dartmouth College offers two separate admissions options, Early Decision and Regular Decision, when they are studying admissions schedules for the institution. Students who decide to enroll at Dartmouth College under the legally binding Early Decision procedure must complete their applications by the start of November and receive their admissions decisions by the middle of December.
Contrarily, candidates who choose the Regular Decision phase must submit their documents by the beginning of January and will hear from Dartmouth by the beginning of April. By the beginning of May, these students must also determine whether they want to commit to a college.
Dartmouth can surely give a lot of unforgettable memories to students. Your college life at this prestigious institution won't be complete without those traditions. If Dartmouth College is your college of choice, we at AdmissionSight are here to provide our quality consulting service and help you achieve your goals. Contact us to learn more about our service from our trusted team.