The 10 Colleges with the Highest Four-Year Graduation Rates
When it comes time to choose a college, you will likely be considering all kinds of factors. But one that you may not have thought that much about is whether a school has a high four-year graduation rate. So, why is this important, and why should you care?
Well, most students envision college as a four-year experience. But some students take longer than four years to complete their degree, and this can be for a variety of reasons. Some students will realize halfway into their college career that they want to change their major. This can mean taking extra required classes in order to fulfill degree requirements. Other students may need to take time off from school for a variety of personal reasons. Other students may need to retake certain required classes they have either failed or failed to complete. Still other students may decide midway through college that they want to complete a double major.
Any of these factors can derail your four-year plan, which is not the end of the world, but it will mean paying for additional time in school. This can also mean taking out more money in the form of student loans. So, while graduating in four years is by no means required at most schools, your college education can start to get much more expensive the longer you stay in school.
In this post we're going to look at the 10 schools with the highest four-year graduation rates. Going to one of these schools will not guarantee that you will graduate in four years, but statistically, these are the schools where students most often graduate in four years.
10. University of Notre Dame
The University of Notre Dame boasts a pretty stellar four-year graduation rate of 90%, meaning that 90% of their students graduate on time in four years. Part of the reason for this is Notre Dame students enjoy a very low student-teacher ratio. This means students get more time with their professors, and this can help keep students on track.
Students at Notre Dame also tend to choose fields that are rather career oriented. Majors like economics, finance, political science, and computer science are very popular, and students in these majors tend to want to get into the job market as soon as possible.
Since a big part of graduating on time is a matter of student satisfaction with their chosen school and major, having a high freshman retention rate is very important. Think of it this way. If you choose a school and end up unhappy after your first year or two, you might transfer to another school. This could mean retaking classes or taking additional classes for your major. These factors will likely delay your graduation. The freshman retention rate at Notre Dame is an astounding 98% meaning most students are happy with their choice of school.
9. The United States Naval Academy
Military colleges work a little differently from other schools because students are not simply students. They are also military officers in training. This means that their tuition is paid for by the branch of the military with which they are affiliated. In return for full tuition, students agree to serve as officers in the military upon graduation. This is a major factor in Naval Academy students wanting to finish their degree in four years.
The Naval Academy also has a fairly unusual admissions process. The academic standards are quite rigorous, and the Academy has an acceptance rate of only 7%. Additionally, like all military colleges, the Naval Academy requires that all applicants secure sponsorship from an elected official.
The Naval Academy also have a sky-high 97% student satisfaction rate, and this also contributes to the fact that Naval Academy students—or Midshipmen as they are known—are absolutely certain they have made the right choice.
8. Princeton University
You might think that with such rigorous academics, Princeton would have its fair share of students transferring to other schools, but this isn't the case. With a 90% four-year graduation rate and a 4% acceptance rate, Princeton students are determined to see their education through to graduation day.
Currently, Princeton is ranked #1 in U.S. universities, making it one of the most desirable schools in the world. Because of its exceptionally low acceptance rate and demanding admission criteria, Princeton students have already proven that they can handle the challenges of a Princeton education before they even arrive.
The other important factor in Princeton's high percentage of students who graduate on time, it their incredibly low student-teacher ratio at just 5:1. This means that 75% of Princeton classes have fewer than 20 students. This level of attention allows students to excel in their studies and stay on track for a four-year graduation.
7. Georgetown University
Next on our list of the colleges with the highest four-year graduation rates is Georgetown University located in Washington D.C. also at 90%. With an acceptance rate of just 12%, Georgetown also attracts students who are serious about their studies and have proven that they can handle a challenging course load.
Georgetown also boasts a student-teacher ratio of 11:1 meaning 55.4% of its classes have fewer than twenty students. This allows Georgetown students to have ample time with professors, and this has been shown to improve four-year graduation rates. Georgetown students also tend to enter college with a fairly good idea of what they plan to study.
Political science, pre-law, and finance are some of the more popular majors at Georgetown, and these majors tend to attract students who want to get right out into the workforce. Additionally, because Georgetown has a very high tuition, there are financial incentives to finish a degree in four years.
6. College of the Holy Cross
Ranked #33 in national liberal arts colleges, Holy Cross is known for excellent academics and athletics. In total, a full quarter of the student body participates in NCAA Division 1 athletics, which is far above the national average. Holy Cross also boasts a 10:1 student-teacher ratio and the freshman retention rate sits at 93%. This indicates that, in general, Holy Cross students are happy with their college experience.
Again, we find that the most popular majors at Holy Cross are economics, political science, psychology, and various sciences. Many of these majors require students to also pursue graduate school, and this can be a factor that motivates students to finish their bachelor's degree in four years.
One of the other factors that we have not yet discussed is the fact that nearly all of the schools on our list have a student body that is more female than male. While this is not necessarily a factor in on time graduation rates, it is an interesting feature.
5. Babson College
Located in Babson Park, Massachusetts, Babson College is one of the more competitive small liberal arts colleges on our list. They have a 25% acceptance rate, and their average SAT range for accepted students is 1330-1480. They also have a four-year graduation rate of 90%, which is in the top five for colleges nationally.
Known for its business programs, Babson tends to produce students who have a clear idea of what they want from their college education. This means fewer students shifting majors as their college career progresses.
Another factor for Babson's strong four-year graduation rate is the fact that 41% of Babson students receive some sort of non-loan financial aid. As we said earlier, students who rely on financial aid or loans for college are often more motivated to finish their degrees on time in order to avoid having to pay out of pocket or take out additional loans. With an annual tuition of $56,000 and room and board of $18,000, this can be a big factor for a lot of students.
4. Washington and Lee University
With a 91% four-year graduation rate, Washington and Lee University is a small liberal arts college with an enrollment of just under 1900 students. As a result, Washington and Lee is able to maintain a student-teacher ratio of 1:8 which translates into 77.2% of their classes having fewer than 20 students. This factor has been shown to drastically improve four-year graduation rates, but W&L also benefits from the fact that many of their students choose majors in such fields as: Business administration, economics, and political science. As we've mentioned before, these students are often motivated to finish their undergrad degrees quickly in order to move directly to the workforce or graduate school.
Another factor that influences W&L's graduation rate is their student satisfaction. Currently, they have a 97% satisfaction rate, which means that very few students are considering transferring or taking time off from their degree.
Washington & Lee also has impressive financial aid statistics with 47% of students receiving some aid, and an average aid amount of $54,500. This type of financial support also keeps students on track to complete their degree in four years.
3. University of Chicago
Ranked #6 in national universities, U of Chicago is known for excellent academics in a wide variety of fields. They're also known for students graduating on time and with low levels of debt. With an acceptance rate of only 6%, U of Chicago is nearly as competitive as many Ivy League schools, and their academic standards for admission are just as high. Their average SAT score range for admitted students is 1510 to 1580, and of course, you will need an excellent high school transcript.
But just because a school is competitive doesn't mean it has a reputation for graduating students in four years. Part of this is due to freshman retention rate. At U of Chicago, the freshman retention rate is a staggering 99%. This means that very few students are transferring to other schools or taking time off from their studies. This is one reason why U of Chicago has such a fantastic four-year graduation rate of 91%.
Another reason why students are so satisfied with the University of Chicago is their student-teacher ratio of 5:1. For such a large school, this ratio is almost unheard of. This means students get a high level of attention from their professors, which is a factor in on-time graduation.
2. United States Coast Guard Academy
Cadets at the U.S. Coast Guard Academy know what they're getting themselves into when they attend this military academy. With a rigorously structured student life, the Coast Guard Academy tends to attract students who have very specific plans about what they want to do in and after college.
Like other military colleges, the Coast Guard Academy requires military service upon completion of school, but they also require that students take part in summer activities prior to arriving at the academy, and during the summer following their third year of school. The goal of these activities is to further prepare students for their military service after college.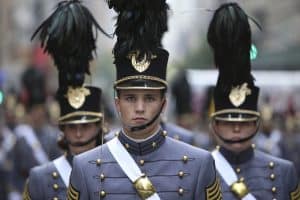 Unlike other military colleges, the Coast Guard Academy does not require nomination by an elected official. Instead, students are admitted based solely on merit. Other factors that contribute to their 91% four-year graduation rate are a low student-teacher ratio and high freshman retention rate of 97%
1. Duke University
The #1 spot for four-year graduation rates is Duke University. Duke is known for its world-class academics and is currently ranked #10 in national universities. Duke is also known for being a highly selective school with a tiny 6% acceptance rate. Students accepted to Duke typically have SAT scores that range from 1480 to 1570 and GPAs above 4.0.
Boasting a freshman retention rate of 98%, Duke students are ranked as some of the happiest in the nation. This contributes to their academic success and on-time graduation. Another factor that sets Duke apart and contributes to student satisfaction, is campus safety. Duke ranks as one of the country's safest campuses with 24-hour patrols and various resources for students.
And while the price of attending Duke is astronomical at $63,000 in tuition and $18,000 for room and board, Duke offers need-based aid to 38% of students. The average student need-based award is $55,000, which can help Duke students stay on track without worrying about finances. This coupled with a 98% freshman retention rate means Duke students are satisfied with their education and plan to graduate on time.
So, there you have it. AdmissionSight's list of the 10 schools with the highest four-year graduation rates. If you've been wondering, what schools graduate the largest percentage of students in four years, hopefully, this post has helped. If you want to discuss your college plans with experts who specialize in tailoring a college admissions plan specifically for you, contact AdmissionSight today and schedule your free consultation.