University of Wisconsin-Madison Acceptance Rate: 60%
Successful Applicant Profile
Demographics
Majors
SAT/ACT scores
Entry Requirements
Tuition
Scholarships
Checklist of Application Requirements
Application Deadlines
What Should You Expect
Student life
Academics offered
Athletics offered
Notable Alumni
The University of Wisconsin-Madison (UW-Madison) is a public research university located in Madison, Wisconsin. UW-Madison was founded in 1848 as part of the University of Wisconsin system, and is the flagship university of that system. UW-Madison is a university that has made tremendous strides in the last two decades and now enjoys a great reputation nationwide. Acceptance to UW – Madison is considered very attainable for the right student.
If you've decided that the University of Wisconsin-Madison is the university for you, it is important to know all you can about the application process and what UW-Madison expects from its applicants prior to submitting your application to give you the best possible chance of gaining admission.
Given the University of Wisconsin-Madison acceptance rate in comparison to other highly-regarded academic institutions, you may think it is much easier to gain admission to UW-Madison than other schools. Whilst it would certainly appear, given that percentage, that admission to UW-Madison is much easier, that is not to say that it is a given even for the most qualified students. The university goes through a strict decisions process before landing at the University of Wisconsin-Madison acceptance rate percentage for that year which it then makes public.
As noted, UW-Madison accepted 60% of all applicants for its 2021-22 admissions cycle. There were a total of 53,829 applicants for this cohort, which represented a record for the university. As a result of COVID-19, the university adopted a 'test-optional' policy through to the 2024–25 admission cycles in which its applicants could submit test scores if they wished but were not required to do so in order to be considered for admission. Regardless of whether students chose to submit test scores, UW-Madison placed a large emphasis on both their academic and intellectual fit for the school and this includes a range of factors outside of standardized testing requirements.
We are going to explore the complex nature of the admission process and how you can give yourself the best chance of standing out amongst the crowd when it comes to UW-Madison.
Successful Applicant Profile
As the flagship university of the University of Wisconsin system, UW-Madison is renowned both within the state and nationwide as an academic institution that is upwardly mobile and already boasted a very stellar reputation. The 2021-22 admissions cycle saw an impressive total of 53,829 applicants attempting to become a Badger, which was the highest number on record.
The flexibility of the academics on offer at UW-Madison make it a popular choice for students who wish to study a varied program. The undergraduate academics at UW-Madison are spread amongst its eight schools and colleges, comprising of; the College Of Agricultural And Life Sciences, Wisconsin School Of Business, School Of Education, College Of Engineering, School Of Human Ecology, College Of Letters & Science, School Of Nursing, and the School Of Pharmacy.
The increasing amounts of applicants year-on-year shows that UW-Madison is only gaining in popularity. As such, the university endeavors to look at a range of different criteria when assessing its candidates for admission. These include but are not limited to character and personal qualities, extracurricular activities, academic GPA and overall rigor of secondary school record, with optional standardized testing. Ensuring you present yourself in the best possible manner is very important to your chances and we at AdmissionSight are here to help you through that successfully.
Demographics: Who Makes up the UW-Madison Student Body?
UW-Madison does not really display the kind of diversity that other competitive institutions can boast. Statistics which the university released for the class of 2022, the most recent currently available, shows an even gender split as 52% identified as female and 48% identified as male.
When it comes to the race and ethnicity of its population, the University of Wisconsin-Madison released the following breakdown of ethnic identity for its student body for the class of 2026:
Caucasian/White: 68%
Asian American: 8%
Hispanic: 6%
African American: 2%
International: 9%
A large percentage of the student body at UW-Madison is white, but the university also has a proud international student community, which makes up an impressive amount of its students. International students make up 9% of the student body at UW-Madison and the most represented countries are; China: 61%, India: 11%, South Korea: 7%, Malaysia: 4% and Saudi Arabia: 2%.
At UW- Madison the Office for Equity, Diversity and Inclusion offers a wide range of services to its students, including anti-racism resources, funding and awards, and diversity trips/events for all.
In addition to the DEI, due to the large population of international students at Madison, the university has a dedicated International Student Services Office (ISSO) which takes care of international students from the moment they decide to apply to ensuring their student experience is outstanding. Madison has over 4,000 international students who call the university home.
These students come from 120 different countries. For these students, the change of lifestyle in the US for new students can be overwhelming and as such the ISSO takes care of a myriad of things that make life much easier for international students as well as those from different backgrounds who may require guidance. Amongst its services, the ISSO deals with issuing immigration documents, advising on relevant immigration matters, meeting US reporting requirements and offering information on adjusting to life and culture in the US and at UW-Madison to ensure a smooth transition to Madison, WI wherever you are from in the world.
Average SAT/ACT Scores of Students Admitted to UW-Madison
As a response to the Coronavirus pandemic, adopted a 'test-optional' policy that has now been extended through to the 2024–25 admission cycles. This means that applicants to the university can submit test scores if they wished but were not required to do so in order to be considered for admission. Choosing not to do so will not harm your application and the university places an emphasis on both your academic and intellectual fit when making decisions on who to admit.
As a result of the test-optional policy adopted by UW-Madison, only 15% of applicants to the university submitted an SAT score, while 46% opted to include an ACT result in their application. Of these, the mid-50% SAT range for enrolled freshmen was 1350-1480 while the ACT range was 28-32, both very high scores in their respective tests.
In addition to this, the average high school GPA was 3.88 and 45% of entering freshmen had above a 4.0 GPA score. High school academic performance is a crucial factor in determining suitability for UW-Madison and 49% of freshmen for the class of 2025 (the most recently released statistics for this) were from the top 10% of their high school class, while 86% earned a place in the top 25%, to further demonstrate the standard.
Entry Requirements
The University of Wisconsin-Madison has grown in popularity vastly over the last 20 years or so. As such, over 50,000 students now typically apply annually, giving you an idea of how popular UW-Madison is. However, given the relatively high University of Wisconsin-Madison acceptance rate, you certainly have reason to be optimistic if you intend on applying to become a Badger and attending the flagship university in Wisconsin.
Navigating the application process at schools like UW-Madison can sometimes be a little daunting even for the smartest of students. Do not fear, here at AdmissionSight we've got you covered – here's the lowdown on everything you need to know about gaining admission to Madison.
How Much Will it Cost to Attend UW-Madison?
As well as a favorable University of Wisconsin-Madison acceptance rate for those from in-state, UW-Madison has different costs depending upon whether you are considered an in-state applicant (from the state of Wisconsin) or an out-of-state applicant (outside Wisconsin). For the academic year 2022-2023, the total cost of first year tuition and fees for the University of Wisconsin-Madison for out-of-state students is $38,608. For the academic year 2022-2023, the total cost of first year tuition and fees for the University of Wisconsin-Madison for in-state students is $10,720.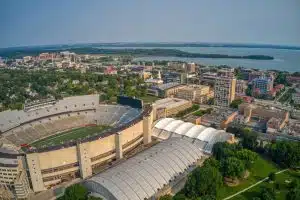 This is different to the total cost of attendance, which also factors in other expenses such as room and board, living expenses, books and supplies etc. Budgeting is key for all students and the full breakdown of costs for attendance at the University of Wisconsin-Madison is outlined below;
Tuition and fees (in-state) – $10,720
Tuition and fees (out-of-state) – $38,608
Room and board – $12,548
Personal expenses & books/supplies – $3466
This all amounts to a total cost of attendance for first-year out-of-state undergraduate students of $54,622 and a total cost for in-state students of $26,734, which ranks as pretty competitive, in particularly providing great value for in-state students. The university also offers various financial aid options – including federal aid, state-specific aid, university-specific aid and program-specific aid, thus making it an attractive and value for money institution for those with financial need.
Financial Aid at UW-Madison
Given its growing reputation and status as one of the leading public institutions in the United States, the university offers great value for money, especially for in-state students. For out-of-state students, the costs are significantly more but still represent good value for the standard of education you are receiving and the gravitas that comes with holding a degree from UW-Madison.
Federal aid comes in many forms, such as the Pell Grant and the Supplemental Educational Opportunity Grant (SEOG). Federal funds provided by the school to students with exceptional need. First consideration is to students who are eligible for a Pell Grant. This is offered as part of a joint program between the federal government and the University to provide additional funding to those students whose families demonstrate the highest need.
A further financial aid program offered by the university specifically is the Talent Incentive Program (TIP) Grant and the Wisconsin Grant (WI residents only). Criteria is specific to family income and awards are based upon those most in need with applicants to the university automatically considered, albeit one provision as with most financial aid packages is that a FAFSA is completed.
Additional financial aid options available to incoming students at the University of Wisconsin-Madison include the Madison Non-Resident Grant and the Bucky Badger Grant.
There are also numerous grants and scholarships available which are specific to your program, so it is always worth reaching to the department. For a more detailed and specific run down of the financial aid available at UW-Madison students can use the Financial Aid Calculator provided by the university on its dedicated website to determine what they are entitled to in terms of financial aid.
The Application Requirements
When it comes to selection of candidates at UW-Madison is often made up of a number of factors. The official website states that it looks at a wide range of factors when making admissions decisions – including previous grades, course rigor, recommendations, academic honors or awards, personal essays, and other information specific to your own experiences and personal attributes. However, two things are none-negotiable when it considers applicants are rigor of high school course load and application essays, both of which the university says are 'very important'.
Like all institutions, admission requirements are program-specific, but UW-Madison does provide a guide of minimum requirements for first-year undergraduates applying. These include:
Completed Application Packet
Official secondary school transcript and school report
UW-Madison Application Essay (required)
At least one (1) teacher recommendation
SAT or ACT scores (optional)
$60 UW-Madison application fee
International students from non-English speaking institutions or applicants whose first/primary language is not English or whose secondary schooling has not been in English are also required by the university to submit official proof of English language proficiency.
Important Dates for the UW-Madison Admission Timeline?
For UW-Madison, perspective students should take into account that the application deadlines for admission to are split into two sections; the Early Action (EA) admissions deadline and the Regular Decision admissions deadline depending upon when the applicant decides to apply.
For Early Decision admissions, the deadline to submit your application materials to Madison is November 1 at 11:59pm. Applicants are then told of their admissions decision by January 31.
For Regular Decision admissions, the deadline to submit your application materials to Madison is January 15. Applicants can then view their Regular Decision admissions decision by March 31.
What Students Can Expect
University of Wisconsin-Madison is located in Madison, Wisconsin. Much like the city it is located in, the university has enjoyed a surge in its reputation in the past 20 or 30 years and is now widely acclaimed. Academics are taken very seriously at UW-Madison but the university strikes a great balance between academic rigor and student lifestyle, with Madison providing a great backdrop.
"For academics and research it is a top school, full of top professors and opportunities," wrote one student on Unigo. "There is also a variety of social activities and scenes, with a ton of student organizations and clubs. Greek culture here is like how it's shown in the movies, if that is appealing or not. People say that people at UW-Madison party as hard as they study, and they do both of those pretty hard."
In order to get more information about the University of Wisconsin-Madison acceptance rate, the UW-Madison campus and the overall admissions process, you can call 608-262-3961 or email onwisconsin@admissions.wisc.edu.
Academics Offered
Academics at Madison are uniquely diverse and flexible. Overall, the University of Wisconsin-Madison offers Bachelor of Arts and Bachelor of Science degrees in over 130 programs Academics at UW-Madison are divided into its eight schools and colleges which are listed below:
College Of Agricultural And Life Sciences
Wisconsin School Of Business
School Of Education
College Of Engineering
School Of Human Ecology
College Of Letters & Science
School Of Nursing
School Of Pharmacy
The University of Wisconsin-Madison has seen many of its academic programs thrive in recent years and the reputation of the school has subsequently gone from strength-to-strength. Some of the most popular areas of study at UW-Madison include; Economics, Computer and Information Sciences, Biology, Psychology, Finance, Journalism and related majors. Research is key at Madison.
What Athletic Options are Available?
The University of Wisconsin-Madison offers a total of 23 varsity sports teams, 11 of which are men's teams and 12 of which are for women. The teams at UW-Madison, which are known as the 'Wisconsin Badgers' are listed below:
Men's Teams
Basketball
Cross Country
Football
Golf
Hockey
Rowing
Soccer
Swimming & Diving
Tennis
Track & Field
Wrestling
Women's Teams
Basketball
Cross Country
Golf
Hockey
Lightweight Rowing
Rowing
Soccer
Softball
Swimming & Diving
Tennis
Track & Field
Volleyball
UW-Madison Notable Alumni
Many famous faces call themselves proud alumni of the University Wisconsin-Madison, so you will be following in the footsteps of some pretty impressive people. The university has produced a vast array of alumni across a broad range of fields, making particular impressions on media and politics. Some of the most famous names to have attended and call themselves UW-Madison alumni are:
Virgil Abloh
Lynsey Addario
Tammy Baldwin
Rita Braver
Dale Chihuly
Laurel Clark
Carrie Coon
Hector DeLuca
Russ Feingold
Jeff Greenfield
Lorraine Hansberry
Jane Kaczmarek
Ben Karlin
Herb Kohl
Robert M. La Follette
Steve Levitan
Charles Lindbergh
Jim Lovell
The University of Wisconsin-Madison acceptance rate gives reason to be optimistic for potential students. If you feel the University of Wisconsin-Madison is the perfect school for you to achieve your dreams, allow us at AdmissionSight to show you how to maximize your strengths and minimize any potential weaknesses so that the college admissions officers at UW-Madison can see you for the fantastic potential you possess as you seek to become one of the Badgers.