How to Get Into Georgetown: A Comprehensive Guide
Georgetown University, located in Washington, D.C., is a prestigious institution known for its top-tier education and strong sense of community. If you're a high school student dreaming of getting into Georgetown, this comprehensive guide will provide you with all the information you need to navigate the admissions process successfully.
Understanding Georgetown University
A Brief History of Georgetown University
Georgetown University, founded in 1789, is the first Catholic institution of higher education in the United States. Its establishment marked a significant milestone in American education, as it opened the doors for Catholic students to pursue higher learning.
Over the years, Georgetown University has evolved into a renowned research university known for its academic rigor and commitment to intellectual growth. The university's historical roots are deeply intertwined with its Jesuit identity, which has shaped its values and educational philosophy.
The Importance of Georgetown's Jesuit Identity
Georgetown University's Jesuit identity is not just a mere label but a guiding principle that permeates every aspect of the university. The Jesuit tradition strongly emphasizes educating the whole person, nurturing a commitment to justice, and fostering a deep intellectual curiosity.
This unique approach to education sets Georgetown apart from other institutions and creates an environment that encourages students to think critically, engage with complex issues, and develop a sense of social responsibility. The Jesuit values of service, justice, and reflection are woven into the fabric of Georgetown's academic programs, student life, and community engagement initiatives.
Overview of Georgetown's Schools and Programs
Georgetown University is proud to be home to nine distinguished schools, each offering a diverse range of undergraduate and graduate programs. These schools include the renowned School of Foreign Service, McDonough School of Business, and Georgetown Law School.
The School of Foreign Service is internationally recognized for its excellence in diplomacy, international relations, and global affairs. Students in this school can study the complexities of international politics, develop cross-cultural competencies, and engage in meaningful research that addresses global challenges.
The McDonough School of Business equips students with the skills and knowledge necessary to navigate the ever-evolving world of business. From entrepreneurship and finance to marketing and management, the school offers a comprehensive business education that prepares graduates for success in a competitive global marketplace.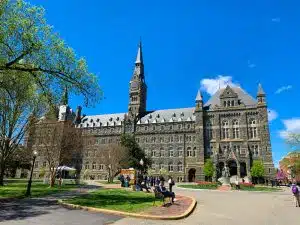 Georgetown Law School, one of the top law schools in the country, provides students with a rigorous legal education that prepares them to become ethical and effective advocates. With a strong emphasis on experiential learning and public interest law, Georgetown Law School cultivates future leaders in the legal profession.
These are just a few examples of the university's exceptional schools and programs. Whether your passion lies in politics, healthcare, social sciences, or the humanities, Georgetown provides a wide array of majors and minors to suit diverse interests and career aspirations.
As you explore Georgetown University further, you will discover a vibrant campus community, dedicated faculty, and countless personal and intellectual growth opportunities. Georgetown is not just an institution; it is a transformative experience that prepares students to positively impact the world.
The Admissions Process at Georgetown
Applying to college can be an exciting yet daunting process, and understanding the admissions requirements is crucial. The university's admissions process entails more than just submitting a standard application. Let's take a closer look at what it takes to become a Georgetown Hoya.
Understanding Georgetown's Application Requirements
Before diving into the application process, it's essential to familiarize yourself with Georgetown's requirements. Georgetown requires applicants to submit a Georgetown-specific application, which includes several supplemental essays. These essays provide an opportunity for prospective students to showcase their unique experiences, personal qualities, and aspirations.
In addition to the essays, prospective students must provide high school transcripts, recommendation letters, and standardized test scores as part of their application. These documents help the admissions committee understand an applicant's academic performance, character, and potential for success at Georgetown.
The Role of Standardized Tests in Georgetown Admissions
Georgetown University has a competitive acceptance rate of 12%. Admitted students typically have SAT scores ranging from 1410 to 1540 or ACT scores between 32 and 35.
Georgetown takes a holistic approach to admissions, considering various factors beyond standardized test scores. However, test scores, including the SAT or ACT, are still essential to the application process. While Georgetown doesn't have strict cutoff scores, competitive applicants usually have scores within the 25th-75th percentile range for admitted students.
Standardized tests serve as a benchmark for evaluating an applicant's academic abilities and potential. They provide an objective measure that helps admissions officers assess an applicant's readiness for the rigorous academic environment at Georgetown. However, it's important to note that Georgetown values applicants who demonstrate intellectual curiosity, critical thinking skills, and a genuine passion for learning, qualities that go beyond test scores.
The Importance of Extracurricular Activities
Extracurricular activities are an integral part of the Georgetown application. Admissions officers seek well-rounded students who go beyond academic achievements. Participating in clubs, sports, community service, or other leadership roles demonstrates your commitment, passion, and ability to balance multiple responsibilities.
Georgetown values applicants who have made meaningful contributions to their communities and have shown initiative in pursuing their interests outside the classroom. Whether you have taken on leadership roles in student organizations, volunteered for a local charity, or participated in research projects, highlighting your extracurricular involvements in your application can provide valuable insights into your character and potential impact on the Georgetown community.
Furthermore, extracurricular activities can also help you develop important skills such as teamwork, time management, and communication, which are highly valued at Georgetown and can contribute to your overall personal growth.
As you navigate the admissions process at Georgetown, it's important to remember that each applicant is unique, and the admissions committee takes a holistic approach to evaluating applications. While meeting the requirements and demonstrating academic excellence is important, showcasing your individuality, passions, and potential contributions to the Georgetown community is equally crucial.
Tips for a Successful Georgetown Application
When it comes to applying to Georgetown University, several key components can make or break your application. From crafting a compelling personal statement to securing strong letters of recommendation, each aspect plays a crucial role in presenting yourself as an ideal candidate. Here are some tips to help you navigate the application process and increase your chances of success.
Crafting a Compelling Personal Statement
Your personal statement is an opportunity to showcase your uniqueness and share your story with admissions officers. It is your chance to go beyond your academic achievements and extracurricular activities and delve into the experiences that have shaped you as an individual. Take the time to reflect on your journey, discuss your motivations, and express why Georgetown is the perfect fit for you.
When crafting your personal statement, it is important to be authentic and genuine. Admissions officers are looking for students who are not only academically qualified but also have a strong sense of self and a clear vision for their future. Use this essay to highlight your passions, values, and aspirations and demonstrate how Georgetown can help you achieve your goals.
Brainstorming, drafting, and revising are crucial steps in creating a compelling personal statement. Start early and give yourself plenty of time to explore different ideas, write multiple drafts, and seek feedback from teachers, mentors, or family members. By putting in the effort to refine your essay, you can ensure that it genuinely reflects your voice and resonates with the admissions committee.
How to Ace Your Georgetown Supplemental Essays
In addition to the personal statement, Georgetown requires several supplemental essays. These essays provide an opportunity for you to showcase your knowledge of and interest in Georgetown and your ability to contribute to the university's community.
Before diving into the supplemental essays, take the time to research and understand the prompts. Familiarize yourself with Georgetown's values, mission, and offerings, and think about how you can align your responses with these aspects. Showcasing your genuine interest in the university and demonstrating your fit with its culture and values will greatly enhance your application.
When writing your supplemental essays, be specific and provide concrete examples. Avoid generic statements and instead focus on personal anecdotes or experiences that highlight your unique qualities and perspectives. Use this opportunity to showcase your intellectual curiosity, leadership skills, and commitment to making a positive impact.
Securing Strong Letters of Recommendation
Letters of recommendation provide valuable insight into your character, academic abilities, and potential for success at Georgetown. Choosing the right recommenders is crucial in ensuring that your application stands out.
When selecting recommenders, opt for individuals who know you well and can speak to your strengths, accomplishments, and potential. This could include teachers, mentors, or supervisors who have worked closely with you and can provide a personalized and compelling recommendation.
Building strong relationships with your recommenders is essential. Take the time to engage with them academically and personally, participate actively in class discussions, seek their advice, and demonstrate your commitment to your academic pursuits. By fostering these relationships, you can ensure that your recommenders have a comprehensive understanding of your abilities and can write compelling letters that highlight your unique qualities.
Applying to Georgetown University requires careful consideration and effort. By crafting a compelling personal statement, acing your supplemental essays, and securing strong letters of recommendation, you can present yourself as an ideal candidate who is not only academically qualified but also a great fit for Georgetown's community and values.
Preparing for Georgetown's Unique Interview Process
Georgetown University is known for its unique interview process, which allows applicants to showcase their personalities and potential contributions to the university. The interview is conducted by Georgetown alumni, who volunteer their time to assess the fit of prospective students within the Georgetown community. This interview aims to gain further insight into the applicant beyond their application materials.
Before attending your Georgetown alumni interview, it is essential to thoroughly research Georgetown's culture, values, and academic offerings. This will enable you to better understand what the university is looking for in potential students and help you articulate your interests and goals in a way that aligns with Georgetown's mission.
What to Expect in a Georgetown Alumni Interview
A Georgetown alumni interview is typically an informal conversation designed to allow the applicant to express themselves freely. It is important to approach the interview with a genuine and authentic mindset, as the alumni interviewer will assess your fit within the Georgetown community. This is an opportunity for you to showcase your unique qualities and demonstrate how you can contribute to the university's vibrant academic and social environment.
The alumni interviewer may ask questions about your academic achievements, extracurricular involvements, and personal experiences during the interview. They will be interested in understanding your passions, values, and aspirations. It is crucial to be prepared to discuss these topics and provide specific examples that highlight your strengths and potential as a Georgetown student.
Tips for a Successful Interview
For a successful Georgetown alumni interview, it is important to be yourself and let your genuine passion for learning, community engagement, and personal growth shine through. The alumni interviewer is looking for applicants who are both academically qualified and enthusiastic about becoming active members of the Georgetown community.
One way to prepare for the interview is to practice speaking about your experiences and goals. Reflect on your achievements and challenges, and think about how they have shaped you as an individual. This will help you articulate your unique story and demonstrate your potential to contribute to Georgetown's diverse community.
Additionally, showcasing your interest in Georgetown's academic programs and extracurricular offerings is essential. Research specific courses, professors, and student organizations that align with your interests and goals. Prepare thoughtful questions that demonstrate your enthusiasm and curiosity about Georgetown's unique opportunities.
Remember, the Georgetown alumni interview is not just a one-sided assessment; it is also an opportunity for you to learn more about the university and determine if it is the right fit for you. Use this conversation to ask the alumni interviewer about their experiences at Georgetown and gain further insights into the university's community and resources.
By approaching the Georgetown alumni interview with preparation, authenticity, and enthusiasm, you will increase your chances of making a positive impression and showcasing your potential as a future Georgetown student.
Financial Aid and Scholarships at Georgetown
Understanding Georgetown's Need-Blind Admission Policy
Georgetown University follows a need-blind admission policy, meaning that the admissions process is separate from the evaluation of financial need. This policy ensures that applicants are assessed based on their merits and potential without considering their ability to pay for college. Georgetown is committed to meeting the demonstrated financial need of all admitted students.
Georgetown's need-blind admission policy is rooted in the belief that every student should have access to a quality education regardless of their financial background. By removing financial barriers from admissions, Georgetown aims to create a diverse and inclusive community that values talent and potential above all else.
Under this policy, students are evaluated based on their academic achievements, extracurricular involvement, and personal qualities. Admissions officers carefully review each application, considering factors such as GPA, standardized test scores, letters of recommendation, and essays. This comprehensive evaluation ensures that deserving students are given the opportunity to thrive at Georgetown, regardless of their financial circumstances.
Scholarships and Grants Available at Georgetown
Georgetown University offers a range of scholarships and grants to help make education more affordable for students. In addition to need-based aid, Georgetown provides merit scholarships to recognize exceptional academic achievements, leadership qualities, or other unique accomplishments. Explore the various scholarship opportunities available and learn about the application process to maximize your financial aid options.
Georgetown's scholarship programs are designed to reward students who have demonstrated outstanding academic performance and potential. The university offers a variety of scholarships, including the Georgetown Scholarship Program (GSP), which provides full-tuition scholarships to eligible students from low-income backgrounds. GSP covers tuition expenses and offers additional support services, mentorship programs, and leadership development opportunities.
Georgetown offers the John Carroll Scholars Program for students with exceptional leadership qualities. This highly competitive program provides full-tuition scholarships to a select group of students who have demonstrated exceptional leadership potential and a commitment to positively impacting society. John Carroll Scholars are given unique opportunities to engage in research, internships, and community service projects, further enhancing their educational experience at Georgetown.
In addition to these specific scholarship programs, the university also offers a wide range of grants and financial aid options to meet the diverse needs of its student body. Whether you are an aspiring scientist, artist, or entrepreneur, scholarships and grants are available to help you pursue your passions at Georgetown.
Georgetown University is dedicated to ensuring that financial constraints do not hinder students from accessing a world-class education. Through its need-blind admission policy and robust scholarship programs, Georgetown strives to create a supportive and inclusive environment where students can thrive academically, socially, and personally.
Life at Georgetown: What to Expect
Georgetown's commitment is to offer you a wide array of campus amenities to pave the way for your success. The devoted career counseling team stands ready to steer your professional journey, introducing you to diverse career avenues and linking you with prospective employers. Support services are on hand to bolster your academic aspirations, including tutoring, study sessions, and workshops to amplify your educational journey.
Concerning your well-being, your health and wellness are paramount. Modern fitness centers are available to help you stay active and adopt a health-conscious routine. Comprehensive health services ensure you're never far from medical experts to attend to any health concerns. Recognizing that college years can be mentally taxing, mental health resources are available to cater to your emotional well-being.
The Georgetown campus is more than just lecture halls and textbooks; it's a nexus for cultural and intellectual discovery. Libraries and research hubs brim with exhaustive resources, empowering you to dive deep into academic pursuits and join the ranks of pioneering researchers. Dive deeper into learning by attending seminars, lectures, and conferences led by distinguished experts, broadening your understanding beyond course material.
Clubs and Activities at Georgetown
Georgetown boasts a lively campus atmosphere with over 200 student-led organizations, clubs, and activities. Whether your passion lies in cultural groups, community outreach, or chasing a dream with a student-led initiative, Georgetown has something tailored for you. Delving into extracurriculars enhances your college journey and spotlights your leadership acumen and dedication to self-improvement.
There's a club for every curiosity, from academics, culture, arts, and sports, to social activities. Dive into groups centered on entrepreneurship, green initiatives, performing arts, social reform, and beyond. Such platforms offer a unique space to connect with peers, nurture leadership qualities, and foster friendships that last a lifetime.
Beyond club commitments, the university is abuzz with activities and occasions year-round. The campus is always alive, be it with influential guest speakers, musical galas, or art showcases. These gatherings create avenues for intellectual dialogue, artistic flair, and celebrating diverse cultures, letting you expand your worldview and mingle with a medley of insights.
At Georgetown, it's believed that learning isn't confined to lecture halls. By diving into clubs and events, you'll craft a holistic and memorable college journey, setting the stage for a bright future.
Conclusion: Putting It All Together for Georgetown Admission
Final Checklist for Georgetown Application
As you finalize your Georgetown application, use this checklist to ensure you've completed all the necessary steps:
Submit and complete the Georgetown Application.
Complete the Georgetown-specific application, including the supplemental essays.
Gather and submit high school transcripts.
Secure strong letters of recommendation.
Take the necessary standardized tests and submit scores.
Highlight your extracurricular activities and leadership roles.
With this comprehensive guide, you're well-equipped to embark on your Georgetown University admissions journey. Best of luck, and may your path lead you to an enriching and transformative experience at Georgetown!
Interested in further understanding the roadmap to Georgetown University? With more than a decade of experience, AdmissionSight has been a reliable guide for students amid the competitive admissions landscape.
Turn to AdmissionSight this fall to enhance your college application. Contact us today to explore more about our service offerings.