What Major is Georgetown Known For?
What is Georgetown University?
Georgetown University, established in 1789, is the oldest Catholic and Jesuit institution of higher learning in the U.S. It has evolved over the centuries from its modest beginnings as a small academy to a renowned university with a global presence. It is for that reason that there are people who look at what major is Georgetown known for.
Situated in the historic neighborhood of Georgetown in Washington, D.C., the university has played a pivotal role in shaping the nation's intellectual and political landscape. Georgetown's commitment to academic excellence, rich Jesuit heritage, and diverse student body has earned it a prestigious reputation nationally and internationally.
Currently, Georgetown consistently ranks among the top universities in the United States, boasting a variety of distinguished programs in fields such as international relations, business, law, and nursing. Its prime location in the nation's capital has also allowed the university to cultivate strong ties with influential government institutions, think tanks, and non-profit organizations, further solidifying its status as a leading institution for higher education.
Why study at Georgetown University?
Studying at Georgetown University offers numerous advantages for students seeking a world-class education in a diverse, supportive, and intellectually stimulating environment. Here are the reasons why studying at Georgetown University is optimal:
Prestigious reputation: Georgetown is consistently ranked among the top universities in the United States and the world, known for its academic excellence and commitment to research, innovation, and intellectual rigor.
Jesuit tradition: Rooted in the Jesuit tradition of education, Georgetown emphasizes the development of the whole person, fostering intellectual curiosity, ethical reasoning, and a commitment to social justice. Students are encouraged to engage in critical inquiry, reflection, and service to others locally and globally.
Distinguished faculty: Georgetown's faculty comprises accomplished scholars and practitioners dedicated to providing students with a high-quality education while engaging in cutting-edge research and contributing to the advancement of their respective fields.
Interdisciplinary approach: Georgetown offers a wide range of academic programs and areas of study that encourage interdisciplinary learning and collaboration, enabling students to develop a comprehensive understanding of complex issues and challenges.
Location: Situated in the heart of Washington, D.C., Georgetown offers students unparalleled access to the nation's political, cultural, and intellectual resources, providing unique opportunities for internships, networking, and experiential learning.
Global perspective: Georgetown is committed to fostering a global perspective among its students, with numerous study abroad programs, international research opportunities, and a diverse campus community that includes students and faculty worldwide. For this reason, people worldwide are trying to figure out what major is Georgetown known for.
Career preparation: Georgetown offers a robust network of resources and support services to help students prepare for their future careers, including internships, career advising, and connections to a vast alumni network of accomplished professionals in various fields.
Campus life: Georgetown boasts a vibrant campus life, with numerous clubs, organizations, and extracurricular activities that cater to a wide range of interests, providing students with ample opportunities to develop leadership skills, form lasting friendships, and explore new passions.
Commitment to diversity and inclusion: Georgetown is dedicated to creating an inclusive campus community, offering various resources and support services to ensure all students feel welcomed, supported, and empowered to succeed.
Financial aid: Georgetown is committed to making education accessible and affordable for all students, providing a range of financial aid options, including scholarships, grants, loans, and work-study opportunities, to help meet the financial needs of its students.
Top Degrees in Georgetown
The Edmund A. Walsh School of Foreign Service
The Edmund A. Walsh School of Foreign Service (SFS), founded in 1919, is a prestigious and internationally renowned school within Georgetown University, dedicated to studying diplomacy, international affairs, and global policy.
As one of the world's leading schools for international affairs, the SFS has a long-standing reputation for producing graduates who excel in diplomacy, intelligence, and global leadership. Notable alumni of the SFS include former U.S. President Bill Clinton, former Secretary of State Madeleine Albright, and current U.S. Secretary of Transportation Pete Buttigieg.
The faculty at the SFS comprises a diverse and accomplished group of scholars, practitioners, and experts in their respective fields, including former diplomats, intelligence officers, and international organization leaders.
This unique blend of academic rigor and real-world experience has contributed to the school's reputation for shaping future leaders and decision-makers in international affairs. SFS offers a variety of key programs and areas of study to equip students with the knowledge and skills required to navigate the complex world of international affairs. Some of the majors talked about when discussing what major is Georgetown known for at this school include:
International Affairs: As the cornerstone of SFS, the International Affairs program focuses on diplomacy, international relations, and global governance. Students delve into international law, conflict resolution, and diplomatic history, developing a comprehensive understanding of the global landscape and the role of various actors in shaping international politics.
Global Business and Finance: One of the top degrees at Georgetown, this program bridges the gap between international affairs and the world of business with courses that examine the impact of globalization on financial markets, trade, and economic development.
Students gain insights into the role of international financial institutions, multinational corporations, and trade policies in shaping the global economy. They develop the analytical skills required to navigate the complex dynamics of international business and finance.
Security Studies: The Security Studies program at SFS gives students a deeper understanding of the numerous threats to global security, including terrorism, cyber warfare, and nuclear proliferation. Students explore the origins and consequences of these threats, the role of state and non-state actors in shaping global security dynamics, and the various strategies and policies employed by governments and international organizations to address these challenges.
Regional and Comparative Studies: This study area allows students to specialize in a specific region of the world, such as Europe, Asia, the Middle East, or Latin America, or to adopt a comparative approach that examines the political, economic, and cultural dynamics across multiple regions. Students in this program develop expertise in regional politics, history, and languages, gaining a nuanced understanding of the distinct challenges and opportunities faced by different parts of the world in the context of globalization.
Georgetown College
Another school discussed when talking about what major is Georgetown known for is Georgetown College. This, the oldest and largest of the university's undergraduate schools, is the foundation of Georgetown's commitment to the liberal arts tradition. Founded in 1789, the college offers students a well-rounded education that emphasizes the development of critical thinking, effective communication, and ethical reasoning.
Central to the college's approach is a core curriculum rooted in the Jesuit tradition of intellectual inquiry, which challenges students to explore a wide range of disciplines, including philosophy, theology, the humanities, social sciences, and the natural sciences. By promoting a liberal arts focus, Georgetown College encourages students to cultivate intellectual curiosity, interdisciplinary understanding, and the ability to adapt to an ever-changing world.
This educational philosophy fosters a vibrant community of scholars and learners, where students are prepared for successful careers in various fields and equipped to become compassionate and engaged global citizens. Georgetown College also offers a diverse array of programs and areas of study that cater to students with a broad range of interests. Some of the key programs within Georgetown College include:
Government and Political Science: The Government and Political Science program at Georgetown College focuses on the study of political systems, institutions, and behavior at local, national, and international levels. Students explore political theory, comparative politics, public policy, and international relations, gaining a comprehensive understanding of the complex dynamics that shape political decision-making and governance.
English and Comparative Literature: This program allows students to study rich and diverse literature and literary criticism traditions, focusing on the English language. Courses cover various genres, historical periods, and cultural contexts, encouraging students to read texts closely and develop their analytical and interpretive skills. Students also have the opportunity to study the works of major authors and literary movements from around the world through comparative approaches.
Economics: The Economics program at Georgetown College provides students with a solid foundation in economic theory and its applications to real-world problems. Students learn about microeconomics, macroeconomics, econometrics, and various specialized fields such as international trade, development economics, and labor economics. This program equips students with the analytical tools necessary to understand and address economic issues nationally and globally.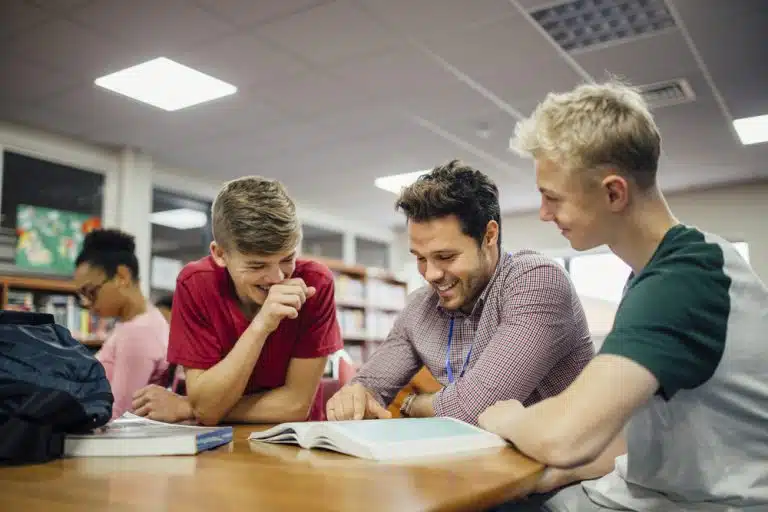 Biology and Pre-Medicine: Georgetown College offers a robust Biology program that covers the fundamental principles of the biological sciences, from molecular biology and genetics to ecology and evolution. This program also supports students interested in pursuing careers in medicine or related health fields, with a Pre-Medicine track that includes coursework in the natural sciences and opportunities for research, internships, and mentorship. Students in this track can gain a strong foundation in the sciences and build a competitive application for medical school or other graduate programs in the health sciences.
The McDonough School of Business
The McDonough School of Business, established in 1957, is a prominent and highly respected institution within Georgetown University, offering undergraduate and graduate programs in various business disciplines. The school is committed to fostering ethical leadership, a global perspective, and a focus on social responsibility in the context of business education.
With a strong emphasis on experiential learning and collaboration, the McDonough School of Business equips students with the practical knowledge and skills required to excel in the competitive world of business. The school's reputation for academic excellence and a commitment to teaching and conducting ethical business practices have earned it a place among the top business schools worldwide.
Consistently high rankings in various publications, such as U.S. News & World Report and Bloomberg Businessweek, are a testament to the school's dedication to providing a world-class education, attracting some of the brightest and most talented students and faculty from around the globe. This is the reason why people consider this school in Georgetown when talking about what major is Georgetown known for.
The McDonough School of Business offers a variety of major programs and fields of study that cater to its students' diverse set of interests while providing them with the necessary skills to succeed in the global business arena.
Finance: The Finance program at McDonough provides students with a solid understanding of financial markets, investment strategies, and risk management. Courses cover financial derivatives, corporate finance, portfolio management, and financial econometrics. Students gain the quantitative and analytical skills to make informed decisions in various financial roles, including investment banking, asset management, and financial consulting.
Accounting: The Accounting program at McDonough equips students with a comprehensive understanding of financial reporting, auditing, and taxation principles. Students learn to analyze and interpret financial statements, evaluate internal controls, and navigate complex tax laws and regulations. This program prepares the students for successful careers in public accounting, corporate accounting, and financial management, as well as for professional certifications such as the Certified Public Accountant (CPA) designation.
Marketing: The Marketing program at McDonough focuses on developing and implementing marketing strategies for businesses and organizations. Students explore consumer behavior, market research, advertising, and digital marketing, learning to create and execute effective marketing campaigns that drive growth and customer engagement. The program emphasizes creativity, data-driven decision-making, and an understanding of the ever-evolving marketing landscape.
International Business: The International Business program at McDonough fosters a global perspective on business, reflecting the interconnected nature of today's business environment. Students study the complexities of international trade, global supply chains, and cross-cultural management while learning about the economic, political, and legal factors shaping the global business landscape. This program prepares students for careers in multinational corporations, international trade, and global management consulting, among other fields.
Georgetown Law Center
Georgetown Law Center, founded in 1870, is one of the nation's premier law schools and a vital part of Georgetown University. With a commitment to providing exceptional legal education, Georgetown Law offers a comprehensive range of programs and degrees, which is discussed when discussing what major is Georgetown known for.
The law school offers students unparalleled access to the nation's legal, political, and judicial institutions, providing them with unique internships, networking opportunities, and experiential learning opportunities. Georgetown Law has produced an impressive array of notable alumni, including several members of the U.S. Congress, high-ranking government officials, judges, and accomplished legal practitioners in various fields.
The faculty at Georgetown Law comprises distinguished scholars and practitioners who bring a wealth of knowledge and experience to the classroom, ensuring that students receive an intellectually rigorous education grounded in real-world practice.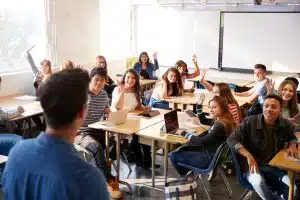 Georgetown Law Center offers a wide range of programs and areas of study that cater to its students' diverse interests and aspirations. Some of the major programs and areas of study, which are discussed when talking about what major is Georgetown known for, at Georgetown Law include:
Constitutional Law: Georgetown Law's Constitutional Law program provides students with a comprehensive understanding of the U.S. Constitution and its interpretation by the courts. Courses in this area cover topics such as separation of powers, federalism, individual rights, and the judiciary's role in the constitutional system. Students gain the skills necessary to analyze and navigate complex constitutional issues, preparing them for careers in public service, advocacy, and legal practice.
International Law: The International Law program at Georgetown Law focuses on the legal framework governing relations between nations and international organizations. Students study subjects such as international human rights, international trade, international criminal law, and the law of armed conflict. This program prepares students for various careers, such as diplomacy, international organizations, non-governmental organizations, and multinational corporations, as well as for specialized legal practice in the international arena.
Tax Law: Georgetown Law's Tax Law program equips students with a thorough understanding of the complex principles and policies underlying the U.S. tax system and comparative and international tax law. Courses cover corporate taxation, international taxation, and tax policy topics. This program prepares students for careers in tax law practice, government service, and academia. Also, it provides a strong foundation for those seeking to pursue advanced degrees or certifications in tax law.
Human Rights Law: The Human Rights Law program at Georgetown Law is dedicated to studying and promoting social justice and human rights worldwide. Students in this program explore various issues, such as the rights of refugees and migrants, gender and LGBTQ+ rights, and the intersection of human rights and national security.
This program prepares students for careers in human rights advocacy, international organizations, government agencies, and non-profit organizations, as well as legal practice in human rights and social justice.
The School of Nursing and Health Studies
The School of Nursing and Health Studies (NHS), founded in 1903, is vital to Georgetown University's commitment to excellence in healthcare education and research. The NHS offers undergraduate and graduate programs that prepare students for successful careers in nursing, healthcare management, human science, and global health. As of July 2022, the school was divided into two new schools; namely the School of Nursing and the School of Health.
With a strong emphasis on interdisciplinary learning, evidence-based practice, and community engagement, the school fosters a compassionate and holistic approach to healthcare. Students at the NHS have access to state-of-the-art facilities, cutting-edge research opportunities, and clinical experiences at some of the nation's top hospitals and healthcare organizations.
The School of Nursing and Health Studies faculty consists of accomplished scholars, clinicians, and researchers dedicated to providing students with the knowledge, skills, and values essential to becoming leaders in their respective fields. It is no wonder that some people consider this degree when discussing what major is Georgetown known for.
As part of Georgetown University's long-standing Jesuit tradition, the School of Nursing and Health Studies emphasizes the importance of ethical practice, social justice, and a commitment to serving vulnerable populations in local and global healthcare settings. The School of Nursing and Health Studies (NHS) offers various major programs and fields of study, catering to the diverse interests of students seeking careers in healthcare and related fields.
Nursing: The nursing program at the NHS provides students with a foundation in the theory and practice of nursing, preparing them for careers as registered nurses and advanced practice nurses. Courses cover health assessment, pharmacology, and nursing care across the lifespan, emphasizing critical thinking, communication, and leadership skills. Students gain hands-on clinical experience in various healthcare settings, ensuring they are well-prepared to provide high-quality, patient-centered care upon graduation.
Health Care Management and Policy: The Health Care Management and Policy program at the NHS focuses on the organization, financing, and delivery of healthcare services, as well as the policies that shape the healthcare system. Students learn about healthcare administration, health policy analysis, health economics, and public health, gaining the skills necessary to navigate and lead within healthcare management and policy-making.
Human Science: The Human Science program at the NHS offers an interdisciplinary approach to understanding human health and disease. Students study the biological, social, and environmental factors influencing health, exploring genetics, nutrition, and public health. This program prepares students for careers in biomedical research, public health, and health promotion and for further study in graduate or professional programs in the health sciences.
Global Health: The Global Health program at the NHS examines the determinants, consequences, and responses to health issues that transcend national boundaries. Students explore topics such as infectious diseases, health disparities, and strengthening health systems while also considering the role of international organizations, governments, and civil society in addressing global health challenges. This program prepares students for careers in global health policy, research, and practice and for further study in related fields.
Now that you have an idea about Georgetown University, your college admissions to that university should be next on your mind. To ensure that you get into Georgetown University, you can get help with AdmissionSight. With ten years of experience working with college admission experts, AdmissionSight can help you get into Northwestern University. You can talk to our experts today to get an initial consultation.