What is Northwestern Known For?
Why Is Northwestern So Prestigious?
Northwestern University is a private university established in 1851, with a 231-acre campus and situated in a suburban area of Evanston, Illinois.
The institution is a part of the Big 10 athletic league and offers esteemed, elite academic and performing arts programs. The combination of Northwestern's top-notch academics and sports culture offers students the best of both worlds.
For two years, all first-year students must reside on campus. The ten residential colleges at the university provide themed residences for social and academic activity.
Evanston and Chicago are home to Northwestern's main campuses, which are situated near Lake Michigan. In Doha, Qatar, Northwestern built a third location in 2008.
Northwestern consistently ranks among the top 10 institutions in the nation, and this is reflected in the school's difficult admissions process. The 2022–2023 edition of Best Colleges places Northwestern University at #10 among National Universities.
What is Northwestern known for? A leading research university, Northwestern University places a strong emphasis on multidisciplinary education. Northwestern is regarded as an "Ivy of the Midwest."
One of the largest university endowments in the world, Northwestern's $16.1 billion endowment may come as a shock to some. The school's endowment has a significant portion of funds set aside to support on-campus multidisciplinary research to answer the query "Why is Northwestern so prestigious?"
Who Is the Most Famous Person From Northwestern?
If Northwestern University piqued your interest, you might ask "Who is the most famous person from Northwestern?" Here is a list of the noteworthy Northwestern University graduates who have left an impact on the world.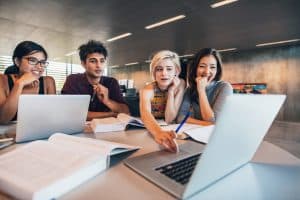 Meghan Markle
The Duchess of Sussex is a monarchist from the United Kingdom. Before her wedding, Meghan worked as a World Vision ambassador for two years while also being an actress and "Suits" star.
She graduated in 2003 with a double major in theater and international relations. She belonged to the sorority Kappa Kappa Gamma.
Zooey Deschanel
An American actress, model, musician, singer, and songwriter with the name of Claire Deschanel. She made her cinematic debut in Mumford (1999) and appeared in Almost Famous, directed by Cameron Crowe (2000).
Deschanel is well recognized for her sardonic performances in comedies like The Good Girl (2002), The New Guy (2002), Elf (2003), The Hitchhiker's Guide to the Galaxy (2005), Failure to Launch (2006), Yes Man (2008), 500 Days of Summer (2009), and Our Idiot Brother (2011). With the dramatic films Manic (2001), All the Real Girls (2003), Winter Passing (2005), Bridge to Terabithia (2007), The Happening (2008), and The Driftless Area, she has also dabbled in this genre (2015).
She played Jessica Day in the Fox sitcom New Girl from 2011 to 2018, for which she was nominated for three Golden Globe Awards and a Primetime Emmy Award.
Hugh Hefner
Hugh Marston Hefner published magazines in the United States. He was the creator and editor-in-chief of Playboy magazine. Playboy's debut issue, which featured Marilyn Monroe in a nude calendar photo shoot, was released in 1953 and sold more than 50,000 copies. In addition to being a supporter of "sexual liberation" and "freedom of expression," he was a political activist in the Democratic Party and for the causes of First Amendment rights, animal rescue, and the restoration of the Hollywood Sign.
David Schwimmer
David Lawrence Schwimmer is an American actor, comedian, director, and producer. He rose to fame by playing Ross Geller in the sitcom "Friends," for which he was nominated for a Primetime Emmy Award in 1995 for Outstanding Supporting Actor in a Comedy Series and got a Screen Actors Guild award.
His first major motion picture role was in The Pallbearer (1996) while he was still performing in Friends. This was followed by parts in Kissing a Fool, Six Days, Seven Nights, Apt Pupil (both 1998), and Picking Up the Pieces (2000). He was then chosen to play Herbert Sobel in the 2001 miniseries Band of Brothers.
George R. R. Martin
George Raymond Richard Martin, usually referred to as GRRM, is an American author of short stories, novels, screenplays, and television shows.
The HBO series Game of Thrones, winner of an Emmy Award, was created from his epic fantasy novel series A Song of Ice and Fire (2011–2019). Additionally, he contributed to the worldbuilding for the computer game Elden Ring from 2022 as well as the Wild Cards anthology series.
Pharrell Williams
An American rapper, record producer, performer, songwriter, and businessman by the name of Pharrell Lanscilo Williams.
He founded the hip-hop and R&B production team The Neptunes with close friend and coworker Chad Hugo in the early 1990s, and since then, they have worked on tracks for a variety of recording artists. He joined the band N.E.R.D., which he co-founded with Hugo and drummer Shay Haley, as the main vocalist in 1999.
Williams has received much praise for being one of the most successful and influential music producers of the twenty-first century and for significantly influencing the sound of contemporary popular music.
Julia Louis-Dreyfus
Julia Scarlett Elizabeth Louis-Dreyfus is an American actress, comedian, and producer. She is renowned for her role in the comedies Veep (2006–2010), The New Adventures of Old Christine (2006–2010), and Saturday Night Live (1982–1985). (2012–2019).
She has garnered more Primetime Emmy Awards and Screen Actors Guild Awards than any other performer, tying Cloris Leachman (with eight) for the most acting honors, making her one of the most decorated actresses in American television history.
Warren Beatty
With a career spanning more than six decades, Henry Warren Beatty is an American actor, director, producer, and screenwriter.
He was nominated for 15 Academy Awards, winning Best Director for Reds and receiving nominations for four Best Actor awards, four Best Picture awards, two Best Director awards, three Original Screenplay awards, and one Adapted Screenplay award (1981).
Beatty is the only person to have received nominations for acting in, directing, writing, and producing the same movie twice; the first time was for Heaven Can Wait (as co-director with Buck Henry), and the second time was for Reds.
Charlton Heston
Charlton Heston, an American actor and political activist, made nearly 100 film appearances as a Hollywood celebrity for 60 years.
He portrayed Moses in the historical drama The Ten Commandments (1956), for which he was nominated for his first Golden Globe Award for Best Actor – Motion Picture Drama, and in Ben-Hur (1959), the title character, for which he won the Academy Award for Best Actor.
Along with Touch of Evil (1958), The Big Country (1958), El Cid (1961), The Greatest Story Ever Told (1965), Khartoum (1966), Planet of the Apes (1968), The Omega Man (1971), and Soylent Green, he also starred in The Greatest Show on Earth (1952), Secret of the Incas (1954), Touch of Evil (1958) with Orson Welles, Planet of the Apes, The Omega Man, and Soylent Green (1973).
John Heilemann
American journalist John Arthur Heilemann is a national affairs specialist for NBC News and MSNBC. In collaboration with Mark Halperin, he published the presidential campaign books Game Change (2010) and Double Down (2013). Previously, Heilemann was a paid writer for periodicals like The Economist, Wired, and New York.
Pramila Jayapal
American politician and activist, Pramila Jayapal, has served as the 7th congressional district's representative since 2017. She is a Democrat who serves King County's rural districts as well as the bulk of Seattle. Jayapal previously represented the 37th legislative district in the Washington State Senate from 2015 to 2017.
She is the country's first elected Indian-American woman to the House of Representatives. She is both the first female member of Congress from her district and the first Asian American to represent Washington at the federal level.
What Is Northwestern Known For Academically?
What is Northwestern known for academically? Northwestern University is a comprehensive research institution that emphasizes intense interdisciplinary work among its several colleges and groups. The institution places a strong emphasis on cutting-edge research, fresh knowledge, creative expression, and practical application in our demanding yet compassionate academic environment, which offers a robust blend of theory and practice.
If you attend Northwestern, you are a part of a creative, cooperative, and multifaceted community that has an impact on higher education that is uncommon.
Every year, researchers at the school publish hundreds of ideas, file hundreds of patent applications, and earn millions of dollars through licensing. Pfizer sells pregabalin, one of its most recent patents, to treat conditions like fibromyalgia and epilepsy. Northwestern University's dedication to multidisciplinary studies is another factor in the influx of students.
The schools and colleges that make up Northwestern University offer undergraduate programs:
Weinberg College of Arts and Sciences
School of Communication
School of Education & Social Policy
McCormick School of Engineering & Applied Science
Medill School of Journalism, Media, Integrated Marketing Communications
Bienen School of Music
What is Northwestern known for in terms of majors? The undergraduate and graduate journalism and music departments were noteworthy. Medill is the nation's top-ranked journalism school. Through the Medill on the Hill program, a few media students even have the chance to report from Northwestern's Washington, DC newsroom.
Unsurprisingly, a sizable number of Northwestern undergraduates are drawn to the computer science department. There are a ton of chances for research collaboration available to computer science majors. For instance, in the field of robotics, student/faculty teams construct robots, examine how they interact with humans and the environment, and then modify design features to assist robots to make society better as a whole.
Many first-year students declare two majors or many minors. Any school, except for the School of Communication, allows double majors. In some situations, it's also possible across Northwestern's colleges and schools. For instance, although the reverse is not true, students from the schools of engineering, communication, music, journalism, and education and social policy may pursue any second major in the College of Arts and Science.
In addition, unless there are exceptional circumstances, students may not double major between specialized schools. However, students can enroll in classes at any of the six institutions mentioned above. They can also pursue minors, certificates, and modules that let them go further into specialized fields and make links between different subjects.
Students can seek dual degrees from different schools and among the possibilities are:
BA/BS in Liberal Arts and Engineering
BA/BMus in Liberal Arts and Music
BA/BS or BS/BS in Communication and Engineering
BA/BMus, BS/BMus, BA/BAMus, or BS/BAMus in Communication and Music
BSED/BMus or BSED/BAMus in Education and Social Policy and Music
BS/BMus or BS/BAMus in Engineering and Music
BSJ/BMus in Journalism and Music
The quarter system at Northwestern is an additional element of "What is Northwestern known for?" that lets students try out various courses and interests.
What Are Some Traditions At Northwestern University?
Northwestern has developed several traditions during its 230-year existence. Let's discuss what are some traditions at Northwestern University.
Armadillo "Dillo" Day, which honors the state mammal of Illinois, started in 1972. It became a big part of what is Northwestern known for and is now the biggest student-run music event in the country.
The Wildcats can speak up a storm. Another custom is for students to jingle their keys at the beginning of each game. When Northwestern is on defense, they also make noise and hold their hands in claw positions to confuse the opposition.
Students started painting "The Rock," which was formerly a fountain gifted by the Class of 1902, in the 1940s. People still leave messages, images, and symbols on the Rock nowadays. Before the Rock may be painted, there is also a custom of guarding it.
Every year, the new freshman class takes part in the March Through the Arch, which is a ceremonial march through the Weber Arch led by the marching band. Prior to Commencement Weekend in their final year, they March (Back) Through the Arch to celebrate their accomplishments and time at Northwestern.
What Are the Extracurricular Activities At Northwestern?
Undergraduates at Northwestern are quite involved in extracurricular activities, and there are many different clubs for them to check out. Now, what are the extracurricular activities at Northwestern?
On campus, Cookology is a more recent group. To assist students in learning various culinary methods, this student-run culinary arts organization arranges cooking and baking classes. Additionally, they feature several culinary festivals and pop-up dining experiences to highlight worldwide cuisine.
Several university organizations committed to fusing activism, community service, and performing arts also answers the query "What is Northwestern known for?" For young people with impairments, the Academy of Music and Arts for Special Education (AMASE) offers music and art education programs. Lipstick Theater produces plays by female playwrights with a strong female heroine and a focus on women's issues.
One of the more exciting groups on campus is Boomshaka. They frequently do freestyle rap ciphers, breakdancing competitions, and hip-hop and contemporary dance routines.
People who are interested in sustainability will be drawn to organizations like NUsolar, a student-run organization dedicated to developing and racing the next generation of solar-powered electric vehicles. Seven unique vehicles have been constructed by the group since its founding in 1997, and they have participated in numerous solar car competitions.
With regards to sports, what is Northwestern known for? The only private university in the Big Ten Conference since 1946, Northwestern is the smallest school in the league.
In recent years, Northwestern's women's basketball, field hockey, and lacrosse teams have been among its most successful.
For the first time in nearly 20 years, the Northwestern women's basketball team recently made it to the second round of the NCAA Tournament. In that contest, its senior point guard Lindsey Pulliam became just the third member of the team to surpass 2,000 points in a career.
Northwestern's women's field hockey team has captured its first NCAA title in school history. They achieved this by defeating the three-time defending champion team in the opening round. The Northwestern community, which hadn't celebrated a national championship in almost a decade, found this victory to be a momentous occasion.
The women's lacrosse team comes to mind when thinking of what is Northwestern known for in athletics. They not only won the NCAA Championship five times in a row (from 2005 to 2009), but they also did it again in 2011 and 2012, giving them seven titles in eight years! Since Northwestern had not won a varsity sport national championship since 1941, the success of the women's lacrosse team has greatly boosted school spirit at the university.
Over the last few decades, the men's football squad has also had a great deal of success. In the past 25 years, they have won three Big Ten title games, and their teams frequently have some of the highest graduation rates in the league.
Northwestern is a very exclusive university. About 47,636 students submitted applications to Northwestern's undergraduate programs during a recent admissions cycle. Only 2,086 applicants were chosen and accepted. The best thing you can do to increase your chances of being accepted is to improve your application, with the help of college admissions experts like AdmissionSight.
At AdmissionSight, we have over 10 years of experience guiding students through the competitive admissions process to get accepted to the top universities in the world. On average, 75% of our students are admitted to an Ivy League university, Stanford, MIT, UChicago, and Caltech, one of the highest track records in the industry. Feel free to set up an appointment today to book your initial consultation.