When Do Brown's Decisions Come Out?
While getting undergraduate applications ready and submitted prior to their deadlines can be a fairly stressful experience, there is no question that waiting to hear back from the particular schools that a high school student applies to can be just as – if not more – stressful.
That is especially true for high school students who have applied to some of the most prestigious and competitive schools in the United States, such as Brown University.
So, if you have applied to Brown and are asking," When do Brown's decisions come out?" then you have come to the right place!
At AdmissionSight, we make it a top priority to prepare the high school students that we work with every year, and every application cycle, for what is to come after they send in their college and university applications. The simple truth is that what comes immediately after is a waiting game. Once students have sent in all of their required and supplemental materials to the schools that they have applied to, they must respect the process and wait for the schools to make their own decisions.
Of course, when we say the word "decisions" we mean the different results that students can get after they apply to a given school. When it comes to what those decisions are, students can either be accepted, deferred, waitlisted or rejected a spot of admissions, and even the most impressive high school students who boast the best grade point averages, incredible standardized test scores, glowing letters of recommendation and tons of extracurricular achievements have to prepare themselves for any of those possible outcomes happening. That is particularly true if such a student is applying to a school like Brown University or the other amazing schools that make up the prestigious Ivy League.
So, if you are planning on applying to Brown and want to learn more about the Brown acceptance rate, the Brown REA decision date or when you can expect to get your own Brown acceptance letter in the mail, then you have come to the right place.
Let's get started and break all this down and more so that you can better know what to expect when your own year to start applying to colleges and universities arrives.
The Brown University acceptance rate
Before we break down the answer to the question, "When do Brown's decisions come out?" We thought that a good place to start would be to quickly discuss the current acceptance rate at Brown. When it comes to the acceptance rate, we of course are talking about the percentage of students that end up getting into a given school compared to the total pool of students that apply to that school in a given year.
Typically, the acceptance rate at a school like Brown will remain fairly consistent from year to year. Over the last decade or so, schools that are at the top of the lists when it comes to the most prestigious and competitive schools have seen a pretty consistent downward trend of a couple percentage points or so. The COVID-19 pandemic has certainly had an impact on acceptance rates in recent years as well, so it is important that every student interested in applying to these really competitive schools keep these acceptance rates in mind.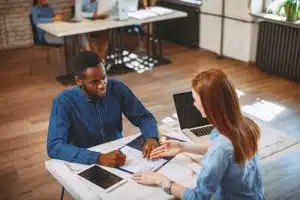 It is also important for students to know that when it comes to these really prestigious schools – which typically offer some kind of early admissions offer – there are typically two different acceptance rates that they need to be paying attention to.
The first acceptance rate is the overall acceptance rate. This refers to the percentage of total students that were accepted compared to the total pool of applicants.
The second acceptance rate is the early admissions acceptance rate. This refers to the percentage of students that were accepted who applied via the school's early admissions option.
Before we get into how these acceptance rates differ, it is crucial that we make clear that the Early Decision application option at Brown University is binding. This means that if a student applies to Brown in this way, they will have to follow a few restrictions and also be aware of the fact that if they do get accepted to Brown as an Early Decision applicant, that they will have to accept that offer and claim their spot in the school's upcoming graduating class.
Here is what Brown has to say about their Early Decision Commitment:
"We offer Early Decision as an opportunity for students who are ready to commit and would like early notification of their admission status. If you choose to apply to Brown under Early Decision, we ask that you not submit an application to another institution under another early decision, single-choice early action or restrictive early action plan. If you are admitted under our Early Decision plan, you will be required to withdraw all pending applications—including those you may have already submitted to regular, rolling or (open) early action programs."
The school also makes it clear that students who apply to Brown via Early Decision do not have a better chance of getting into the school. However, the difference in acceptance rate does tell a somewhat different story.
Keep in mind, we are using the 2021 acceptance rate to Brown as that is the most recent year in which the total amount of information has already been released.
The overall acceptance rate for students that applied to Brown in 2021 was just 5.5 percent. 2,569 students were accepted out of a total pool of 46,568.
The Early Decision acceptance rate for students that applied to Brown in 2021 was a far more forgiving 16.0 percent. 885 students were accepted out of a pool of 5,540.
From these numbers alone, you can see that students that applied to Brown via Early Decision did enjoy greater statistical success. However, it is important to recognize that many of these students were likely some of the most impressive who applied in that year. Moreover, based on what the school clarifies itself, these students would have likely gotten in even if they had applied via Regular Decision.
If you are curious to see where Brown stands compared to the seven other Ivy League schools in terms of acceptance rate, take a look at the helpful and informational table below:
As you can see, every single Ivy League school was incredibly difficult to get into in 2021. Of course, all eight of these schools have always been some of the most competitive schools in the world, but the COVID-19 pandemic did absolutely make getting into these schools just a bit more difficult.
In fact, a lot of schools across the United States in 2021 saw history-making numbers when it came to both the number of students that applied (historically high) and number of students that were accepted (historically low). It will be fascinating to see if students enjoy a bit better odds in the coming years.
So, now that you have a better understanding of what you will be up against in terms of the Brown acceptance rate, let's finally answer the question, "When do Brown decisions come out?"
Important dates to know for Brown decisions
When it comes to applying to Brown, there are a few important dates that students will want to be aware of depending on how they plan to apply to the school. Since the 2021-22 application cycle is just about wrapping up at the time of writing this piece, AdmissionSight thought it would be most helpful to look ahead to the upcoming 2022-23 application cycle which will start next fall.
Here are the important dates that you'll want to keep in mind if you are planning on applying to Brown during the 2022-23 application cycle:
Early Decision application deadline: November 1 (11:59 p.m. applicant's local time)
Early Decision letters available online: December 16
Regular Decision application deadline: January 5 (11:59 p.m. applicant's local time)
Regular Decision letters available online: March 31
Commitment deadline for Regular Decision candidates: May 2
Moreover, here is a quick breakdown of the materials and documents that every student applying to Brown will either be required to send, or will have the option to send in (as some materials and results are optional at Brown).
Complete application via the Common Application
Brown's supplemental essays submitted through the Common Application
$75 application fee of fee waiver
First quarter/trimester grades of a student's senior year (Early Decision applicants)
Early Decision Agreement (Early Decision applicants)
Students applying to the eight-year Program in Liberal Medical Education or the five-year Brown|Rhode Island School of Design Dual Degree Program must complete the special program essays
Send in a copy of your high school's official transcript sent in by a school counselor or school official
School report must be completed and submitted
Midyear school report and transcript must be completed and submitted
Students must send in one counselor recommendation
Students must send in two teacher evaluations/recommendations
Final school report and transcript
Standardized tests at Brown
Now that you have looked over this list, you might be curious about one piece of the application puzzle that has been crucial for years. That's right, we're talking about standardized test scores.
For years, the two standardized tests that students in the United States have taken – known as the SAT and ACT – have played pivotal roles in helping students get into the schools of their dreams. Both of these tests have been used to help test students on their academic ability and preparedness.
With that in mind, a lot has changed when it comes to the emphasis that has been put on a student's SAT or ACT test results, and as of 2019, every school in the Ivy League has adopted and maintained a standardized test optional policy. This began as something that was a result of the COVID-19 pandemic. It is possible that test requirements will return in the near future, however it is also possible that schools across the United States will maintain this new normal.
Here is what Brown has to say about its current policy:
"Brown will extend our test-optional policy to all first-year, transfer and Resumed Undergraduate Education applicants in the 2022-2023 admission cycle," the school recently announced. "Students who do not submit test scores should be assured that they will not be disadvantaged in our admission process, and we will look to other aspects of the application, from course grades and curricular rigor to insight from counselors and teachers, to assess academic preparation. The SAT or ACT, when submitted, will continue to be considered in the context of all the other information we have about a candidate. Standardized testing is informative, but has always been one among many components that we consider in our holistic admission process.
"As with every aspect of the admission process, our test-optional policy will be evaluated again before the 2023-2024 application cycle begins. As we continue to examine the impact of the COVID-19 pandemic on academic outcomes, both at the high school and college level, continued research and assessment is needed and will guide policy decisions in the coming years. We anticipate that the data we gather this year will help to provide clarity on these outcomes and inform our longer term testing policies."
So, as you can see, the school will continue its test optional policy for now. However, that could change as early as the 2023-24 application cycle. For that reason, if you are planning on applying during or after the 2023-24 cycle, you should be sure that you are up to date on all of the requirements at the schools that you plan to apply to.
What does it mean to get deferred or waitlisted at Brown?
When it comes to students who are applying to top schools, they sometimes assume that there are really only two outcomes of applying: The first is getting accepted, and the second is getting rejected.
However, there are two more options that applicants should be aware of. The first is known as deferred, and the second is known as waitlisted.
What does it mean to be deferred?
A deferral letter will typically come to students who have applied to Brown via Early Decision when the admissions committee wants more time with the student's applicant. When a student gets a deferral letter, it means that their application will be moved from the Early Decision pool and into the Regular Decision pool. If a student is deferred, they will no longer be subjected to the restrictive nature of the Early Decision application process.
From there, the school will reevaluate the student's application, and students have the opportunity to send in additional material to improve their application profile. Keeping up great grades, trying to improve your standardized test scores and achieving major accomplishments in your extracurriculars can absolutely help you improve your chances of getting into Brown.
Deferred students can either be accepted, denied admissions or waitlisted.
What does it mean to get waitlisted?
The other option that students can face when applying to schools is getting waitlisted. Students get waitlisted when an applicant has all the necessary qualifications but can still not gain a spot of admissions at this time. Waitlisted students basically have to wait longer for the school to get more information about which students enroll at the school and which students choose other options.
Whether a student is deferred, waitlisted or both, there are some important things that they need to do. Those include:
Make a decision: In both cases of getting deferred or waitlisted, students need to accept or decline a spot. If a student declines a spot, the school will no longer consider them for admissions even if a spot opens up.
Choose a backup: The next step to take for any student who has been waitlisted or deferred to take is to choose their backup school. This essentially means choosing the school that they most want to go to out of the schools that they have already been accepted. This is especially important for waitlisted students because waitlist decisions do not come out until well after the May 1st deadline. So, students will want to accept a spot at their backup, put down a deposit, and if they are ultimately accepted by their No. 1 choice, they can alert their backup of the change in plans.
Write a letter of continued interest: Finally, students will want to write a letter of continued interest to their top school and make it clear that despite being deferred or waitlisted, they are not deterred. Making it clear that your top school remains your top choice despite your deferral or waitlist will absolutely help improve your chances of getting in.
Get more advice on Brown admissions
There is no doubt that it is hard getting into Brown. However, it is not at all impossible and students prove that fact every year. If you are interested in learning more about the application process at Brown and how to improve your chances of getting accepted, contact AdmissionSight today for a free consultation.