Why Choose Cornell University Among Ivy League Schools?
Why go to Cornell University? If you're currently deciding which schools to apply to, you might be asking yourself this very question. With so many other universities from which to choose, why Cornell? It's an important question considering just how important this decision is for students. To help alleviate some of the pressure, we'll take a look at why would someone choose Cornell University over other top universities?
Why Cornell? A Quick Rundown
Here are some great reasons to love Cornell.
It has the highest acceptance rate of all Ivy League universities.
It's a large private university located in a quintessential college town.
Cornell offers students over 100 different areas of study.
It has some of the most stunning natural surroundings of any other Ivy League school.
Despite its size, the student body is tight-knit and passionate.
There's a strong bond among graduates, giving you access to an advantageous alumni network post-graduation.
Students have hundreds of different extracurricular activities from which to choose.
There's always something happening on-campus.
Having a degree from Cornell will help you land awesome jobs for the rest of your life.
Top Reasons You Should Consider Attending Cornell University
Academics
At Cornell, students have the unique opportunity to study directly under a world-class faculty including Pulitzer Prize winners, MacArthur awardees, and Nobel laureates. Additionally, Cornell offers a wide variety of academic opportunities including 80 majors and 120 minors, making it much more likely you'll find exactly what you want to study. Instead of applying to Cornell as a single entity, students apply to one of the university's many schools or colleges. Here are the various schools to which students can apply:
College of Agriculture and Life Sciences
College of Engineering
College of Architecture, Art, and Planning
College of Human Ecology
School of Industrial and Labor Relations (ILR)
College of Arts and Sciences
Cornell SC Johnson College of Business (which is further subdivided into the Charles H. Dyson School of Applied Economics and Management and the School of Hotel Administration)
Although it's possible for students to internally transfer in between these schools, the application process is involved and there are separate requirements. However, you're still able to attend courses at one school while receiving a degree in another.
Even though all of Cornell's academic offerings are world-class, they're particularly known for their architecture, engineering, and hotel management programs. In fact, the School of Hotel Administration is the de-facto hospitality management college in the entire country.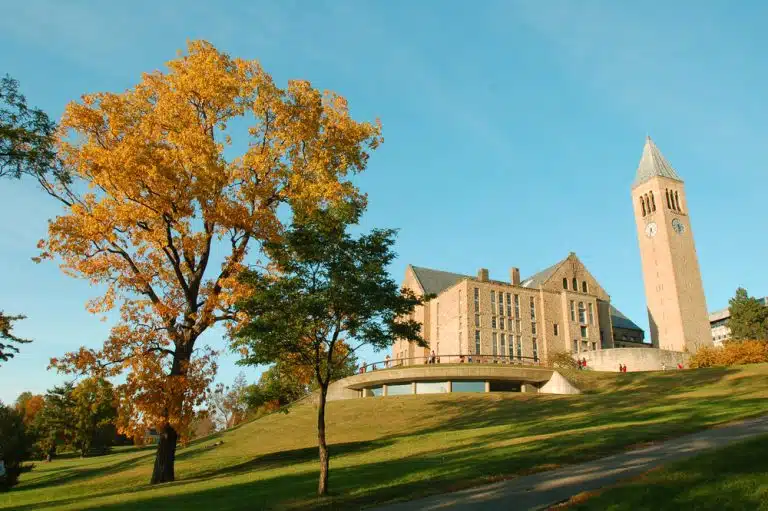 Students also have the ability to combine degrees from various colleges and schools through a process known as concurrent degrees. To be sure, not every Cornell college offers this option, and students have to qualify for both programs, making it a more challenging process than simply attending one of the university's colleges. However, if you're looking to earn a top-tier education in more than one field without having to attend different universities, Cornell is an excellent option.
A unique dual-degree option that allows eligible students to receive both an MBA and a bachelor's degree at the same time is the Five-Year MBA program which is offered in combination with the Johnson Graduate School of Management. A good number of Cornell students go on to attend medical, law, or even veterinary school. Yup, you heard that right! Cornell is one of the very few colleges, and the only Ivy League school, to have a veterinary school. Students who decide to pursue this further education will receive personalized advising resources from Cornell.
Over a third of students at Cornell participate in one of the university's many international programs. Some of the possible opportunities include Faculty-Led programs, College Exchanges, and Cornell Global Programs.
Another important academic factor to note about Cornell is that it has an impressive 25% admission rate for Fulbright applicants which overshadows the national average which is one-in-six.
Extracurriculars
Cornell has a rich extracurricular culture which proves that this university's ability to have fun is in direct proportion to its academic rigor. Although there are 37 different varsity sports teams, ice hockey is by far the most popular. Cornell is close to Canada after all! The Big Red – as the Cornell sports teams and student body is known – competes in Division I of the NCAA, the 12-team ECAC, and the Ivy League. The men's ice hockey team broke records by winning two national titles and going an entire season without losing a game. It might sound random, but this is a big deal on the Cornell campus…trust us!
All first-years at Cornell have to participate in two PE courses. However, some opt to join a team sport instead. There are countless club sports in addition if you're looking for something less competitive and more fun. Extracurriculars are largely intertwined with the school's Greek life in which roughly one-third of students participate. Not a big fan of fraternities or sororities, no worries! There are still over a thousand student organizations in which you can participate and find your group of people. To give you just a taste of the sheer diversity of clubs available, here are some examples:
Kung Fu
The Food Micro Minutes Podcast
Glee Club
Archery Club
Rock & Roll Club
Culture and Tradition
All-Ivy Leagues have unique traditions that become part of the overall student body culture. Cornell is no exception to the rule. If anything, their traditions are considered more vibrant and fun by some students. One of the most beloved traditions is what's known as Slope Day. This yearly event is celebrated after the final day of classes. It includes musical performances, excellent food, and a host of other fun activities.
As mentioned before, ice hockey is a big deal on campus. And we mean a really, really big deal. Naturally, anytime there's a home game, students love to make an entire festival out of the event.
Dragon Day is another important celebration in the mythology of Cornell University which sees students dressing up in costumes and carrying a dragon around campus. It might sound a little whacky, but it's become a special part of the experience at Cornell. Students have a blast putting together their own dragon and hauling it around the quad. Something a little more "typical" but no less fun is homecoming week when students partake in the Fireworks and Last Light Show event.
Arts and Entertainment
Cornell University offers students a wide array of discounts and deals for students to attend various events. Anything put on by the school's own Department of Music is open to tall students. Here, students can see performances by students, faculty members, and even visiting artists. Many students love to attend the Midday Music concert series regularly. All athletic games are completely free for Cornell students, except for men's hockey – go figure! However, you can still get these at a discount.
Students also love to attend the on-campus theater known as Cornell Cinema. If you're in the mood for some ice-skating outside of a hockey context, the Lynah Skating Rink is open to the public at certain hours. If you're wondering why Cornell students have such an attachment to hockey, it's just something you'll have to experience when you're on campus!
Food
Another major advantage of attending Cornell is its food! Yes, you heard that right! Cornell has consistently been recognized as one of the best universities for food in the entire country. Part of this is due to the fact that the College of Agriculture and Life Science has a close tie with the local Ithaca farming industry. Furthermore, the college operates many dairy and food facilities on campus. Students love getting ice cream from the famous Dairy Bar!
In recognition of the food plight that affects many students, Cornell University participates in several programs to help reduce hunger. Cornell Dining joined an independent program known as Swipe Out Hunger to offer students with excess meal swipes to share them with fellow students in need. There's also a food pantry on campus operated by the university that offers meals to needy families in the local community.
Location
The Finger Lakes are in upstate New York is famed for its breathtaking natural scenery. It's been a popular holiday destination among the northeastern population for decades. When you attend Cornell, you're given a front-seat spot to this beautiful region. With lush forests, towering waterfalls, deep gorges, and endless parks, you'll have all of the nature you could ever need in your backyard. It's easy to take advantage of this scenery with the plethora of outdoor activities available such as kayaking, boating, waterskiing, hiking, mountain biking, and much more.
Not in the mood for the great outdoors? No worries! Cornell is located in the small city of Ithaca, New York. It's the perfect combination between small-town comfort, privacy, and affordability and big-city convenience, accessibility, and excitement. Whenever you want to get off-campus and get a change of atmosphere, it's not more than a short drive away.
Ithaca has a fun, college-town vibe without being too limited. It's got all of the restaurants and shops you would be able to find in larger cities too. For students looking for a good balance between small towns in the middle of nowhere and large congested cities, Cornell University is a great choice.
What is Cornell University known for?
Cornell University is perhaps best known for having the highest acceptance rate among Ivy League schools. Although it fluctuates year-in and year-out, it's not uncommon for the Cornell acceptance rate to hover around 10% or above. This is nearly double some of the more selective Ivies such as Harvard, Yale, or Columbia. However, just because Cornell admits a higher number of students than its other Ivy League counterparts, that by no means suggests that it's easy to get into. Keep in mind that the average acceptance rate of colleges across the US is 68%. That means Cornell is still seven times harder to get into than an average school!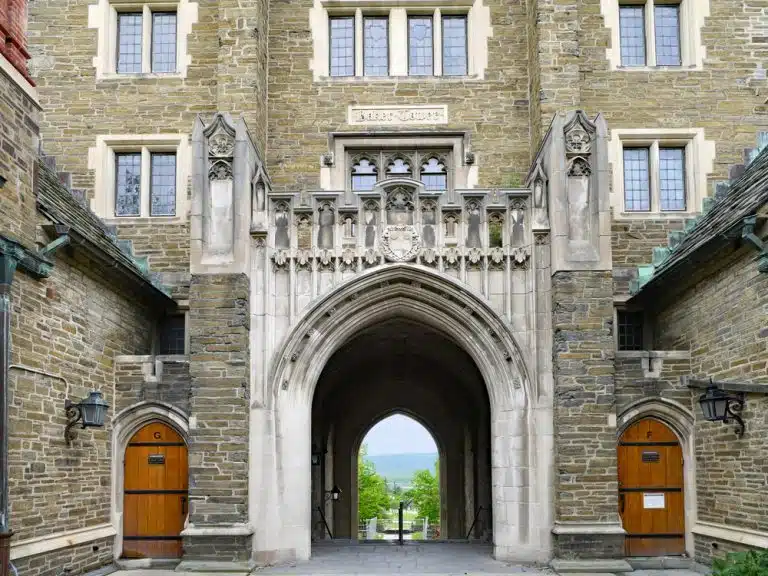 What is the Cornell University student population like?
In 2020, Cornell University had around 24,027 students, making it one of the larger Ivy League schools. This impressively large student body combined with the fact that Cornell is a private and highly competitive university makes for an interesting student population. They're known for being studios, hardworking, intelligent, and hardworking. However, you'll also find that they know how to enjoy themselves outside of the classroom. The school has a rich history of extracurriculars, clubs, intramural sports, and other fun activities. The Cornell student body is also known for being very close-knit and supportive of each other.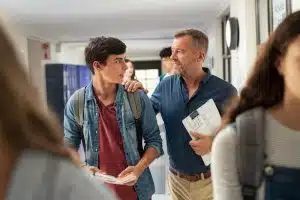 What is the Cornell University ranking among other schools?
One of the best ways to answer the "Why go to Cornell University?"-question is to talk about its position among other schools. According to the U.S. News – a prominent publication reporting on colleges and universities throughout the country – ranks Cornell eighth out of the Ivy Leagues and 18th out of all other national universities. Here are some other rankings based on a variety of categories to give you a better idea of how Cornell stacks up against the competition.
| | | |
| --- | --- | --- |
| #18 | | National Universities |
| #4 | | Best Colleges for Veterans |
| #61 | | Best Undergraduate Teaching |
| #25 | | Best Value Schools |
| #16 | | Most Innovative Schools |
| #251 | | Top Performers on Social Mobility |
| #9 | | Best Undergraduate Engineering Programs |
| #7 | | Business Programs |
| #8 | | Writing in the Disciplines |
| #18 | | Undergraduate Research/Creative Projects |
What are the worst things about Cornell University?
One of the worst things about attending Cornell University for many students is the difficulty of getting around without a car. Located in Ithaca, New York, Cornell isn't located close enough to a larger city like Boston, New York, or Philadelphia – like other Ivy League schools – in order to be connected to a reliable public transportation system. As a result, you really need a vehicle to get around quickly or to get out of the college town altogether. Older students don't find this an issue as they tend to have a vehicle, but freshmen might find this slightly annoying. However, everything you could need sits within walking distance of the university.
Is Cornell University fun?
Unfortunately, many Ivy League schools get a bad wrap for being super serious and not much fun at all. But that couldn't be further from the truth, and Cornell is a testament to that fact! Uniquely situated in upstate New York, there is no shortage of fun outdoor activities in which students can participate. Whether you feel like kayaking on a stunning lake, hiking through a dense forest, or just going for a stroll in a beautiful park, you can do it here!
While excitement abounds off-campus, there's also plenty to do on campus. The Cornell Cinema, nicknamed "Ithaca's year-round film festival" is a great place to watch some wonderful films. There are also plenty of clubs and other extracurricular activities in which students can and should participate.
Is Cornell University a good school?
Cornell University is a fantastic private research university offering students world-class academic opportunities, excellent resources, and top-level staff members. Students can choose from over 100 different fields of study covering diverse topics and interests, making it more likely that you'll find exactly what you're hoping to pursue. As one of the eight Ivy League universities, Cornell has a long history of providing world-class education to its students. If the alumni of a university are any sign of its value, then Cornell's worth is immediately recognizable with such impressive graduates as Ruth Bader Ginsburg, Bill Nye, Anthony Fauci, and Kurt Vonnegut.
How hard is Cornell University?
Cornell University, as you would imagine with an Ivy League school, is demanding and challenging. It attracts some of the most talented students from across the country. As a result, it's a competitive school in which students have to put their best foot forward in order to succeed. However, it's not impossible by any means. It's all about finding the right area of study given your personal interests and strengths and working hard to keep your grades up. With like-minded students surrounding you in each class, you'll have no trouble finding the support and peer drive you need to succeed.
What is Cornell University like?
Cornell University is full of passion and excitement. It's uniquely located in a small city in upstate New York with stunning scenery surrounding it in every direction. Despite its relatively remote location when compared to other Ivy League schools that butt up to some of the country's largest cities, Cornell is still a sizable school with more than 20,000 students. The campus has a very friendly and inviting atmosphere with students from all around the country and world coming together with a shared goal. You'll make some excellent friends here and you might even get converted into an ice hockey fan if you aren't already!
What is unique about Cornell?
Perhaps the most unique thing about Cornell is that it's the only Ivy League school that's a land-grant university. What's that? Well, it's a school that's been designated to receive unique funding from the state under what's known as the Morrill Acts. Signed into law by Abraham Lincoln, this act originally was designed to grant federal land to states that would then provide the space to colleges who would pursue certain fields of study such as engineering, military science, science, and practical agriculture. Obviously, the focus of Cornell has changed to meet 21st century needs, but it's still one of the only private universities to hold this title.
Need help getting into Cornell?
Now that we've thoroughly answered the "Why go to Cornell University?" question, we can talk about how to increase your chances of getting admitted. AdmissionSight is a leading college entrance expert with decades of experience assisting students in the application process to top-level universities. We offer interview preparation, essay editing services, extracurricular planning, and a host of other personalized services. Feel free to contact us to learn more about what we offer.