Can You Take The SAT After High School?
Can you still take the SAT after high school? Quick response: Yes! The SAT is something that so many high school students dread. But if you're planning to enroll in college as an adult student after graduating, do you still need to be concerned about it? Can you even use it in the future? Can you take the SAT after high school?  If so, what has changed?
As more and more students continue their education after graduating from high school, institutions and prospective college students are debating these issues. You should be aware of the following:
Why would you consider taking the SAT after high school?
It makes sense to think about taking the SAT if you're applying to college as an adult (i.e., if you're in your mid-20s or older). Colleges will probably want to see more recent test results, even if you took the exam in high school.
Or maybe you took a year off to work on your resume so you could get into the school of your dreams. Retaking the SAT might help you improve your academic index if that's the case. Perhaps COVID prevented you from taking the test at all.
You could also be a community college student who aspires to transfer to a four-year institution of higher learning. A good SAT score, along with a solid college GPA, may strengthen your application.
In these situations, some universities do eliminate the SAT requirement for students, especially for adult applicants. However, it's crucial to confirm with each college in question. If you think the test will improve your application, you may decide to take it regardless.
You may need to take the SAT after high school for the following three reasons:
1. Application for admission to college
Can you take the SAT after high school? Did you wait a few years after high school to apply to colleges, skipping the SAT in the process? If so, you'll probably need to take the SAT or ACT in order to apply to colleges. Did you wait a while to apply to colleges after high school, yet you took the SAT in high school? A retake of the SAT may not be necessary if you took it in high school.
The College Board keeps an everlasting archive of your SAT results. However, a recent SAT score from the past 3–5 years is required by several universities. Check the application requirements for each college.
Additionally, even if you took the SAT in high school, you might wish to retake it to get a better score. Try to raise your SAT score to or above the 75th percentile of admitted students' SAT scores to increase your chances of admission.
2. Choosing a new college to attend
You could be required to provide a SAT or ACT score with your application if you're applying to transfer colleges from a community college or a 4-year university to another 4-year university. You will probably need to include a SAT or ACT score with your transfer application if you have attended a college or community college for only six months to a year. You may probably use your SAT or ACT scores if you took them in high school.
But if you want to increase your chances of admission, you might opt to retake the exam. To have the best chance of being admitted, your SAT score should be at or above the 75th percentile of the SAT scores of admitted students.
3. Using a job or scholarship application
Sometimes, especially if you're applying for jobs in the education industry, you'll need to submit your SAT results with your job application. Furthermore, some scholarships require that your score falls within a specified range. You could submit your scores if you took the test in high school, but if you didn't or if you need to raise your score to be eligible, you'll need to retake it now that you're an adult.
Make sure you follow their guidelines for your employment or scholarship. Some people may request a SAT score from high school and not take a fresh score into account. Know the requirements, and ask questions via phone or email if you're unclear.
How can you take the SAT after high school?
How can you take the SAT after high school? The first step to take if you've made up your mind to take the SAT as an adult is to look for and register with a suitable community college or institution. Most college boards and schools allow you to apply online; however, some may require you to attend an in-person registration session.
There are certainly a few questions on the application that are neither pertinent nor appropriate, like those about your parents. If you're not sure, ask the school's admissions staff or get the help you need to fill out an online application.
When the time comes for you to sign up for and take the SAT, you will do so similarly to any other high school student taking the exam that year. Though it might be scheduled at a community college in your neighborhood, the test will typically be administered in a high school, where you will sit next to high school students. Additionally, several universities arrange SAT exams just for "mature" students.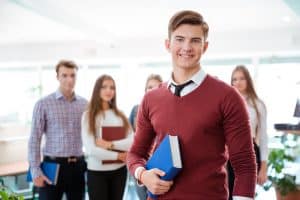 One thing to keep in mind is that high schools and community colleges fill up quickly each year, so it's critical to plan ahead and submit your application on time. Don't wait; before your application is submitted and accepted, you might have questions and require assistance. Get the greatest SAT calculator for your needs while you get ready for the exam.
How to get SAT scores after high school?
How to get SAT scores after high school? It merely requires a few steps to find your previous SAT results.
Recall whether you took the SAT or the ACT for college admission.
SAT: Your SAT score will be between 600 and 2400 points, with three or four digits. The redesigned SAT has a different scoring method, and the current scale, which has a maximum of 1600, began in March 2016. The score you may have obtained in the 1980s or 1990s would be scaled slightly differently now because the SAT has undergone significant modification over the past 20 years.
Ask the College Board for a score report.
Via mail: Download the request form and send it to the SAT Program through postal mail. At the time of the exam, you'll need to know your personal information, such as your street address, and you'll also need to decide who you want to receive your SAT results.
By phone.
Cover the cost of your previous SAT score report.
Currently, the cost to retrieve previous SAT scores from the archives is $31.
Since you will pay $12 for each report, you must multiply that sum by the number of individuals you are delivering the report.
There are extra charges ($31) for expedited delivery.
Await the arrival of your score reports! The College Board will mail your score reports to you and any other recipients you've selected on the form within five weeks of receiving your data.
Do you wish to learn more about if can you take the SAT after high school? You're spot on! Over the past ten years, AdmissionSight has assisted students in navigating the challenging college admissions process.
With the assistance of AdmissionSight's college admission specialists, you can apply to colleges next semester with overflowing confidence. To learn more about our services, get in touch with us now.