How to Get My Kid to Fill Out Ivy League Applications
Ivy League colleges represent the very best that the US education system has to offer. These eight schools have provided unparalleled educational opportunities, competitive professional development, and unbeatable networking opportunities to students for decades (and some for hundreds of years). As a parent who wants the best for your child, these colleges are most likely on your radar. When your student approaches high school age, you might already be thinking about ways to set them up for success in terms of college. If you're wondering "how to get my kid to fill out Ivy League applications successfully", you're in the right place.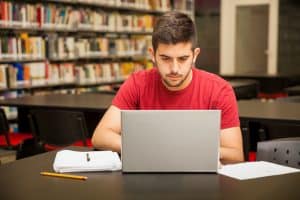 Admission Sight has a deep and thorough understanding of the admissions processes for these high-level universities. Just like you, we're dedicated to ensuring the academic success of your child. And one of the most important steps to secure this success is to nail the applications to Ivy League universities. It's this set of documents, essays, and other requirements that will ultimately reflect your child's academic prowess and personality. Even the most talented and qualified students can end up setting themselves up for failure if their Ivy League application isn't flawless.
Here, we'll take a look at some tips parents can use to support their children when they're filling out Ivy League applications. This is more than just a simple parent's guide to helping their kid get into college. It's a guide to help parents get their children into Ivy League colleges!
15 expert tips to help kids with Ivy League applications
Getting into an Ivy League college isn't easy, but many people don't think about how challenging the application process itself can be. Since you want the very best for your kid, you want to make sure that they knock their Ivy League applications out of the park. After all, with a lot of competition, this is one of the most important ways to help your child stand out. Here are some practical tips for parents wondering "how to get my kid to fill out Ivy League applications successfully."
1. Listen attentively.
When your child is applying to an Ivy League school, he or she will need you to play several roles: supporter, organizer, chauffeur, etc. While wearing all of these different hats, it's easy to forget about one of the most important: listener.
If the idea of helping your child fill out an Ivy League application induces higher stress levels, just imagine how your child feels! Sometimes, simply taking a few minutes to ask questions and listen attentively is exactly what your child needs to feel heard and stay motivated. Even if your child needs a few minutes to vent, being that active listener can make a huge difference.
2. Don't always take the lead.
Parents often play the role of ring-leader when trying to encourage (or nudge) their kids to begin the application process. While it might be necessary to assume this position at some points, you don't want to always be the one taking the lead. Although you may feel more invested at times, don't forget that it's about your child's future.
Taking time away from being the task-maker not only gives you a break but also gives your kid an opportunity to take responsibility, show initiative, and demonstrate determination. Sometimes, the best way to help kids with college applications is to do nothing at all. Although many parents find this incredibly hard to do, it's the only way a child can learn to grow and develop on their own.
3. Make a to-do list.
It's easy to get lost in the shuffle of test dates, documents, transcripts, and everything else involved in the Ivy League admission process. Parents can do their children (and themselves) a favor by breaking these requirements down into an organized to-do list. This simple strategy helps you accomplish three things.
First, you'll have an easier time visualizing what task needs to be completed and when. Secondly, you'll streamline the application process by taking out any second-guessing. Lastly, and perhaps most importantly, you'll also reduce some stress involved in the process. Don't feel like this is something you have to tackle on your own. It's something you and your child can sit down and make together.
4. Keep a detailed calendar.
In addition to keeping a to-do list, maintaining a detailed calendar is another great way to keep your child organized and up-to-date. When filling out an Ivy League application, your student will be faced with seemingly countless deadlines and due dates. With thousands of competitive and highly qualified applicants, Ivy League universities aren't lenient when it comes to submission dates.
So, it's vital that everything gets completed and turned in in a timely manner. It's advisable to dedicate an entire calendar to the admissions process. When you first make it, quadruple-check to make sure the dates you've written down match the corresponding dates set for the by the university.
5. Urge your child to contact an admissions officer.
Some Ivy League colleges recognize what's known as "demonstrated interest" – active interest a student has shown in attending the school – and consider it when looking at applications. Having your child reach out to an admissions officer at the Ivy League school (or schools) of their choice is an excellent way to illustrate his or her desire to attend the university while also providing an opportunity to glean important information about the admissions process.
While you might be tempted to make the call on your student's behalf, this step can help them develop the communication skills necessary in college. If you want, you can do a mock "interview" beforehand to practice.
Pro Tip: Keep in mind that not all Ivy League colleges consider "demonstrated interest". Still, encouraging your child to contact admissions officers at universities that don't take this contact into consideration is still beneficial.
6. Get all of your information together.
While much of what you can do for your child during the application process will be in the form of support, there are some things that you'll need to take care of directly. All of the financial information requested by universities regarding your income and tax situation will obviously need to come from you. You can help ensure your child's Ivy League application is complete by having this paperwork completed in a timely manner and ensuring everything is up-to-date and accurate.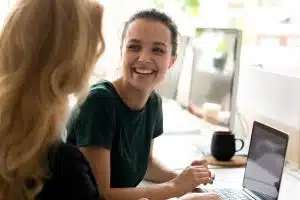 You'd hate to put so much energy and time into supporting your child in the application process only to realize that a small mistake on this financial information causes a problem. Feel free to reach out to the university directly if you have any questions or concerns about the information you're being requested to provide.
7. Take care of yourself.
It's easy to "lose yourself" when supporting your child during the application process. Many dedicated parents end up forgetting to attend to their own needs as they dedicate all of their energy and attention to helping their students achieve such a lofty goal. However, this myopic view and singular dedication will only end up backfiring. It's critical you take time for yourself to decompress, relax, and assess your own feelings.
After all, sending a child off to college is a big step for you too! Don't wait until it's move-in day to confront your feelings. On a more practical level, make sure you're getting enough sleep, drinking enough water, and eating enough food. As the old saying goes, if you want to help others, you first need to take care of yourself.
8. Take time finding schools that are a good fit.
You want the best for your child and that makes getting a great education non-negotiable. And when confronted with thousands of potential choices from across the country, the Ivy League sticks out as an obvious choice for its world-class offerings. While it might seem like the decision-making process ends there, it's important to dig a little deeper and determine which of the Ivies is the best fit for your child.
Just because it's a great university doesn't necessarily mean it's a great university for your student. Spend some time with your child to research the various Ivy League schools and talk about how each measures up to what your kid wants out of a college. Think about campus location, class sizes, academic programs, course offerings, living situations, and more.
9. Limit talks about the application process.
As you and your child become partners on the quest for Ivy League acceptance, you two might find that all of your free time ends up being dedicated to this effort. While it's necessary to put your best foot forward when applying to an Ivy League school, you don't want the process to dominate your lives.
To help make sure there are boundaries around how much time and energy you and your child put towards this effort, make sure you set limits on when (and where) talk about college applications isn't allowed. Maybe at the dinner table, you want to take a break to talk about other things. Or perhaps you want to leave the weekends free so you can feel refreshed come Monday. Either way, these boundaries can help keep you and your child from feeling overwhelmed.
10. Think twice about giving advice based on personal experience.
If you attended college, it can be tempting to dish out advice based on your experience. While these personal insights are a great way to connect with your child during the application process, you'll want to make sure your suggestions are still relevant before making any concrete prescriptions. The application landscape is always undergoing changes.
Just because something worked when you were applying doesn't necessarily mean it's still applicable today. This doesn't mean you shouldn't talk about your own experiences. Instead, it simply means you should refrain from giving very concrete recommendations unless you know they're still relevant in today's context.
11. Remain patient.
If you've been researching "how to get my kid to fill out Ivy League applications", it's clear you're playing an active role in your child's future. While this dedication to your kid's academic development is paramount to their success, it's important to remain patient throughout the process. It's normal for students to change their minds regularly, reconsider decisions they thought were already made, and move at a slower pace than you might prefer.
Looking at it from your child's perspective can lend some insight and make it easier to remain patient. Students are taking one of the biggest leaps of their life by applying to an Ivy League school. It's expected that your child will feel a little anxious during the process. Being a calm and centered guide can help tremendously.
12. Keep your expectations realistic.
The admissions process has become increasingly difficult over the past few decades. Just because you found it easy to get into the college of your choice, doesn't necessarily mean the same will be true for your child. And, perhaps more importantly, the difference isn't necessarily your child's efforts or qualifications.
Parents who graduated in the past need to remember to line up their expectations with the reality of today's college admissions landscape. If your child doesn't end up getting accepted to their first, second, or even third choice, don't get discouraged or harp on the topic. Instead, do everything you can beforehand to ensure their Ivy League applications put them in the best position to get accepted.
13. Encourage your child to take breaks.
If your child has a natural inclination to overwork, he or she might find it difficult to manage their time when filling out Ivy League applications. Given the competitiveness of the applicant pools and the highly selective nature of Ivy League universities, many high school students are justifiably overwhelmed by the daunting admissions process they must undergo even for a chance to get accepted.
While a considerable amount of time and energy needs to be dedicated to this process to ensure success, it's just as important to take regular breaks, whether that's a few minutes to grab a bite to eat in the middle of the day, blocking off an entire weekend, or taking an extended vacation. Being that voice of balance for your child can help limit stress.
14. Don't forget to have fun.
Fun, excitement, and enjoyment. Those words aren't typically associated with Ivy League applications. However, in order to make the admissions process as meaningful and successful as possible, it's important for parents to try to infuse it with some lightheartedness and fun. When worrying about due dates, requirements, and processing times, it can be difficult to forget that your child is applying to some of the best schools in the entire world!
Recognizing this amazing feat is a great way to instill a sense of pride in your child no matter what happens. By acknowledging what's already been accomplished, it'll be easier for you and your child to let go and have some fun during the application process.
15. Hire a professional
A parent's guide to helping their kid get into college wouldn't be complete without the mention of admissions counselors. What many parents fail to realize is that there are professionals who are dedicated to helping students nail the application process to drastically increase their chances of getting into some of the best universities in the country.
Whether your child needs help writing and editing an essay, academic guidance when selecting the best courses, or support when choosing a suitable university that matches their personal strengths, a reputable college admissions specialist can offer support. These experts can even give you tips as a parent for the best strategies you can implement to help your child fill out the best application. It doesn't matter if you're in the middle of the application process or your child is still in his or her freshman year of high school, it's never too early to start.
Get more advice on Ivy League admissions
Although Ivy League universities have earned their reputation as some of the leading institutions of higher learning in the country, this esteem can also create a cloud of confusion and mysteriousness. Parents who want to give their children the best chances of getting accepted to these universities often don't know where to begin.
Fortunately, there are insightful resources like Admission Sight which can offer parents guidance and support for Ivy League applications. With insider-knowledge and a proven track record of success, Admission Sight can help your child get into the very best schools. To learn more about our services and how you and your child can benefit from them, feel free to reach out to us.