The Best Colleges Without Greek Life
Each year, approximately 20 million students apply to attend college, but only about 10 percent of those students actively seek out membership in social sororities and fraternities. There are a lot of colleges without Greek life. Students who attend these schools still have the opportunity to lead active social lives by taking part in extracurricular activities such as school clubs and other student organizations.
Many of these schools have relatively small student bodies, and some of them even have religious communities that are integrated into the culture of the campus. The goal of colleges is to assist students in both the process of making new friends and creating memories that will last a lifetime.
Best colleges without Greek life
Here is a list of the country's best colleges without Greek life:
University of Notre Dame
South Bend, Indiana
The University of Notre Dame, which was established in 1842, has a long history of breaking new ground in terms of research and technological advancement. More than 70 different undergraduate majors and professional programs in fields such as law and architecture can be found at this Catholic institution of higher education.
The student-to-faculty ratio of 10 to 1 ensures that there is ample opportunity for students to interact with their respective teachers.
There are more than 500 student clubs and organizations, which means that every student will be able to find a suitable group. Among the organizations that students can join are the Campus Fellowship of the Holy Spirit, the Not-So-Royal Shakespeare Company, and the Board Game Club. Honor societies award members based on their academic achievements, and service organizations offer members the chance to assist those in need.
William Marsh Rice University
Houston, Texas
Rice University is one of the best colleges without Greek life. In 1922, Rice University's Trustees decided to ban all of the school's sororities and fraternities. The residential colleges of the university, on the other hand, provide students with social activities that are analogous to those of Greek organizations without requiring students to rush or pay additional dues.
Each of Rice's 11 residential colleges has its dining hall, social room, and residence halls for its students. New students at Rice are given a placement in one of the school's residential colleges at random, and they remain affiliated with the same college throughout their time there.
There are over 300 different clubs that offer additional opportunities for socializing, volunteering, and gaining professional experience.
Students at this private research university have the opportunity to choose from one of more than 50 undergraduate majors, and the student-to-faculty ratio averages out to be 6 to 1. Because it is situated in Houston, Texas, the campus offers convenient access to the various recreational opportunities offered by the city.
Boston College
Boston, Massachusetts
When it first opened its doors in 1863, Boston College's primary mission was to serve the educational requirements of Irish immigrants. The research university of today has more than fifty different majors spread across eight different schools. BC has a total enrollment of roughly 9,300 students.
Learners have access to more than 300 different clubs and organizations on campus. Learners can find organizations that are interesting to them through the student involvement fair.
The university fields 31 teams that compete in Division I of the NCAA's athletic competition. Students have access to over 40 different intramural sports leagues, which they can participate in to have fun and keep active. In addition, the recreation center provides opportunities for participation in outdoor adventure activities.
Georgetown University
Washington, D.C.
Georgetown University is among the best colleges without Greek life. In 1792, Georgetown University, which is situated in the center of Washington, District of Columbia, opened its doors to its first students. There are currently more than 12,000 students enrolled at the Catholic university, which is comprised of nine schools.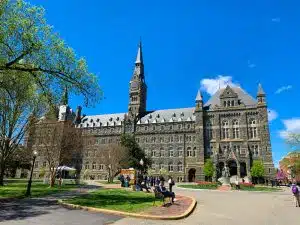 Students have access to over 350 different clubs and organizations on campus, and the Center for Students has the opportunity to participate in acapella groups, volunteer to walk Georgetown's mascot (Jack the Bulldog), or join any one of the dozens of sports clubs available on campus.
According to the information provided by the student government, approximately ten percent of students are members of fraternities and sororities that are not officially recognized by the university and do not receive funding or other support from the institution.
Bowdoin College
Brunswick, Maine
This private college, which can be found in the middle of Brunswick, Maine, is home to approximately 2,000 students on an annual basis and emphasizes research and the liberal arts. The student-to-faculty ratio at Bowdoin College is an impressive 9-to-1, and 71% of the classes have an enrollment of 20 students or fewer.
There are over one hundred student organizations that provide opportunities for involvement. The arts, politics, community service, and business are just some of the topics that are discussed in clubs. The Innovation + Entrepreneurship program has plans to launch an incubator in 2021 to promote "Capitalism for the Common Good." The incubator will provide opportunities for alumni, professors, and potential business investors to network with one another.
Loyola University Maryland
Baltimore, Maryland
Loyola University Maryland was established in 1852, and since its inception, it has been dedicated to the ideals of academic excellence and education of the whole person. This Catholic university, which is located in the middle of Baltimore, incorporates community service into all aspects of campus life, including academic requirements.
On campus, there are over 200 different student organizations that students can join. Dance clubs, professional clubs, and even a paintball club are some of the options available to you. Taking advantage of remote engagement has been a successful strategy for several clubs, including the Baking Club, which issued a baking challenge, and the 30-day Lego challenge.
Fordham University
New York, New York
Each year, the students at this Jesuit Catholic university in New York contribute more than one million hours of service to various organizations and causes in the local community. Students at Fordham are connected to community groups, schools, and nonprofit agencies that serve the residents of the surrounding community through Fordham's Center for Community-Engaged Learning (CCEL).
Fordham University is among the best colleges without Greek life. Each year, the university serves more than 16,000 students. On-campus housing is provided at both of Fordham's campuses, and residents organize themselves into hall councils to plan and carry out a variety of events.
More than 160 student organizations call Fordham University their home. These organizations facilitate the connection of students who share similar interests, thereby enabling those students to develop new abilities. There are a variety of choices available, such as the performance club, religious organizations, and mock trial competitions.
Brigham Young University
Provo, Utah
Approximately 33,000 students attend Brigham Young University each year. The school is located in Provo, Utah, at the foot of the Wasatch Mountains. The Church of Jesus Christ of Latter-day Saints is a sponsoring organization for this non-profit private university. A significant number of students participate in mission work.
Students who are living alone have the option of living on campus or in nearby apartments whose landlords have agreed to abide by the school's honor code. The honor code serves as the bedrock upon which academic instruction, extracurricular activities, and student participation are built.
Learners have the opportunity to participate in a wide variety of student organizations and clubs. Among the more than 180 available options are academic organizations and clubs for people with specific interests.
Oberlin College
Oberlin, Ohio
This private liberal arts college can be found in the northeastern part of Ohio, and it provides more than forty different majors in addition to a music conservatory. Oberlin, which was established in 1833, is proud of its history of progressive action.
Oberlin, one of the best colleges without Greek life, is committed to creating a campus community that is well-connected with one another. Students have a variety of options to select from when it comes to their living arrangements, including residence halls with recurring themes and kitchens shared by multiple students.
More than 175 different student organizations are available for students to join on campus. Others provide opportunities for performance or creative expression, while still others emphasize community service and political engagement. In addition to the other options, there are sports and intramurals. It is simple for any student to initiate the formation of a new club.
Middlebury College
Middlebury, Connecticut
This private liberal arts college in western Vermont was established in the year 1800 and is among one of the best colleges without Greek life. It currently provides forty different courses of study to its students. In-depth instruction is provided in ten different languages through Middlebury's summer language programs, which are offered to students.
More than 60 different residence halls can be found on the Middlebury campus. Within their residential communities, first-year students have the opportunity to interact with classmates from other parts of the campus. The more senior students have several different residential communities from which to select.
There are over 200 student clubs that provide opportunities for socializing, learning, and community service. The Student Activities Office helps connect students with organizations of interest, such as sports and intramural teams, cooking clubs, and professional organizations.
Middlebury also hosts cultural events throughout the year. The college's winter carnival ranks among the oldest in the nation.
What is Greek life?
What is Greek life? Collectively referred to as "Greek life," fraternities and sororities are value-based, undergraduate organizations that are mainly associated with colleges and universities. They focus primarily on assisting young people in achieving academic success while also assisting them in developing social and leadership skills.
While the majority of fraternities and sororities are local or campus-based organizations, some of them are part of larger national organizations that have chapters on hundreds of campuses across the country. Members of a fraternity or sorority frequently have interests in common with one another and offer support to one another as they navigate college and life after graduation.
To a large extent, fraternities and sororities are there to assist young people in developing their social and leadership skills, in addition to providing academic support.
Greek organizations have, ever since their inception in the late 1700s, been subjected to more than their fair share of criticism. Many traditional Greek organizations have had their reputations damaged by irresponsible and dangerous incidents, such as binge drinking and hazing scandals. This has resulted in members leaving the organization.
Even though the vast majority of Greek organizations have rules in place that prohibit members from engaging in such activities, hazing is still practiced on many college campuses. Because of this, it is extremely important to do thorough research on any chapter that you might be interested in joining.
What are the pros and cons of Greek life?
Even if you decide to go to one of the best colleges without Greek life, you should still do some research on the question, "What are the pros and cons of Greek life?"
Pros
Opportunities for professional networking
The bonds that you form with your brothers and sisters through membership in a Greek organization can be lifelong, and they may even extend beyond the boundaries of your school's chapter.
In the same way that traditional networking can give you access to a wide variety of opportunities during your time in college, networking through Greek life can do the same. Sometimes even further than that.
85 percent of the current CEOs of the companies that make up the Fortune 500 are members of Greek organizations. This demonstrates that the connections you make through your sorority or fraternity really can help you advance professionally. This is especially true if you belong to a larger organization.
Even after you have graduated, you will still be able to keep in touch with people through the alumni branch of your organization. This provides you with access to tens of thousands, hundreds of thousands, or even millions of additional members.
Leadership opportunities and skills
Participation in Greek life, much like participation in other student organizations, can open the door to various leadership positions within the organization. These range from positions within your specific chapter to opportunities within the Panhellenic Council (for sororities) or Interfraternity Council (for fraternities) that serve the entire campus (for fraternities).
Not only will these roles look good on your resume, but they will also give you concrete leadership skills that you can carry with you throughout your entire life.
You will still learn valuable teamwork skills even if you decide not to take on a leadership role because you will be required to collaborate with other members of the group, some of whom you may find difficult to get along with.
Fundraising
In addition to the opportunities for leadership that are presented, the members of your Greek organization will also participate in charitable fundraising and community service projects. This participation can also provide you with valuable skills that can be applied to a future career.
In addition, the process of fundraising in and of itself can be a rewarding experience, particularly if the cause that your chapter raises money for is particularly meaningful to you.
Events
Greek organizations put on a wide range of events throughout the academic year, so you'll never run out of things to do or things to look forward to.
In addition, being a part of Greek Life opens the door for you to participate in other organizations and activities on campus.
Friends
Many prospective students find that the promise of an immediate circle of friends is one of the most appealing aspects of Greek life. Members can get to know each other very quickly thanks to the numerous events for group bonding and socializing that Greek groups co-host.
This can help relieve some of the stress that other first-year students experience when trying to make friends on a new campus away from their homes.
Cons
Risky indoctrinations
Hazing is typically the first thing that comes to the minds of students and parents who are concerned about the potentially negative aspects of Greek life. Not without good reason, either.
Over the course of the past few years, there have been horrifying accounts of students who have been hurt or even killed as a result of participating in hazing rituals. Drinking excessively is the most common cause of this problem.
It is essential, however, to keep in mind the culture that exists at each school as well as within each Greek organization. For example, some schools have made it illegal for students to participate in any kind of hazing ritual. Certain organizations have outright forbidden hazing rituals, while many others have never engaged in such activities.
Be sure to perform adequate research on the individual chapters of the organization that you are considering joining. The activities that a chapter participated in at another school may play out completely differently at your institution.
Cost
What kind of financial commitment is required to participate in Greek life? Unfortunately, there is no clear response to that question that can be provided. Because sororities and fraternities determine their dues and fees, the total cost of membership can range anywhere from zero to more than a thousand dollars per semester.
In addition to the fees required for membership, members might also be expected to pay for certain events or items of clothing. Because of the potential for these costs to quickly add up, participation in Greek life can pose a financial burden for some students while also being an inconvenience for others.
However, there is a possibility that certain organizations have ways of offsetting costs for members who have low incomes.
Some people might not be interested because there are additional costs involved.
Time commitment
The process of joining a sorority or fraternity already requires a significant time commitment on your part. The week known as "rush week," which occurs at the beginning of each academic year or semester, can be extremely time-consuming and demanding.
During rushing, you will typically visit several different Greek houses in addition to attending parties and mixers. You will also have an interview with the members of the chapter, who will ultimately decide whether you will be invited to pledge or not.
Alternatives to Greek Life
It is perfectly acceptable for you to be against joining a Greek organization or to be on the fence about doing so. There are a lot of other options available besides the Greek system. Students can find the social connections they are looking for at the best colleges without Greek life by participating in the organization listed below.
Clubs
Intramural Sports
Political Organizations
Religious Organizations
Acapella Groups
Performing Arts Groups
Dance Groups
If you are still unsure if you want to get accepted to one of the best colleges without Greek life,  AdmissionSight is here to help. We have more than ten years of expertise assisting students in navigating the tough admissions process to the greatest colleges in the globe. Consult with AdmissionSight and learn more about the services we provide to ensure that you are adequately knowledgeable and prepared to enter the school of your choice.