How to Get Into Swarthmore: A Step-by-Step Guide
Swarthmore College is a prestigious institution known for its rigorous academics, vibrant community, and beautiful campus. If you're eager to join the ranks of Swarthmore students, this step-by-step guide will provide valuable insights on navigating the admissions process and increasing your chances of acceptance. From understanding the college's history and reputation to crafting a compelling application, we'll cover everything you need to know to get into Swarthmore College. So let's dive in and discover how you can make your Swarthmore dreams a reality.
Understanding Swarthmore College
Welcome to Swarthmore College, a prestigious private liberal arts institution nestled in the charming town of Swarthmore, Pennsylvania. Founded in 1864 by a group of Quakers, the college was envisioned as a beacon of educational excellence rooted in ethical principles. Over the years, Swarthmore has remained true to its founding values, consistently providing an inclusive and intellectually stimulating environment for its students.
A Brief History of Swarthmore College
Let's delve into the fascinating history of Swarthmore College. Established during a time of great social and political change, the college emerged as a response to the need for a progressive educational institution to prepare students to navigate an ever-evolving world. The Quaker founders believed that education should be academically rigorous and imbued with values of social justice and equality.
Since its inception, Swarthmore has been at the forefront of educational innovation. The college was one of the first in the United States to adopt a coeducational model, allowing both men and women to pursue their academic aspirations side by side. This commitment to inclusivity and diversity has remained a cornerstone of the Swarthmore experience.
Swarthmore College's Reputation and Rankings
Renowned for its commitment to academic excellence, Swarthmore College has earned a well-deserved reputation as one of the top liberal arts colleges in the nation. The college's rigorous coursework challenges students to think critically, fostering a deep love for learning that extends far beyond the classroom.
At Swarthmore, students have the opportunity to engage in groundbreaking research alongside esteemed faculty members. This emphasis on undergraduate research enhances the educational experience and prepares students for future success in various fields. As a result, Swarthmore graduates are highly sought after by top employers and graduate schools.
When it comes to rankings, Swarthmore consistently shines. Year after year, the college secures top spots in national college rankings, affirming its status as an academic powerhouse. Recently it placed #4 among the National Liberal Arts Colleges, according to US News & World Report, and # 29 in the US College Ranking of Times Higher Education. These rankings reflect the faculty's dedication, the student body's intellectual curiosity, and the commitment to excellence permeating every aspect of campus life.
The Swarthmore Community and Campus Life
One of the defining aspects of Swarthmore College is its close-knit community. With a relatively small student body of around 1,600 undergraduates, Swarthmore fosters an environment where students can truly get to know one another and form lasting connections.
Collaboration is at the heart of the Swarthmore experience. Students are encouraged to work together inside and outside the classroom to tackle complex challenges and explore new ideas. This collaborative spirit creates a vibrant intellectual community where students can learn from one another and expand their horizons.
Located just 11 miles from the bustling city of Philadelphia, Swarthmore's campus perfectly balances a serene academic environment and access to vibrant cultural experiences. Students can explore the city's rich history, visit world-class museums, and engage with diverse communities.
On campus, students can immerse themselves in a multitude of extracurricular activities, ranging from student organizations and clubs to artistic performances and athletic events. Swarthmore's picturesque campus provides a backdrop for personal growth and exploration, offering countless opportunities for students to discover their passions and pursue their interests.
In conclusion, Swarthmore College stands as a testament to the power of education in transforming individuals and society. With its rich history, commitment to academic excellence, and vibrant community, Swarthmore continues to shape the lives of its students and prepare them to positively impact the world.
The Admissions Process at Swarthmore
If you're considering applying to Swarthmore, it's essential to understand the admissions process and what the admissions committee looks for in potential students.
Overview of the Admissions Process
The admissions process at Swarthmore College is holistic, meaning that the admissions committee takes a comprehensive view of each applicant's credentials and potential contributions to the campus community. This approach ensures that all aspects of an applicant's profile are considered, allowing the committee to make a well-informed decision.
When reviewing applications, the committee considers factors such as academic achievements, extracurricular involvement, personal essays, and letters of recommendation. By evaluating these different aspects, the committee better understands each candidate's strengths, passions, and potential fit for Swarthmore.
Academic achievements play a significant role in the admissions process. The committee looks for students who have challenged themselves academically and have excelled in their coursework. They consider factors such as GPA, course selection, and standardized test scores. However, it's important to note that Swarthmore takes a holistic approach, so even if your academic record isn't perfect, other aspects of your application can compensate for it.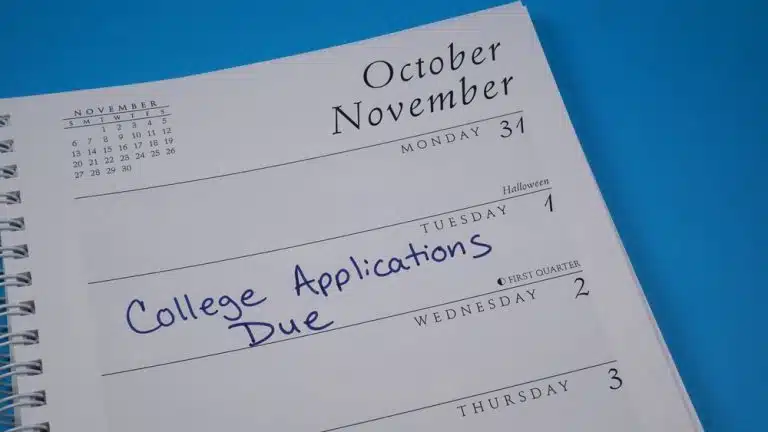 Extracurricular involvement is another crucial factor in the admissions process. Swarthmore values students who are academically strong and actively engaged in their communities. Whether you excel in sports, the arts, community service, or leadership roles, the committee wants to see how you have positively impacted outside of the classroom.
Personal essays allow applicants to showcase their individuality and unique perspectives. The committee wants to know you beyond your academic achievements and extracurricular involvement. They want to understand your motivations, passions, and aspirations. Use your personal essay to tell a compelling story highlighting your values, experiences, and personal growth.
In addition to personal essays, letters of recommendation offer valuable insights into an applicant's character and potential. Strong letters of recommendation can provide a more comprehensive picture of who you are as a student and individual. Choose recommenders who know you well and can speak to your strengths and potential contributions to Swarthmore.
Key Dates and Deadlines for Swarthmore Admissions
Staying on top of the admissions timeline is crucial to ensure you submit all required materials on time. Swarthmore College has an Early Decision I and Early Decision II deadline and a Regular Decision deadline. The Early Decision I deadline typically falls in early November, while the Early Decision II deadline is usually in early January. The Regular Decision deadline is typically in early January as well.
Check the college's website for the most up-to-date information on specific dates and requirements. It's essential to plan and give yourself enough time to complete your application thoroughly. Remember, the admissions process is highly competitive, and submitting a well-crafted application requires time and effort.
Swarthmore's Acceptance Rate and Statistics
While Swarthmore College is highly selective, it's essential to remember that admission rates can vary yearly. The admission rate hovers around 8%, highlighting the competitive nature of the application pool. However, don't be discouraged by these statistics; instead, focus on showcasing your unique strengths and qualities throughout the application process.
Remember that Swarthmore values a holistic approach to admissions, meaning that they consider more than just your grades and test scores. They want to see your potential to contribute to the vibrant campus community and make a difference in the world. So, while the admission process may be competitive, it's important to stay true to yourself and present the best version of who you are as an applicant.
As you embark on your Swarthmore College application journey, take the time to reflect on your experiences, goals, and aspirations. Use the application process as an opportunity for self-discovery and personal growth. Swarthmore College seeks students who are not just academically strong but also passionate, intellectually curious, and eager to positively impact the world.
Academic Requirements for Swarthmore
Swarthmore College is renowned for its rigorous academic standards and seeks students who have pursued a challenging high school curriculum. To ensure that applicants are prepared for the academic rigor at Swarthmore, the college has established specific requirements for high school courses.
High School Course Requirements
The high school course requirements at Swarthmore are designed to provide a strong foundation in key subject areas. Students are recommended to complete four years of English, mathematics, science, and social studies. These core subjects are essential for developing critical thinking skills and a well-rounded world understanding.
In addition to the core subjects, Swarthmore places considerable emphasis on foreign language proficiency. It is recommended that applicants complete at least three years of a single foreign language. This requirement reflects the college's commitment to fostering global awareness and cultural understanding among its students.
By completing a challenging high school curriculum that meets these requirements, applicants demonstrate their dedication to academic excellence and ability to thrive in a rigorous academic environment.
Standardized Test Scores
Of the applicants accepted to Swarthmore College, 50% have SAT scores ranging from 1430 to 1560 or ACT scores between 33 and 35. While Swarthmore is test-optional, meaning that submitting standardized test scores is not required, strong scores can provide valuable support to your application. If you believe your test scores reflect your abilities and can showcase your academic potential, you are encouraged to include them in your application.
However, Swarthmore also recognizes that standardized test scores may not accurately represent every student's potential. If you feel that your scores do not reflect your true abilities or do not align with your academic achievements, you can apply without submitting them.
The admissions committee at Swarthmore takes a holistic approach to evaluating applications, considering various factors beyond standardized test scores. Your academic achievements, extracurricular involvement, personal essays, and letters of recommendation play significant roles in the admissions process.
GPA and Class Rank Considerations
Swarthmore College values academic excellence and emphasizes your GPA and class rank. The admissions committee considers the rigor of your high school curriculum when evaluating your GPA, considering the difficulty level of the courses you have taken. To gain admission into Swarthmore, students typically need to have a high school GPA of approximately 3.9.
Class rank is also considered in the admissions process, as it provides a context for evaluating your academic achievements relative to your peers. However, it's important to note that GPA and class rank are just one part of a holistic evaluation. Swarthmore recognizes that each student's academic journey is unique, and other components of your application are given equal weight.
Ultimately, Swarthmore seeks students who have excelled academically and demonstrated intellectual curiosity, a passion for learning, and a commitment to positively impacting their communities. The academic requirements serve as a foundation for evaluating applicants, but the admissions committee considers the whole person when making admission decisions.
Crafting Your Application
When crafting your application for Swarthmore College, several key components must be considered. One of the most important aspects is your personal statement. This is your opportunity to showcase your unique experiences, passions, and aspirations. Take the time to reflect on your journey and craft an essay that highlights your personal growth, resilience, and intellectual curiosity and provides a glimpse into who you are as an individual. Be genuine and concise, and let your voice shine through.
Another crucial element of your application is highlighting your extracurricular activities. Swarthmore College is interested in intellectually curious students and engaged in their communities. When discussing your extracurricular activities, it's essential to focus on those that have had a meaningful impact on your personal growth, intellectual development, or ability to make a positive difference in the lives of others. Remember, quality over quantity is key. Choose a few activities that truly resonate with you and dive deep into how they have shaped you.
In addition to your personal statement and extracurricular activities, letters of recommendation play a significant role in your application. It's important to carefully consider who you ask to write these letters. Choose recommenders who know you well and can speak to your academic abilities, character, and potential for success at Swarthmore. Teachers or mentors who can provide specific examples of your contributions in the classroom or community are ideal candidates. Give your recommenders adequate time to write a thoughtful letter on your behalf, as their insights and perspectives can greatly enhance your application.
Writing a Compelling Personal Statement
When writing a compelling personal statement, there are a few additional tips to keep in mind. First and foremost, be sure to start early and give yourself plenty of time to brainstorm, write, and revise. This will allow you to fully explore your thoughts and ideas without feeling rushed. Consider incorporating specific anecdotes or stories that illustrate your personal growth and resilience. These personal narratives can add depth and authenticity to your essay, making it more memorable for the admissions committee.
Furthermore, don't be afraid to take risks and be vulnerable in your writing. Admissions officers are looking for applicants willing to share their true selves and demonstrate self-awareness. Be honest about your strengths and weaknesses, and reflect on overcoming challenges or setbacks. This level of introspection can leave a lasting impression on the reader.
Highlighting Extracurricular Activities
When highlighting your extracurricular activities, it's important to go beyond simply listing them. Instead, delve into how these activities have impacted your personal growth and intellectual development. For example, if you were part of a community service organization, discuss how this experience allowed you to develop empathy, leadership skills, and a commitment to social justice. If you were involved in a science club, discuss how it sparked your passion for research and problem-solving. You can demonstrate your engagement and dedication by providing specific examples and reflecting on the lessons learned.
Consider discussing any leadership roles or special projects within your extracurricular activities. This can showcase your ability to take initiative, collaborate with others, and make a tangible impact. Admissions officers are interested in what you have participated in and how you have contributed and grown within those activities.
Letters of Recommendation: Who to Ask and How
When selecting recommenders, choosing individuals who can provide a well-rounded and insightful perspective on your abilities and potential is important. While it may be tempting to ask a well-known or prestigious individual, choosing someone who truly knows you and can speak to your unique qualities is more important.
In addition to considering teachers and mentors, consider individuals who have supervised you in a work or volunteer setting. They can provide valuable insights into your work ethic, adaptability, and interpersonal skills. Furthermore, if you have pursued independent projects or research, consider asking a supervisor or advisor who can speak to your intellectual curiosity and ability to work independently.
Once you have identified potential recommenders, giving them adequate time to write a thoughtful letter on your behalf is crucial. Reach out to them well in advance of the application deadline, providing them with any necessary information or materials they may need. It's also helpful to talk with your recommenders about your goals and aspirations, so they can tailor their letters to highlight the specific qualities that make you a strong candidate for Swarthmore College.
Financial Aid and Scholarships at Swarthmore
Understanding Swarthmore's Financial Aid Policies
Swarthmore College is committed to making education accessible to all admitted students, regardless of their financial background. The college offers need-based financial aid, ensuring that finances are not a barrier to attending Swarthmore. This commitment is rooted in the belief that every student deserves the opportunity to pursue their academic passions and achieve their full potential.
When applying for financial aid at Swarthmore, it is important to familiarize yourself with the application process. The college provides comprehensive resources to guide you through the application, ensuring you have all the necessary information and documents. The financial aid office is also available to answer any questions or concerns you may have along the way.
Once you have submitted your application, the financial aid office carefully reviews your financial information to determine your eligibility for aid. To create a comprehensive financial profile, Swarthmore considers various factors, such as family income, assets, and expenses. This profile calculates your expected family contribution (EFC), which helps determine the amount of aid you may receive.
In addition to need-based aid, Swarthmore offers various scholarships and grants to support students' educational pursuits in addition to need-based aid. These scholarships may be academic, merit-based, or specific to certain fields of study. The college recognizes and rewards exceptional achievements, providing students with opportunities to excel inside and outside the classroom.
Scholarships Available for Swarthmore Students
When considering scholarships at Swarthmore, it is important to research the various opportunities available. The college offers diverse scholarships, each with its own criteria and requirements. Some scholarships may be based on academic performance, while others may focus on specific areas of study or extracurricular involvement.
Academic scholarships are awarded to students who have demonstrated exceptional academic achievements throughout high school. These scholarships recognize students' hard work and dedication to their education and provide financial support to help them continue their academic journey at Swarthmore.
Merit-based scholarships, on the other hand, take into account a wider range of accomplishments and contributions. These scholarships may consider leadership experience, community service, artistic talents, or athletic achievements. By recognizing students' well-rounded achievements, Swarthmore encourages individuals to pursue their passions and positively impact campus and beyond.
For students with specific areas of interest or career goals, Swarthmore offers scholarships tailored to those fields of study. These scholarships provide additional support and resources to students pursuing careers in STEM, humanities, social sciences, or the arts. By investing in these students' education, Swarthmore aims to foster innovation and excellence in these fields.
It is important to note that scholarships at Swarthmore are highly competitive, as the college attracts talented and motivated individuals worldwide. However, the college remains committed to providing financial support to as many deserving students as possible, ensuring that financial barriers do not hinder their academic aspirations.
When considering scholarships at Swarthmore, take the time to carefully review the eligibility criteria and application requirements. Each scholarship may have specific deadlines and submission guidelines, so plan and stay organized throughout the application process. Additionally, contact the scholarship office or current scholarship recipients for any additional information or advice.
Remember, Swarthmore College is dedicated to supporting students in their educational pursuits. Whether through need-based financial aid or a range of scholarships, the college strives to create an inclusive and supportive community where all students can thrive academically and personally.
Tips for a Successful Swarthmore Interview
If you are offered an interview, take the opportunity to engage in a conversation that expands upon your application. Research Swarthmore College beforehand, prepare thoughtful questions and be ready to articulate why Swarthmore is the right fit for you.
While it's impossible to predict the exact questions you will be asked during your interview, familiarize yourself with common interview topics such as your academic interests, extracurricular involvement, and personal experiences. Practice articulating your thoughts and experiences clearly and concisely.
What to Do After You've Applied
Keeping Track of Your Application Status
Once you have submitted your application, take advantage of any online portals or resources provided by Swarthmore to track the status of your application. Ensure all components have been received, and if you notice any discrepancies or missing materials, contact the admissions office for guidance.
What to Do if You're Waitlisted or Deferred
Don't lose hope if you find yourself on the waitlist or deferred. This is an opportunity to reiterate your interest in Swarthmore and provide any updated information to support your candidacy. Stay positive, and consider contacting the admissions office to express your continued interest.
Making the Decision: Is Swarthmore Right for You?
If you are fortunate enough to receive acceptance letters from multiple institutions, weighing your options carefully is essential. Consider visiting Swarthmore's campus, speaking with current students, and evaluating how well the college aligns with your academic and personal goals. Ultimately, choose the institution that feels best for your future.
By following this step-by-step guide and investing time and effort into your application, you can increase your chances of getting into Swarthmore College. Remember, each student's journey is unique, and while the process may seem daunting, trust in your abilities and authenticity. Good luck on your Swarthmore College admissions journey!
Interested in further understanding the roadmap to Swarthmore College? With more than a decade of experience, AdmissionSight has been a reliable guide for students amid the competitive admissions landscape.
Turn to AdmissionSight this fall to enhance your college application. Contact us today to explore more about our service offerings.