What are the Best Majors at USC?
What are the best majors at USC? The University of Southern California (often known as USC), is a private research university which is located in Los Angeles, California. According to U.S. News and World Report, it is one of the best universities in the country and is placed in the top 30.
Though we're trying to know "What are the best majors at USC?", the University of Southern California (USC) is recognized in the world as a hub for worldwide business, art, and technology. Students are provided with possibilities for study across disciplinary lines as well as for working with prominent scholars.
During your time at USC, you will be faced with a significant number of choices and decisions. The selection of a major may be simultaneously one of the most challenging and thrilling decisions for many students. Some individuals come into college knowing exactly what they want to study at the undergraduate level, while others require additional time to identify and investigate their areas of interest prior to selecting a major field of study.
Though we're trying to know "What are the best majors at USC?", it is essential that you keep in mind that determining your academic concentration is a process that can take several semesters of hard work on your behalf. For some students, simply taking an introductory course on the topic will be enough to teach them what they need to know about it, while other students won't know for sure what they need to know until they have worked as an intern or research assistants in the relevant industry. The following are among the most common choices for students at the University of Southern California:
Business Administration
Marshall School of Business is a world-renowned powerhouse in the field of business education. It is located within a premier private research institution. At Marshall, you will be immersed in the University's foundation of "breadth with depth," with a core curriculum that incorporates all of the most important cornerstones of business. This will allow you to develop a well-rounded understanding of the business world.
After that, you will hone your skills by enrolling in classes at a higher level in order to go further into the aspect of the business world that most piques your interest. Your education at Marshall does not consist solely of business-related courses if you are a first-year student here. The flexibility of the Marshall program will not only provide you with a solid foundation in the principles of business but will also provide you the opportunity to follow both your personal and professional interests.
Social Sciences, with an Emphasis on Economics
The Social Science major with an emphasis on Economics is a program that is offered by the Economics department. This program is designed for students who have thematic interests that transcend numerous traditional social science areas.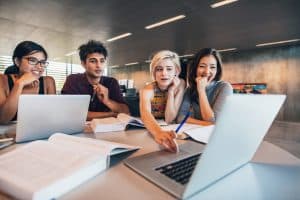 The majority of the coursework that is required for the Social Sciences major is completed in the student's area of emphasis, in addition to a number of other upper-division social science courses chosen from the fields of Anthropology, Geography, History, International Relations, Political Science, Psychology, or Sociology.
Visual and Performing Arts
An interdisciplinary degree, the Bachelor of Arts in Visual and Performing Arts Studies is offered jointly by the School of Dramatic Arts, the School of Architecture, the School of Cinematic Arts, the Roski School of Art and Design, the Thornton School of Music, and the Dornsife College of Letters, Arts, and Sciences at the University of Southern California.
Communication
The USC Annenberg School for Communication and Journalism is a national pioneer in education and scholarship in the fields of correspondence, newscasting, open tact, and advertising and their effect on legislative issues, culture, and innovation in society. The school was named after Walter H. Annenberg, who founded the school. The undergraduate will benefit from learning fundamental skills such as leadership, creativity, service, and entrepreneurship, and will be able to draw upon the resources of a networked university that is located in the media capital of the world.
Engineering
The one-of-a-kind undergraduate program at this school leads to a bachelor of science in engineering degree. This major will push the boundaries of what is known about engineering; it will inspire and develop traits of scholarship, leadership, and character in students; and it will serve the community, the state, the nation, and the world. At the University of Southern California, there are ten different majors to choose from, which are listed here. It is a fantastic university to attend if you want to follow your major and do well in your profession.
Accounting
The Leventhal School of Accounting at the University of Southern California places a strong emphasis on developing students' analytical and communication skills, as well as their ethical and professional awareness. The USC Marshall School of Business includes accounting as a core component of its curriculum. In addition to a rigorous curriculum that teaches students the intellectual and technical abilities that are essential to the profession, this major provides students at the undergraduate level with the opportunity to develop a forward-thinking viewpoint.
Urban Studies and Planning
The Bachelor of Science in Urban Studies and Planning program at Price school requires students to complete challenging courses and complete internships. Undergraduate students who choose to concentrate their studies in this area will graduate from the Price School with the skills necessary to effect genuine and long-term change in urban settings.
Law
The USC Gould School of Law has earned widespread acclaim as a leading institution in the field of legal education in the United States. The USC Gould School of Law has created a history of excellence that spans more than a century thanks to its demanding academic programs and innovative research efforts. Analytical and problem-solving skills, good communication (both orally and in writing), critical reading, and fundamental research abilities are developed in undergraduate students who choose this degree.
Public Policy
The Bachelor of Science in Public Policy degree incorporates coursework from a variety of disciplines, including political science, economics, quantitative methods, and management.
The practical experience that undergraduate students need to engage communities and find solutions to challenges on a local, national, and global scale is provided to them through the academic course. In addition to this, the students at the undergraduate level will get an awareness of the part that the government, nonprofit organizations, and private organizations play in the process of policy formation.
How do I Decide on my Major?
How do I decide on my major? Though we're trying to know "What are the best majors at USC?", one of the most important choices that a high school or college student is required to make is selecting a concentration of study. And it is one that many people wish they could retake; according to one survey, 61% of college graduates would switch their major if they could go back to school.
However, not everyone suffers from a case of buyer's remorse when they receive their diploma. The following is a list of the most significant considerations to make when selecting a major, as well as advice on how to select the appropriate college once you have made your selection.
Consider Your Skills
Create a list of your accomplishments and areas of interest to get started. After you've finished, inquire with your closest loved ones and friends about the things they would say about you. There are times when we need a third party to point out to us our qualities and abilities that we sometimes take for granted.
Include any subjects that have always piqued your curiosity but that you've never committed yourself to study in depth. You should also mention things you used to be good at but haven't done in a while, especially if you haven't done them in a while.
Investigate Possible Professions.
When you have a list of your interests and passions, the next step is to investigate what kinds of professions meet those interests. For instance, if you have a passion for music, you could pursue a career as a music instructor, or a club promoter, or look for work at a charity organization that is dedicated to music.
After compiling a list of possible lines of employment, you should think about observing those currently employed in those positions in order to get a feel for what it's like to do the job. Observing the processes that are actually carried out by people will help you determine whether or not you are engaged in the endeavor. If seeing someone on the job isn't possible, you can reach out to folks via email or LinkedIn and set up a phone call with them to ask them questions face-to-face.
Estimate Future Earnings
The majority of careers have their progression tracked by the Bureau of Labor Statistics. Visit the site and choose the professional fields that are of most interest to you. You will be able to discover what employment is available in each sector from that location.
After compiling a list of occupations that pique your interest, you can use the site to determine which of those occupations have a positive growth rate and incomes that are commensurate with the lifestyle you intend to lead. Even if the amount of money you will make in the future is not the only thing you should think about while choosing a career path, it is still an essential consideration. Having this knowledge can assist you in determining how much of an investment it is prudent to make in your secondary schooling.
Consider what you want your life to be like once you graduate from college as well. For example, if you want to establish a family, reside in a major city, or do substantial traveling, you'll need a career that pays well enough to afford those things.
Consider how much of your time you are able to invest in your studies
It's not true that all majors are created equal. There is a significant difference in the amount of effort that is required for various programs. Think about how much time you are able to devote to your training and how committed you want to be as a student.
Research any advanced degrees that may be required of you after you graduate college if you want to work in the field that interests you. Before you make a final decision on what you want to study for your bachelor's degree, it is important to consider whether or not you will need to move on to earn a professional or master's degree in order to achieve the professional goals you have set for yourself.
What kind of Students does USC look for?
What kind of students does USC look for? The University of Southern California is a highly selective private institution that is well-known for its commitment to providing students of the next generation with an excellent education in a broad range of academic fields and fields of study. The ideal student to attend USC is someone who is motivated to push himself to new academic and personal heights of achievement. During the application process, USC looks into a student's personal history as well as their academic performance over the course of their academic career. This helps them locate kids who are ambitious.
Though we're trying to know "What are the best majors at USC?", the ideal student body at USC would have a wide range of interests and come from a variety of different backgrounds.
The perfect student for the University of Southern California is one who is not afraid to take the initiative as a leader and who encourages others to think beyond the confines of the existing quo, all while keeping their academic goals at the forefront of their minds. This private research institution is widely regarded as one of the best educational opportunities in the state of California, and if you are the kind of student who is always looking for new methods to tackle difficult problems, you will do exceptionally well here.
Students who are most likely to be successful at USC are those who are willing to push themselves academically and personally each day in order to pursue their interests.
What are my Chances of Getting into USC?
What are my chances of getting into USC? The acceptance rate at USC is 1 in 12 applicants. That means just 12 of the applicants will receive an acceptance letter for every 100 applications. The remaining 88 candidates will not be considered further.
When compared to entrance requirements at other colleges, though we're trying to know "What are the best majors at USC?", those at USC are among the most stringent. Even though it is not as difficult to get into as the institutions in the Ivy League, it is still more difficult than the majority of other schools.
Despite this, USC will assess your application in a manner that is both holistic and complete. They are taking into consideration not only your professionalism but also your personal traits. The application process is intended to assist the admissions committee in learning about your unique story and gaining a better understanding of how you could benefit from the opportunities offered by the University of Southern California (USC).
Keep in mind that in order to have a GPA that is competitive for USC, you will need to have primarily A's and that the majority of students who are accepted to USC graduated in the top 10 percent of their class.
It is imperative that you cultivate productive study habits, hand in all of your assignments on time, and take notes in each of your classes. If you notice that you are beginning to fall behind in class, you should act fast to request assistance from your instructor, a tutor, or a buddy who is doing well in the class.
Try to get a grade point average of at least 3.79 and a score of at least 34 on the ACT or 1530 on the SAT. Make a long-term commitment to participating in the extracurricular activities that excite you the most, and try your best (when it's possible) to assume leadership roles, make substantial contributions, and win recognition and accomplishments in these areas.
When you are working on your essays, make sure to conduct information about USC and the degree you intend to pursue. Allow your individuality, voice, and enthusiasm for USC to come through in your response. Demonstrate to the admissions committee why you would be an asset to the university and why you should be admitted.
Find significant ways to help the people and the community around you while you're still in high school, and make it a priority throughout your time there. Participating in community service not only helps you develop personally but also looks great on your application.
If you can show that you are passionate about making the world around you a better place, then you will be a fantastic fit for the University of Southern California. When the admissions committee at USC reviews your application and notices that you have an outstanding track record of community service, they will consider you as someone who will make a positive contribution to both the campus at USC and the wider world.
You will increase your chances of getting into USC if you put in a lot of effort in school, if you achieve academic success, and if you follow the advice in this article.
Though we're trying to know "What are the best majors at USC?", if you need help putting the finishing touches on your college applications,  at AdmissionSight, we have over 10 years of experience guiding students through the competitive admissions process
AdmissionSight can help you put your best foot forward when applying to college this fall. Contact us today for more information on our services.