Yale Diversity Statistics
What is the current Yale diversity statistics? Yale is a large research university that is home to a diverse collection of programs, departments, schools, centers, and museums in addition to a wide variety of other affiliated organizations.
In addition, Yale is consistently ranked as one of the most competitive schools in the United States. Yale University, which is a member of the illustrious Ivy League, is ranked not only as the third-best school in the country but also as the first-best value among schools in the United States.
Yale diversity statistics show that there are a total of 12,060 students enrolled at Yale University; of these, 4,696 are considered undergraduates, and 7,209 are considered graduate students. Yale has approximately 6,221 female students and 5,839 male students. Out of the total student body, women make up 51.8 percent of the student body while men make up 48.2 percent.
Based on the Yale diversity statistics, there are 11,905 students enrolled at Yale University as full-time students, and there are 155 students enrolled there as part-time students. This indicates that the vast majority of students attending Yale University do so on a full-time basis (98.7 percent). The number of men and women enrolled as full-time undergraduate students at Yale is equal to one another at a 50/50 split.
Enrollment Breakdown Based on Race and Ethnicity
Yale diversity statistics show that a total of 38.7 percent of Yale University's student body is white, 16.2 percent of Yale's student body is Asian, 10.6 percent of Yale's student body is Hispanic or Latino, 6.53 percent of Yale's student body is black or African American, 4.92 percent of Yale's student body is comprised of two or more races, 0.249 percent of Yale's student body is American Indian or Alaska Native, and 0.124 percent of Yale's student body is Native Hawaiian or Other Pacific Island This includes students who are enrolled either full or part-time, as well as those who are pursuing graduate or undergraduate degrees.
Yale diversity statistics show that the majority of students enrolled in full-time Undergraduate programs at Yale University are White Males (19 percent), followed by White Females (15.9 percent) and Asian Females (6 percent) (13 percent ).
| | |
| --- | --- |
| Race/Ethnicity | Number |
| White | 1,639 |
| Asian | 1,123 |
| Hispanic | 707 |
| International | 472 |
| Black or African American | 427 |
| Multi-Ethnic | 292 |
| Unknown | 18 |
| Native Hawaiian or Pacific Islander | 5 |
As shown by the Yale diversity statistics, among students who are enrolled for a full academic load In graduate schools, women make up approximately 52 percent of full-time students, while men make up approximately 48 percent. White females make up the majority (21,6 percent), followed by white males (19,3 percent), and then Asian females (10 percent) (6.41 percent ).
| | |
| --- | --- |
| Race/Ethnicity | Number |
| White | 2,946 |
| International | 2,060 |
| Asian | 820 |
| Hispanic | 561 |
| Black or African American | 352 |
| Multi-Ethnic | 294 |
| Unknown | 152 |
| Native Hawaiian or Pacific Islander | 7 |
Faculty Demographics
According to Yale diversity statistics, the ratio of students to teachers is a common metric that is used to evaluate the number of educational resources that are made available to a school's pupils. When compared to the national average of 15, Yale University's ratio of six students to one member of the teaching faculty places it among the top institutions for higher education.
There are approximately 8,864 female faculty members and 6,921 male faculty members, which corresponds to a percentage of female faculty equal to 56.2 percent and a percentage of male faculty equal to 43.8 percent.
| | |
| --- | --- |
| Ethnicity | Number of Faculty |
| White | 9,830 |
| Black or African American | 1,722 |
| Asian | 1,377 |
| Multi-Ethnic | 454 |
| Native Hawaiian or Pacific Islander | 12 |
| Hispanic | 0 |
| International | 0 |
| Unknown | 0 |
Where do most Yale Students come from?
Where do most Yale students come from? The majority of Yale's students come from other states, with 93 percent coming from elsewhere in the country and 12.87 percent coming from abroad. The number of students enrolled in their first year of college is distributed among 48 states (may include Washington D.C.). The following is a list of some of the most common states that Yale students hail from.
| | | |
| --- | --- | --- |
| State | Amount | Percent |
| New York | are1 | 16.10% |
| California | 176 | 14.84% |
| Connecticut | 83 | 7.00% |
| Florida | 74 | 6.24% |
| Massachusetts | 68 | 5.73% |
| New Jersey | 62 | 5.23% |
| Texas | 56 | 4.72% |
| Illinois | 52 | 4.38% |
| Maryland | 40 | 3.37% |
| Georgia | 38 | 3.20% |
The majority of Yale's international students who currently call the United States home are from the state of New York. The variety of student locations is significantly higher than average.
Yale International Students
Students from countries other than the United States have a high rate of success at Yale University. The presence of international students on campus increases the variety of available choices, points of view, and areas of expertise, which contributes to the existing variety of ways of thinking on campus.
As a result of the increasing globalization of the economy, interaction with students hailing from a variety of nations has emerged as an essential component of today's higher education.
According to the findings of an analysis of data from student visa applications, there were as many as 1,159,798 international students who entered the United States in 2019 to attend colleges and universities here. Yale was home to approximately 2,775 international students who were drawn from a large and diverse pool of applicants from around the world.
There are representatives from at least 48 different countries on the Yale campus. China, Canada, and India each have one of the largest on-campus communities of any country in the world.
It has been reported that there are a total of 2,775 international students attending Yale University, of which 646 are enrolled in undergraduate programs. This is out of a total enrollment of 13,433, with 5,964 students enrolled in the undergraduate program.
According to Yale's estimates, approximately 20.7 percent of the student body is comprised of international students. The proportion of students on campus who are citizens of countries other than their own has increased at an annualized rate of 5.6 percent over the past few years. With an estimated total of 840 students, China is the country that has made the greatest contribution to this growth.
What Majors are Yale Known for?
What majors is Yale known for? Every year, Yale University has a good handful of major programs to offer the students who are accepted into the university. It provides more than eighty different majors, two thousand different classes, and a single path that is specific to each student's chosen major!
You might ask, "What could be better than that?" The ratio of students to teachers is 6 to 1, making it one of the smallest available. The following is a list of some of Yale's most well-known Majors.
Economics
Due to the widespread interest in the subject, you are almost certain to overhear someone discussing economics while you are on campus. Do not let the fact that some of the classes in the upper division are considered more difficult sway your decision to major in this area. Yale University's economics program has produced a significant number of highly successful alumni.
History
Uh-oh. History!? Do not be alarmed; this is not at all like the tedious history class you took in high school, in which the only thing you did was learn to memorize important dates, facts, and figures. You will have the opportunity to conduct independent research in this area, which may even lead to publication opportunities. In addition, the faculty members in this department have a great sense of humor and are hilarious.
Political Science – Liberal Arts and Government
What makes a situation so urgent? Where do the interests of the people meet the law, and where does the law meet them? How can we ensure that these objectives are met while also remaining compliant with the law? As a political science major at Yale, you will be looking into all of these different aspects.
MCB- CDB (Molecular and Cell Biology – Cell and Developmental Bio)
Even more so than life itself, the study of biology at Yale is also subject to continuous change. The faculty has provided the bio major with a plethora of resources, some of which include opportunities to participate in research, faculty symposiums, luncheons with biology professors, lab work, and a great deal more! The biology program at Yale will also prepare you exceptionally well for admission to medical school.
Computer Science
We are immersed in the technological world; the United States is undeniably one of the most prominent technological giants on the planet. At the core of all this innovation, science, data, and information are countless lines of computer code. Because coding is such a valuable skill to possess, it is important to know how to do some basic coding regardless of what field or major you decide to pursue in the future. Although the first few computer science classes at this institution can be challenging for some students, over time they can get the hang of things.
Psychology
At Yale, one of the most mind-boggling, psychedelic, and interesting majors you can choose is psychology. It is also one of the most popular choices. Every class is interesting in its own right; the professors might present a stern front in the classroom, but if you go to their office hours, you can get to know them better and learn more about them. They are very interesting individuals who will provide you with advice on how to succeed in their class.
Global Affairs
Students frequently have the misconception that the global studies major is an "easy" major, meaning that it does not require students to take a significant number of challenging classes. You can take it or leave it, but the fact remains that it is quite interesting and compels you to engage in critical thought regarding a number of problems that affect people all over the world. You have the option of studying anything, from production to politics and social issues, depending on your interests. This is a very large field!
English
If you intend to study English at Yale for your undergraduate degree, you should never be without a notebook and pen. Everything revolves around one's personal flair, creative expression, and level of thought. English majors at Yale are thinkers because the school's curriculum challenges students to engage in critical thinking about contemporary issues, particularly those that they are particularly passionate about. There is just so much to talk about and debate!
American Studies
The academic field of American Studies examines various facets of contemporary American culture and the processes that shape its development. You'll find that this major focuses heavily on change and continuity, both of which are significant themes that come up quite frequently.
If you're fortunate enough, some classes will take you on exciting field trips to various museums. This is definitely one of the majors that has a lower than an average number of students enrolled in it, but it is still a very interesting and cool field of study.
Biomedical Engineering
One of the most important "hotspots" in the modern world for research and development. Students who major in bioengineering have the opportunity to discover and develop a wide variety of cutting-edge technologies, including gene editing, stem cell manipulation, and much more.
The Yale biology faculty page features a plethora of research opportunities as well as some pretty cool symposium talks that are geared toward students who are majoring in this field. Acquire more experiences in this area, and try a variety of different approaches!
What type of Student goes to Yale?
What type of student goes to Yale? The admissions process at Yale University is known for being one of the most competitive in the world, which contributes to the school's enviable reputation. The standard of excellence is being raised year after year by students all over the country, which causes this process to become even more selective.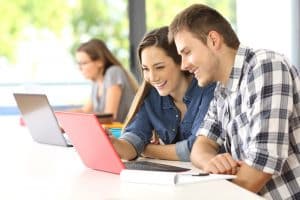 Students who have their sights set on Yale typically rank near the top of their high school classes; however, in order to stand out in such a competitive environment, students still need to have impressive test scores and extracurricular accomplishments.
Although your grade point average and test scores by themselves cannot ensure that you will be admitted to Yale, it is ideal to have scores that are at or above the average when applying. However, if your scores are only slightly below the average, don't let that stop you from moving forward! Your admissions chances can be significantly improved by the strength of your essays and letters of recommendation, so make sure you give careful consideration to both.
Beyond the realm of academics, Yale is a school that adheres to a set of core values, which it expects all of its students to uphold in their day-to-day lives. If these values are similar to yours, then Yale might be the ideal college for you because it will challenge you to reach your full potential.
Participation in the Community
The dedication that Yale has to enhancing and developing the communities in which it operates is so strong that it serves as a basis for everything else that is taught at the university. Students who are able to solve problems on their own through active participation in their communities will find that they are in good company on their university's campus.
In addition to developing communities on campus through the use of campus housing, Yale University also collaborates closely with New Haven, Connecticut, their picturesque hometown, in an effort to strengthen communities in the surrounding area.
Dedication to One's Studies
For Yale students to be successful, they need to demonstrate a significant commitment to their studies. The typical Yale student recognizes the importance of academic achievement above all other pursuits because the university provides them with a wealth of scholastic resources and advisors.
Students, in close collaboration with both their classmates and the illustrious faculty members who teach them, work to push the bounds of their intellectual limits in a way that will be applicable to their future careers and lives.
A Strong Desire To Achieve
Students at Yale are known for having the drive and determination necessary to achieve success in some of the most demanding jobs in the country. Students who come to Yale with the ambition to excel in everything they attempt will discover a large number of classmates who share their goals and values.
Students are fortunate in that they have access to a facility specifically devoted to supporting their endeavors as well as the resources necessary to accomplish what they set out to do.
Responsibility
The majority of Yale's student body consists of individuals who have a robust sense of responsibility, both in their own lives and within the context of their communities. Students are urged to get involved in the planning of their own futures as well as the futures of their communities, nations, and the entire planet. This is accomplished not only through the imparting of knowledge to students but also through the provision of opportunities for them to take on roles of responsibility within endeavors designed to foster ethics, accountability, and sustainability.
Yale Acceptance Rate
What is the current Yale acceptance rate? The way that people talk about Yale makes it seem as though gaining admission there will require nothing short of a miracle, which is ironic considering that Yale is one of the most selective schools in the country.
However, despite the fact that Yale's admissions rate is falling (4.4 percent for the class of 2026 compared to 6.3 percent for the class of 2022), it is still possible for you to join the Bulldogs.
You can get the grade point average and standardized test scores you need to remain competitive and earn a spot at Yale if you put in the effort, practice, and determination that are required.
You should research the admissions process at Yale before submitting your application there. With only 4.4% of applicants being accepted into Yale's class of 2026, the university's acceptance rate is significantly lower than it has been in recent years. Out of the total of 50,015 applications received, they only accepted 2,234 students (regular applications, early applications, and deferral applications).
| | | | |
| --- | --- | --- | --- |
| | Number of Applications | Accepted Students | Acceptance Rate |
| Regular Applications | 37,495 | 1,434 | 3.8% |
| Early Applications | 7,288 | 800 | 10.9% |
If you need help putting the finishing touches on your early applications, or want some advice on whether or not applying for Early Decision or an Early Action is a good option for you, at AdmissionSight, we have over 10 years of experience guiding students through the competitive admissions process, including our athletic recruitment program.
AdmissionSight can help you put your best foot forward when applying to college this fall. Contact us today for more information on our services.