A Closer Look at the University of Chicago Medical School
The University of Chicago Medical School, also known as the Pritzker School of Medicine, has been a renowned institution providing high-quality medical education since its inception in 1927. Located in the historic Hyde Park neighborhood of Chicago, Illinois, the medical school has earned a distinguished reputation for its commitment to research, innovation, and excellence in medical training.
Established through a generous endowment by the Pritzker family, the school has grown to become one of the top medical schools in the US. The mission of the University of Chicago Med School is to educate future leaders in medicine and science through an innovative, patient-centered curriculum that fosters a deep understanding of evidence-based medicine, as well as the social, ethical, and humanistic aspects of healthcare.
The institution's core values include a dedication to excellence, integrity, intellectual curiosity, and a strong commitment to diversity, inclusion, and collaboration. These values drive the school's approach to medical education and research, shaping the experiences of its students and faculty as they work hard together to advance knowledge and improve patient care.
Academic Programs
Doctor of Medicine (MD) Program
The Doctor of Medicine (MD) program at UChicago Medical School offers an innovative and comprehensive curriculum combining a solid biomedical science foundation with early clinical exposure. The curriculum is divided into three main phases: the Basic Sciences phase, the Core Clinical phase, and the Advanced Clinical phase.
Students engage in interactive learning experiences throughout the program, including small-group discussions, case-based learning, and simulations. Clinical experiences and rotations commence early in the academic program, allowing students to apply their theoretical knowledge to real-world situations in various settings.
The medical school also strongly emphasizes research, providing students with ample opportunities to participate in cutting-edge projects under the mentorship of leading experts in their respective fields. Integrating basic sciences, clinical experiences, and research helps create well-rounded physicians equipped with the knowledge and skills necessary to succeed in their future careers.
Dual Degree Programs
The University of Chicago Medical School offers several dual degree programs designed to meet its students' diverse interests and career goals. The MD/Ph.D. program, known as the Medical Scientist Training Program (MSTP), is designed for students interested in pursuing careers as physician-scientists, combining rigorous medical education with advanced research training in various fields.
The MD/MBA program, in collaboration with the University of Chicago Booth School of Business, prepares students for leadership roles in healthcare management and administration, equipping them with the necessary skills to navigate the complex healthcare landscape.
The MD/MPH program, in partnership with the University of Chicago's Harris School of Public Policy, focuses on addressing public health challenges and promoting health equity, integrating medical and public health knowledge to develop innovative solutions.
Additionally, the medical school offers other combined degree options, such as the MD/MPP (Master of Public Policy), MD/MA (Master of Arts), and MD/MS (Master of Science) programs, allowing students to tailor their education to their specific interests and career aspirations.
Graduate Medical Education (Residencies and Fellowships)
The University of Chicago Med School is committed to providing exceptional Graduate Medical Education (GME) through its various residency and fellowship programs. These programs cover a range of specialties and subspecialties, catering to their graduates' diverse interests and needs.
The application process for these programs typically involves submitting applications through the Electronic Residency Application Service (ERAS) and participating in the National Resident Matching Program (NRMP). The medical school is dedicated to providing a supportive and collaborative learning environment, emphasizing hands-on training, mentorship, and the development of leadership skills.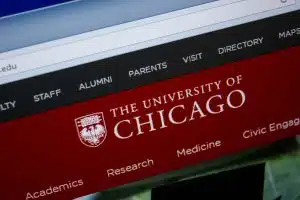 Residents and fellows are given the chance to work closely with esteemed faculty members, benefiting from their expertise and guidance. Furthermore, the GME programs emphasize the importance of research, quality improvement, and patient safety. They prepare trainees to become leaders in their respective fields and contribute to advancing medical knowledge and patient care.
Research Opportunities and Facilities
Overview of research at the UChicago Medical School
The University of Chicago Medical School is renowned for its strong emphasis on research opportunities, fostering a culture of inquiry and discovery across various disciplines. The institution is dedicated to advancing medical knowledge and developing innovative solutions to address pressing healthcare challenges.
The research conducted at the medical school ranges from basic science investigations to translational and clinical studies, covering areas such as cancer, immunology, neuroscience, genetics, and public health, among others. The collaborative research environment encourages interdisciplinary partnerships, enabling researchers to draw upon the expertise of colleagues from diverse fields.
Students and faculty are given access to state-of-the-art facilities, cutting-edge technologies, and substantial funding opportunities, empowering them to significantly contribute to the scientific community and improve patient care. The medical school's commitment to research excellence enhances the institution's reputation and ensures that its graduates are well-equipped to become leaders in their respective fields.
Major research centers and institutes
The University of Chicago Med School has several major research centers and institutes that facilitate cutting-edge research across various disciplines. These research entities foster collaboration between scientists, clinicians, and scholars, promoting interdisciplinary research and innovation.
Some notable research centers and institutes include the Knapp Center for Biomedical Discovery, focused on translating basic science findings into novel therapies; the Comprehensive Cancer Center, which conducts groundbreaking research in cancer biology, prevention, and treatment; and the Institute for Translational Medicine, which aims to accelerate the process of translating research discoveries into clinical applications.
Additionally, the Duchossois Family Institute explores the interactions between the immune system, genetics, and the microbiome to develop new strategies for promoting health and preventing disease. By providing resources, infrastructure, and expertise, these research centers and institutes play a vital role in advancing medical knowledge and shaping the future of healthcare.
Research facilities and resources
The University of Chicago Medical School offers state-of-the-art research facilities and resources to support its faculty, students, and researchers in pursuing scientific discovery. These facilities are equipped with advanced technologies and instrumentation, providing an environment that fosters innovation and collaboration.
Among the available resources are modern laboratories, core facilities, and specialized research centers catering to various scientific disciplines' needs. Core facilities offer centralized access to cutting-edge equipment and services, such as genomics, proteomics, imaging, and flow cytometry, allowing researchers to efficiently utilize these resources to advance their projects.
The medical school also supports grant writing, data management, and regulatory compliance, ensuring researchers can focus on their scientific endeavors. By investing in top-notch research facilities and resources, the UChicago Medical School demonstrates its commitment to advancing medical knowledge and nurturing the next generation of leaders in healthcare and research.
Student involvement in research projects
The University of Chicago Med School strongly encourages student involvement in research projects as an integral part of their medical education. Opportunities for research engagement are available across various disciplines, including basic science, translational, and clinical research. Students can participate in ongoing projects led by faculty members or even develop their research ideas under the guidance of experienced mentors.
The medical school offers numerous research programs, summer internships, and funding opportunities that support students in pursuing research experiences. Research projects allow students to gain valuable hands-on experience, enhance their critical thinking skills, and foster a deep understanding of the scientific process and its application to medicine.
By engaging in research, students develop a strong foundation in evidence-based medicine and cultivate essential skills that will be invaluable throughout their careers as physicians and scientists.
Funding and grant opportunities
The University of Chicago Medical School is committed to supporting its students, faculty, and researchers in pursuing scientific excellence by providing access to numerous funding and grant opportunities. These resources enable researchers to carry out their projects, explore new ideas, and collaborate with colleagues across various disciplines.
Funding sources include internal and external grants, fellowships, and awards from governmental agencies such as the National Institutes of Health (NIH), the National Science Foundation (NSF), and other non-profit organizations.
The medical school offers research fellowships, scholarships, and stipends that enable students to engage in research projects during their medical education. Additionally, the institution provides resources and guidance on grant writing and submission, helping researchers navigate the complex landscape of research funding.
By offering access to funding and grant opportunities, the University of Chicago Med School fosters a supportive environment for research and innovation, ensuring that its community of scholars can advance medical knowledge and improve patient care.
University of Chicago Admissions and Application Process
Prerequisites and requirements
The UChicago Medical School has specific prerequisites and requirements for applicants seeking admission to its MD program. These prerequisites ensure incoming students possess a strong foundation in the sciences and are well-prepared for the rigors of medical education.
Applicants are required by the school to have a bachelor's degree from an accredited institution, and their undergraduate coursework should include subjects such as biology, chemistry, organic chemistry, biochemistry, physics, and mathematics. In addition to these core science courses, the medical school values a well-rounded education. It encourages applicants to engage in humanities and social sciences courses to develop critical thinking and communication skills.
Applicants must also take the Medical College Admission Test (MCAT) and submit their scores as part of the application process. Other requirements include demonstrating a strong commitment to medicine through relevant experiences, such as clinical shadowing, volunteering, research, or other activities that showcase the applicant's dedication to the field.
Application timeline
The application timeline for the University of Chicago Medical School follows the general timeline observed by most medical schools in the United States. The process typically begins in the spring or early summer, when applicants register for and take the Medical College Admission Test (MCAT). Students submit their primary application through the American Medical College Application Service (AMCAS), which opens in early May, with submissions accepted starting in early June.
The primary application includes an applicant's biographical information, academic history, MCAT scores, and personal statement. After the medical school receives the primary application, they may invite the applicant to complete a secondary application, which often includes additional essays and information specific to the institution.
Secondary applications are usually due between August and October. Following the review of secondary applications, select applicants are invited for interviews, which typically take place between September and February. Finally, medical schools extend admission offers on a rolling basis, or a specific date, usually by April 30th, and applicants must confirm their acceptance by the designated deadline.
Components of the application
The application to the University of Chicago Med School comprises several components designed to comprehensively understand the applicant's academic abilities, experiences, and personal qualities. First, the Medical College Admission Test (MCAT) is a standardized examination that assesses an applicant's aptitude in the basic sciences and critical thinking skills.
The MCAT scores are essential to the application, as they provide a standardized metric to evaluate candidates. Second, letters of recommendation are crucial in highlighting the applicant's strengths, character, and potential for success in medical school. These letters are typically written by professors, research supervisors, or others who can prove the applicant's abilities and commitment to medicine.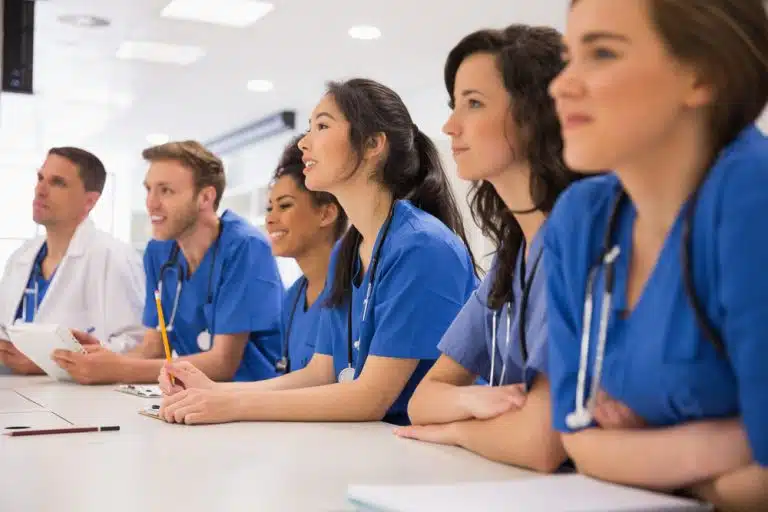 Third, the personal statement is an opportunity for applicants to share their motivations for pursuing a career in medicine and their unique experiences, aspirations, and personal qualities. Finally, interviews are conducted for select applicants, allowing the University of Chicago admissions committee to gain further insights into the applicant's interpersonal skills, problem-solving abilities, and suitability for the medical profession.
The interview process also allows applicants to learn more about the medical school and assess whether it aligns with their goals and interests.
Selection criteria and process
The selection criteria and process for the University of Chicago Medical School involve a holistic review of each applicant, considering various aspects of their background, experiences, and abilities. The admissions committee evaluates factors such as academic performance, MCAT scores, research experiences, clinical exposure, leadership roles, community service, and personal qualities.
The process begins with a screening of primary and secondary applications to identify candidates who meet the school's requirements and demonstrate a strong potential for success in the medical profession. Selected applicants are then invited for interviews, which provide further insights into their interpersonal skills, problem-solving abilities, and commitment to medicine.
Following the interviews, the admissions committee deliberates and makes decisions based on the totality of each applicant's qualifications, aiming to create a diverse and well-rounded class of future physicians. The selection process at the UChicago Medical School emphasizes the importance of academic excellence, leadership, compassion, and a dedication to meeting the needs of patients and the community.
Financial aid and scholarships
The University of Chicago Med School is dedicated to ensuring that financial barriers do not hinder qualified candidates from pursuing their medical education. The school offers various financial aid options and scholarships that will help students meet the cost of attendance.
Financial aid packages that can be availed of may include a combination of grants, loans, and work-study opportunities tailored to each student's financial needs. Students are encouraged to submit the Free Application for Federal Student Aid (FAFSA) to be considered for need-based aid. Additionally, the medical school provides merit-based scholarships to recognize applicants who demonstrate exceptional academic achievements, leadership qualities, and commitment to medicine.
Some scholarships may also be designated for students from underrepresented backgrounds or those with specific career interests. Overall, the University of Chicago Medical School is committed to supporting its students in pursuing a medical education and endeavors to alleviate the financial burden associated with this undertaking.
University of Chicago Med School Clinical Affiliates and Partnerships
Overview of clinical affiliates and partnerships
The University of Chicago Med School boasts an extensive network of clinical affiliates and partnerships that provide students with diverse clinical experiences and rotations. These affiliations enhance the educational experience by exposing students to various healthcare settings, patient populations, and medical specialties.
The primary teaching hospital, the University of Chicago Medical Center, is an internationally recognized institution that offers exceptional patient care and is a hub for medical research and education.
Additional clinical sites include community hospitals, ambulatory care centers, and specialty clinics in Chicago and beyond. These partnerships can help students not only apply their classroom knowledge to real-world situations but also develop essential clinical and interpersonal skills. Through these clinical affiliations, the UChicago Medical School ensures that its students receive a comprehensive and well-rounded clinical education, preparing them for successful careers in medicine.
University of Chicago Medicine
The University of Chicago Medicine is a leading academic medical center that combines world-class patient care, cutting-edge research, and exceptional medical education. The medical center serves as the primary teaching hospital for the University of Chicago Medical School.
With a strong commitment to innovation, the institution is spearheading medical advancements and offers a wide range of specialized services and treatments. The medical center's multidisciplinary team of expert clinicians and researchers work together to provide state-of-the-art care, continually striving to improve patient outcomes and enhance the healthcare experience.
Affiliated hospitals and healthcare systems
The University of Chicago Med School has affiliations with several hospitals and healthcare systems in the Chicago area and beyond, providing its students with diverse and comprehensive clinical training opportunities. These affiliated institutions encompass various healthcare settings, including tertiary care hospitals, community hospitals, specialized clinics, and outpatient care centers.
Some notable affiliated hospitals include the NorthShore University Health System, a comprehensive healthcare system in the northern suburbs of Chicago, and the Ingalls Memorial Hospital, a community hospital in the south suburbs.
These affiliations ensure that students receive a wide spectrum of clinical experiences, exposing them to different patient populations, medical specialties, and healthcare delivery models. Through these partnerships, the UChicago Medical School cultivates a rich learning environment that prepares its students to become competent, compassionate, and adaptable physicians ready to address the healthcare challenges of the 21st century.
Community outreach and engagement programs
The University of Chicago Medical School is deeply committed to community outreach and engagement, recognizing the importance of serving its local community and addressing health disparities. The school offers a range of programs and initiatives designed to improve community health, promote health equity, and foster strong relationships with the community.
These include health education programs, free clinics, health screenings, and wellness initiatives. Many of these programs are student-led, enabling students to develop leadership skills, enhance their understanding of social determinants of health, and contribute directly to community well-being.
The medical school collaborates with local organizations, schools, and community leaders to understand community needs and develop effective interventions. These community outreach and engagement efforts underscore the University of Chicago Medical School's mission to educate physicians and positively impact the health of the communities it serves.
Global health initiatives and collaborations
The University of Chicago Med School is robustly committed to global health, offering initiatives and collaborations that extend beyond the local community to the global stage. The Center for Global Health at the University of Chicago Medicine facilitates a multidisciplinary approach to addressing global health challenges and disparities.
The Center partners with institutions worldwide to conduct research, provide clinical care, and develop sustainable health practices. Students and faculty can engage in global health electives, research projects, and internships in various countries, gaining firsthand experience in international health issues and cross-cultural medicine.
These global health initiatives allow students to broaden their perspectives, understand health in diverse contexts, and contribute to improving health outcomes worldwide. The UChicago Medical School underscores its commitment to advancing health equity and improving health globally through its global health initiatives and collaborations.
Now that you have an idea about applying to the University of Chicago Medical School, your admissions to that university should be next on your mind. To ensure that you get into UC Chicago, you can get help with AdmissionSight. With ten years of experience working with college admission experts, AdmissionSight can help you get into UC Chicago. You can talk to our experts today to get an initial consultation.