Best Classes at Cornell
If you're a student or prospective student at Cornell University, you may be wondering what the best classes at Cornell are. With a wide variety of courses offered, it can be difficult to determine which ones are worth your time and effort.
From groundbreaking research in the sciences to insightful lectures on history and culture, Cornell's best classes are sure to challenge and inspire you.
One of the benefits of attending Cornell is the opportunity to take classes outside of your major, allowing you to explore new fields and expand your knowledge. Whether you're interested in STEM fields, social sciences, or the humanities, there's sure to be a course at Cornell that piques your curiosity and challenges you to grow.
How do you succeed in Cornell's challenging classes?
Navigating through Cornell's rigorous academic landscape can be daunting. Excelling in this competitive environment requires not only intellect but also strategic approaches to studying and self-care. If you're seeking to optimize your performance and truly thrive at Cornell, consider the following strategies:
Effective Time Management:
Prioritize Tasks: Recognize the difference between urgent and important. Not everything that seems urgent is important, and understanding this distinction can help you prioritize effectively.
Break Down Large Tasks: Big assignments can seem overwhelming. Break them down into smaller, more manageable tasks, and tackle each one step-by-step.
Collaborative Study:
Find a Study Group: Actively seek out or form study groups. These groups often provide the added benefit of collective knowledge and diverse perspectives.
Peer Teaching: One of the best ways to understand a topic is to teach it. Explaining concepts to peers can solidify your understanding and uncover areas you might need to revisit.
Respect Different Learning Styles: Remember that everyone learns differently. What works for one person in your study group might not work for another. Be open to different study techniques and strategies.
Leveraging Campus Resources:
Regularly Visit Academic Support Centers: Whether it's the writing center, math support, or a lab tutorial, make it a habit to frequent these places. Even if you feel confident in a subject, these centers can provide deeper insights.
Attend Professor Office Hours: Professors usually set aside time for student consultations. Use this time to clarify doubts, seek feedback on assignments, or just discuss topics of interest.
Utilize Online Resources: Cornell, like many top universities, offers a wealth of online resources, including lecture recordings, research databases, and digital libraries. Familiarize yourself with these platforms early on.
Stay Healthy and Balanced:
Mind Your Well-being: Mental and physical health can significantly impact academic performance. Ensure you're eating right, getting adequate sleep, and incorporating physical activity into your routine.
Seek Support When Needed: If you ever feel overwhelmed, don't hesitate to reach out. Cornell offers counseling services and mental health support to help students cope with academic pressures.
By incorporating these strategies into your academic routine, you can navigate Cornell's challenges more confidently and make the most of your educational journey.
In this blog, AdmissionSight will let you explore some of the top courses that Cornell has to offer so that you can make the most of your academic experience.
What are the best classes to take at Cornell?
What are some of the most beneficial courses that Cornell has to offer? Cornell University is an Ivy League academic institution. Its admissions rate is relatively low, and it boasts a sizable student population.
Here is a list of ten exciting courses that you should check out.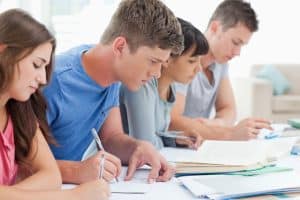 AGSCI 1125 – Guided Explorations: Growing You and Your Path in the Agricultural Sciences
This course examines what it means to pursue a degree in agribusiness and how that decision will impact your life.
It discusses the psychological development and growth that one goes through while learning about the Earth's growth and the vegetation that grows on it.
NACCT 5532 – Fraud Examination
As one of the best classes at Cornell, accountants who take this course learn what red flags to watch out for when examining the financial records of others.
This entails keeping an eye out for numbers that do not add up to the total of funds concealed in some way through questionable transactions.
NACCT 5530- Auditing and Assurance
Students of accounting who want to learn more about what it means to do assurance work should attend this program.
To give assurance, your customer or whoever is using the service should know that you are going through the documents in a more accurate and helpful way than the original way.
To be able to account for the various assertions in a method that is both organized and accurate is essential for auditing.
CHEM 2090- Engineering General Chemistry
The majority of students who are enrolled in both the engineering and chemistry programs can benefit from taking this subject because it teaches them how chemistry can be applied in engineering.
When it comes to chemistry, engineering is concerned with the understanding of materials, as well as how to use and transform them.
CHIN 4426- Reading and Viewing Modern China
In this course, you will not only learn how to read in the contemporary era of China, but you will also gain a comprehension of the fundamental distinctions that exist between China's historical past and its contemporary state.
It is an excellent method for gaining knowledge of history and the places from which terms in the language were derived.
COMM 1300- Visual Communication
This course examines how objects and people are communicated, but does so on a visible scale. This can mean that you will learn how to speak to someone one-on-one, or it can mean that you will learn how to act in general when you are in front of all of your classmates.
COMM 1101 – Cases in Communication
As one of the best classes at Cornell, this course will teach you how to set a good example for others while gaining insight into effective communication from observing poor role models.
It is a fantastic method for people to become more self-assured, as it forces you to venture outside of your comfort zone and enables you to observe various scenarios that are used as examples of how not to behave in various contexts.
EDUC 2710- America's Promise: Social and Political Context of American Education
This course examines education from the perspective of the social and political stances it takes regarding how people in the United States are educated.
You will understand the perspectives presented to students, as well as how to teach others what it means when society influences how children are educated and brought up.
ECON 1110 – Introductory Microeconomics
When it comes to economics, this course takes a more in-depth look at specific topics. This indicates that it refines how people think about money-related subjects, such as local institutions and small businesses, and even how individuals think about their purchasing systems.
NS 1150 -Nutrition, Health, and Society
The topic of discussion in Nutrition 1150 is how people, in general, understand what constitutes nutritious food and a healthy lifestyle.
Cornell University provides students with access to a diverse selection of interesting courses, ranging from those that focus on practical aspects of agriculture to those that take a more analytical and traditional approach to bookkeeping and economics.
No matter what your preferences are, the best classes at Cornell will satisfy them.
Are classes at Cornell hard?
Are classes at Cornell challenging? The academics at Cornell University are among the most demanding in all of the Ivy League, which contributes to the university's high standing.
Consequently, the coursework at Cornell can be difficult and demanding, necessitating a substantial investment of both time and effort on the part of the students.
Admission to Cornell University is extremely competitive due to the institution's consistent placement in the top 20 national university rankings.
The school has a very low admission rate of only 11%, making it a very competitive process to get into. As a direct consequence of this, obtaining admission to this prestigious institution calls for outstanding scholastic qualifications.
It is estimated that the typical grade point average (GPA) of high school students accepted to Cornell University is around 4.07, even though Cornell University does not publish particular statistics regarding this.
Therefore, students who have their sights set on attending this institution should make it a priority to maintain virtually perfect grades in all of their classes, including Advanced Placement and International Baccalaureate programs.
In addition, Cornell is known for having a student population that is highly academically motivated and engaged in healthy competition with one another, which can make courses more challenging.
In addition, Cornell provides a broad spectrum of classes in various fields, ranging from the arts and literature to engineering and the natural and social sciences.
Some classes may be more difficult than others, depending on the material covered, the professor's teaching style, and the course's level.
On the other hand, it is important to keep in mind that the rigorous nature of the coursework at Cornell is not always a negative thing. Cornell University is well-known for providing students with an education that is both demanding and comprehensive.
This helps students develop the skills necessary to be successful in their future professions.
It is common for students to find these best classes at Cornell difficult and require substantial effort, but this is to be anticipated at a top-tier university with stringent academic requirements.
Students have the opportunity to flourish and prosper at Cornell if they are dedicated to their work and put in the necessary effort.
What is Cornell known for academically?
What is Cornell known for academically? Applicants who wish to enroll at Cornell must submit their applications to one of its individual schools or institutions rather than to the university as a whole.
The following educational institutions are open to undergraduate applications:
College of Agriculture and Life Sciences
College of Architecture, Art and Planning
College of Arts and Sciences
Cornell SC Johnson College of Business (School of Hotel Administration and the Charles H. Dyson School of Applied Economics and Management)
College of Engineering
College of Human Ecology
School of Industrial and Labor Relations (ILR)
Transferring within the department is feasible, but doing so involves going through a lengthy application procedure and meeting additional requirements. It is still possible for students to enroll in classes offered by the university's other colleges.
Cornell is well-known for various programs, specifically those relating to engineering, construction, and hotel administration.
Some students pursue dual degrees and concurrent degrees across numerous schools and colleges. Students must already be enrolled in a college or school at the time of application to the second college or school, in addition to meeting the prerequisites for both programs.
A student could, for instance, receive a Bachelor of Arts degree from the College of Arts and Sciences in addition to a Bachelor of Science degree from the College of Engineering. The completion of multiple degrees at the same time typically takes five years.
There are additional dual-degree alternatives available with the best classes at Cornell, such as the five-year MBA Program, which is provided in conjunction with the Johnson Graduate School of Management.
Participants in this program have the opportunity to obtain both a bachelor's degree and an MBA in just five years.
There are many students who end up attending law school, medical school, or veterinary school, and Cornell is one of the few universities in the country that has its own veterinary school. The university provides advising resources and tracks for students who are interested in attending these types of schools.
Participation in international initiatives is offered to more than a third of Cornell's undergraduates. Cornell Global Programs, College Exchanges (with top colleges in the selected region), Faculty-Led Programs in the winter and summer, and authorized programs with Institutions located outside of Cornell are some of the available options.
Cornell University offers various classes across various disciplines, catering to its students' academic and intellectual interests.
These classes provide a rigorous and stimulating learning environment that challenges students to develop critical thinking, problem-solving, and communication skills that are essential for success in their future careers.
Students should take classes at Cornell because it provides them with access to top-notch faculty members who are experts in their fields and are passionate about teaching.
In addition, the university's extensive resources, including world-class libraries, research facilities, and study-abroad programs, allow students to immerse themselves in their chosen fields of study and gain valuable experience.
Taking classes at Cornell also provides students with opportunities to interact with diverse student populations and engage in meaningful discussions and collaborations with their peers.
This fosters an inclusive and supportive learning community that promotes intellectual curiosity, creativity, and innovation.
In conclusion, taking the best classes at Cornell University can provide students with a comprehensive and enriching educational experience that prepares them for success in their future endeavors.
If you are considering attending Cornell University and exploring its exceptional classes, booking an initial consultation with AdmissionSight is a smart step.
Our admissions experts can guide you in selecting the best Cornell classes and creating an academic plan that aligns with your interests and goals.
Don't hesitate to book your initial consultation today and take the first step toward achieving your dreams!