20 Best Marine Biology Colleges
The vast expanse of our oceans encompasses over 96 percent of Earth's water, enveloping more than 70 percent of its surface. Underwater interactions between organisms, including animals, plants, and plants, can have a significant impact on the Earth, including humans. Graduates from the best marine biology colleges are in high demand right now. The demand for their expertise has surged as society recognizes the profound significance of deciphering the mysteries hidden beneath the waves. The right university can provide students with the academic background and practical experience they need to launch a productive career in marine biology.
If you're excited about studying marine biology, it's time to explore the best schools that can help you turn your passion into a rewarding career.
Imagine your journey as an adventure: you're setting sail to find the perfect marine biology school. Each school you consider is like a map marker, guiding you toward the right knowledge and experience. Think of it as your training ground to become a marine biology pro. With every step you take, you're getting closer to becoming a champion for the ocean, ready to make a difference and keep our underwater world thriving.
What is marine biology?
Before diving into the list of best marine biology colleges, let's first define marine biology. Most people know that scientists either study non-living objects like rocks and minerals or living objects like animals and plants. You might want to study biology if you enjoy living things and want to understand or aid them. What sort of biologist would you be, though? Which would you choose to be, an animal or a plant biologist? A marine biologist, perhaps?
The study of aquatic organisms, their behavior, and how they interact with their surroundings is known as marine biology.
In order to understand the environment around us, people who research marine biology draw on several scientific disciplines. One or more of the following specializations are available to marine biologists:
Molecular Marine Biology
Physiology and Biophysics
Biology
Chemistry
Physical Oceanography/Geo-Oceanography (underwater geology)
Ecology and Evolutionary Biology
Although these fields are all interrelated, they each have distinct specialties. For instance, marine chemists examine the chemical composition of creatures rather than the biological ones directly.
What are the top universities for marine biology?
If you plan on becoming a marine biologist, you may wonder, "What are the best marine biology colleges" available in the country?  You have come to the right place. The top 20 schools and universities that offer marine science courses are listed below.
20 Best Marine Biology Colleges
1. University of Oregon
Location: Eugene, OR
Undergrad Enrollment: 19,100
Acceptance Rate: 83%
Middle 50% SAT/ACT: 1090-1290/22-29
One of the few baccalaureate programs in marine biology provided on the Pacific Coast is at the University of Oregon. Students engage in practical, field-based learning in addition to a contemporary biology curriculum. Students spend time at both the prestigious Oregon Institute of Marine Biology (OIMB) and the University of Oregon's Eugene campus, finishing at least three upper-level terms at OIMB.
Students of marine biology have access to programs provided by OIMB as well as internship and research opportunities. Additionally, they can go to Panama to take a course in tropical marine biology that is given every alternate summer. Students studying marine biology have numerous more chances to study abroad at bigger universities.
2. Syracuse University
Location: Syracuse, NY
Undergrad Enrollment: 15,200
Acceptance Rate: 69%
Middle 50% SAT/ACT: 1130-1370/25-30
At Syracuse, prospective marine biologists can major in biology with a specialization in marine biology or other niches. Interdisciplinary majors are an additional option for students. In either case, they will have access to internships and cutting-edge research opportunities.
The course Marine Ecology of the Mediterranean Sea and North Africa is one of significance. The course compares cultural norms across North Africa and Europe as it studies the major coastal and marine habitats. Students will travel along Spain's coast and stop at important ecosystems, research centers, and locations of particular importance.
3. Northeastern University
Location: Boston, MA
Undergrad Enrollment: 13,900
Acceptance Rate: 20%
Middle 50% SAT/ACT: 1410-1540/33-35
Northeastern University is among the best marine biology colleges in the country. The goal of Northeastern University's Bachelor of Science in Marine Biology program, which places a strong emphasis on climate change, is to give future marine biologists a foundation in the ocean and coastal processes, marine biogeochemistry, ecology, and evolution of marine organisms, among other things. Students engage in immersive learning, including lab and field work as well as internship possibilities at Northeastern's Marine Science Center in Nahant, Massachusetts, as they consider current concerns affecting marine creatures and ecosystems.
Additionally, Northeastern offers several studies abroad programs and possibilities in interdisciplinary programs. In particular, the optional, two-semester Three Seas Program is renowned for its distinctive methodology, integrating inquiry-based, international study, fieldwork, and research in the Gulf of Maine, Panama's tropical coast, and the Pacific Northwest.
4. Florida International University
Location: Miami, FL
Undergrad Enrollment: 48,800
Acceptance Rate: 58%
Middle 50% SAT/ACT: 1110-1260/23-29
Students have a solid grounding in structural and evolutionary developmental biology, physiology, organismal diversity, physical oceanography, and ecology through FIU's Bachelor of Science in Marine Biology curriculum.
They can explore the rich marine species of Florida and the Caribbean while conducting research both in the lab and out in the field.
Through the Honors in Marine Biology program, exceptional students have the opportunity to engage with faculty mentors, conduct their original research, finish a thesis paper, and present their findings at a departmental seminar.
5. University of California, Santa Barbara
Location: Santa Barbara, CA
Undergrad Enrollment: 23,300
Acceptance Rate: 37%
Middle 50% SAT/ACT: 1230-1480/26-33 (currently test-blind)
UCSB takes pride in being one of the few colleges in the nation to offer an aquatic biology undergraduate major. The curriculum combines classroom with fieldwork, lab work, and freshwater and marine sub-disciplines. Students can benefit from the Pacific Ocean, the UC system's protected natural lands and water reserves, and many other natural resources because of the university's location.
The renowned Marine Science Institute at UCSB is a leader in ocean and environmental research, integrating faculty members and graduate students in ground-breaking investigations into topics like biological oceanography and global environmental change. And ranked highly among the best marine biology colleges in the country.
6. Boston University
Location: Boston, MA
Undergrad Enrollment: 18,500
Acceptance Rate: 20%
Middle 50% SAT/ACT: 1310-1500/30-34
The BA in Marine Science is an interdisciplinary curriculum featuring courses in biological, chemical, geological, and physical oceanography that is offered through the BU Marine Program (BUMP).
Additionally, all majors must complete the Marine Semester, a four-month research-based course sequence in which students conduct research with BU faculty members and professional scientists at renowned New England institutions and the Belizean Barrier Reef.
7. University of California, Los Angeles
Location: Los Angeles, CA
Undergrad Enrollment: 31,500
Acceptance Rate: 14%
Middle 50% SAT/ACT: 1290-1520/29-34
The study of marine creatures and their environments is the main focus of UCLA's Marine Biology program. Students are expected to take part in the Marine Biology Quarter (MBQ), which allows students to "experience the life of a marine scientist" by designing their research projects, carrying out experiments, and presenting their findings. The university claims some undergraduates' research has been published in significant peer-reviewed journals.
8. Auburn University
Location: Auburn, AL
Undergrad Enrollment: 24,600
Acceptance Rate: 85%
Middle 50% SAT/ACT: 1160-1320/25-31
On our list of the best marine biology colleges is Auburn University. Students who major in marine biology at Auburn receive a foundation in fundamental biological ideas. Additionally, they get to pick from electives and are obligated to take summer courses provided by marine labs across the nation, like Dauphin Island Sea Lab and Gulf Coast Research Lab. To prepare for professions or advanced study in the field, undergraduate students are encouraged to participate in internships and research.
9. Samford University
Location: Birmingham, AL
Undergrad Enrollment: 3,500
Acceptance Rate: 84%
Middle 50% SAT/ACT: 1060-1240/23-29
Through practical instruction in marine biology, Samford's BS in marine science program aims to prepare students for a career in the field. Students participate in aquaculture, laboratory research, and field studies. Students benefit from the aid of the customized internship program, which has placed previous students at establishments like the Monterey Bay Aquarium and Mote Marine Laboratory, as well as from the support and mentoring of the teachers and the chance to complete an internship.
The program's summer experience at the Dauphin Island Sea Lab (DISL) off the coast of Alabama is one of its most outstanding features.
10. University of Miami
Location: Coral Gables, FL
Undergrad Enrollment: 11,100
Acceptance Rate: 33%
Middle 50% SAT/ACT: 1250-1420/28-32
Students can pursue hands-on research in biomedicine, genetics, evolution, physiology, microbiology, immunology, and ecology while earning a strong biology foundation and quantitative skills through Miami University's Marine Biology & Ecology (BSMAS) degree. In the department, students can collaborate with a variety of professors to master fundamental ideas and specialized subjects.
11. Duke University
Location: Durham, NC
Undergrad Enrollment: 6,600
Acceptance Rate: 8%
Middle 50% SAT/ACT: 1470-1570/34-35
The study of organisms in a marine environment might be the focus of a marine biology concentration for biology majors at Duke. They will enroll in classes at the esteemed Duke University Marine Laboratory as part of the focus. They will also finish a Capstone course and take part in lab work.
The Marine Science & Conservation major or minor, an interdisciplinary study of marine systems, is also available to students who began their studies in the fall of 2021 or later.
12. Brown University
Location: Providence, RI
Undergrad Enrollment: 7,000
Acceptance Rate: 8%
Middle 50% SAT/ACT: 1440-1560/33-35
When pursuing a concentration (Brown's word for a major or program of study) in Biology, students may select a track in Marine Biology, taking at least three courses in the subfield and engaging in research in the area.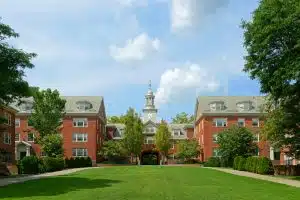 The Marine Biological Laboratory (MBL) and the Department of Earth, Environmental, and Planetary Sciences have a joint research program that focuses on biomedicine and environmental science.
13. University of Washington
Location: Seattle, WA
Undergrad Enrollment: 32,000
Acceptance Rate: 56%
Middle 50% SAT/ACT: 1200-1427/27-33
The University of Washington is among the best marine biology colleges in the United States. Students studying marine biology at UW investigate the marine aspects of biodiversity, organismal processes, ecology, and ecosystems, as well as the management and conservation efforts in response to ocean change. Majors also conduct an integrative field experience, such as research or a field course, at a location like Friday Harbor Labs in addition to their core courses.
14. University of California, Santa Cruz
Location: Santa Cruz, CA
Undergrad Enrollment: 17,700
Acceptance Rate: 65%
Middle 50% SAT/ACT: 1150-1370/23-30
The marine biology program at UC Santa Cruz places a strong emphasis on fundamental ideas that aid in understanding the forces that form life in marine environments. On the UC Santa Cruz Coastal Science Campus, the Coastal Biology Building has several facilities. There are many options for students to engage in research and experiential learning, including quarter-long field programs, as well as employment with federal, state, and nonprofit organizations that have a focus on the marine environment.
15. Nova Southeastern University
Location: Fort Lauderdale, FL
Undergrad Enrollment: 4,900
Acceptance Rate: 76%
Middle 50% SAT/ACT: 1030-1240/20-27
As an A.B.S. Marine Biology student, you will experience NSU's Oceanographic Campus, where you'll have access to the Guy Harvey Oceanographic Research Center and witness marine creatures directly from your classroom. NSU aims to allow students to "learn more about the undiscovered." While engrossed in electives covering subjects like biology, sharks, and coral communities, you will engage in research.
16. Rollins College
Location: Winter Park, FL
Undergrad Enrollment: 2,500
Acceptance Rate: 61%
Middle 50% SAT/ACT: 1120-1330/24-32
The location of Rollins on the Florida peninsula is utilized to the most extent by the school's marine biology program. In the Florida Keys, the Bahamas, and Maine, students do graduate-level lab and field research to obtain practical experience. Additionally, faculty members provide them with individualized attention as they get ready for fascinating internships and volunteer opportunities.
Numerous unique opportunities exist, such as the Student-Faculty Collaborative Program, which enables students to collaborate with faculty members on legitimate research.
17. Harvard University
Location: Cambridge, MA
Undergrad Enrollment: 9,900
Acceptance Rate: 5%
Middle 50% SAT/ACT: 1460-1580/33-35
One of the most prestigious educational institutions in the world, Harvard University, is consistently regarded as one of the top marine biology colleges in the United States. The Integrative Biology concentration is housed in the Department of Organismic and Evolutionary Biology at Harvard University. Through this specialization, students have the opportunity to follow a route in Marine Biology and Biological Oceanography.
Students get access to a variety of different kinds of hands-on learning experiences. For instance, if they sign up for Biology and Evolution of Invertebrate Animals, they will have the opportunity to spend their spring break traveling to the Bocas del Toro Archipelago, which is located on the Caribbean coast of Panama. While there, they will investigate a variety of marine ecosystems.
18. Eckerd College
Location: Saint Petersburg, FL
Undergrad Enrollment: 2,000
Acceptance Rate: 69%
Middle 50% SAT/ACT: 1090-1285/24-29
Students in Eckerd's Marine Science department receive individualized instruction both in the classroom and on the job site. There are many chances to carry out practical marine biology work and research.
For instance, the "Scientist at Sea" program enables students to organize, carry out, and produce expert research projects. Through the Eckerd College Dolphin Project, students can gain experience in field research by conducting population surveys of bottlenose dolphins in Boca Ciega Bay. Additionally, they have access to prominent internships at places like American universities. the Fish and Wildlife Research Institute, the Geological Survey Center, and numerous more institutions.
19. University of South Carolina
Location: Columbia, SC
Undergrad Enrollment: 26,700
Acceptance Rate: 68%
Middle 50% SAT/ACT: 1140-1340/25-31
Students who major in marine science will acquire interdisciplinary knowledge of the topic while being exposed to practical fieldwork. Before completing coursework with lab components, they will start their studies by spending three weeks at the Baruch Institute in Georgetown's North Inlet Estuary. They will also take part in faculty-led research projects, seminars, and visits to businesses and government institutions.
20. Florida Southern College
Location: Lakeland, FL
Undergrad Enrollment: 2,700
Acceptance Rate: 50%
Middle 50% SAT/ACT: 1110-1285/24-30
Through FSU, students learn far beyond the classroom. Students have the chance to collaborate with teachers on independent studies, research projects, off-campus trips, scientific conferences, and other activities throughout the college. There is a significant outdoor component, and students will frequently be out in the field gathering information while studying in a variety of settings.
To improve their research, students can also take trips to places like Costa Rica, Jamaica, and the Bahamas.
What jobs can you get with a marine biology degree?
What jobs can you get with a marine biology degree?  These kinds of jobs call for highly analytical individuals, focused on the study, and motivated by data, measurement, and statistical significance. Over the course of their careers, researchers will have the chance to work in a variety of locations and specialize in various fields.
These jobs frequently entail organizing, instructing, managing, or overseeing the actions of others to achieve objectives. Nearly every employment in marine biology focused on research will call for some kind of extra accreditation, most likely a doctoral degree.
Marine biology job titles you can expect to see.
According to the USDOL, individuals in these positions do research on or study fundamental concepts relating to the origin, relationships, development, anatomy, and functions of plant and animal life. Additionally, it states that these marine professionals need to have "extremely advanced" organizing and communication skills.
These positions fall into this category but are not restricted to:
Aquatic scientist
Research biologist
Biological scientist
Biologist
Botanist
Horticulturist
Microbiologist
Biological technician
Mathematician, geneticist, and biology professor are other professions that may appeal to research-inclined marine biology majors, but their educational requirements, median pay, and employment outlook vary too widely to be included here.
What are your chances of acceptance to these best marine biology colleges?
Many of the colleges and universities on this list have competitive marine biology programs, while some are highly selective. How do you determine your odds of being accepted? Try our initial consultation.
AdmissionSight can assist you if you are interested in pursuing a degree in marine biology and are considering applying to one of the best marine biology colleges.
We have more than ten years of expertise assisting students in navigating the tough admissions process to the greatest colleges in the globe. Consult with AdmissionSight and see what we can offer to make sure that you are well-prepared and knowledgeable enough to enter your choice of school.