Best Ways to Announce College Decision
What is a college decision?
What is a college decision? First-year applicants (who apply by ordinary decision) must choose their institution of enrollment by May 1 for the majority of U.S. colleges and institutions. This implies that, up to this date, you can confirm your enrollment and submit your nonrefundable enrollment deposit at any time. What are the best ways to announce college decision?
Early decision applicants learn of their acceptance status significantly sooner, typically in the middle of December. You are essentially choosing your institution well before College Decision Day in May because an early decision is binding—if accepted, you must enroll there.
Under specific conditions, such as a family emergency or insufficient financial help, students may withdraw from early decision. If you break the early decision contract for another reason, like deciding that you'd fit better at another school, you might have to pay a fee.
After accepting admission to a college, you can still change your mind, but you'll probably lose your enrollment deposit, which usually isn't refundable and helps to reserve your position. In this blog, you will learn about how to make your final college decision and the best ways to announce college decision.
How to make your final college decision
How to make your final decision? Making the appropriate decision will enable you to succeed in your academic and career preparation, as well as make this period of your life more exciting and satisfying. This guide from AdmissionSight highlights some important actions you should take while you think about the ideal institution for you.
1. Take a look at a college's location.
The location is something you should always take into account while selecting a college. Do you want to live there or commute to school? Students can benefit from either choice, but you probably have a preference.
In order to identify colleges in the state you want, you can search for top colleges by state as you consider this.
One thing to keep in mind is that you shouldn't select a college based solely on its location. As you narrow down your possibilities, the location is simply one of many important considerations to take into account.
2. Analyze the costs and offers for your scholarships.
You might wish to assess the costs of your potential colleges as you get closer to making your ultimate pick. You might start by thinking about any undergraduate-related scholarships you may be eligible for. While some scholarships may only be for a certain university, others may let you pay for your studies at any institution.
By researching tuition costs, you can compare the prices of various educational institutions. Remember that there will be additional expenses on top of the tuition if you live in a dorm or apartment while attending college.
Think about your financing options for your education. Will you take out student loans, or do you have enough cash on hand to pay for them in full? You must have a strategy before choosing a school.
3. Examine the programs and curriculum.
The curriculum and choice of programs that a college offers should be taken into account in the following stage. If you know what major you want to pursue, you can start narrowing your selections by looking at which schools offer that major.
Find some programs at different institutions that have your intended major by starting your investigation into the programs they offer. Check out the department of your major to learn about the different opportunities, forms, and requirements for your field of study.
Don't anticipate that the same major will be the same across the nation; keep in mind that different colleges can use different methods for the same subject of study.
4. Consider community life
Choosing the perfect institution also means picking one with a supportive environment where you can flourish.
Community life includes programs and chances for students to meet and talk with other people outside of the classroom.
Finding a college with a strong sense of community can help you in a variety of ways, including: developing meaningful relationships; creating lots of wonderful memories; serving others; having fun; trying new things; developing new talents; and increasing your self-confidence.
A degree from college can help you land a wonderful job, but it can also help you grow as a person and have life-changing experiences.
5. Locate a school with a top-notch setting.
The learning environment should also be taken into account before selecting a college. Since the atmosphere is crucial, consider how these aspects of your prospective school operate:
Staff
How interesting are the professors? Are the kids really important to them? Visit the school to meet the personnel in person or read about them online.
Campus Housing
What is the college's student living situation like? Do they provide a variety of food plans? Are the dorms roomy and tidy? First-year students are frequently required to live in residence halls. In this situation, you should carefully inspect the dorms before registering.
Sports
You might want to take this into consideration if you plan to participate in a sport in college. While some institutions provide a wide variety of sports, others don't.
If player selection is a significant factor in your decision, you might want to learn more about it before deciding on a specific institution.
6. Visit schools before making a decision.
Visit the schools directly before deciding, as this is one of the best things you can do. You can go to a few or many, but you should always visit a few before selecting one.
Here are some suggestions to make the most of these visits:
Avoid rushing
First, be sure to schedule your trips during times when you will have time to see the colleges. In other words, take your time throughout the visits. Instead, linger and savor taking in the colleges.
Make notes and take photos.
Next, while you're there, you might want to take some notes and photos. By doing this, you will retain information about each institution and have a basis for comparison when it comes time to make a choice.
Explore the Community
Last but not least, spend some time investigating the neighborhood. You will have opportunities to spend time in the community even though you will spend the majority of your time on the college campus.
As you get closer to making your college decision, you want to be certain that you chose the best university. You may ensure that your decision was the right one by using these suggestions!
7. Choose from the list of distinction colleges
The choice of which college to attend is critical and should not be taken lightly. However, you should take your time to choose the "perfect" college for you rather than looking for what people claim to be the "best" one!
Best ways to announce college decision
What are the best ways to announce college decision? Since you've already chosen your college, don't allow this opportunity to make your big announcement pass by without having some fun and getting creative.
Here are some of the most creative and cool ways to announce to the world where you're going to college and make it seem like a big deal:
Create a custom college cake
A college decision is an opportunity to celebrate, and a bespoke cake is the perfect way to do so. You can prepare or order a cake with your school's name or logo to commemorate your decision. After that, invite your loved ones around to enjoy cake and raise a glass to your future.
Post a selfie wearing your college's t-shirt.
Any aspiring college student needs a college T-shirt, crewneck sweatshirt, or hoodie in their closet. You can show off your choice by posting a selfie on Facebook, Instagram, or another social media site while wearing a t-shirt from the college you want to go to.
You could simply send this photo to your closest friends and relatives to let them know where you're going this fall if you prefer a more understated approach.
Add some color by using smoke sticks or balloon pops.
You've definitely seen social media posts about gender-reveal parties when couples use conventional blue or pink smoke or balloon colors to disclose the gender of their baby. Using the hues of your campus, you can produce a similarly vibrant image.
This is one of the best ways to announce college decision, very creative and familiar. Consider narrowing your list down to two or three schools, inviting friends and family over, and letting everyone know your choice by wearing the colors of the school you chose. Let's call it "college reveal"!
Order a bouquet of balloons.
Consider getting a balloon bouquet in the colors or the acronym of your preferred school. These balloons can be used to throw a college reveal celebration at your house, along with a personalized cake. Additionally, you can take a photo of the arrangement to publish on social media to make your choice known.
Post a picture of your school's gear.
You can submit a picture of some pertinent clothing if you'd rather not upload a selfie wearing your school's T-shirt to Instagram or Facebook. You may, for instance, upload a photo of a coffee cup, hat, jersey, stuffed animal, or anything else bearing the name or logo of the school you want to attend.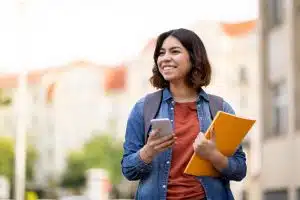 If you're feeling very inventive, you might turn the mug around in a film or a boomerang to show the school's emblem.
Get creative with a TikTok reveal video
You can also use a TikTok video to share your college choice. You could, for instance, place the logos of various schools in the lower-left corner of the screen and move or dance toward the emblem of the institution you want to represent.
Although TikTok trends are always shifting, there are undoubtedly ways to include your college choice in a video for the platform.
Recreate a signing day video at home
This one of the best ways to announce college decision is cool for our sports enthusiasts. To make a signing day video for the college of your choice, you don't have to be a Division I athlete. A similar video can be produced at home. Place a few hats on your kitchen table, then pick the one representing the school you'll be attending in the fall and put it on.
Post school graphics on your social accounts
Once you make the commitment, some schools offer official school graphics for you to share on your social media profiles. These images frequently come with a hashtag that may be used to connect with and find other students in a school's class on social media.
As they narrow down their choices, some athletes also publish images featuring various school emblems or logos. You can follow these posts by choosing a similar college.
Keep it low-key with phone and video calls.
Keep in mind that you are not required to make a creative announcement about your college choice. You can just call or FaceTime the important people in your life to tell them directly about your decision.
Your selection of a college is ultimately a personal one. Your personality should also be shown in how you say it. There's no need to push yourself to participate in something you don't want to if balloons, social media, and large gatherings don't appeal to you.
You may require additional support while you adjust to college now that you are aware of the best ways to announce college decision. At AdmissionSight, our goal is to help students prepare as much as possible so they can enjoy the move to college. AdmissionSight has over ten years of experience and has assisted students just like you in better understanding the application process and what college admissions officers are searching for. Contact us now!